Some fascinating insights have emerged regarding the integration of blockchain technology in the aviation industry. Airlines have acknowledged the immense potential of the technology to create an unparalleled travel experience. In this article, we explore how blockchain can save costs for airlines & boost efficiency & security.
Let's see !!
The unprecedented outbreak & news of COVID-19 has taken the world by storm, causing widespread panic & disruption. While the health ramifications of this pandemic have been well documented, the knock-on effects on the global economy have been equally catastrophic. And among the worst-hit are airlines, which are expected to face immense financial losses as travel restrictions take hold & demand for flights plummets.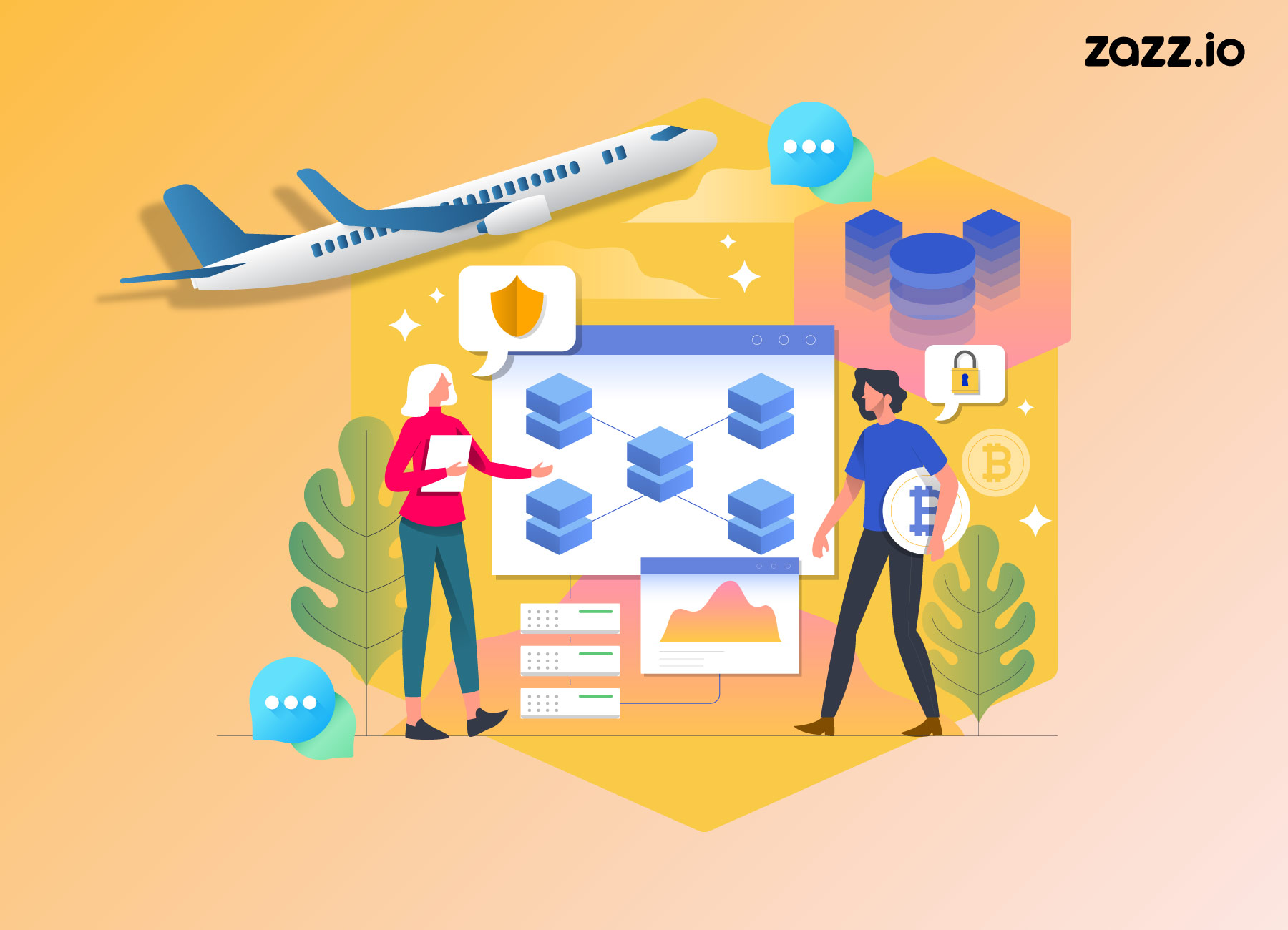 Blockchain Use Cases in The Aviation Industry
Aviation Identity Management
Blockchain technology offers an innovative solution to the growing challenge of aviation identity management. Biometric authentication can provide a highly secure and reliable means of validating an individual's identity. Once the data is securely stored on the decentralized blockchain network, it becomes virtually impossible to tamper with or manipulate. This means that the use of fraudulent identities in airports & other aviation settings can be drastically reduced, and the reliance on traditional paper passports & human error can be eliminated. Overall, blockchain technology presents a game-changing opportunity to enhance aviation security, streamline operations & protect passengers.
Airlines Security
Data privacy is a critical issue for airlines, where passengers & crew often entrust their personal information for safe and efficient travel. Protecting passenger records & crew data is paramount, considering the dire consequences & identity theft that may result from an accident or misuse. By utilizing Blockchain app development services, an additional layer of security can be added, making sure the safe transfer of sensitive data through trusted authorities. The combination of Blockchain's modern technology & a security wrapper reinforce the integrity & confidentiality of personal data, providing airlines & their clients with peace of mind.
Airlines Maintenance
It is common to organize maintenance logs among manufacturers, merchants, service providers & airlines.
It is time consuming and prone to errors if the entry is wrong at any point. Blockchain technology can eliminate the requirement for complex databases and paper binders and permit airlines to manage a single record of origin that will be immediately available to all authorized persons. With this, maintenance events are predefine, and this information will be made available in the aircraft maintenance log, which saves time, improves maintenance and ensures safety.
Loyalty Points
By leveraging the power of Blockchain, loyalty points & schemes can now be tokenized with immediate benefits to users. This technology enables seamless usage of these points in real-time, with added versatility when used in partnership with a consolidated community of merchants. Such innovative methods of using points in lieu of currency facilitate unparalleled convenience and expediency for travelers. Experience the transformative potential of tokenized loyalty points – a futuristic solution designed to make payments & rewards instant, universal & hassle-free.
Aviation Industry Benefits From Blockchain
Blockchain technology has emerged as a game-changer for the aviation industry due to its decentralized nature, which makes it perfect for storing & sharing critical information across different departments and organizations. With its ability to store data on digital ledgers, the aviation industry is adopting blockchain to improve operations & improve efficiency in maintenance, repair & overhaul (MRO) activities. Armed with this distributed ledger technology, MRO & original equipment manufacturer (OEM) teams can effortlessly maintain flight records, track maintenance activities & other relevant data.
Apart from that, blockchain technology will use for component registration. For example, data entry such as serial code, date of manufacture and the number of parts available for a specific component, that is store on the Blockchain. Whenever a part is required, technical staff can search the blockchain and quickly find the necessary information for repair or replacement.
In addition, other types of information can be stored on the Blockchain, such as bookings, payments, airports, immigration, hotels, etc.
As the aviation industry strives to enhance operational efficiency & safety, Blockchain technology can play a vital role. By capturing all data related to modifications, repairs & changes on an airplane through a distributed ledger, the information can be universally accessed by all stakeholders. As a result, any Blockchain app development company can revolutionize the airlines industry by enabling data transparency, traceability & security.
Provocation For Airlines in Adopting Blockchain
There are three main considerations airlines must make when considering blockchain adoption. They are:
Regulatory uncertainty. The aviation industry has exhibited caution in fully adopting blockchain technology due to regulatory concerns. However, involving regulators at each phase of the blockchain implementation process can aid in easing the transition. This approach can ultimately benefit the entire industry by improving operational efficiencies & data security.
Consortium participation. To extract maximum value from Blockchain, diverse participation is essential, but establishing a Blockchain consortium is a challenging proposition. The consortium works towards shared technological objectives by creating an agile network of collaborative firms. It lays down the groundwork for infrastructure development, defining use cases, standardization, developing applications & managing the Blockchain network. With its potential to revolutionize modern-day operations, joining a Blockchain consortium is critical for companies to stay ahead in the game.
Technology is developing. Even though airlines can use Blockchain to produce, the technology is still young & presents unique challenges.
That means focusing on and adapting the airline's architecture and project plans based on these changes.
Summary
In today's modern era, technology is advancing at an unprecedented pace. Blockchain technology is no exception to this trend & has immense potential to transform industries by combining with other technologies like IoT, predictive analytics & robotics. According to experts at Zazz, the application of blockchain technology can create a more synergistic effect and provide a competitive edge to businesses.
Nowadays, the aviation sector is the second most regulated industry globally, which requires significant optimization. Therefore, the incorporation of blockchain technology into this industry can save millions of dollars, along with providing better customer satisfaction levels. When it comes to the assurance of quality in industries where health & safety is of primary concern, such as pharmaceuticals, food & aviation, blockchain and IoT combination proves to be a game-changer. App development companies in USA outline that this merger facilitates better proof of provenance throughout the supply chain, resulting in greater customer trust and accountability.
As with any emerging technology, the potential for innovative disruption is not always apparent; hence it is crucial to comprehend the technology's future implications. Keeping in mind the considerable benefits of blockchain technology, it's high time for businesses to take a step ahead & hire blockchain app developers to capitalize on this technology's potential. Therefore, as a business owner, breaking the conventional norms & embracing the technology can lead to a profitable outcome in the long run. For more information, you can contact us today.