Rapid technological advancements have paved the way for the Internet of Things (IoT) to transcend the realm of mere speculation & emerge as a tangible reality. The widespread adoption of this technology can be attributed to the manifold benefits it brings to both individuals & businesses. With a plethora of applications & possibilities, IoT has already made a significant impact on various domains. To delve further into this fascinating world, take a look at our carefully curated list of the top 10 IoT developers in the USA. Get ready to witness the transformative power of IoT.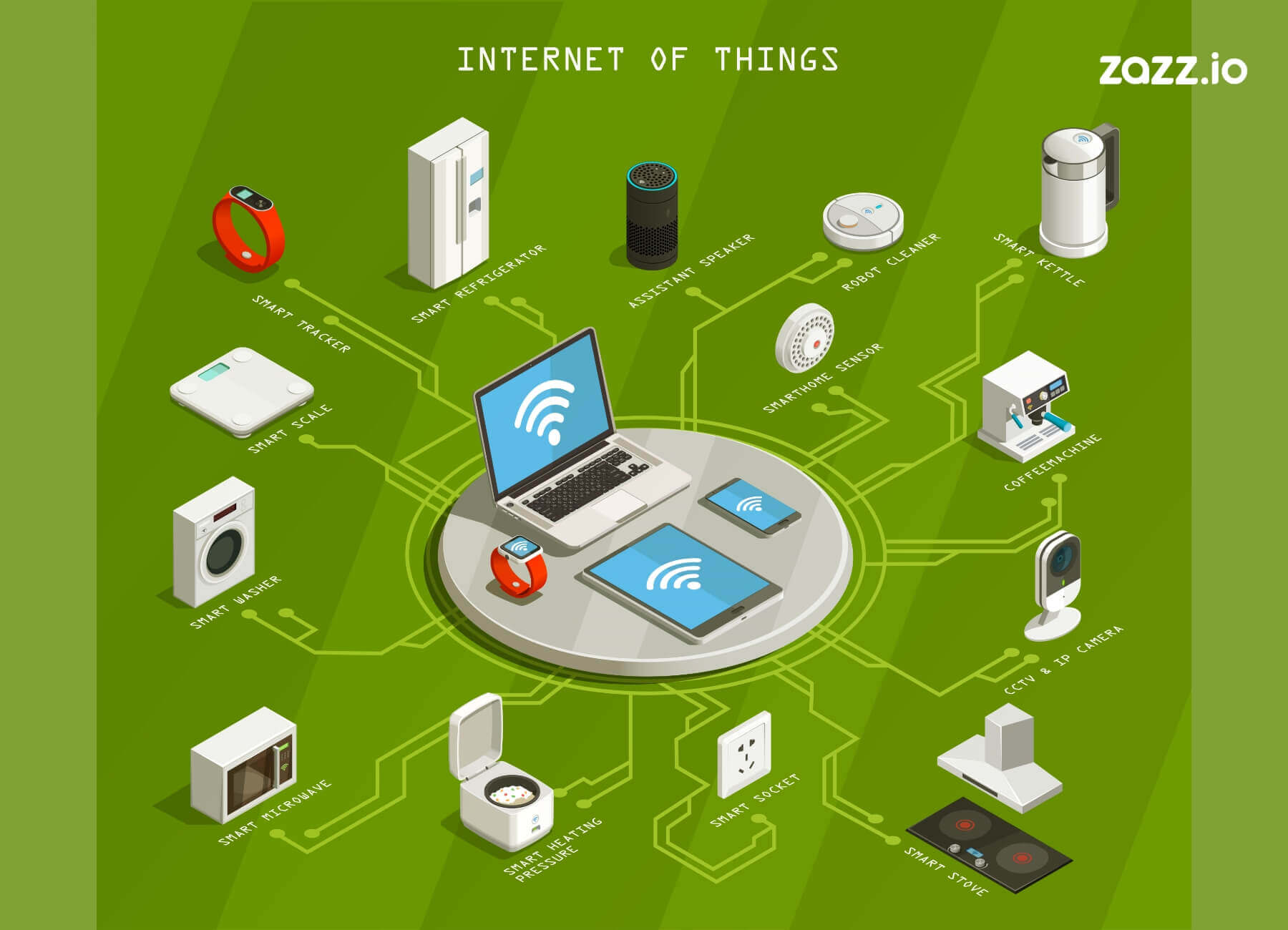 Zazz
If you're looking for a top-notch IoT app development company USA, then Zazz is the name you can trust. Based in America, thy have been spearheading software design & development innovation. As a prominent industry leader, they work with the latest technologies & invest in modern tech-stack.
With a team of talented & creative individuals, Zazz is dedicated to providing innovative & customized solutions to guarantee improved performance, productivity & profitability for businesses.
List of Services:
Product Strategy
Prototyping & Concept Development
Product Design
iOS Application Development
Flutter App Development
React Native App Development
Web Development
Blockchain Development
Machine Learning
With years of experience, they deliver top-notch IoT solutions that empower businesses to transform their operations, enhance their customer experience & gain a competitive edge. Their resources, coupled with their technical expertise, allow them to deliver customized IoT solutions that cater to your needs.
So, whether you're looking to build a new IoT application or optimize an existing one, their team is equipped to handle it all. Hire IoT developers from Zazz today & experience the power of IoT technology for your business.
AppStudio
AppStudio is effortlessly leading the market with its innovative & disruptive technology that caters to the growing needs of modern-day businesses. Specializing in the development of versatile mobile & web applications, the company has established itself as a pioneer and a top IoT app development company. With years of experience and expertise, AppStudio has set high industry standards with its innovative applications that aim to revolutionize the future of technology. The team's deep understanding of the latest advancements & trends in the tech world enables AppStudio to develop apps that are not just advanced but also user-friendly, engaging & unique.
List of Services:
Product Strategy
Prototyping & Concept Development
Product Design
Android App Development
Flutter App Development
Healthcare App Development
React Native App Development
Web Application Development
Blockchain Development
Machine Learning
HQSoftware
HQSoftware is a global leader in providing top quality modern solutions for the rapidly emerging fields of IoT, AR & VR. As a highly reliable partner, they offer services ranging from consulting & prototyping to seamless maintenance & enhancement. Their expertise in these domains makes sure that their clients receive customized & high-end solutions aligned with their business needs, thereby raising their operational efficiency & propelling their growth.
Mobiloitte Inc
Mobiloitte Inc is a top-tier full-service software development company that boasts an outstanding track record in designing & delivering scalable, secure, and high-performance solutions for Blockchain, IoT, AI, BOTS, Mobile & Web development. They provide a specialized focus on timely project delivery, intricate security measures, exceptional scalability & optimal performance. With an enviable reputation for delivering innovative solutions, Mobiloitte Inc continues to redefine the software development industry through their unique blend of expertise, professionalism & high-quality services.
Team Tweaks Technologies Pvt Ltd
Team Tweaks Technologies Pvt Ltd is a quality mobile app development company. With their exceptional skills & expertise in top software products & IoT solutions, they have successfully catered to clients all over the world. Their team of 100+ full-time professionals are well-versed in the latest technological advancements. They ensure cost-effective, scalable product output without compromising on quality. Their commitment to building long-term relationships with their clients has been the cornerstone of their success. They offer customized solutions that deliver all the necessary features to help you grow into a business. Partner with them to help you create a lasting impact in the digital world.
CodeBright
CodeBright is a tech-focused organization that aims to make a positive impact on the world. They partner with a diverse range of entities – startups, small & large corporations, as well as non-profits – to create & launch MVPs, improve & streamline business processes, boost productivity & reduce unnecessary expenditure. Their objective is to employ the latest technology to drive innovation, growth & sustainability across various sectors.
Mobcoder
At Mobcoder, we always strive towards excellence in invention and development. Be it web, mobile, or anything digital, our product engineering and innovative development practices empower us to deliver in advanced technologies including web, mobile apps, e-commerce, IoT, AR, cross-platform apps, and more.
Peerbits
As a globally renowned IT solution provider, Peerbits offers great web development and mobile application development services, elevating businesses worldwide. With over 50+ highly experienced IT specialists on board, the company delivers intricate IT consulting solutions catering to diverse industry verticals. Peerbits prides in maintaining the trust of over 200+ clients, who have lauded the firm for their excellent services. With a commitment to quality & expertise, Peerbits continues to lead the industry as a world-class IT solution provider.
Biz4Group LLC
At Biz4Group LLC, their dedication to innovation & progress is evident through our extensive technical capabilities. From developing state-of-the-art mobile applications & responsive web design, to integrating IoT & cloud technology & creating advanced AR/VR solutions, they work tirelessly to stay ahead of the curve. Their focus on delivering top quality services translates into measurable value for their clients, empowering their customers & enabling businesses worldwide to unlock their full potential. Partnering with them gives you access to best-in-class technical solutions that drive tangible results.
IIH Global
IIH Global established in 2013 with its software development talent to make a mark in the domain of IT services. Gradually it went on developing and expanded its dimension with international clients, and have built a solid reputation.
What is IoT?
The term "IoT" refers to the interconnection and grouping of devices & objects via a private or public network, including the Internet. This network allows for devices & objects to interact with each other & be visible to one another. The objects & devices connected to the IoT can range from mechanical devices with sensors to everyday items such as clothing or footwear. Everything that can be imagined can be connected to the IoT & interact without any human involvement. The main objective of IoT is to achieve machine-to-machine (M2M) interaction. M2M devices enable connected objects to communicate & exchange data across multiple networks & platforms, paving the way for easy automation & value creation across a variety of industries.
Few Examples
The internet of things (IoT) has transformed the way we live our lives and conduct businesses. One classic example of this is a household refrigerator. By connecting it to the internet, users can receive notifications via their mobile phones when food is nearing its expiration date or when the fridge experiences a temperature drop caused by a malfunction. Also, the system can notify users if they are running low on certain food items & even calculate electricity usage based on how often the fridge door is opened.
These smart features present numerous benefits to households & provide greater convenience & security in the preservation of food. Furthermore, businesses can leverage such technology to track inventory & optimize storage & supply chain management. Overall, IoT enables a more efficient and technologically advanced world, transforming our day-to-day lives & the way companies operate.
Another scenario could be that of home automation, where there are already numerous devices that connect to the Internet to facilitate the lives of human beings, see for example the voice-controlled devices that are asked to play a song from a repository in internet, or the devices and applications that allow to control all the parameters of the water of an aquarium, or even the alarm systems of the houses that connect with the power stations. A system that connects to your network to notify you when someone is entering your home, or devices that let you control heating from your mobile device.
IoT in Industry
The integration of Internet of Things (IoT) technology is already prevalent in industrial settings, with its connectivity allowing devices & sensors to track & analyze data. This data can alert operators through messages & alarms, instigating prompt actions or automated protocols to counteract any issues detected. These protocols operate without human supervision, correcting faults & restoring efficient performance levels. IoT offers vast potential for increased industrial productivity, reduce downtime & optimize automated workflows to improve business operations in numerous ways.
Another example of an application would be in the livestock sector where biometric monitoring and geolocation is a factor that helps farmers keep their animals always under control.
The use of IoT devices has given rise to what is commonly known as "Smart Cities" & "Smart Buildings". These advanced systems leverage the data collected by IoT devices to improve traffic control, water supplies, heating & cooling systems, & public transport networks, amongst others.
The communication process is of paramount importance in IoT systems as it determines the effectiveness of the devices in operation. One of the significant pitfalls of IoT is the type of protocol used for communication. The protocol acts as a language between the devices that enables them to share information effectively.
While newer devices & sensors have an easy and direct internet connection, older models may not have compatible communication protocols & leads to a loss of data. Additionally, each manufacturer or "vendor" has its communication protocols that make not all devices compatible. One of the mechanisms that have been tried to establish is the creation of an open and standard protocol (proposed by IBM) called MQTT (Message Queuing Telemetry Transport).
To create successful IoT devices, designers must prioritize attributes like energy efficiency & compact size. To accomplish this, SoCs, or Systems on a Chip, play a crucial role in these devices. SoCs integrate various components onto a single chip & reduce the physical size & energy consumption of the device. An SoC is an integrated circuit that contains all or much of the modules that a computer would have (SoCs can be found in mobile phones, for example). Major manufacturers in the tech industry include ARM & Intel. However, newer players such as MediaTek, Qualcomm & Samsung have emerged. These companies design & manufacture a range of electronic devices & components including processors, chips & mobile phones.
IoT Boom in the USA
The United States has got some exceptional and unmatched developers when it comes to state of the art technologies thanks to the global companies here like Google and Microsoft. Since its inception, IoT has grown rapidly here while researchers are making sure that every glitch associated with this tech is eliminated. Many businesses have already opted for this sophisticated technology and are competing well in their vertical markets. In short, there is no other place like the USA on earth when it comes to innovative technologies and the advancements in this sector.
Also Read