When we talk about Virtual Reality, many of us think of science fiction movies. However, the truth is, today's technology is fully integrated into our daily lives. Video games, healthcare,  education & training are all using virtual reality to some degree. But what is it exactly?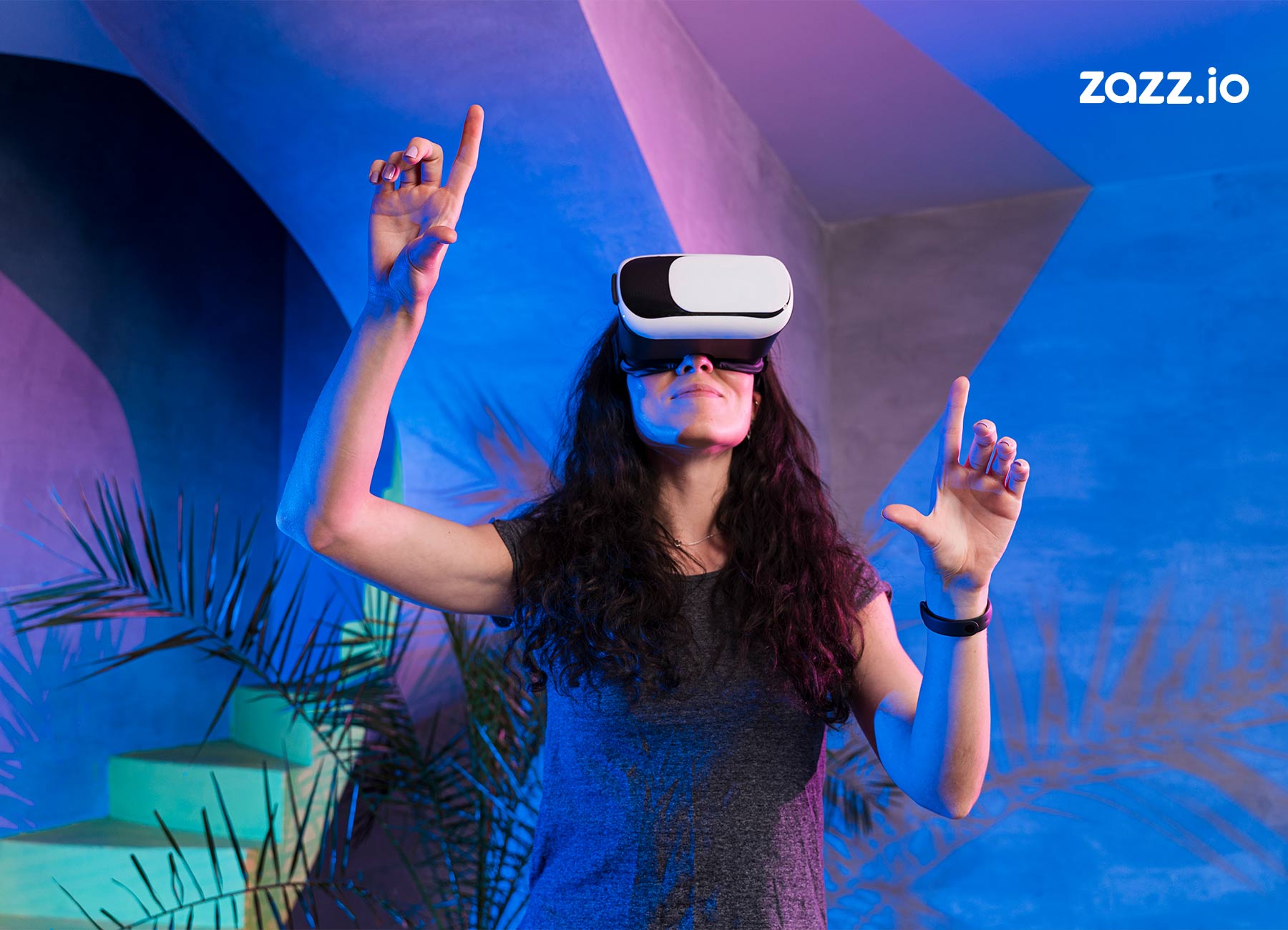 Come And Read Everything About Virtual Reality !!
Today we are going to publicize Virtual Reality. Here, you will learn about the past, present, and future of virtual reality—also, overview of virtual reality applications for human services. Read the full blog to understand everything in detail. Let's start:
What Is It – Virtual Reality Definition
Virtual reality (VR) is an innovative technology that creates an artificial environment using advanced computer software and hardware. This allows individuals to experience a visually realistic setting, fully engaging with 3D worlds that surround them. Unlike traditional screen viewing, VR users are completely absorbed and able to interact with their surroundings, creating an unparalleled sense of immersion & realism.
Also, virtual reality allows us to immerse ourselves in video games as if we were one of the characters. As per virtual reality developers and a VR App Development Company, it will enable you to learn how to perform cardiac surgery or improve sports training quality to maximize performance.
The incorporation of sensory experiences such as touch, smell & vision within Virtual Reality (VR) makes the computer the guardian of an imaginative realm. However, the optimal VR encounter is dependent on the affordability of computing power & ample content available to users.
An Introduction to Virtual Reality in a Few Simple Words
Despite its recent surge in popularity, virtual reality (VR) is not a new concept. The idea of simulating an immersive experience has been around for decades. The first known VR device was built in 1962 by Ivan Sutherland, called "The Sword of Damocles." In 1984, science fiction author William Gibson popularized the term "cyberspace," which inspired future VR innovators. The 1990s saw the emergence of consumer VR devices, such as the Virtual Boy and the first VR headset, developed by VPL Research. Technological advancements in graphics, processing power & motion tracking have since allowed for even more realistic and engaging VR experiences.
While this is a far cry from today's virtual reality, you can see the progression of virtual reality even in the most modern times through the many variations of virtual reality headsets introduced to the public, from the EyePhone, Hey! Do not match up it with the term iPhone. To the Samsung Gear VR, the most popular headset.
The virtual reality industry has come a long way from its predecessors. Additionally, it is modified & improved to better fit the lives of modern consumers.
What Do You Know About Virtual Reality Examples?
Surprisingly, the virtual reality video game industry stands as one of the strongest advocates for virtual reality technology. As virtual reality games become increasingly commonplace, developers must adapt traditional interface practices to suit the immersive nature of the medium. The virtual reality industry has kept pace with hardware advancements, leading to the creation of more lifelike & authentic gaming experiences. With widespread access to virtual reality devices, the industry's potential for growth is vast.
Don't jump out !! During this segment, we will talk about a few virtual examples where it is most effective.
Virtual Reality Medicine, Military, and Aviation
In military medicine, and aviation, VR training is an effective alternative to live training. Pilots can also train live using cockpits that incorporate virtual reality technology with live instructions.
Additionally, surgeons can train with virtual tools and patients and transfer their virtual skills to the operating room. Also, police and soldiers can conduct virtual raids that avoid putting lives at risk.
Virtual Reality and Disease Treatment
Using Virtual Reality technology in medicine helps ongoing therapy programs in the field of mental illness & allows veterans to confront challenges under controlled conditions.
There is potential for virtual reality to help people cope, reconcile & understand real-world experiences beyond video games & industrial applications.
Why Virtual Reality?
It seems like a lot of endeavour, and it is! What Makes Virtual Reality App Development Worthwhile? The potential value of entertainment is exact. Movies and immersive virtual reality video games are good examples. After all, the entertainment industry is a multi-million dollar, and consumers will always wants to see something interested in new ways. Virtual reality also has many other more severe applications.
Some of the examples of virtual reality applications are as follows:
Architecture
VR in Sport
Medicine
The Arts
Virtual Reality Movies and Entertainment
In the future, as VR costs drop & becomes more mainstream, more serious uses, such as education or productivity, are likely to appear. Virtual reality could substantially change the way we interact with our digital technologies. They are continuing the trend of humanizing our technology.
Quick Glimpse on Virtual Reality Future
Virtual reality is a technology that has the highest projected growth potential. According to the latest virtual reality app development companies latest forecasts, investment in virtual reality will multiply by 2021. Additionally, a leading mobile app development agency claims that more than half of the largest companies expect to adopt virtual reality app development strategy in 2020.
In the current digital era, users demand virtual reality (VR) experiences that are not limited to tourism or marketing. Consequently, the VR app development company must strive to create cost-effective and advanced VR interfaces that eradicate drawbacks like object clipping. To meet the ever-growing demands of tech-savvy customers, major technology firms are investing heavily in developing wireless VR glasses that boast high definition image quality. This effort is expected to revolutionize the VR industry and make VR experiences even more accessible & immersive than ever before.
Moreover, this standard will allow connecting more devices and large user communities. Plus, it's almost invisible latency will enable consumers to receive images in real-time. To make the technology more innovative, companies hire app developers for better improvement.
Final Words
Zazz is a proficient virtual reality app developer. According to them, virtual reality is the creation of a virtual environment. In addition, we experience it through our senses as if we were there.
It uses a host of technologies to achieve its goal. Also, it is a technically complex feat that must account for our cognition and perception.
As virtual reality technology becomes more affordable & accessible, its potential for innovation continues to grow. The future holds endless possibilities for VR & staying up-to-date with the latest news is key. If you encounter any issues or have questions, our team of expert VR app developers is ready to assist you at any time. Let's discuss with us if you're looking to hire VR app developers & take your business to success.