Do you remember the golden times when people used to play the most celebrated and iconic "Snake" game on their sturdy Nokia phones? Right from playing in the black-and-white screens to playing motion-sensing games on your smart devices, the gaming app development industry has traversed a long way.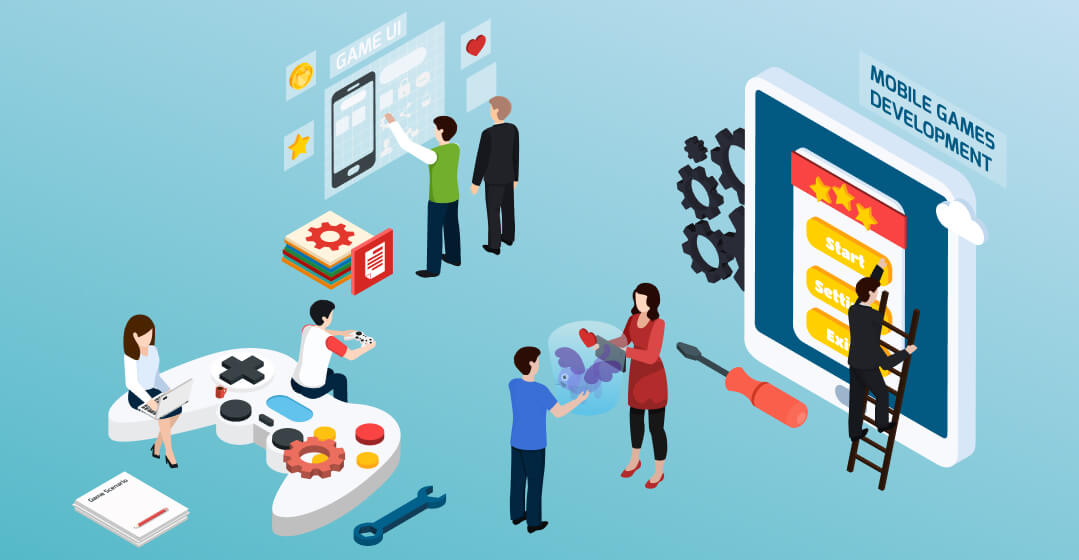 In this advanced and fast-tracked century, mobile games are like hot potatoes. The gaming app development companies are always on the run to bring robust games to engage users. The market is flooded with reports regarding the prosperity of games in recent years and how they took the world by storm. 
Mobile games quite effectively kill boredom and keep users engaged. Businesses are laying out money in gaming app development to capitalize on the booming market. And what's better than targeting the Android platform?
One of the most sought-after operating systems that come up with a plethora of cutting-edge games is Android. With this platform, mobile game developers build enthralling and interactive games for users, as it comes with high-end features, making the course of Android game development uncomplicated and thrilling.
The Android game development platform is just not a rock-solid platform. Still, the potentialities of the latest Android devices are going ahead to outshine the capabilities of all the other existing platforms.
This informative blog will shed light and weigh in on the power of Android game development and how it can help businesses gain a competitive edge in the marketplace.
What Makes Android Game Development Platform the Most Preferred Among Game Developers?
Back in the year 2008, Google stormed the world by launching the Android operating system. This platform has earned immediate acceptance ever since its inception. It has successfully levelled up the gaming app development arena in no time. 
What sets it apart from its competitors is that it provides an ease to mobile game developers and a vast community of users for businesses to target. The Android game development platform puts forward trouble-free accessibility to all its functionalities, which results in a smooth and hassle-free way of game development.
Let's look at a few reasons why the Android game development platform became an overnight sensation and how easily and swiftly it attracted the millennials and mobile game developers.
The Android platform in the gaming app development field offers outstanding simplicity and comfort to the developers in building mobile games for users.
When building a game for this excellent platform, the gaming app development team keeps the game app simple without compromising with the features and UI/UX designs. It can easily attract and give unrivalled satisfaction to the users.
One fine reason for choosing the Android operating system for any gaming app development project is that it offers visually impressive graphics to draw the users' attention.
Mobile game developers easily build cutting-edge 3D games with the new-age AR and VR support to bring a revolutionary change in the game development industry. With the Android game development platform, you don't need to think about performance problems and lagging, as it can run all types of games with a decent hardware setup of your device.
High-End Interaction with Device Ecosystem
Do you know what makes gaming app development with the power of Android so special? With it, developers can sketch out and build a wide variety of controls by using the preloaded sensors in your Android devices.
Moreover, Android offers excellent connectivity via Wi-fi, Bluetooth, LTE, etc. Because of these available connectivity features, game app developers build top-notch multiplayer games with undisturbed gameplay.
The Android platform is highly productive for gaming app development projects. With a host of robust third-party gaming tools, it helps in easing the task of the game developers. Besides this, Android's hardware configuration system is uncomplicated for gaming app developers to comprehend, and thus, they can execute the game development process swiftly.
Business Benefits of Choosing Android Game Development Platform
It is quite clear that Android is the most acknowledged and popular platform among the masses. The rise in the number of high-end smart devices has given rise to many Android gamers. Let's understand why numerous organizations across the verticals are reaching out to companies providing the best Android mobile game development services to gain a competitive edge in the marketplace. 
Dominance in the global marketplace is an absolute benefit that comes when choosing the Android game development platform. It's fitting and logical to bag the platform with a large number of users. Compared to iOS, Android users are more in number as devices powered by Android come at a low cost. This factor has resulted in Android confining more than 75% shares in the global market in the past few years.
Gaming app development with Android will generate the same capital as iOS if advertised in several app markets. The cost of ads is mostly on the economical side, which indicates that you can promote your products to many users within the stipulated budget.
Android app store is the only platform that calls for one-time payment for launching an app. Following it, the Android gaming app development team builds and checks the product on any device, be it smartphones or desktops. This guarantees minimal investment and rising user engagement and eventually results in maximized ROI for your business.
Games launched to Google Play Store are available to users in just a couple of hours. The Google Play Store also permits the developers to go for updates as soon as the app is launched. This makes Android the most preferred platform for gaming app development, as game developers can refine, resolve, and update quite frequently to enhance the user's online gaming app experience. And, businesses can leverage this opportunity to deliver more advanced and updated versions to their users, thus increasing the game's popularity and improving its performance.
The Future of Android Game Development
If you look at the present scenario, the gaming app development projects powered by Android are running smoothly and proving highly beneficial for gamers, mobile game developers and businesses alike. The Google Play Store is the least restrictive, and it allows users to download as many games as possible without facing any complications.
The future of Android game development is promising, owing to the rise of robust mobile devices and ever-evolving market trends. Android gaming app developers can easily make the most of the Android operating system to control and govern the global gaming market.
Android game development offers a lot to game developers and organizations planning to build and launch their gaming apps in the future. It puts forward a wide spectrum of game development solutions effortlessly to refine the user experience and amplify brand identity.
If the Android game development platform consistently betters itself and proves to be a game-changing and next-gen platform for the masses, we are moving toward the "World of Android".
The Bottom Line
The ever-changing advancements in the gaming industry have given birth to quite many expectations of gamers. As a result, the gaming app development companies invest a lot of time to bring forth innovative and interactive games to generate revenue.
Well, it's high time to invest in gaming app development and capitalize on this booming market. And what's better than targeting the Android platform to engage users and build a strong user base, right?
To get a hold of the market and make your gaming app a market-leading one, you need to reach out to the best Android app development company to secure their game development services and solutions and move a level ahead in the race.
Zazz is the most trusted Android game development agency with years of experience providing end-to-end game app solutions for businesses worldwide. Over the years, we've built robust games with rich UI/UX designs to give users a satisfying game experience. Contact Zazz to learn more.