The dynamic possibilities of mobile applications have transformed the way we enjoy our digital lives. Developing an app for your enterprise is a pivotal stride to bring your brand to life & establish it as a prominent reference point. Discover the essential ingredients for app success in our informative article. But before we move on, take a glance at the top ten app development companies in San Francisco. Access invaluable insights, tips & tricks to help you create exceptional digital experiences & achieve your business goals.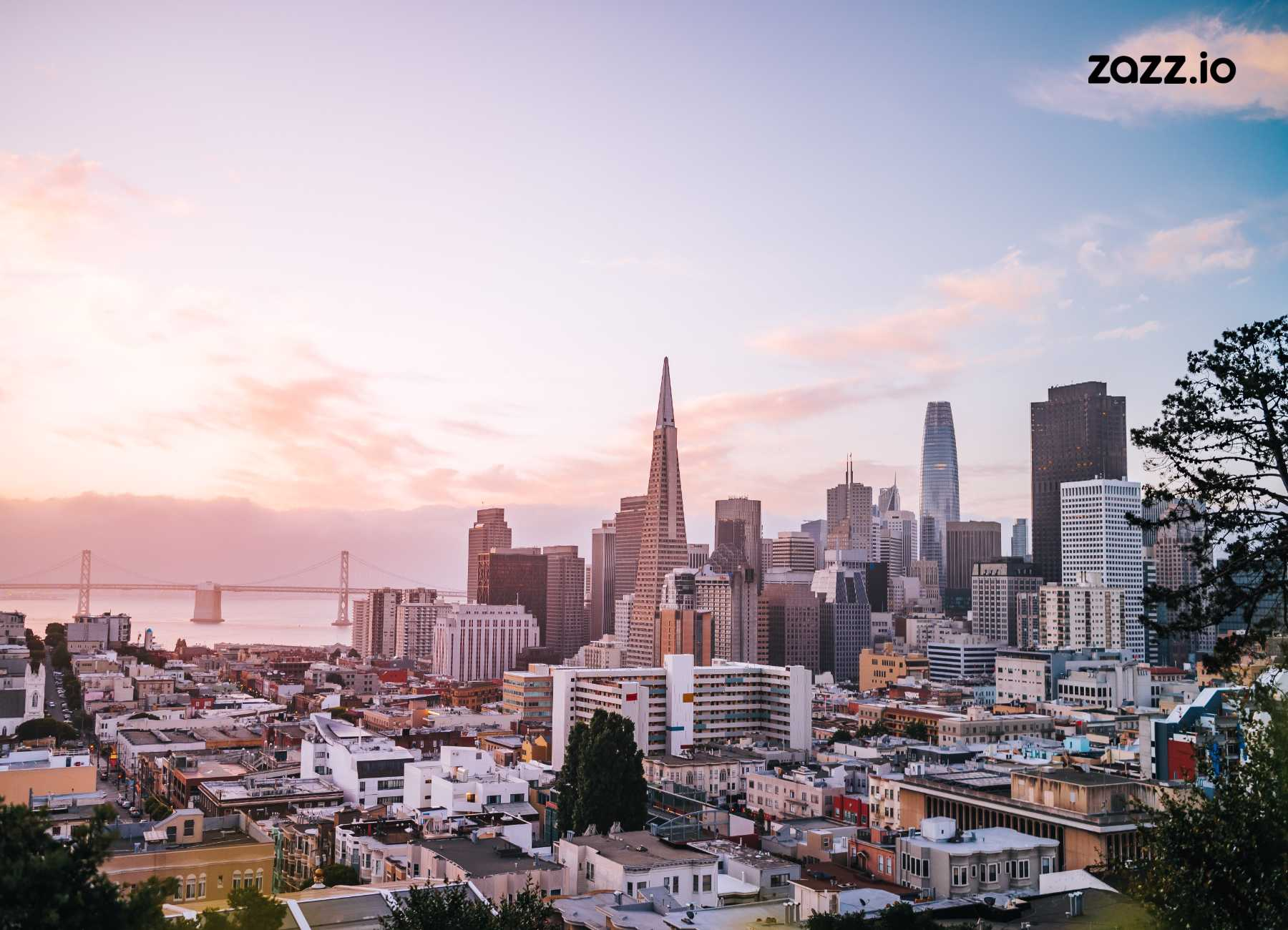 1. Zazz
As a top mobile app development company in the USA, Zazz stands at the forefront of digital innovation with its cutting-edge software design & development services. Their team is dedicated to delivering industry-leading solutions that adopt the latest technologies, seamless processes, & creative talent. 
With a keen focus on client satisfaction, their agency is renowned for delivering exceptional results that drive business growth and define industry standards. From ideation & development to launch and support, Zazz is the reliable partner you need to make your digital dreams a reality. Join their ranks of satisfied clients & elevate your online presence.
List of Services:
Product Strategy
Prototyping & Concept Development
Product Design
iOS Application Development
Flutter App Development
React Native App Development
Web Development
Blockchain Development
Machine Learning
Zazz is equipped with the expertise & resources to cater to the diverse needs of businesses at every level of growth & development. Whether it's a scaling startup testing an MVP, an SME looking to streamline their processes, or an enterprise seeking digital transformation, they have got it all for you.
With a wealth of experience architecting and maintaining digital solutions, Zazz has a history of delivering successful outcomes for VC-backed startups, government agencies & Fortune 500 companies. Their unique approach & unmatched expertise make us the go-to partner for businesses looking to take their digital journey to the next level.
2. AppStudio
AppStudio, a remarkable software design & development company based in Toronto, is known for its unwavering commitment to innovative tech solutions. As cutting-edge pioneers, they specialize in the development of Mobile & Web Applications that cater to the diverse needs of our clients. At the heart of their success is a team of young, creative professionals who work collaboratively with our esteemed clientele to deliver tailor-made digital experiences that leave a lasting impression. Their approach is always centered on customer satisfaction & the delivery of top-notch, memorable & engaging applications that exceed expectations.
List of Services:
Product Strategy
Prototyping & Concept Development
Product Design
Android App Development
Flutter App Development
Healthcare App Development
React Native App Development
Web Application Development
Blockchain Development
Machine Learning
3. Intellectsoft
As a distinguished digital transformation consultancy with its roots in sunny Palo Alto, California, Intellectsoft is renowned for delivering revolutionary engineering solutions to businesses around the world, including Fortune 500 companies. The organization's mission is to propel enterprises forward by seamlessly integrating new technologies, tackling the intricate challenges that arise during the digital metamorphosis & continuously fostering a spirit of innovation. With an agile approach to transformation, Intellectsoft remains at the cutting-edge of its field & leads the way in pioneering digital evolution.
4. Matellio 
Matellio LLC boasts a distinguished reputation as a pinnacle software engineering studio, offering top-tier & pioneering software solutions. With their ten-year tenure in the industry, they have garnered expertise & a proficiency for conceptualizing & delivering innovative software systems. Their clientele spans all corners of the globe, including small startup firms, large enterprises & multinational corporations, all seeking our services to elevate their technological capabilities. They strive for excellence in every project they undertake & make sure they remain a driving force in the constantly evolving tech landscape.
5. JetBridge
JetBridge is a powerhouse in the software industry, having generated over $3 billion of existing equity value in both VC-funded & bootstrapped environments. With a presence in San Francisco & Eastern Europe, they offer their clients the best of both worlds – world-class services at a competitive price point. They take pride in their exceptionally high track record, a feat that very few outsourcers or outstaffers can boast of matching & all while delivering results quickly and efficiently. Their experienced team is equipped to handle a wide range of projects & provides their clients with comprehensive solutions that drive success.
6. QuarkWorks
For the last decade, QuarkWorks has been at the forefront of developing top-rated iOS and Android apps. With a track record of creating apps used by millions worldwide, they understand the pitfalls of app development & can help your team avoid them. Their expertise lies in building top-notch apps & guaranteeing their associated server logic functions faultlessly. Whether you aim to streamline product shipping, expand your team's capabilities, or take your business to success, their team of expert developers & designers can provide exceptional support & guidance.
7. CitrusBits
CitrusBits is a leading mobile app development agency that specializes in designing & developing exceptional mobile apps and responsive content for businesses of all sizes. Their portfolio includes critical mobile apps for renowned clients such as Burger King, Quiksilver, Symantec & Sotheby's, which attest to their unwavering commitment to quality & innovation. Their talented team of experts creates customized mobile solutions that help businesses across major industries achieve their goals. They take pride in their ability to cater to small & midsize businesses as well as select startups, helping them realize their mobile aspirations & achieve higher ROI.
8. Menlo Technologies
Menlo Technologies has been paving the way in digital transformation since 2010, assisting over 200 companies in reshaping their businesses through innovative development services. Their team of more than 165 skilled professionals offers both onshore & offshore mobile & enterprise development services to a diverse clientele, ranging from startups to global corporations. With a specialization in enterprise, web, cloud & mobile development projects using the latest technologies such as iOS, Android, Node.js, Java & Angular 7, their services go beyond the front-end to provide complex back-end DBMS integration & data management. Partner with Menlo Technologies to digitally transform your business & gain an edge in the market.
9. Reinvently
Reinvently is a quality digital transformation agency that assists businesses in revamping their go-to-market strategies by crafting scalable products. Instead of short-term projects, they focus on innovation & development that can adapt and thrive. Their one-of-a-kind product delivery methodology ensures that your product is designed with intention & built with care & leads to successful outcomes. They pride themselves on offering expertise that is both unique & professional, empowering you to grow with confidence. Let them transform your business into a digital powerhouse today.
10. Rightpoint
Rightpoint is a dynamic, independent customer experience agency that combines insight, strategic vision, design & technology to create game-changing digital experiences for their clients. With their recent acquisition of Raizlabs, Rightpoint has expanded its portfolio & offer a wealth of expertise in the design & delivery of bespoke mobile apps that are made to exceed the expectations of today's digitally-savvy consumers. Boasting an impressive portfolio of more than 250 Fortune 1,000 companies, Rightpoint is renowned for its ability to help businesses navigate complex markets, delivering real results at the speed of innovation.
With a talented team of 450 employees across 10 offices & four consecutive years on Crain's list of the 50 Fastest Growing Companies in Chicago, Rightpoint is the go-to agency for disruptive, tech-driven solutions. Discover more at rightpoint.com.
The rise of the app today is a reality that we cannot ignore. If four years ago we had a series of applications that made our lives a little easier, the range of options we currently have is insane. Buying, linking, selling or knowing our location is possible today just by logging in.
The mobile phone is the device most used by people digitized between 18 and 65 years. Despite laptops and tablets, the smartphone continues to take first place when it comes to the daily use of technologies. The apps have modified our way of connecting with the world making everything easier and tangible. Are you interested in learning more about them?
Also Read:App Development Companies in New York
What are the benefits of making an app?
Creating an app may seem like an impossible mission for which person. The programming and design knowledge that you have to have is usually quite advanced. Starting from this base, not all of us can launch a mobile application. However, the benefits it brings to the user cannot be compared to anything. Next, we leave you with some of the best known:
Brand Personality
Companies that have an app for their business are forged more professionals. With such a changing technological environment it is good to keep up to date with the new updates. The mobile application of what you work on will give you more prestige than in case you don't have any.
Increased visibility
Thanks to tools like Google Play Store or Apple App Store, your product will reach a much wider volume of people. Visibility is essential to stand out in what you do so and that the rest of the world recognizes it. Thanks to the development of apps this will be easier than ever.
More speed
Web pages often take time to load or do not convince us enough. With the mobile application, you will have everything at hand and without too many complications. Creating an app can give you the tangibility that you have always required for your product and/or your own business.
If you want to go with a web-based app, indeed that's also in trend and still fetch positive results for your business.
Save hardware and software costs
It is only necessary to use a computer with a web browser and connect to the Internet. Web-based applications use fewer resources than installed programs. You can even use that old equipment that you have forgotten in the office!
On the other hand, web applications do not require distribution channels like traditional software, which allows their price to be lower than that of installable programs. There is also the possibility of "renting" web applications according to the functions to be used or the number of users; the investment becomes an expense.
Easy to use
Web applications are very simple to use, you only need basic computer skills to work with them. If you know how to write an email, you already know how to use them.
Also, in many cases, you can customize them to your liking and adapt to your way of working.
Facilitate collaborative and distance work
Web applications can be used by several users at the same time. Since all the information is centralized you will not have to share screens or send emails with attached documents. Users can view and edit the same document together and are also accessible from anywhere. You can work from a pc, a laptop, a mobile or a tablet, from the office, a park or an airport.
Scalable and fast update
There is only one version of the web application on the server, so it should not be distributed among the other computers. The update process is fast and clean. Web-based applications do not require the user to worry about obtaining the latest version or interfere with their daily work to download, install and configure the latest versions.