What is the cost of development for a mobile app, a web application, or enterprise software in the USA? This is one of the most searched tech-related queries on the web. While the results will show you a plethora of varying answers, you need to get the hang of this domain to understand the structure of a project budget.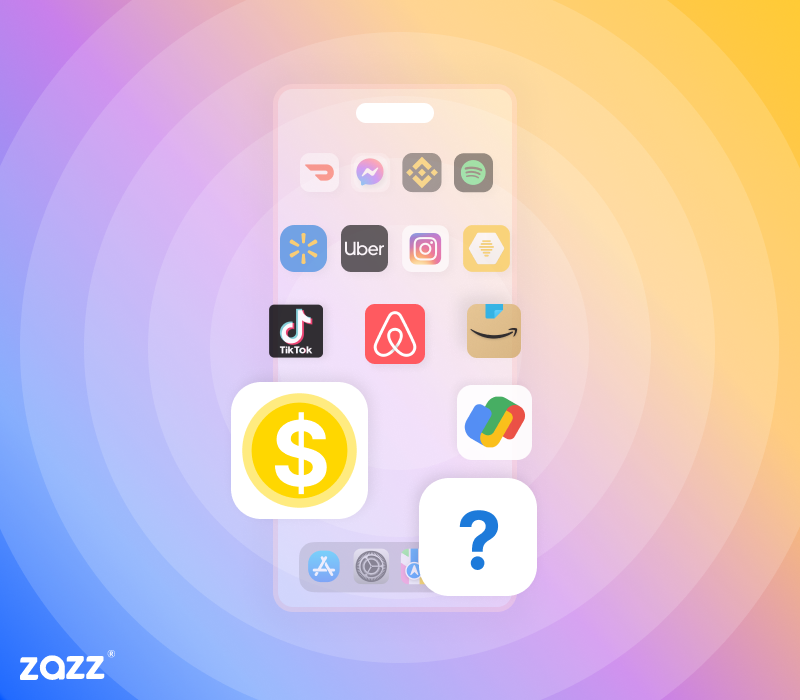 There is no concrete estimate for the budget for application development solutions. You will always need to provide a comprehensive description of your expectations and brand requirements. However, a rough number can range from $20,000 to $200,000 and even higher. It does not always cover the budget you will need for post-launch maintenance.
Apart from features and customization, the type of industry also plays its part in the cost estimation of mobile apps and software solutions. For example; custom restaurant app development services or food delivery app projects may not be as simple as travel app development solutions because each app is developed for serving different consumer needs and therefore these are designed with distinct interfaces.
So, how much does it cost to develop a mobile app in the United States? It is a common query that our own team comes across at the initial stage of a project discussion. With this post, we will be uncovering the answer while providing a vastly comprehensive take on the design and development budgets for new and existing applications.
You may also read – How much does it cost to create an Ekar-like car-rental app in 2023?
How Much Does It Cost to Hire An App Development Company?
Do you want to develop a quality mobile app with an unhindered performance track and flawless user experience? If so, then you will probably rule out the option of freelance app developers. To build something valuable and sustainable, businesses are advised to consult an experienced team with a tangible portfolio of previous projects. For instance, only a travel app development company can help you with a holiday portal or a similar app concept.
Therefore, most enterprises outsource app development services or collaborate with an agency for IT staff augmentation. In both these cases, the cost of managing a talent team is way cheaper than building your own in-house team. The project control remains in the hands of the client while service providers take care of the digital product.
To hire a renowned service agency, you will need a budget of $30,000 to $50,000 which is an average number. Additional costs and hourly fees of professionals are informed by your service providers at the time of contract signing. Here's what you can expect from your mobile app development company in the USA in terms of team engagement and mobile app development cycle: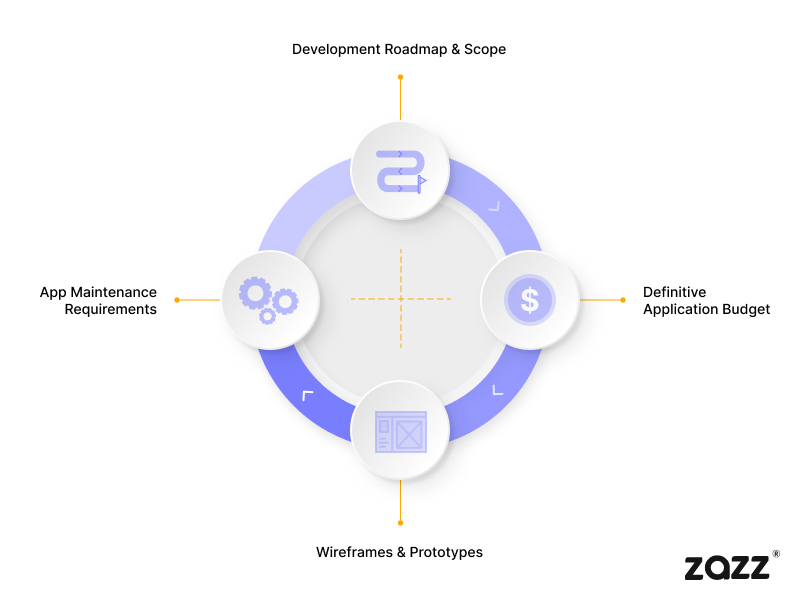 1. Development Roadmap & Scope
What kind of app will serve the purpose of your digital presence? Is it a native project for an Android app development company project or iOS mobile app that can increase your outreach? Do you want a cross-platform or a hybrid application to boost the omnipresence of your services and products?
These are some basic questions you will be asked when hiring a mobile app design and development company. What if you're not sure what kind of app will do for your brand? In that case, an agency like Zazz will help you understand the general dynamics of apps and their influence on your market presence.
You may also read – Costs & Key Features of Fashion eCommerce App Development
2. Definitive Application Budget
A reliable app design agency ensures to be clear & concise about the cost of mobile app development services. A service provider like Zazz is transparent about the existing and potential budget of app development and maintenance services. From wireframing and prototypes to deployment and third-party integrations, every expense is explained from scratch.
A trustworthy service provider will make sure that you are aware of every penny you are spending on your project whether it's an Android or an iOS app development company. This cost will be based on the engagement model you wish to follow to finish the project earlier. It can either be an hourly or a per-project approach.
3. Wireframes & Prototypes
When you hire a software solutions company, you don't need to worry about consulting a UI/UX design agency to obtain the wireframes for your project. These companies have a dedicated team that works solely on website and application prototypes. This way, you will be able to save $3000 – $5000 on the UI and UX design services from a freelancer or a different agency.
4. App Maintenance Requirements
Does your app really need maintenance after it is officially launched on Google and App Stores? Only a credible app development company in the USA can offer the right answer on the maintenance cost. While basic applications can suffice with bug fixes and timely updates, enterprise software and apps with multiple interfaces will always need planned maintenance solutions.
The Cost of App Development at Different Stages
How much does it cost to hire an app development company in the USA? If you are still wondering about it, then you should know about the different phases involved in an app development cycle. This way, you will understand how much budget is required for each phase of your project. Let's take a look below;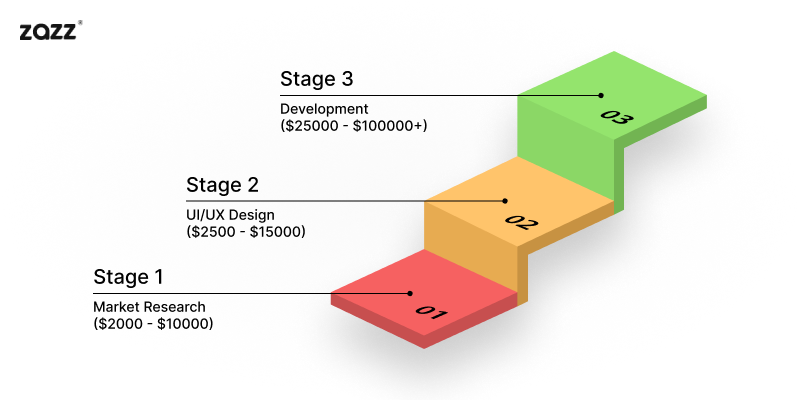 Stage 1 – Market Research ($2000 – $10000)
Even if you have the most prolific idea for a profiting mobile app, it needs to be backed by data and insights that prove its worth in the market. A promising experienced app development team will begin your project with a methodical market analysis to see how far the project can go in terms of effective consumer engagement.
You may also read – Perks and costs of Developing a Doctor On-Demand Style Healthcare App
Zazz or any leading mobile app development services company in the USA will ask you a series of questions to fully learn about your expectations. A consultation call is booked at the beginning of the project which is then followed by multiple calls and communication means to build a strategic roadmap.
This phase is widely managed by business analysts to;
Comprehend the goals of your brand and align the outreach structure according to it.
Analyze whether your unique application idea would work in meticulous market dynamics or not.
prepare a list of the best practices to follow while deploying the app product on the Google Store and App Store.
Figure out the simple yet efficient ways your app platform will engage your users while offering a better experience than your competitors.
Stage 2 – UI/UX Design ($2500 – $15000)
Ui/UX design services cover more than 20% of the overall app development costs in the USA or anywhere else in the world. You must also know that UI and UX are two separate elements of the application design process. UI or user interface design includes the app layout that showcases the generic structure of your business app. UX or user experience design can be described as the functional layout and navigation of the product.
A trustworthy UI/UX design company like Zazz provides a wireframe and a clickable prototype so you can see how your app will work. You can also ask for a clickable design to assess the ease of use and performance of your application after it's launched. Most designers use Figma, Proto, InVision, Adobe XD, and similar tools to curate a build and share it with their clients.
Stage 3 – Development (App Coding) ($25000 – $100000+)
Once you approve the design, then the company begins the most critical part of the app project. Therefore, it is considered the most expensive part of software and application development. In most cases, this phase of the cycle requires 70% of the total mobile app development cost and probably most of the project time.
How much does it cost to build an app from scratch and how long does it take? Now you have a more extensive idea of it. You must also know that a full-fledged digital product requires 4-6 months to complete after the final approval of designs and wireframes. The team consists of a mobile app developer, a front-end developer, a back-end developer, and a QA engineer.
To provide cost-efficient mobile app development services to our clients in the USA and overseas, our team at Zazz suggests cross-platform app development using React Native or Flutter. Our Flutter app development solutions allow you to broaden the possibilities of a higher engagement on your application.
Well-known mobile app development companies in the United States complete projects faster and more effectively using agile methodology. If you are planning on outsourcing custom software solutions, then you should count on a team that can dedicatedly work on your project while testing the performance in each phase.
Additional Areas for App Development Project Cost
Device optimization – It adds up to the mobile app development cost. It is essential to make your app compatible with tablets and desktops.
Mode-based customization – It is another added element of the budget because the availability of dark/light mode along with landscape and portrait settings elevate the quality of your app.
OS Support – Boosting the app support for old operating systems and devices needs a higher budget because applications are often customized for the latest OS.
Push Notifications – Engaging isn't enough! You will also need to retain your existing user base with push notifications that let them check out the latest deals and updates on the platform.
Multi-Lingual Setup – The overall cost estimate of mobile app development services in the USA is majorly affected by language customization, but it always benefits your brand in the long run.
User Tracking – A business can drastically improve with the help of behavior analysis and user tracking on the application. However, it comes with an increased app development cost.
Common Types of Apps & Their Development Budget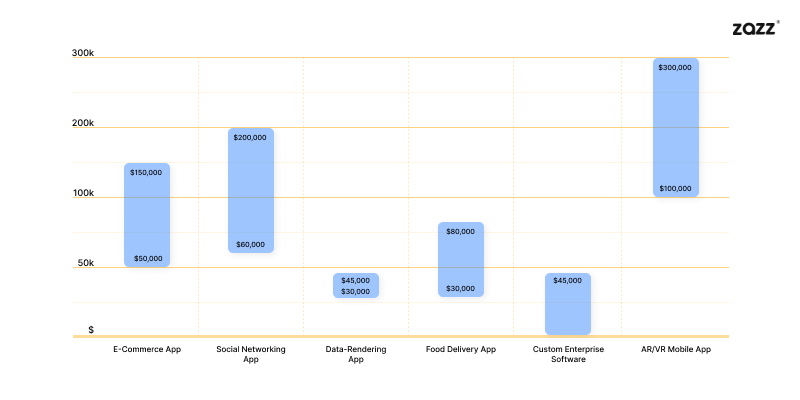 1. E-Commerce App
Do you wish you see an upsurge in your retail sales? Hiring an e-commerce mobile app development company is certainly the most powerful way to get started. The cost of e-commerce app design & development services in the USA lies between $50,000 to $ 150,000.
2. Social Networking App
If you have an impeccable application idea for a social networking portal that conquers the existing social media market, then you should consider a budget estimate of $60,000 to $200,000. Our social networking app development services will provide a clearer view of the custom solution costs.
3. Data-Rendering App
A smart enterprise application or custom software for internal processes with abilities to render data via automation will require a budget of $30,000 to $45,000.
4. Food Delivery App
A food delivery app or any on-demand application with at least three different interfaces will need a minimum budget of $70,000-$80,000. Though, a simple restaurant app can be covered in $30,000-$40,000.
5. Custom Enterprise Software
Based on the complexity and end-user requirements of the application software, custom portals with medium-sized capacity can be developed within a budget of $45,000. It can go higher with a rising need for scalability, risk management, and future-ready structure. The same structure can be applied to Saas development solution!
6. AR/VR Mobile App
Augmented reality and virtual reality are technologies that you can implement in a wide range of digital platforms. It will eventually boost the app development budget and take it up to $100,000 – $300,000.
Why Consult Zazz to Save on the App Development Cost in the USA?
As a growing enterprise, you might want to consider connecting with multiple firms and service providers for custom application solutions. Eventually, you might want to talk to a freelance developer or an independent team or vendor to hire app developers with experience in these services to get your project completed. However, you can't always rely on these alternatives to provide you with a definitive estimate of your project based on its future scalability demands.
You may also read – How to Reduce Business Costs with IT Staff Augmentation
At Zazz, we are committed to guiding businesses with a well-structured app design and development plan where they can thoroughly see what they are spending their time and money on. The cost estimate we offer for on-demand app development services in the USA is based on the market insights drawn by a team of business analysts and digital technology experts.
Led by a gigantic team of 275+ development engineers and top-notch product designers, we strive to deliver cost-effective digital transformation solutions to our clients who trust us. Moreover, we also assist booming ventures with agile development methodologies & MVP-first approaches while working on their business applications. In addition, we keep our partners posted on every benchmark of our progress with the project.
If you want to learn more about application development and maintenance costs in the USA, you can book a consultation call with our team today!