Is augmented reality the future of modern medicine? In conventional hospitals, techniques such as X-rays, computed tomography (CT), magnetic resonance imaging (MRI) and ultrasound are used. These can reveal structures such as bones, allowing radiologists to see a fractured leg, for example, but they can also reveal soft organs such as the liver or brain. Together, they give doctors the tools they need to see inside, make diagnoses and plan the surgery. Now, a group of researchers from the Canadian University of Alberta offers a solution that does not require invasive surgery on the patient.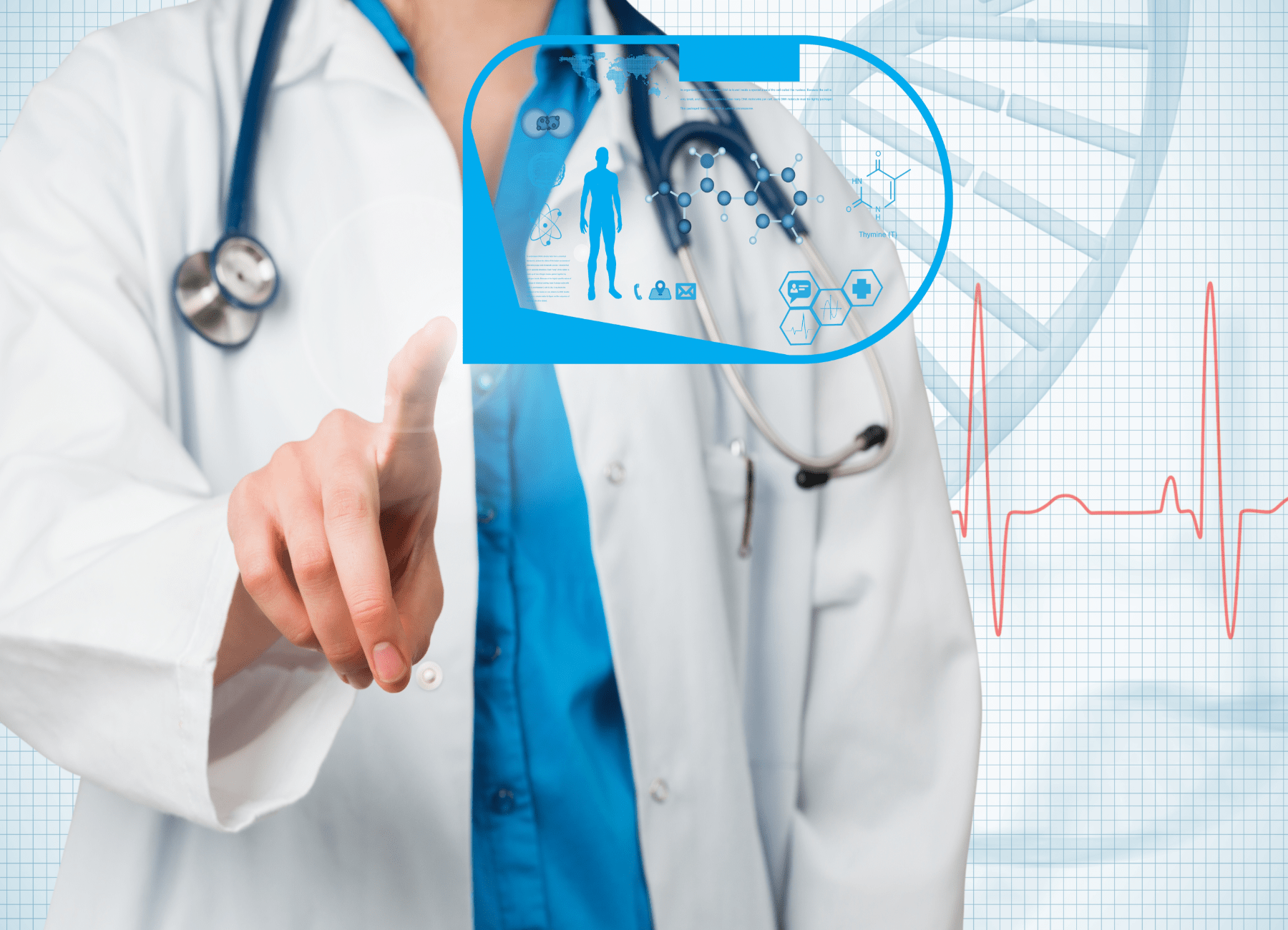 The augmented reality provides real-time images of the inside of patients, or three – dimensional CT images projecting MRI previously obtained on the skin. "There are many applications for this technology, including teaching, physiotherapy, laparoscopic surgery, and even surgical planning," says Ian Watts, a graduate student in computer science who created the system together with student Michael Fiest. "It's like you have a flashlight, and you can select a body part and show what's inside," he adds.
Perfecting motion detection calibration
The system incorporates a projector, infrared cameras, and markers that are placed in strategic locations on the patient's body. The cameras track those markers, allowing the system to know the orientation of the body so that the images projected on the skin can move as the patient does.
Watts and Fiest are perfecting this motion detection calibration and would like to offer depth sensors to allow doctors to customize what they see. For example, they could choose to show only some of the composite images.
The next step in the development of the project is to include surgical simulations. If the technology works, it will be possible to help doctors plan and execute procedures. But it has other uses too. "There are many applications for this technology, including in fields such as teaching, physiotherapy, laparoscopic surgery, and even surgical planning," says Watts.
Besides, for students of anatomy, physiology and physical therapy, the possibility of seeing within a patient is a great step for the teaching field. And, there is no doubt that a universe of possibilities opens up.
The best-augmented reality applications in medicine
Accuvein
AccuVein helps healthcare professionals locate patients' veins with greater precision for injections. The AccuVein AV400 digitally displays a map of the vasculature on the surface of the skin in real-time, allowing doctors to check the permeability of the veins and avoid valves or bifurcations. It is hand-held and lightweight, weighs only 277 grams, and easily becomes hands-free with the optional use of wheels.
VA-ST
VA-ST is helping people with vision problems, both totally blind and visually impaired. With their SmartSpecs, they are improving the vision of many people. It is a computer vision technology, which ensures "they change the way we see the world."
The software allows you to teach to recognize 3D objects and then identify them within a scene. For people with vision problems, this can mean a great help to find lost objects or to unfold in unknown environments. "Most people who are blind have some degree of vision left," said Stephen Hicks, researcher and founder of VA-ST.
For many of these people, the problems they encounter have to do with face recognition, driving, reading and avoiding objects in their path. The VA-ST viewfinder is intended to be used in the daily lives of those with these types of problems. Thus, for example, the device would create some of a template outline around a person's face to help with recognition and help improve situations with poor contrast.
Brainpower
Brain Power is working to teach social skills to children and adults affected by autism. What they do is create brain science software to transform portable objects like Google Glass into neuro-assistive devices to generate autism educational challenges.
Their tools help to train children and adults affected by autism so that they learn practical life skills and evaluate their progress numerically.
SNAP
The advanced surgical navigation platform (SNAP) allows doctors to show their "plans" for surgery. The SNAP is connected to standard operating room navigation systems and provides advanced imaging capabilities, including multiple 3D views that allow surgeons to see their case both from the perspective of a microscope and with another view from behind the tumor.
An additional feature of SNAP is a dynamic segmentation that allows specific semi-transparent structures to be observed to observe the structure of the vessel within the limits of the tumor.
Saagara
Saagara is aimed at improving the physical, mental and general well-being of people using AR technologies.
Saagara applications are used by people around the world to increase athletic performance, reduce stress and blood pressure, and improve overall health. They ensure that through the use of their software they make small changes in people's lives. They strive to achieve improvements in people's health and well-being. They combine technology, community, and awareness.
VR Dentist
VR Dentist is a dental application that uses virtual and augmented reality for educational purposes for dentists in training. The application allows visualizing models and dentures in 360 degrees
SmARtsKin (in development).
The exact positioning of the patient in radiotherapy is crucial for the precise selection of tumors and the detection of organs at risk. The objective of this project is to develop a camera-based guide system for patient positioning and monitoring.
The axis of the system is based on the technology of augmented reality (RA). The smart skin system overlays the patient's relevant contours to the patient's real-time camera feeds during setup and treatment to visualize differences between the planned treatment position and the patient's current position. The system prototype has been tested and improvements are being made such as the integration of real-time surface measurements with the Kinect infrared camera.
4D Anatomy
4D Anatomy visualizes detailed bone structures and organ systems when the device is pointing to special downloaded templates. Through this free application and a simple printed image, Anatomy 4D transports students, professors, medical professionals and anyone who wants to learn about the body, to an interactive 4D experience of human anatomy.
Visually stunning and completely interactive, Anatomy 4D uses augmented reality and other cutting-edge technologies to create the perfect vehicle of 21st-century education.
Also Read: Augmented Reality Helping People with Disabilities
Augmented reality in practice
There is a wide variety of uses for AR in the public sector and, as with any technological innovation, its potential is limited only by the creativity and ingenuity of its users. The following examples of potential uses, some of which are already being planned or are in the proof of concept phase, provide a quick overview of the possibilities.
1. Electronic government administration: commitment to citizens and electronic services
Imagine a world in which all government forms and applications can be accessed through a variety of AR devices (smartphones, smart glasses, monitors and readers in the office) with a full range of accessibility aids (sound, translations, visual and graphic instructions, etc.). Imagine a world in which the very foundations of government administration, politics, laws, legislative documents, and frameworks are transformed into truly "living" documents that can interact with citizens and officials through AR-enabled devices. And imagine a world in which citizens and businesses can really "see" through augmented reality what public works projects will look like: highways, water and energy facilities, parks, new transport lines, and stations, etc. .; and even interact with the augmented project.
2. Administration and maintenance of assets
Imagine municipal employees capable of efficiently and accurately maintaining city assets, such as street lighting, water tanks, communal roads, and roads, using screens on the windshields of maintenance vehicles, smart glasses, devices mounted on Helmets and other hands-free AR devices. Imagine optimizing the reach and impact of high-level experts, specialists and supervisors trained to provide real-time guidance and technical knowledge to field workers with remote, auditory, visual, informational and sensory AR connections.
3. Public safety and emergency services
Imagine that firefighters and first aid teams can navigate to, and through, their environments with emergency vehicles equipped with AR screens on the windshield that provide them with real-time route guides and sensor data on environmental conditions and dangers; and with AR devices mounted on helmets and visors that allow them to see and hear through smoke, fire, debris, bad weather conditions, etc. Imagine applications to see disasters in AR, which provide visual and auditory guidance for citizens seeking refuge, evacuation routes or emergency assistance in a catastrophe situation. Imagine real-time RA applications that allow law enforcement officers to access specific location information and data on dangerous situations through smart glasses, vehicle screens and other portable devices. And that citizens and businesses can access authorized specific data on crime statistics and other environmental factors simply by pointing their mobile devices to a building, the street or an entire community.
4. Public health, welfare, and sustainability
Imagine that inspectors of all types, health, construction, public safety, environmental quality, etc., could instantly "see" and interact with all available data and information related to installation, an agricultural area, a neighborhood or a district. Communities interested in promoting a healthy and sustainable life for their citizens can connect healthy services, parks, recreational facilities, farmers markets and urban farms, community health festivals, and connect them with healthy activities such as walking and cycling, roads and ways transfer that offer "healthy" options, or options that leave the least carbon footprint. Imagine a large number of environmental quality detectors (air, water, earth, etc.
5. Transportation and urban mobility
Imagine, in this augmented future, to be able to visually see and "connect" with the different transport systems, from the traditional infrastructure of fixed roads, roads and railways to modern on-demand mobility services and shared transport services and active traffic (walking and riding a bike). The operators of the means of transport, trains, buses, ferries, cars or shared vans, with AR screens on the windshield that provide real-time information, such as traffic incidents, changes in programming and route, customer needs, maintenance and condition of vehicles, etc.
And imagine an increase in the physical maps of the transit systems so that users, visitors and residents alike can visually and audibly access the part of the transit network that they use and need.
6. Culture, cultural heritage and tourism
Around the world, the protection of cultural heritage and culture has become a matter of high priority. One of the most important uses of the AR is to highlight places, such as historic buildings, castles, monuments, cultural heritage sites, and battlefields.
Culturally important museums and buildings are perfect candidates for the RA of information, with content about works of art, utensils, publications, etc. Natural resources, including national parks, coasts, forests, and wetlands, combined with AR can provide an excellent educational experience while encouraging and controlling the proper use and conservation of natural resources. Put this together, search for routes, things to do, art and culture, history and cultural heritage, to create attractive AR experiences for tourists and citizens alike.
The above examples of AR in the public sector are just some of the possible real use cases that are now being used. Augmented reality is emblematic of the fourth industrial revolution, a blurring of the lines between the physical and the digital world and, in fact, of the public and private spheres. Keep your eyes open and you can soon "see" the very future of the public sector.
After knowing all these augmented reality applications focused on medicine and other fields, it can be assured that AR will play a major role in our life in the coming years. And if you have any concerns or queries, don't forget to contact us!