The technology of augmented reality has remained and has changed the way we communicate with the world that surrounds us. The addition of digitally created objects and smart devices by top augmented reality app development companies to the real-life environment can potentially transform all sectors, from education and healthcare to entertainment and gaming.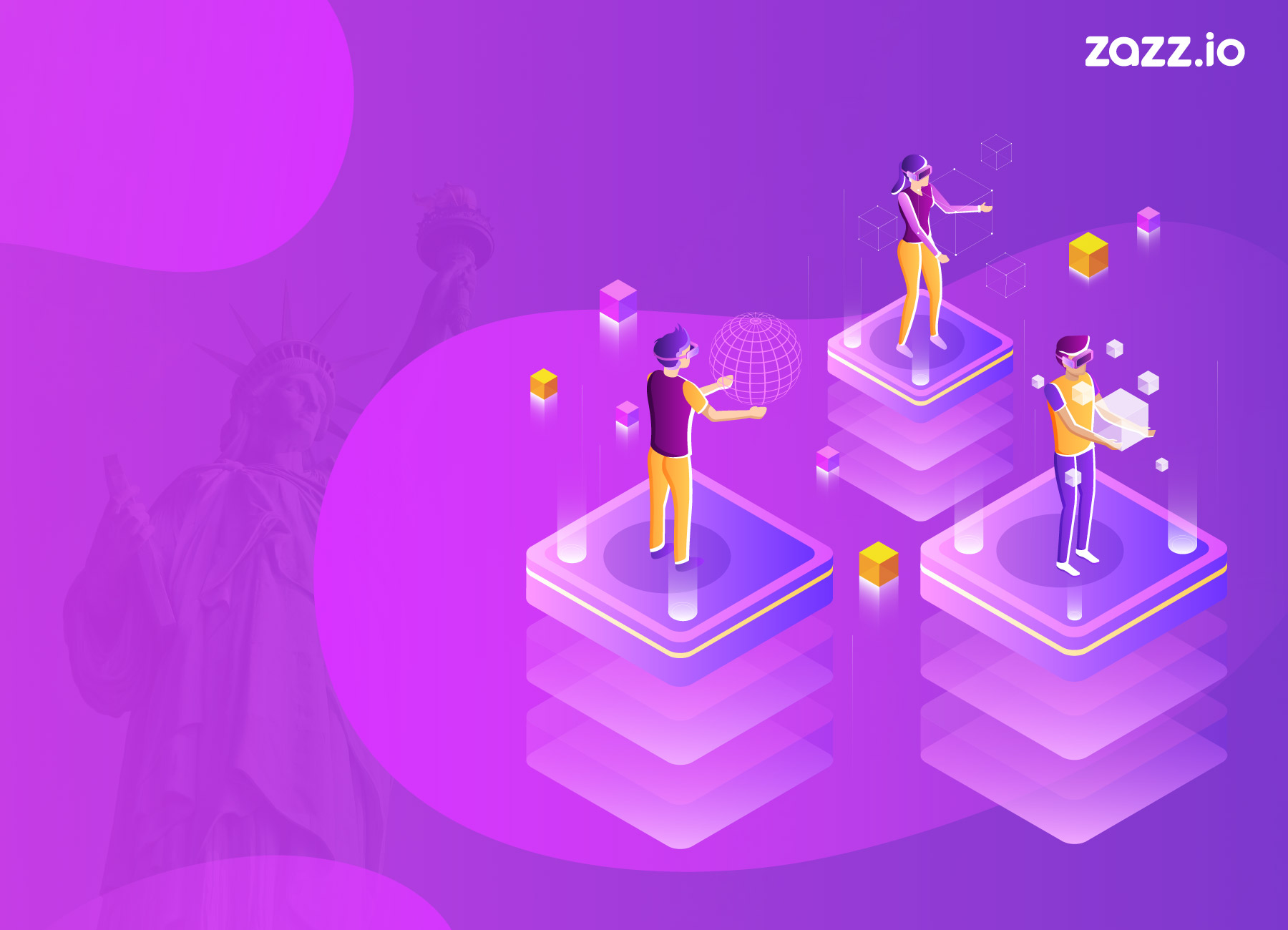 AR apps alter the way people communicate with brands. It uses the camera of the computer to see the object, image, and position, and users can see digital information right on display in graphics, items, videos, and audio types.
It would help if you had an experienced and exceptional team of augmented reality developers to build compelling AR apps that leave no stone unturned to deliver what's best according to your branding needs. We have filtered the top leading ar app development companies that have the highest scores worldwide after an informative report on the AR app development firms.
Top Augmented Reality(AR) App Development Companies In USA:
Zazz is an award-winning Augmented Reality App Development company that embraces the concept of building and executing great ideas through creative business solutions that empower the businesses of customers. Their team has been one of the ace players in Augmented and Virtual Reality app growth with a decade-long history in mobile app development. Backed by a stable infrastructure, professional AR developers, and modern AR toolkits, they are ready to deliver advanced feature apps, and view augmented mobile screen data.
Appstudio is a well-known tech & IT mobile app development company that provides in-depth knowledge of AR app development services. In order to develop the most captivating AR applications and redefine how customers interact with businesses by leveraging the power of Augmented Reality trends, the company has a comprehensive portfolio.
They have a team of software developers, digital producers, and designers working together to provide result-driven AR/VR applications for different industry verticals.
AppsChopper is a leading mobile app development company that provides creative solutions for custom business needs for AR-VR apps. Their AR developers are well-versed in working on standard instruments such as Vuforia, Wikitude, ARToolkit, and many more.
They have catered with their AR expertise to various industries such as entertainment, food, aviation, automotive, and manufacturing. The company's primary goal is to provide start-ups, governments, and organizations around the globe with tailor-made software development services. They Provide sophisticated AR software at cost-effective rates.
Gravity Jack, a full-service custom software development company, specializes in creating augmented and virtual reality mobile applications. They have a formidable team with an exclusive ability, through their proprietary Adroit platform, to recognize and increase any real-world object. 
By unlocking AR's full ability to offer perfect user experiences, Adroit addresses complex issues. The trained team of AR developers provides convincing AR applications in a short time with hands-on experience in the cutting-edge AR technologies.
CitrusBits is one of the recognized mobile app agencies with established AR development experience, headquartered in the USA. With years of experience, the company provides both entrepreneurs and seasoned companies with immersive AR software.
They are known for providing an approach to the creation of end-to-end augmented reality research apps. Apps that include everything, including 3D modeling, animation, computer vision, spatial audio, and development of frontend/backend. The team ensures that customer engagement rates improve by providing outstanding customer experiences.
Intellectsoft is a top augmented reality software company for various verticals providing the best AR experiences. They have incredibly knowledgeable AR developers for Android and iOS devices who make high-quality applications. 
Whether it's emotion-invoking AR interactions to object and pattern recognition, the business offers invaluable insights into the activities and improves accuracy and productivity significantly. They give your customers a brand new level of experience with vast experience and strong skills.
Dogtown Media, established in 2011, is a well-known AR software development company. They have the best app-making skills to create amazing apps. The organization follows end-to-end virtual reality technologies according to the unique needs of the customers.
Leverage their strategic advantages of augmented reality companies to deliver lifelike user experiences by bridging the gap between the real and digital worlds. Strengthened by the right blend of creativity and expertise, the augmented reality app developers suggest the right features to scale your business's growth.
8ninths, Seattle-based ar development company provides industries with platform technologies and services across all verticals. On leading platforms such as Microsoft Hololens, Oculus Rift, HTC Vive, and more, the company is actively engaged in developing AR applications for businesses. The key goal is to solve complex problems with innovative and eloquent engineering techniques.
SubVRsive creates AR applications that drive brand engagement, from 360 videos to cutting-edge AR solutions. It is a full-service technology company for augmented reality applications that focuses on developing impactful AR/VR experiences for their clients. They have a robust portfolio that allows them to build powerful AR apps that enhance user engagement, increase user curiosity, and reinforce brand loyalty.
Headquartered in NYC and with branches in Seattle and San Francisco. Blue Label Labs is a digital product company delivering AR & VR solutions. They have produced and developed over 300 digital products in the past six years. Their esteemed customers are from start-ups and innovators to small companies and businesses.
In The End:
For your industrial maintenance, augmented reality is beneficial. The augmented reality companies' software developers create an AR application for your company with a stronger customer retention and attraction experience. 
These are top developers of augmented and virtual reality applications who deliver their unique solutions worldwide. Let's discuss and select your ideal partner and get started with the next app for AR.
Also Read:
How Augmented Reality is Influencing These Four Industries In 2021
How App Store Generated More Revenue Than Play Store in This Pandemic?
Blockchain Technology: Boost UK Economy £57bn by 2030
How Food Delivery Apps Are Killing the Restaurants Industry?