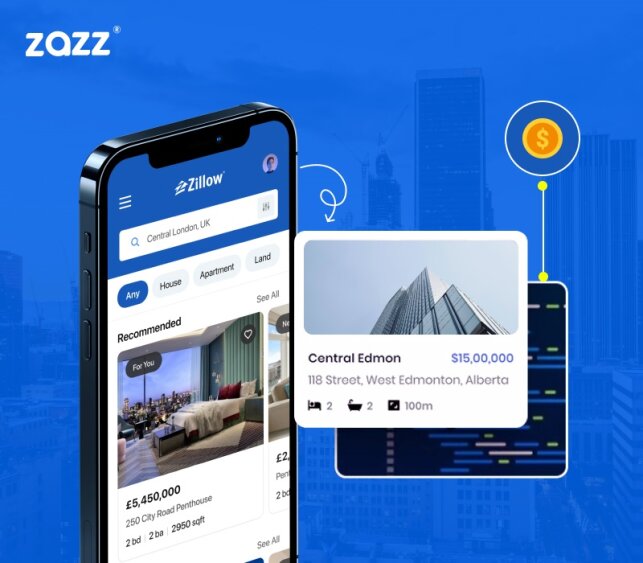 100 million+ homes listed in some of the most preferred locations of the United States represent the dominance of Zillow as a real estate giant in the nation. From buying a new home to renting the first apartment in the big city, this #1 real estate application is helping millions of people live their American dream vividly.
Zillow was founded by Rich Barton in 2006. Rich was also a part of the founding team of Expedia.com by Microsoft, which is a popular travel booking portal. He once stated that the idea of a large-scale real estate application spawned from Expedia itself.
At present, there are more than ten million downloads of the Zillow mobile app. It clearly shows that the majority of Americans trust this app to buy and rent apartments, homes, commercial properties, etc. Even as a seller, Zillow offers so many options for property owners to make the sale a success at the end of every deal.
You can also read – Guide to Building Highly Profitable Fintech Apps – Features & Best Practices
As the most popular real estate mobile app in the US, Zillow has so much to deliver in terms of application interface, platform accessibility, business model, app architecture, and features. We will explore all of it to figure out the cost of building a real estate app like Zillow throughout this blog!
An Overview of Zillow Market & Business Model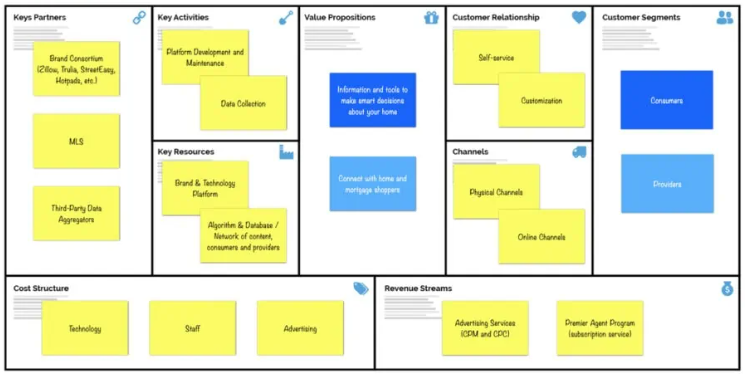 Zillow is presented as a nationwide real estate marketplace offering an extensive range of services for residential buying, selling, renting, and financing. In 2022, the mobile app company announced its release as a housing super app. The existing design of the portal will be upgraded to help users not only search for a place but close the deal and move with convenience.
In order to boost its consumer base and expand revenue, Zillow simply acquired a few other brands like Trulia, Dotloop, RentJuice, and other promising real estate applications while also eradicating the competition at the same time.
You can also read – How Much Does It Cost to Make A Mobile App In 2023: Detailed Cost Analysis
Here's how Zillow generates revenue as the biggest online real estate marketplace in the USA:
The housing company buys homes from the sellers and sells them in quite a short amount of time. It is an advantage to sellers as they get to sell their property for cash without listing it on different portals and waiting around for suitable buyers.
Aside from being a buyer and a seller itself, Zillow also acts as a mortgage lender and charges interest on home loans. Zillow's mortgage services contribute to a large percentage of its total profits.
Zillow has been way ahead of its competitors in terms of its offerings. Its services as an internet media and technology provider prove why it is the most profitable and successful housing application in America.
Understanding Zillow with Architectural Breakdown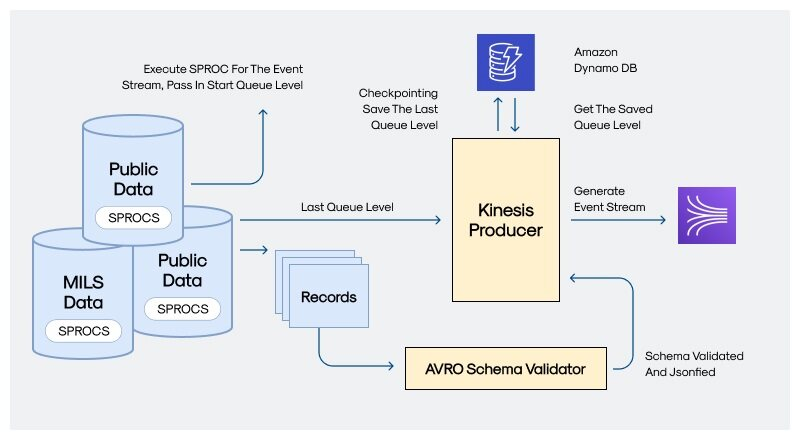 As we have just learned, Zillow performs as a selling and buying application platform for properties across America. However, the immense amount of user data available on the app plays its role in facilitating several services such as housing listing and buyer data management.
The backend structure of the Zillow application is scaled to create information streams that can deliver the needed data without mixing up. This data streaming & ingestion process covers real-time assessment of people looking for rentals and homes in an area.
You can also read – A Guide to Smart Home App Development: Costs, Challenges & Process
List of Top Features for Real Estate Apps like Zillow
1. Property Search Filters
The cost of building a real estate app like Zillow involves a strategically applied search filter that can deliver the most accurate property options on every prompt. An app that shows listings based on pricing, area, location, transportation connectivity, etc. An app for housing solutions is customized to provide house and rental matches for users.
2. Property Media & Description
People spend weeks and even months browsing for homes online before choosing one definite property for rental or purchase. To dive into the buyers' minds and help them with their decision, a real estate app ensures to provide all kinds of descriptions including the images and videos of the property. This feature of real estate mobile apps also adds up to the total cost of applications like Zillow.
3. Database Collection
Data can be far more imperative for real estate portals and applications than you would imagine. Popular housing apps like Zillow collect this user data and make the most of it to boost engagement and revenue. For example, some real estate apps use this data to expand their customer base and alert them of available property in their selected area every time a good deal comes up.
You can also read – MACH 101 – A Comprehensive Look Into the Most Scalable & Future-Proof Architecture
4. Mortgage Calculator
Zillow played the biggest card with this feature and gained an advantage against all its competitors. While several applications already offer loan calculators and other tools to alleviate the decision-making process for buyers, Zillow took it to the next level with its mortgage calculator. Aside from this custom calculator, the real estate marketplace also offers its own mortgage services for its customers.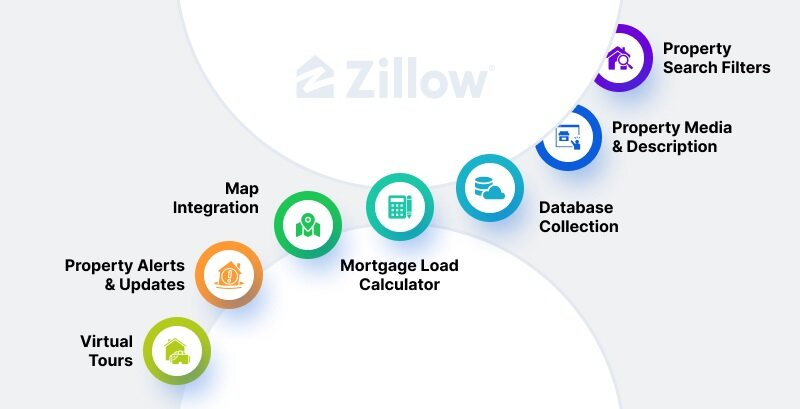 5. Map Integration
The success of a real estate app depends partially on how the map on the portal works. This is why Zillow spent a fair share of its real estate app development cost in building the most efficient map feature that allows its users to locate the property without much hassle. It also presents nearby hospitals, schools, banks, markets, restaurants, etc. near the available property.
6. Property Alerts & Updates
When it comes to driving engagement and revenue to a real estate portal, the power of push notifications can never be denied. Zillow has impeccably tailored its property alert and update system to make sure that its users don't miss a single chance to explore the best property available in their areas.
7. Virtual Tours
In a tech-ridden world, offering innovative experiences to your target audiences is the most effective way to beat the competition. Zillow made it through the technology edge and came up with its virtual tour feature with AR/VR implementation. It is an advantage that comes with augmented reality and virtual reality app development and integration in an existing or a new real estate application.
App Budget Evaluation for Applications like Zillow
Before we move to the exact cost structure of real estate mobile app development for apps like Zillow, you must know that the integration of features such as AR tours, smart map implementation, and custom calculators causes a great difference in the budget of the application project.
You can also read – How do Successful Startups Save Money with MVP Development?
The average cost of a typical housing mobile app ranges between $30,000 to $40,000. In addition to this, some capabilities of Zillow such as backend data management, virtual tour, property media description, and mortgage calculator may raise the budget for up to a total of $60,000 and even higher.
When it comes to setting up a well-defined budget, your selection of a recognized real estate mobile app development company also matters. You must acknowledge that the process of building a housing application like Zillow is far more intricate than user design and feature integration.
You will need to hire a real estate app development company that can scale its methodologies as per the data drawn from in-depth competition research and insights. At Zazz, you get to work with that kind of team that acquires experience in business assessment and scope analysis.
How to Build a Successful Real Estate Application like Zillow
Now you have the answer to how much it costs to build a real estate app like Zillow. Apart from that, you know what features and technicalities go behind the robust digital structure of a highly successful real estate mobile application. So, what's next? Do you also have an idea brimming in your mind that can accelerate your real estate venture?
If you are looking to establish your housing business from scratch and planning a mobile app, then you can connect with our mobile app development company. We are one of the top cutting-edge IT agencies in the USA with hands-on experience in technologies such as AR/VR, automated map integration, multiple calculator implementation, & real-time data management.
You can also read – How Did Starbucks Increase Sales by 14% with Its Mobile App? Let's Find Out!
Our methodologies for real estate app design and development services span from user research to market study which lets us accumulate the needed insight for the app project. Quality testing takes over prominence once we have an MVP with basic mobile app functionalities.
Get in touch with our real estate app developers now!