A sector that stands at USD 4 trillion in terms of the market size with a whopping 11% CAGR describes the glorious future of the fintech industry in America. There are like a thousand startups running across the nation contributing to the unstoppable growth of venture capital investment each year.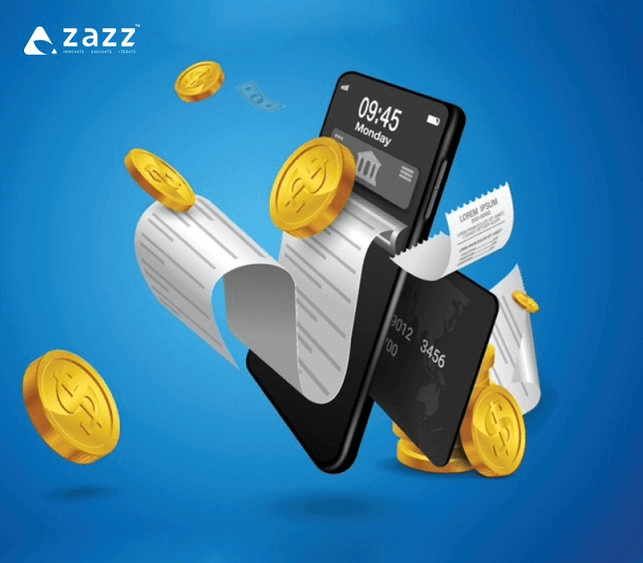 In hindsight, the fintech sector is certainly the fastest growing domain with seamless possibilities and a bright phase for enterprises that offer banking & financial services. It is not just the digital currency trends that revolutionized the finance sector globally. The prominent role of online transactions also points to the changing trends in this niche. 
Simply put, profitable fintech mobile apps are transforming the way people around the world proceed and manage transactions. A multi-faceted fintech application with highly customized interfaces offers the scope of revenue-based development that intersects with increase engagement for an ultimate brand success.
You can also read – How Much Does It Cost to Make A Mobile App In 2023: Detailed Cost Analysis
But how do these profitable fintech mobile apps work? In this post, we will explain the process of developing secure fintech applications that add up to an undefeated growth strategy for your banking and financial services.
Before moving ahead with fintech app solutions, let's catch a glance at the Industrial overview of fintech sector in the USA along with features that bring engagement to these apps:
Fintech Apps in the USA – Industry Overview
The US fintech market is divided into different segments based on the dynamics and service proportions. Here's what the overall fintech industry in the USA looks like after its segregation in different categories:
Digital investments – Digital commerce, digital remittance, POS payments
Digital payments – Robo advisors, neo brokers
Alternative lending – crowd funding and crowd investing
Neo banking – Online insurance marketplace
Aside from smart and profitable mobile apps, ecommerce growth is also a major impact on the fintech domain in the USA. Popular online transaction platforms like PayPal and Stripe have been in the game for quite a long time. But platforms like TransferWise and Venmo have also seen a dramatic increase in digital payments after COVID 19.
You can also read – A Guide to Smart Home App Development: Costs, Challenges & Process
The first remarkable spike of USD 940 billion in digital payments in 2021 elaborated on the omnipotent development of changing fintech trends in the United States. However, the digital investment sector had a bigger and more notable boost in 2022. A report on fintech growth revealed that the transactional value per user in the investment sector crossed USD 48,000 that year.
Even some of the biggest market players in the fintech sector are adopting the idea of partnership strategies to expand their services. The bigger picture in the realm of digital payments also represents that the year 2022 has seen the growth up to great lengths and the niche is going to benefit many enterprises and startups in the upcoming years.
In the same year, iTrustCapital used its funding of USD 125 million to commence its new headquarters in Irvine. This step was taken by the fintech giant to increase its offerings. Many other organizations will also be heading in this direction to get a wider exposure to their brand.
You can also read – 5 Ways React Native Reinforces the Success of Fintech Mobile Apps
Essential Features of Successful Fintech Mobile Apps
Now we have a vivid picture of the unceasing demand for profitable fintech mobile apps in the USA. But what makes up for a fintech application that's user-friendly & rewarding for both the consumer and the service provider.
Let's explore some of the most crucial features of a fintech applications that guarantee the revenue growth organizations aim for:
1. Biometric Authentication
Secure authentication is the foremost need of any growing fintech application. This form of technology integration allows a mobile app development company to make sure that user onboarding is safe.
2. Virtual Banking Assistance
This unique feature is a game changer for banking applications as it lets users clear their queries without having to visit the nearest bank. A visual banking assistant should be active on the app 24X7.
3. Push Notifications & Alerts
Push notifications are integral for any efficient applications. On the other hand, alerts make banking and finance apps far more scalable and engaging for users.
4. Digital Payments/Transactions
The success of profitable fintech mobile apps hinges on how fast and effectively digital payments work on your application. This is a vastly important aspect that brought a hike to this trillion-dollar industry.
5. ATM Locators
Looking for a smart and hassle-free way to compete with other banking apps? If so, then the option of ATM locator in the nearest area will do the trick for your application.
6. Account Management
A brief report on users' latest expenditure & savings will allow your consumers to make better financial decisions. A planned integration of an account management tool can be considered for this feature.
7. AI for Data visualization
Artificial intelligence has the wavelength to transform any business industry and bring it to a futuristic era with strategic innovations. You can use AI-powered data visualization to make your fintech mobile app insightful for users.
You can also read – MACH 101 – A Comprehensive Look Into the Most Scalable & Future-Proof Architecture
How to Ensure the Development of a Profitable Fintech App?
The fintech industry has a prolific future in the United States and overseas. With smart and intuitive mobile apps, a lot can be achieved in this domain. But how does an expert fintech app development company make these products profitable and user-friendly?
At Zazz, we have a dedicated team of product designers and developers who create an impeccable experience with fintech applications. Let's take you through the cycle of our fintech mobile app development process that ensures quality and intuitiveness.
1. Market Research for a Fail-Proof Fintech Platform
Your fintech application could be a digital payment platform or an investment portal. It is a matter of deep-rooted market research that allows our business analysts to come up with fintech project ideas that make your services fairly relevant to your target users.
2. Comprehensive UX Assessment
Detailed research for user experience architecture goes beyond the target location and consumer base. Our product consultants and UI/UX experts work collectively on design methodologies to figure out unique value propositions and seamless user journey cycle.
3. Scope of the Product
Assessing the scope of the product is the key to building profitable fintech mobile apps. In simple words, we always measure the consequences of every component that we add to our applications. Apart from this, we also take into consideration the core concept of your digital presence to make it comprehensive for your consumers.
4. Suitable Technology and Development Model
Choosing the technology and integration models behind successful fintech apps comes with a vast influence on the end product. Even if you have the most brilliant plan for a fintech app in your mind, bringing it to documentation and execution requires planning. Our product management takes care of that for you.
5. Engagement Model & Fintech Compliance
While working with a leading fintech app development company like Zazz, all you need to worry about is the selection of engagement models. You can either hire a dedicated development team or work in collaboration with us to accomplish a profitable mobile app for your banking & finance solutions. From roadmap execution to app compliance, our product team manages everything.
6. Testing & Feedbacks
QA and performance testing may be the last string, but it is indeed a very crucial aspect of fintech app development services. Our quality assurance team performs an efficiency test using the average transaction time, app responsive time, navigation interactivity, & platform security.
Why Zazz for Fintech App Development Services?
When it comes to curating profitable fintech mobile apps with guaranteed interactivity and optimal scalability, experts at Zazz know how to get it done right! As a well-known mobile app development company in the USA, we have worked on an array of products and digital architectures that redefine the engagement dynamics for brands.
As a leading fintech app development agency, we are familiar with the variance that you might have to confront in terms of project planning & costs. Besides, all businesses that offer financial and banking services have varying requirements associated with the app elements and performance. We use this understanding to make fintech applications far more personalized and consumer-first.
If you are planning on building or renewing your fintech brand with a new and improved architecture, get in touch with our team now! You can also discuss fintech app design & development costs during your consultation call with our experts.