To succeed in the digital age, companies must go beyond basic corporate websites and embrace the vast opportunities of e-commerce. The power of online sales and marketing is undeniable, offering endless potential for those who understand how to leverage it. Settle for nothing less than a dynamic, multi-faceted web presence that captures your brand's essence and maximizes customer engagement.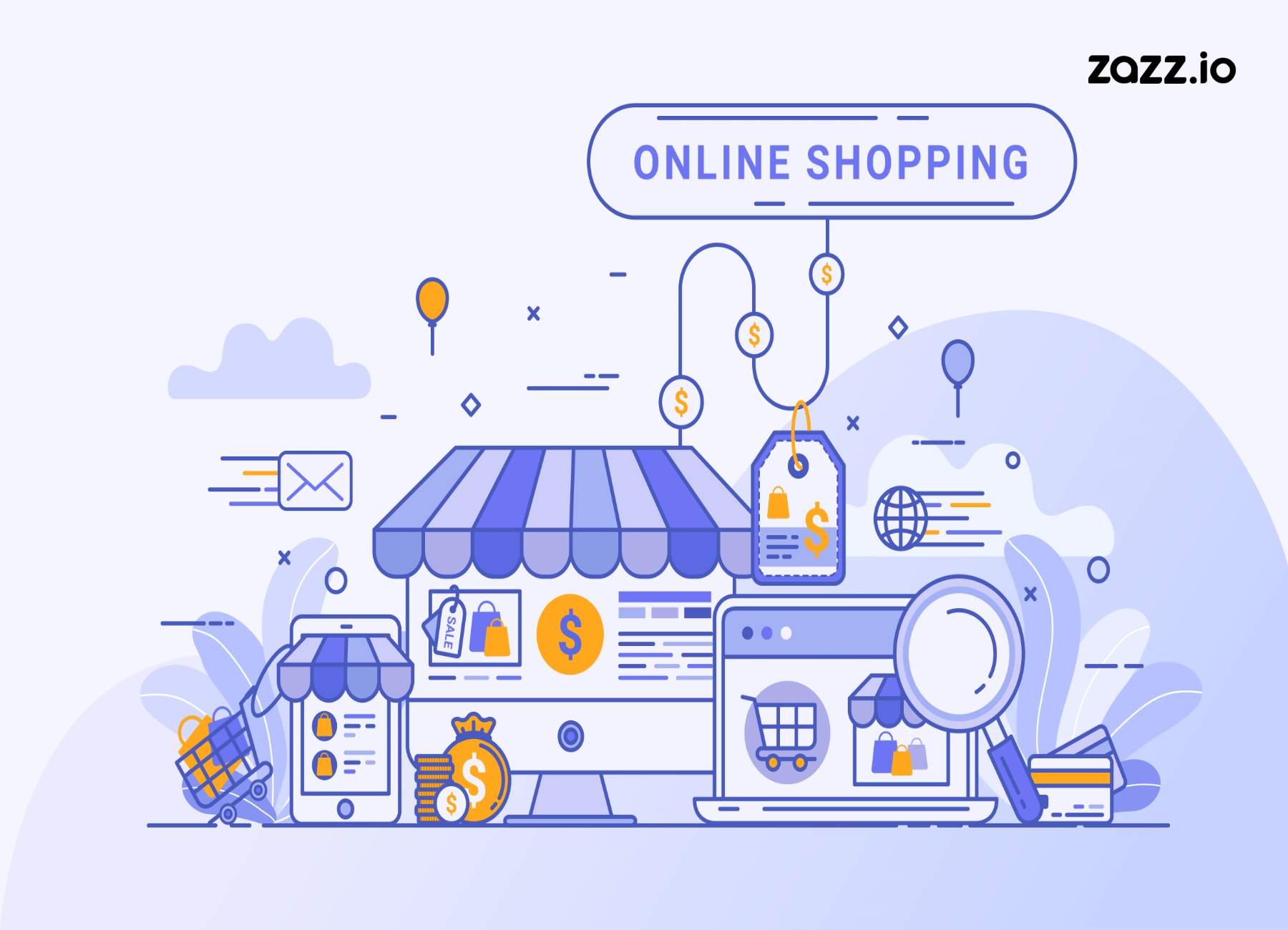 Consumers are already completely accustomed to making their purchases online and the payment procedures are increasingly diverse and secure, thanks to products such as Pay Pal for example. This brings the consumer much closer to the online shopping experience, with more confidence and already fully adapted to use.
There have been great successes in the area of E-Commerce that demonstrate the effectiveness of a good online store in substantially improving the benefits of all types of companies, such as the campaign of the supermarket company Tesco and its virtual showcases with QR codes, which meant a 76% increase in online sales.
Now is the best time to incorporate tools of this type so as not to be left behind.
Electronic Commerce:
Electronic commerce, or e-commerce, encompasses a multitude of commercial activities carried out over the internet. These include market actions, sales, portfolio management, logistics management & customer service. Essentially, any exchange of commercial information implemented via the web is classified under this umbrella term. In addition, electronic commerce refers to a financial exchange that takes place between distant subjects, enabled by electronic means of payment & interaction. Through these mechanisms, businesses can transcend physical limitations and reach consumers across the globe, regardless of geographic location.
With the advent of the internet, E-Commerce has emerged as a powerful instrument in the business realm, enabling companies to achieve unprecedented success. However, to distinguish a virtual enterprise from a physical one, it is imperative to comprehend the diverse varieties of E-Commerce businesses that exist in the market, with each working towards distinct sets of customers and industries.
B2B (trade between companies)
C2C (Purchase & sale of products and services between individuals)
B2C (Trade between companies)
Virtual businesses offer several benefits such as increased market reach and faster operations. Although managing customer relationships can pose challenges, innovative technologies have revolutionized communication between consumers & companies. By leveraging top quality tools, businesses can bridge communication gaps and stay connected with their clients more effectively. As a result, companies can boost their reputation & customer satisfaction levels, thereby increasing their overall success in a globalized market.
Thanks to electronic commerce, almost any transaction can be made without leaving home. Companies install a virtual store that displays a catalog of various products, the customer selects those of interest and starts payment processing that, for consistency and convenience must also be electronic. In the end, the order arrives at either your home or your computer depending on what you selected.
For this there is excellent support, attention to complaints and returns processing is a fundamental point for electronic commerce, this feature is the beginning of differentiation in any company that implements it. This system changes the dynamics of customer-company relations in terms of marketing, it is the structure of the company that changes.
Advantages of electronic commerce
Creating new business opportunities & ways to distribute your products.
Access to customers from any geographical area without limitation, opening, and expansion to new markets.
Increased competitiveness and quality of service.
Quick response to the needs and shorter or non-existent delivery chains which can lead to a reduction in final prices.
Order and customer control.
Creation of an E-Commerce site:
When venturing into the realm of e-commerce, the initial step is to build a website that acts as a supplementary tool for all market activities. It's essential to note that this is distinct from a virtual company or portal as it follows the structure of the existing organization. The website, in fact, represents the final piece in the company's client-centric orientation. By creating a website that aligns with pre-established norms, e-commerce companies can better work towards their customer's needs. Moreover, it is advisable to work with a top eCommerce App Development Company to execute your e-Commerce project with perfection.
Currently, progress has been made in the creation of very creative and dynamic tools that make pages striking, with the integration of formats that link texts, sounds and images, under a multimedia criterion, attracting the attention of people who access them from engines Search available on the network and made known by the same company.
This site that we develop must be consistent with the current corporate image or that we want to project, presenting both internal clients and external clients with answers to the queries they advance, based on intranet and extranet schemes respectively.
Of course, access to the website will be conditioned and will be restricted with the use of a password or access codes, as necessary, to avoid leaking confidential information.
On the other hand, the sizing of the data placed on the page will be conditioned to the minimum presentation required by the clients and organizations that access it, so the website must be enhanced from the inclusion of links or links that extend and complement the topics, leading to other sites of interest, quickly and "friendly".
Once your company or business has decided to take the step of initiating an e-commerce strategy, it must take into account various parameters on which the success of this initiative will depend. We must create a store that becomes an effective commercial tool, which serves not only to sell products and services but is a meeting place with our customers.
E-commerce has long since been incorporated into consumer habits and there are numerous studies on what makes customers take their time in your virtual store and end up buying, which is the primary objective. Many of the strategies applicable to real-world showcases will have their effectiveness in the virtual environment, but additional points that we will describe below should be taken into account:
It must be very clear what we sell in our store and who we are, to make it clear to the user, who arrives at an online store without knowing it. You generally don't know anything about the company. Therefore it is important to offer all the data on it; trajectory, years of activity, guarantees, location of headquarters and contact with staff.
We must accompany the products offered with the precise information about them, with a midpoint of intensity, without overwhelming, but without sinning little explanatory. Photographs, videos, opinions, will be of great value. The online store must present the products or services offered attractively for the potential customer. Do not forget that the customer will not be able to physically touch the products, so an adequate presentation of them will have a very important influence on the decision making of the purchase.
The appearance of the store must convey order, free of baroque, to make it easy for visitors. On the internet there is less patience than the real world, if it is confusing, potential clients quickly go to another. The user must feel comfortable at all times, and therefore we must facilitate navigation to the fullest. You need to find what you are looking for at all times and better in one click.
The style and graphic appearance that we manage to transmit via online must meet the user's expectations regarding functionality and their perception of the site as "pleasant". Website navigation should be as simple and intuitive as possible and allow the potential client to find what they are looking for in the shortest possible time, including elements that facilitate the search for that information, such as an internal search engine within the online store, a website map, etc.
Accessible purchase information: the customer must be able to view at all times the information about the products or services that he has selected for his purchase, quantities thereof, etc. and it must be quite easy for modifying these quantities before making the final purchase.
We must build trust in the customer, show that we are reliable, using tools that show on the screen that other customers have already trusted us, for example by showing what other users trusted our product. Good idea is to add valuation systems.
Multichannel contact, in the form of customer services outside the purchase website, telephone number, social media support, and mail.
Use of sociability tools, of course, social networks and everything that helps to know the opinion of buyers, even integrated into the sales interface itself. By enabling a space for sending suggestions, ideas, questions, etc. We must constantly monitor the requests that arrive, respond to all of them and incorporate the possible improvements proposed by the users. In short, pay attention to them. This will depend on many times that they buy from us or the competition.
Create a flexible website where you can buy at any time, with the greatest possible diversity of payment systems.
Coordinate the sale with the distribution of the product and its channels to make the service effective, it is of no use to sell if logistics complicate customer access to the product.
We must be able to issue messages that call to action, that cause a click, buy, call, register, etc. using the right words and graphics.
It is important to personalize and make the store's texts attractive. It is not the same to read of a product "more information" than "I want to know more". It is not the same to incite the purchase with "request a quote" that through a copy type "I want this vase", "add it to my basket", etc. Verbs and some specific product features (like "free" or "free") call for action.
Simplify the purchase process, a very high percentage of users leave the purchase process when they discover that it becomes a complex process in which we request too much data, offer few payment options or force our client to make too many clicks. We must simplify the purchase process to the minimum expression, including the steps strictly necessary to make the purchase.
Do not skip on texts and help options, which help the client to solve their problems on-site, on the same website we must be able to put ourselves in their place, before and during the purchase process.
Information always updated: the information of the products or services offered must always be perfectly updated.
Trade conditions policy: transparency and clarity in the conditions of contracting/returning the products is a fundamental aspect. The user will especially appreciate all clear information about the consequences and procedures to follow if you are not satisfied with the product, shipping costs, payment terms…
Price policy: normally the user who approaches an online store search for a better price. Following the above, if the company has already articulated a good logistics process of the sale, it will be saving costs and gaining efficiency. This will allow you to offer prices that traditional trade cannot compete with.
If our company wants to reach the customer more and more, in this mobile environment it can do so much more effectively, at any time and in any place. It is therefore necessary that, just as an e-commerce strategy has been developed, let's say, conventional, one is designed to cover this space still almost unexplored.
We must not lose sight of the integration of the usual e-commerce platforms within social networks, being increasingly frequent to see brand profiles on Facebook that incorporate online store, intelligent decision since you can close a commercial operation without leaving the space that potential consumers frequent, that less and less is the web and more and more this type of sites.
On the mobile side, it is necessary to find a technical solution that develops the entire purchase and payment process without leaving the mobile environment and safely, in this field, QR codes are outlined as a very good solution for connecting the habits of Traditional consumption with this new type of electronic commerce.
Let us go on to describe what we should find in a correct mobile electronic commerce strategy.
The enormous growth in the sale of smartphones, coupled with the great development of applications for them, make mobile electronic commerce begin to become popular with the consequent investment in technology that will further enhance the possibilities and wealth that this system already has.
Facebook, said recently that more than 250 million people participate in Facebook through mobile phones and that their activity represents twice that of those who do it through other channels- and mobile apps are in the center and obviously, ecommerce companies are developing their apps.
However, the impact of this new modality of Internet commerce is not reflected in the percentages of sales, at least for now. Retailers anticipate that only 2% of their online sales will be made through mobile devices throughout this year, while forecasts for e-commerce, in general, are 40% growth every year until 2016. It is important to note that purchases through iPad are out of that 2%.
Mobile eCommerce is taking its first steps and its influence on retail sales in the immediate future is related to applications that allow consumers to know details (perhaps offers in other locations) about the products they buy in stores. The establishment of the mobile Internet came with surprise and many of the online activities were not prepared to adapt to mobility, but surely soon we will see mobile commerce apps that allow, for example, to order food on the way to a restaurant.
Some trends for the near future:
The m.sites will be generalized, that is, when a user accesses an eCommerce from their mobile phone, they will wait to navigate in a specific page designed for their device, and not to the company's general website. In general, the most relevant content will always be included in the mobile versions and the content will be expanded in the web version.
The ROI of mobile devices will not come only from the transactions from them: the fact that many users use mobile phones to investigate products at the moment that comes to mind or see the product (on TV), to another person, in a physical store …), and then they buy from a computer or look for the address of a store and physically buy
The applications (apps) will be different from the m.sites: users do not download your application to have the mobile version of your store, for that they already use the browser. The apps have to provide added value, but they will not stop using them or delete them. Gamification, which we will hear so much about this year, geolocation or augmented reality will be the keys to achieving this engagement. Curiously, it has been proven that the iPad is the device that gets the most engagement in the apps developed specifically for him.
The geolocation-based services will increase your success: applications where the user allows them to send offers when they approach a store, games with digital rewards or in stores based on visits or check-ins and other similar applications based on the GPS of our devices They will become commonplace.
Online stores and e-commerce projects, in general, should adapt technologically to the new scenario, offering interesting usability conditions from mobile devices. But on the other hand, users change their shopping habits from the new features of these mobile devices. How deep will the variants caused by this new technological reality?
Many mobile devices already integrate technological applications that allow transactions to be made directly from these devices. At the same time, their use to inform themselves about products or market trends has been greatly increased. The big problem for the further development of mobile payment methods is the low confidence of users in terms of security. At the same time, the incorporation of new functionalities that increase security conditions, the increased popularity of mobile payments and new mobile marketing tools will forever change the characteristics of e-commerce and online stores.