Buying a new home in the suburbs and settling down with the family is not just a dream, but a goal of the thousands of people working their way to lifestyle stability. Even some of the biggest cities in the United States can have multiple property options within the budget people generally look for. Simply put, the US housing and commercial property market are unstoppable.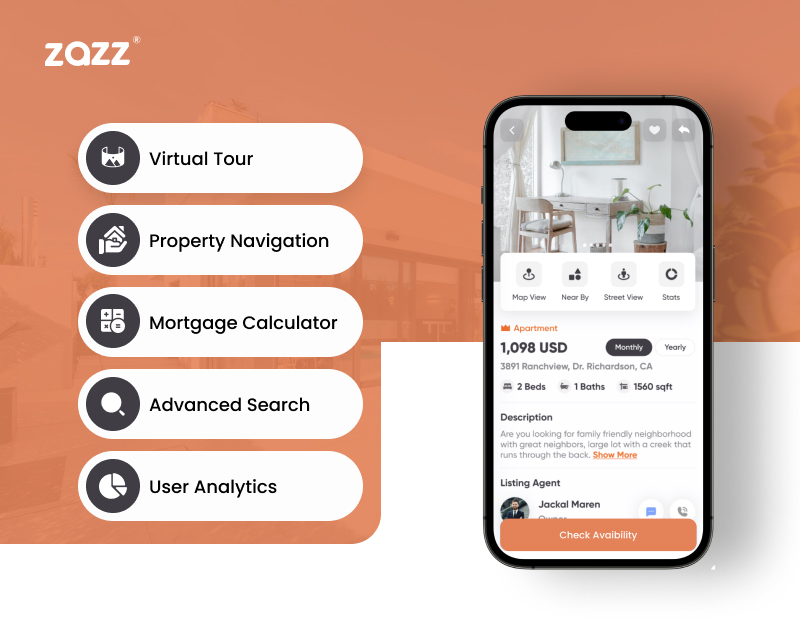 Real estate applications like Zillow and Redfin have a great run among consumers. Apart from these famous housing platforms, Trulia and Xome Auctions have substantially made their way into the realty niche in America. More than 75% of Americans prefer to do a search on realtor apps before finalizing a property purchase. This widened engagement scope also shows how housing apps have managed to leverage the market demand.
Aside from the demand for real estate services, what other elements make these apps so popular and profitable? The answer lies within the real estate mobile app features that you will explore throughout this checklist. In addition, you will also learn about the housing domain in America and some other features that should not be overlooked.
Real Estate in the United States – Scope of Housing App Development
According to Statista, the United States is among the top 5 countries in the world known for generating the highest revenue through real estate. Given its immense population & geological expansion, the US has left behind major countries like France and South Korea in this list. From 2012 to 2022, the housing market has seen an unaffected increase in revenue.
However, there was a slight decline in 2020 at the time of COVID. But the realty domain thrived again and showed a gradual boost over the years. The 2022 real estate market in America locked $369 billion in revenue. By the end of 2024, the ROI will effectively reach the count of $400 billion. Many people see property purchase as a long-term investment and this is why the profitability will be high.
If we talk about the most engaging real estate mobile apps and portals in the USA, then Zillow and Xome seem to seal the highest number of bids. Zillow is an all-rounder mobile app for real estate solutions. On the contrary, Xome Auctions specialize in auction-based property sales. Apart from these two prominent housing service applications, Trulia and Redfin simplify home value estimation and purchase.
Each and every realty portal and application has its appeal to the masses. Some of these apps are dedicated to providing rental property options whereas some of these deliver a cost estimate for a property in a specific region. It depends on the real estate mobile app development company that you consult for growing your housing venture.
Best Features of A Real Estate Mobile App for Engagement and ROI
1. Virtual Tour
In a world driven by augmented reality and virtual reality, a simple realtor app platform will not suffice. These digital technologies may seem to elevate the budget of managing a business, but their influence comes with long-term advantages. This is the reason why every other industry in the world uses a combination of IT technologies to keep up with the trends.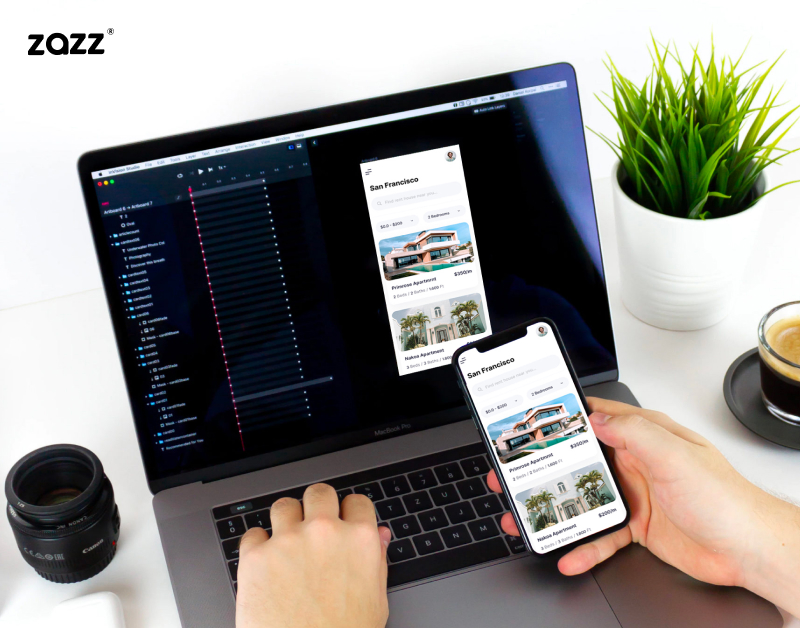 You might think that there are apps that got popularity even before the invention of VR and other similar innovations. This idea may refrain you from considering this feature for your real estate brand. On the flip side, the feature of a virtual tour of the property will provide you with an edge against other realty competitors.
2. Mortgage Calculator
Arranging the required capital for buying a house in a crowded nation like America is not an easy chore. Your app users will need a custom calculator on your real estate mobile app as one of the main features. It will help them estimate the sum that will be required while applying for a housing loan.
In fact, you can also customize a tool where people can check whether the mortgage is available on a specific property or not. Top real estate app development agencies in the USA often recommend realty ventures invest in this feature to engage the end user.
3. Property Navigation
Does the property that you're selling or listing appear clearly on the map? If so, how will you or your client know? Well, this is a very small detail about housing services that lead to the need for smart real estate app features like property navigation. Around 40% of mobile applications actively leverage the efficiency of navigation features.
Your housing mobile app can also be one of those platforms where people can navigate their desired properties easily and reach a decision. It may also help your clients assess the facilities around the property such as a grocery store, eateries, dry cleaners, etc.
4. Advanced Search
The advanced search option on a real estate mobile app is key to making the application more user-friendly. Moreover, this feature will allow you to cater to a vast group of users looking for properties across the United States. This advanced search option will simplify the search in particular cities, states, neighborhoods, etc.
5. User Analytics
There are some features on real estate mobile apps that are designed specifically for the admin side. It means that you can go through the engagement database of your business app whenever you prefer. The feature of user analytics will take you to insights that will eventually turn into optimization, higher engagement, and more ROI.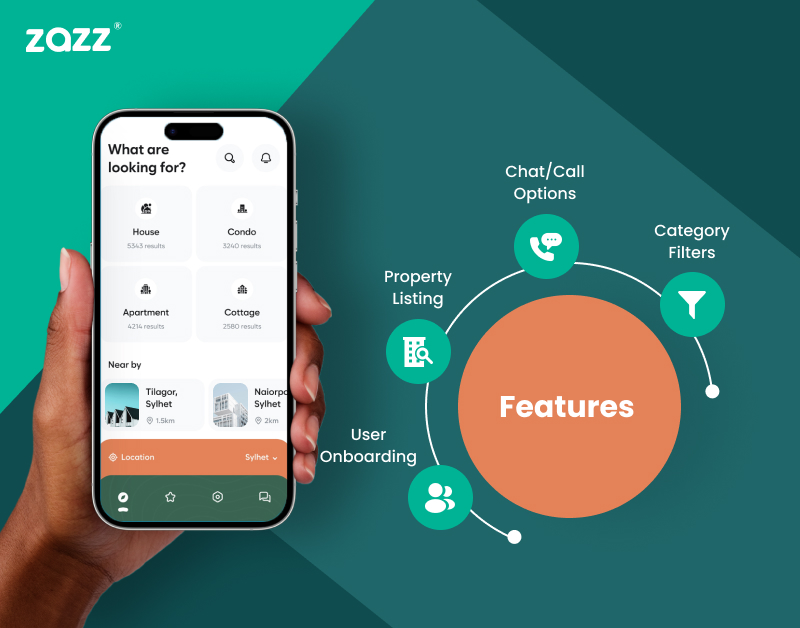 More Real Estate App Features that Should Be Included in the Integration
1. User Onboarding
A streamlined process of registering and logging in will make your audiences on the real estate mobile app feel more welcome.
2. Property Listing
A well-known real estate mobile app development company in the USA always adds this property listing feature to make the database more diverse for users.
3. Chat/Call Options
Suppose, a user likes a property and wants to clear some queries. In that situation, chat or call features will turn the app visitor into a lead immediately.
4. Category Filters
An experienced on demand app development company will suggest category filters add value to the search system of an application.
Why Hire Zazz for Real Estate Development Services in the USA?
According to real estate surveys in the United States, Florida and Georgia are the most popular states where people invest frequently. These housing reports also interpret that despite the slow market growth, people would continue to look for and invest in rental commercial and residential properties. The sale of over 5 million existing properties and 8,00,000+ newly built homes across the nation prove how vivacious and profitable realty businesses can be.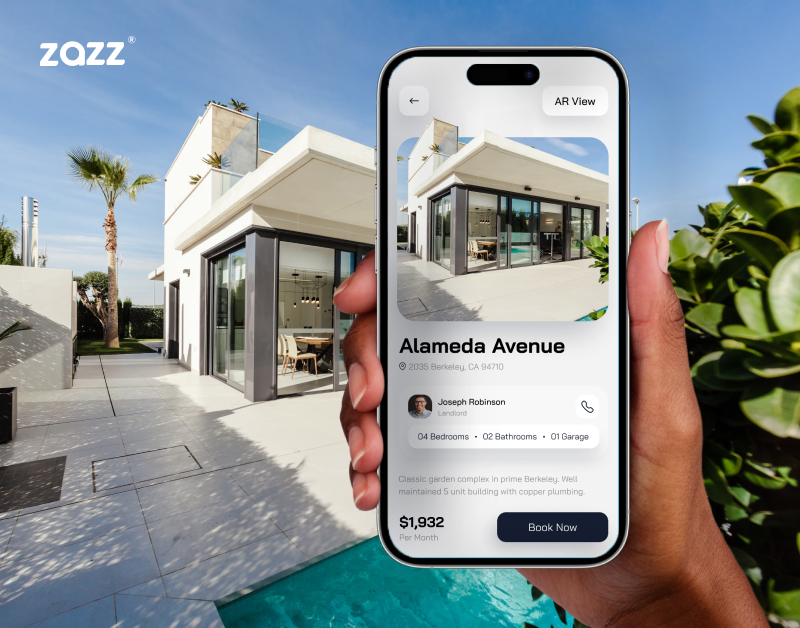 If you own a housing service business in the USA, real estate app development services can drastically transform the growth structure for you. Given the integration of essential real estate app features, you can put the sale process in order and automate some basic tasks that take on a huge amount of your time aside from property screening.
Moreover, your own real estate application will help property seekers contact you directly. Zazz can help you end your search for a real estate mobile app development company in the USA. We are a highly recognized application design firm that caters to residential & commercial property realtors with bespoke housing application solutions.
Zazz can be the right selection for realtor application and software services because our expertise in AR and VR allows us to make the housing search experience for your clients more lively and lucrative. Get in touch to discuss a real estate app project today!