The COVID-19 crisis has disrupted business landscapes, ecosystems, and supply chains around the world. However, it is also rapidly impacting organizations' investment in digital technology to operate remotely with limited location operations.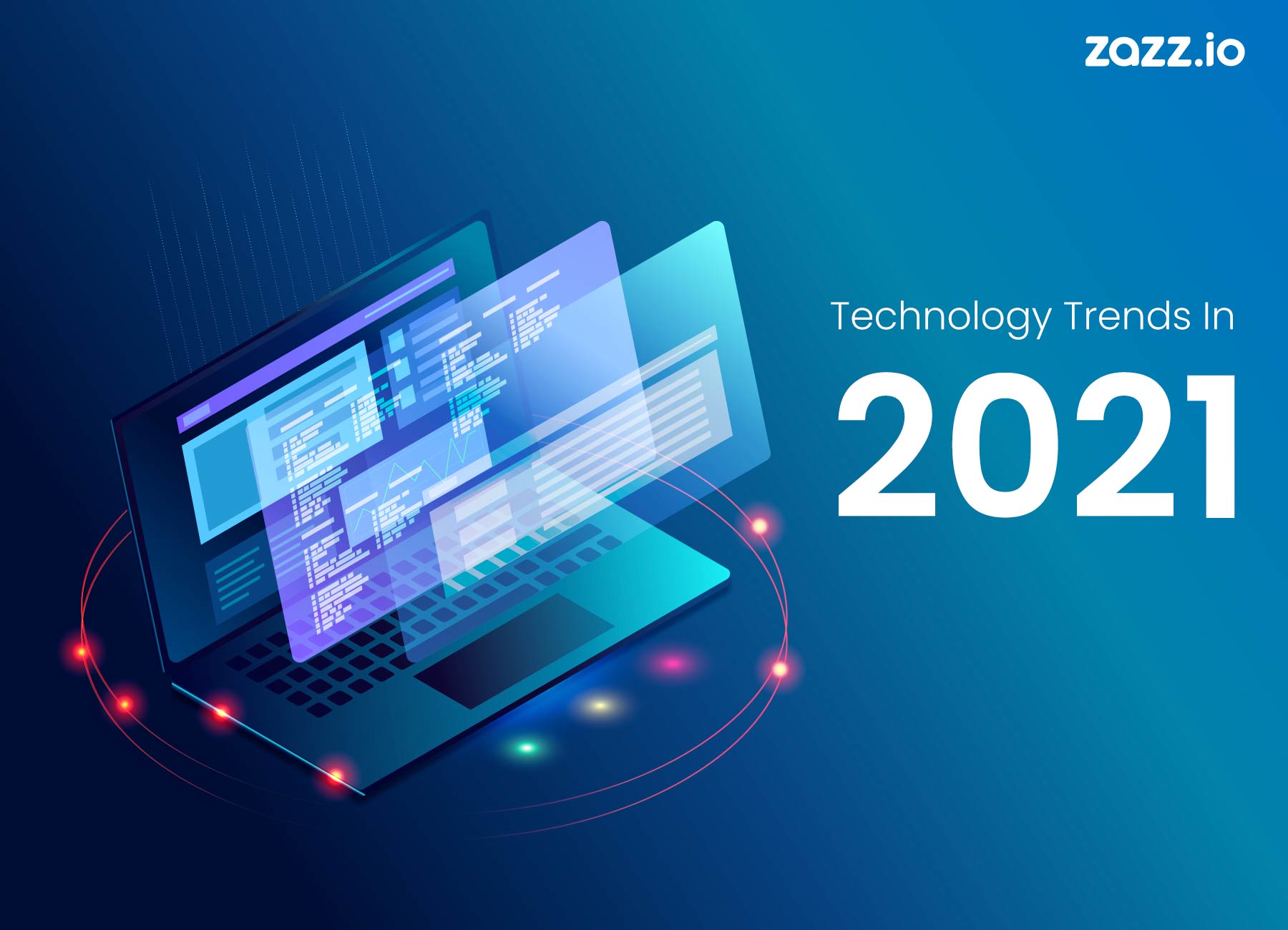 Whatever the vision and roadmap, the organization plans to enter 2020. However, these plans are completely disrupted, and the organization is forced to turn to a new reality. Digital integration and automation plans are being fast-tracked to meet this challenge.
As an entire world prepares and takes a step into the recovery phase, therefore, we have curated a list of the top 5 technology trends that will take shape in 2021. Evaluating business solutions based on these trends can help prove your business's future.
List of Top 5 Latest Technology Trends For The Future
Artificial Intelligence
Artificial Intelligence (AI) is one of the leading transformative technological evolutions of our time. Most companies have started exploring how they will use AI to improve customer experience & to streamline their business operations. This may continue in 2021, and people get use to working together more and more.
However, Artificial Intelligence development company designs and deploy their AI-based systems will remain a high-end proposition. For this reason, most AI applications are conducts via an as-a-service platform provider. It allows us to feed data and purchase algorithms or compute resources as we use them.
Besides, we will see wider adoption & a growing pool of providers who are likely to start offering more customized applications for specialized or specialized tasks.
5G Data Network
The 5G mobile internet connectivity provides us with super-fast download & upload speeds and a more stable connection. In contrast, 5G mobile data networks are available for the first time in 2019. Most of them are still expensive and limited to functioning in limited areas or big cities. 2021 will probably be the year that 5G starts to fly, with cheaper data plans and greatly enhanced coverage, meaning that everyone can participate in the fun.
The super-fast data network not only gives us the ability to stream movies and music in higher quality while we are on the move. The breakneck speed increases mean that the mobile network will become more useful even than the cable networks that run to our homes and businesses. Increased bandwidth will transform robots & autonomous vehicles to collect and transfer more data than ever before, resulting in advances in the Internet of Things (IoT) area.
Cyber Security
Many of you will get surprised to hear that cybersecurity is making a place into our top tech trends list to watch out for in 2021, but it deserves its place. Cybersecurity now dominates every organization's priorities as they adapt to the post-COVID 19 worlds. Remote worker identities and devices are the new security perimeter, and cybersecurity technology continues to evolve as hackers become more advanced.
The cybersecurity investor is one of the most prominent cybersecurity investors in Europe and predicts fast growth. Jobs in this industry are also growing 3x faster than other jobs in the tech world. So keep an eye out for cybersecurity tools that are increasingly becoming present in your daily work and home life in 2021.
Also Read: Cyber Security and Cyber Resilience: Are They Equally Important?
The As-a-service Revolution
Providing the services, we need to live and work through cloud-based and on-demand platforms – is the key that has put another technology trend we are talking about today within anyone's reach. That's the reason why AI and robotics are possible for nearly any business or organization, regardless of size or budget. Thanks to companies' cloud offerings and the ever-growing horde of startups and innovators in all fields can apply cutting-edge technology.
As the pandemic unfolds worldwide, we have seen clearly that companies that rely on the cloud to provide scalable solutions as services prosper. This is due to its cloud-based nature and partnerships with its service providers, which can rapidly increase demand capacity. In 2021 it will become even necessary, and more possibilities will open up to everyone.
Virtual & Augmented Reality – Extended Reality
This term includes technology that uses glasses or a headset to project a computer-generated image directly onto the user's field of vision. When placed over what the user sees in the real world, it is AR. And when used to place the user into an environment entirely created by computers, that is VR. Many companies hire VR developers to increase the use of this technology in various industries. This will reduce our need to work in crowded classroom conditions. In case not completely, but at least in some areas where it is known that transmission rates are high.
And more and more data on the conditions and modes of transmission of the virus are available. AR tools will be used to provide real-time alerts as we move through areas where the infection is known to have spread. Some AR developers state, even simple steps like reminding us to wash our hands when we touch a door handle in a public space can stop us from spreading disease around our real-world environment. 
Quick Glimpse on Extended Reality
Moreover, Extended reality is a term that refers to the combination of virtual and real environments. It is defined as the human-machine interaction developed by wearable devices and computer technology. Here, X represents the variable for current or future spatial computing technology.
What's Next?
In 2021, trending technology is likely to cause some significant changes. First, IoT technology is likely to become even more valuable – especially for businesses interested in adopting large fleets of IoT sensors. 5G will streamline data transmission and reception. An ever-expanding set of AI analytics and data processing tools will help companies turn that data into usable insights. Improved connection reliability will also make remote monitoring and access technology more practical.
5G will also make autonomous cars and robotics – along with other devices requiring lightning-fast connections to the cloud – far more practical than they are now. Although the significant number of hours worked, these innovations tend to save; it is unlikely that these new automated tools will replace jobs. Instead, companies will look for new technologies to help their workers. We have seen this in manufacturing, where factory owners have shifted from fully-automated factories to collaborative robots designed to work alongside human workers.
What Will Change in 2021?
On the other hand, technology trends in 2021 are likely to streamline tedious jobs and free up employees for more creative tasks that don't lead to automation. These new devices will also present some significant potential security vulnerabilities for enterprises. Increased collection of consumer data and operations will also make companies more vulnerable to hackers. Cybersecurity professionals and new security technologies will be necessary, even for organizations – such as schools – that traditionally have not had to worry about cyberattacks.
Keep Abreast of Technology Trends With Us
If you want to prepare for 2021, you need to be aware of the most promising technology trends. AI, edge computing, VR, AR, and the upcoming rollout of 5G technology will likely define the year to come. Zazz is a leader and innovator in the application development industry, and our product range can prepare businesses for this changing world and take full advantage of these new trends. Thus, do not wait anymore; contact us for a free quote today!