According to reports, there will be about 30 billion IoT devices in 2020-2021. This means that any or all of your home appliances, such as TVs, AC units, refrigerators, etc., may be remotely controlled. In IoT technologies, there are many security issues that will need to be solved, which will undoubtedly result in positive security changes.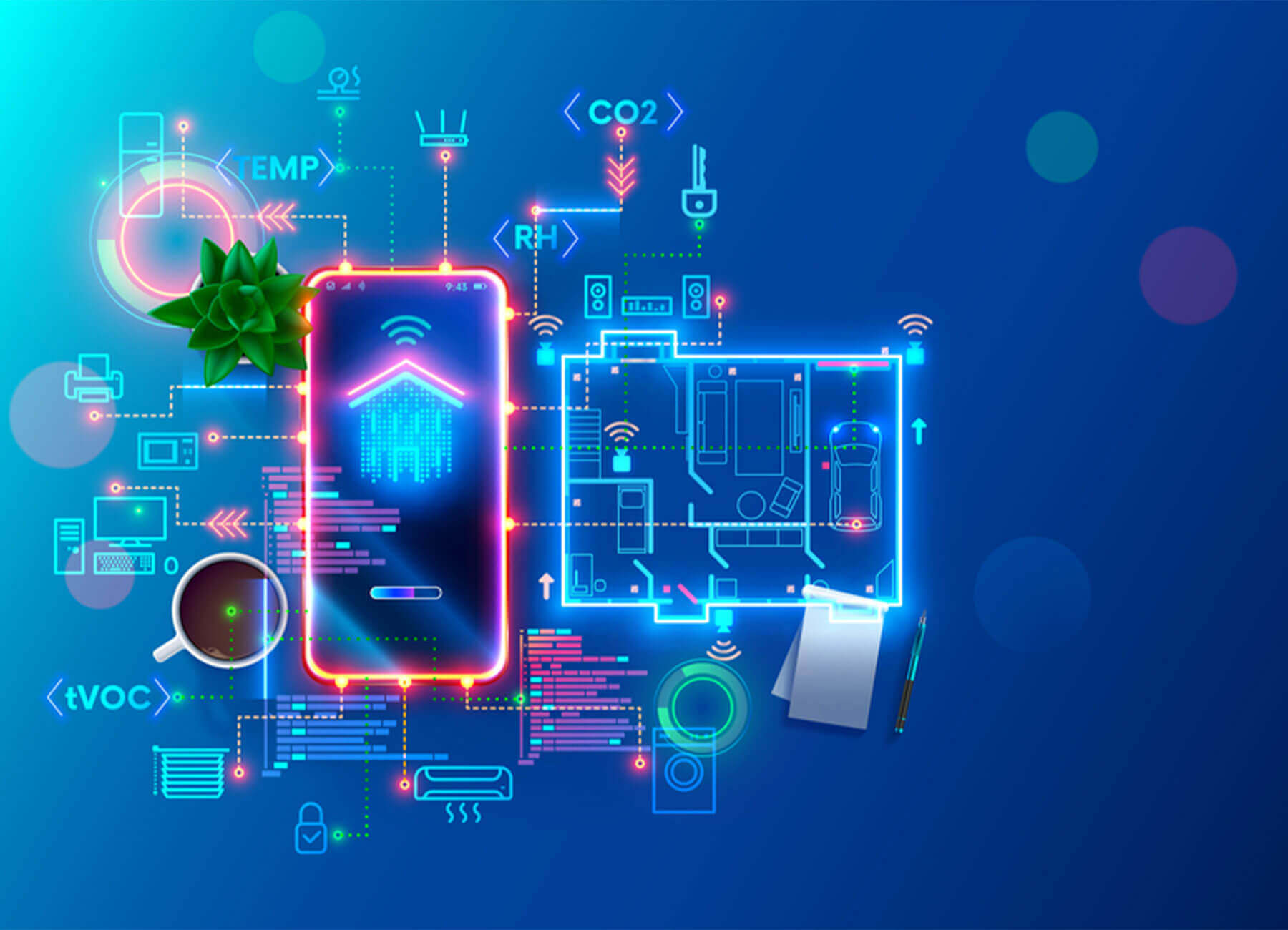 All IoT-enabled devices include sensors that receive and transmit; some actuators operate the system physically. IoT OS-based firmware usually requires a small OS-based configuration of IoT applications and WiFi communication that allows data to send and receive via the network interface.
Major Areas IoT Covering In Our Day To Day Life-
Smart Homes:
Smart Home has become a possibility for many. The synchronized gadgets which home appliances allow to monitor and control home utilities with the help of Smartphone & internet connection. From smart refrigerators to coffee machines that can enable WiFi, almost all of your appliances can connect.
Smart City:
Integrated cities are coming up as the first choice of people from east to west. For example, Sensor inbuilt traffic lights that can automatically adjust the waiting time as per the traffic conditions.
Smart Work:
The advent of the Internet of Things is revolutionizing traditional industries, ranging from manufacturing to healthcare. The interconnectivity enabled by IoT guarantees that a greater number of professionals can operate remotely, favoring the shift to a decentralized workforce. This approach guarantees that communication & information sharing are now easier than ever before, signifying a fundamental shift in the way we work.
IoT Security Issues-
Although IoT devices provide efficient communication between devices, optimize things, save expense and time, and have many benefits, one thing still concerns users — IoT security issues. Let's dive deeper into the most critical security issues for the potential of the Internet of Things.
Malware & Ransomware:
As the number of IoT devices continues to skyrocket, so do the risk of cyber-attacks and malware. With sophisticated cyber-criminals incorporating more advanced methods, ransomware is becoming increasingly prevalent as a tool to extort payments from users in exchange for access to their locked personal data.
This poses a major threat to both individuals and businesses who rely on IoT technology to carry out their daily operations securely. To safeguard against these threats, partnering with a reputable IoT development company is crucial for protection & peace of mind.
Outdated Hardware & Software:
As IoT devices are more in use, the app development agency focuses on creating new ones and not paying enough attention to protection.
Daily updates are a must-have for any computer connected to the Internet. Not getting updates can lead to a loss of data on the part of consumers and the part of companies that produce them.
Using Default Credentials:
Default credentials, which are often provided by IoT companies, such as an administrative username, have become a major security concern. These default settings create vulnerabilities that allow hackers to easily gain access to a computer. Hackers can exploit this weakness by using brute-force attacks, which rely on exhaustive trial and error to uncover the credentials. This highlights the need for strong security protocols that provide robust protection against these types of breaches.
Data Protection And Challenges:
Most of the data stored or distributed over the Internet can lead to data leakage. Not all devices from which data transmitted or received protect. If the data leaked, hackers will sell it to other organizations that breach data privacy and protection rights.
Autonomous Systems For Data Management:
From the data collection and networking point of view for IoT security concerns, the data generated from the connected devices need AI resources and automation for data management. Setting up such tools would be a little dangerous since even a small number of bugs can cause an outage.
Home Security:
More and more homes and offices are now becoming smart with IoT connectivity. While home automation is a good thing, not everyone is aware of the best practices that IoT security needs to take care of. It may result in the exposure of consumer contact information, including addresses.
Security of Smart Vehicles:
Just like houses, self-driving cars, including those using IoT services, are also at risk. Smart vehicles can hack from remote locations by professional hackers very quickly, and it can be highly risky for the passengers.
Here Are Some Of The Must Knew Security Solutions-
Regularly updating the IoT framework with security updates must allow us to keep device safety up to date.
Regularly updating the IoT framework with security updates must allow us to keep device safety up to date.
Conduct continuous scans and ensure that audit reports and checked for attack entries.
Password security is a must for IoT applications and must be robust to avoid breaching the device by a brute force attack.
Systems accessing IoT applications must be completely secure & hire IoT developers to avoid breaching the IoT client system.
The IoT device is safer when firewalls are in place, hardening is done, lightweight encryption is used & backdoor channels are disabled.
Concluding Thoughts-
The Internet of Things (IoT) presents opportunities for benefits, yet it also poses security challenges. All connected devices face potential vulnerabilities & that makes it vital to implement proper security measures. A thorough understanding of IoT security risks can aid in developing strategies to protect against them.
In conclusion, securing applications is of utmost importance since they are mission-critical, and taking them down can have significant consequences in real life. The IoT security issue must be discussed, control, and avoid.At Zazz, we have verified to be the global leader in the development of IoT applications. We provide Internet of Things (IoT) solutions that modernize both various processes and make higher revenue. For in-depth work, effectiveness visits Zazz clutch reviews.
Our IoT app design and development experts have worked on numerous IoT projects for the best, practical, and revolutionary IoT solution. Let's discuss your customized projects & get the best possible solutions.
Also Read
Embracing IoT Solutions for Smart HVAC System in CES 2021
Internet of Things: Impact on Businesses During Global Pandemic
New Security Guidelines For IoT Devices To See In 2021
Internet of Things: History, Benefits and Future of Smart Cities
Internet of Things: Threats and Security Challenges to Overcome