Seattle, known as the biggest city in Washington state, is a complete world in itself with a bountiful amalgamation of nature and modern technology. While people get to enjoy kayaking, hiking, and other leisure sports here, the majority of the world regards Seattle as the headquarters of tech giants Microsoft and Amazon.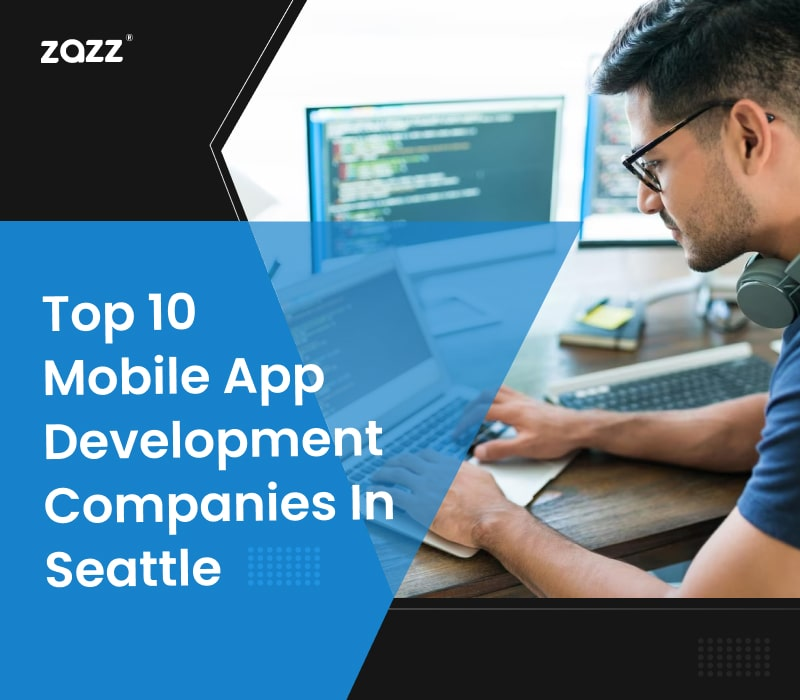 App Development is quite an expensive and complex process. Many popular mobile app development companies in Seattle deliver successful applications. So, choosing the right app developer is very important. This can save you time and money and result in an app that makes your business stand out in the market.
Before starting the app development process, you must be familiar with the type of app you need. Before hiring any app development company, identify all your requirements and the budget of your app. The time and budget required for app development depend on your app idea's complexity and the skill level you need in an app developer. You can also ask for portfolio items, reviews, and references before you hire app developers.
In this post, we will go through the top 10 mobile app development Agencies in Seattle Washington that can nurture your brand with quality services and bring your venture to greater heights.
Mobile App Development Companies in Seattle – What Makes the Selection Complex?
The coffee capital of the United States has got so much in terms of job opportunities and business expansion. The market in this city, like other fastest-growing cities in the United States, is highly volatile. The dynamic era of booming digital technologies will always drive the need for app development services in Seattle.
However, the requirement and availability don't always fit the equation when it comes to hiring a mobile app development agency. In this section, we will explain why it can be a little critical process to hire the best company for app development services in major cities like Seattle:
Exorbitant Service Costs – The cost of mobile app development services in Seattle and other popular cities of the USA can reach up to $50,000 and higher. Agencies with more than 10+ years of span in the industry might charge you more. This is the most common element when hiring top developers for application development.
Communication Discrepancies – Many brands may have experienced that their service providers don't always stand up to their expected communication policy. This situation of facing communication issues gets dire when you count on a freelance software & app developer.
Lack of Technical Experience – There are many new firms out there that claim to be one of the top 10 mobile app development companies in Seattle or somewhere else. This is where you need to apply your caution instead of falling for the claims of the best mobile application development services. You must ask for their portfolios and put your queries forward to learn about their technical prowess.
Top 10 Mobile App Developers in Seattle

1. Zazz
Zazz is a dedicated mobile app development agency in Seattle that has worked on application development for both Android and iOS platforms. The development team of Zazz has experience in developing cross-platform mobile apps. They develop apps for all types of industries, including startups, SMEs, and big enterprises.
They conduct extensive research to deliver mobile apps, including a proof-of-concept, to make their product the best in the market. They offer intuitive design and maintain transparency with their clients to have free applications from bugs or other issues. Given below are some points that make Zazz different from other mobile app development companies:
Leverages advanced next-gen technologies, intelligent algorithms, and unique UI.
Expertise in designing and developing Android, iOS & cross-platform mobile apps.
Offer Mobile app development services based on React Native and Flutter.


2. AppStudio
AppStudio is one of the top renowned mobile app development companies in Seattle specializing in mobile app designing and development services. They have experience in developing web and mobile applications as per versatile mobile app requirements. They also have offices in many locations, including Seattle, San Francisco, Canada, India, and many more. As a well-known flutter app development company, its development team has experience across all the latest technologies and methodologies. They provide strategic services to enterprises and midmarket customers. The company provides the following services:
Android app development
iOS app development
Flutter app development
Blockchain app development, and much more.

App Incubator is a Seattle-based augmented and virtual reality (AR/VR) solutions company. The mobile app developers' team provides mobile and web development for all domains, UI/UX design, and support and maintenance. Their developers choose technology and innovation consulting and in-depth market techniques to get a success-oriented mobile app for your business. Here are some points why you should trust App Incubator as a Mobile app development agency:
24×7 Support & Maintenance Services
Best price and app delivery on time
Use Advanced tools and development practices
Various Languages support

4. UpTop

UpTop is a UX (user experience) design, product strategy, and software development company that helps businesses expand their reach, seize market opportunities, and improve efficiencies by building digital experiences that delight users. This agency allows you to consult the most vibrant team of development experts and which is why UpTop is counted as one of the best mobile app development companies in Seattle.


5. 8Ninths
8Ninths offers versatile mobile app development services in Seattle. They are experts in designing and building Augmented and Virtual Reality solutions for enterprise applications. Using holographic data visualization, collaboration, and annotation, 8ninths augments existing workflows to solve complex problems and bring innovative advances across all industry verticals.


6. Projekt202
Projekt202 is the #1 choice for the most successful app developers in Seattle to improve their customer and employee experiences. They have a unique and established methodology for understanding people in context — they reveal unmet needs — which drives everything and makes their development team cope in every situation. This leads to a crisp, clear understanding of the customer, which shapes the design and development of new solutions and experiences.


7. Inventive Mobile
Inventive Mobile, Inc. is a mobile app development company based in the Seattle area specializing in Android and iOS apps. Since 2010, we have developed over 35 apps downloaded 100MM+ times on Google Play and the App Store. Inc. is a mobile app development company based in the Seattle area specializing in Android and iOS apps. Since 2010, we have developed over 35 apps downloaded 100MM+ times on Google Play and the App Store.


8. Chopdawg
Since 2009, the company has created 300+ digital products — from mobile & web apps to blockchain & artificial intelligence technologies for startups, Fortune 500s, growing businesses, & non-profits worldwide. They work not just like your agency but as your technical partner. The transparency in IT offerings by Chopdawg makes it one of the top 10 mobile app development companies in Seattle, Washington.


9. Ratio
The ratio is a leading multi-screen agency that partners with global brands to create seamless experiences across all platforms. They deliver multi-screen apps that provide consistent and optimized user experiences across the web, mobile, tablet, & Connected TV. Their RatioTV product allows media brands to launch differentiated apps quickly on all connected platforms.


10. Impeccable
Impeccable offers Silicon Valley caliber UI/UX design coupled with enterprise-class software engineering capabilities. And deep expertise in various industries, including enterprise, banking, insurance, SaaS, & IoT. Also, it offers contact centers, e-commerce, retail, healthcare, legal, fitness, wearables, automotive and more.

You may also read:- Top 10 Mobile App Development Companies in San Francisco
Why Zazz is Your Best Provider for Mobile App Development Services in Seattle
Now that you have this list of the top 10 mobile app development companies in Seattle, Washington, your decision to hire the best agency for promising services can get simpler. If you feel that you might want to get a cost estimate before signing up for the deal with your IT company, then you can book a call with our application and DevOps experts at Zazz today.
While many application development agencies in the USA claim to be the best, our team proves its ascendancy in the digital spectrum with data-driven development estimates and processes. When it comes to building something new for the online space, we are all about research, planning, and data accumulation. These are the resources that allow our developers to power up the secure deployment game.
We have the finest mobile app developers in Seattle that cater to our clients in the USA and overseas. The apps that we build make a mark in the App Store and Play Store. Apart from this, our custom software development solutions back the leading enterprises and Fortune 500 firms with operational automation. Zazz is your one-stop solution for every IT requirement waiting to appear ahead of your brand.