New York, the fastest-growing tech hub in the United States, has an escalated tech ecosystem that accounts for over 291,000 jobs and over $124.7 billion in economic output. Over 7,500 technology companies in New York City raised over $4.5 billion in venture funding in 2014, which is second only to Silicon Valley. There has been an 18% growth rate in the jobs in the technology sector for a decade, which makes New York an increasingly popular industrial and technological hub. In addition, several mobile app development companies in New York are thriving on the impeccable mobile applications they develop.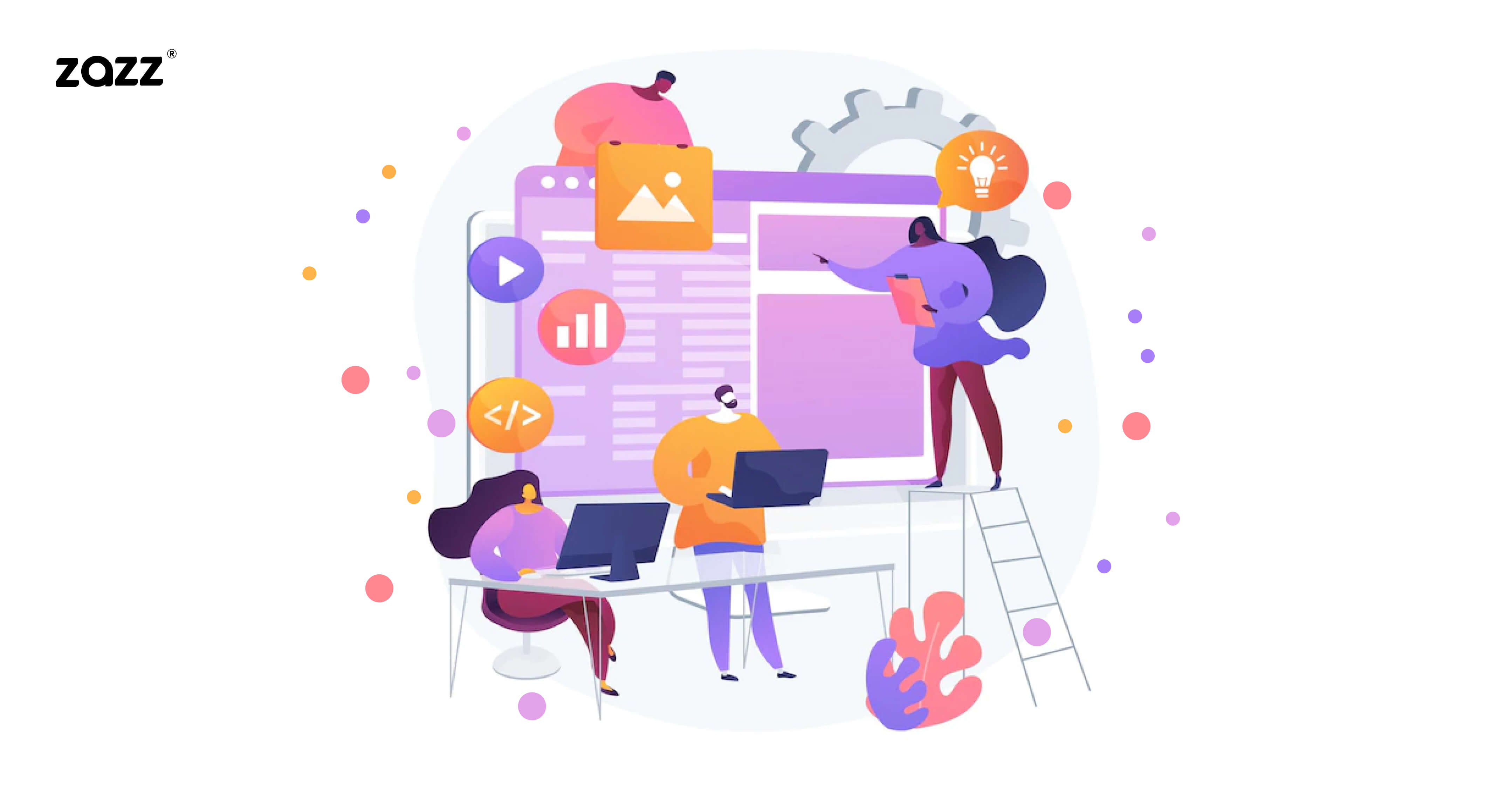 If you are looking for a reliable tech partner for integrating robust and result-oriented mobile applications, we have curated a list for you. After thorough research, our experts have come up with a list of some of the top mobile app development companies in New York that can add value to your business. Read on to learn more about these app agencies!
List of Best Mobile App Development Companies in New York | App Developers New York
Zazz
Zazz is a leading iPhone and Android app development company in New York. They have an exceptionally talented team who develops agile, intuitive, and scalable next-gen apps that work seamlessly across all mobile ecosystems. Zazz has deft mobile application developers in New York, having hands-on experience in building the best-in-class mobile applications by leveraging the power of cutting-edge technologies, tools, and tech stacks. Being an active member of the Apple & Google software community, the team of designers and developers are updated with the latest trends and crafting flawless applications, enabling businesses to expect the highest business proceeds.
AppStudio
AppStudio is an illustrious mobile application development company in New York. It has a powerful team of designers and engineers who develop agile technologies and frameworks to build the most powerful web, iOS, and Android apps, uses the concept to accelerate to success. The developers at AppStudio hold a wealth of experience, and their award-winning company offers unparalleled services in Native iOS Development (Swift), Native Android Development (Java and Kotlin), Software Development, React Native Development, and Unity Game Development. It has collaborated with innumerable Fortune 1000 companies, startups, and mid-sized firms operating across different industries that range from healthcare to finance, trucking apps, and on-demand app development services that are availed by millions of users all across the globe. 
Utility
Businesses looking for apt custom app development solutions should count on Utility. Founded in 2013, this app agency offers custom app development services worldwide. They have six years of experience in building iOS and Android mobile applications for a diverse range of industries. Utility focuses on ROI-based results and maintaining long-term relationships with its partner organizations. They have offered its valuable services to renowned industry giants Toor, Bleacher Report, Airbnb, and many more. Utility is wowing its clients and customers with an extensive portfolio and multiple business offerings.
Tapptitude
Tapptitude is a software company that provides customizable mobile application development platforms for startups and small businesses. They have experience with a wide range of platforms, including iOS and Android. It stands among the top app developer in New York and some of its major clients include Tenor, Glorify, Ontapp, Wellory, OxWash, Speaken, Olly, Shebah, SAP, ETH Zurich, Discogs, Imobiliare and Honda.
Sneakers Apps
Sneakers Apps is a well-known top app developers New York. They can take on any project from start to finish, from designing a new user interface to implementing backend systems. IT has created a name for itself since 2014, serving clients ranging from start-ups to full-fledged IT behemoths. It is based out of Soho, NYC and some of its key clients include Pepsi, IBM, Sony, Equinox, Vimeo, and Meadows Office Interiors.
Jafton
Jafton is a well-known top app development companies in New York. They specializes in creating mobile apps and custom software for funded startups and various organizations. It boasts of a team of more than 100+ experienced software engineers, iOS and Android developers, DevOps engineers, project managers, and designers. They develop the best apps in town and it's renowned clients include Parkble, Poutcase, and VaultCouture.
Smyth Group
Smyth Group is a mobile application development company that provides services to developers in New York. They offer a wide range of services, including app development, website design and development, and marketing. They have a talented team of developers who can help you create the perfect app for your needs.
AndPlus
Established in 2009, AndPlus is a renowned mobile application developers in New York. They design the most sublime apps for both the iOS and Android platforms and have served companies of all sizes, be it the Fortune 100 companies such as Bloomberg and Honeywell or the funded startups. AndPlus focuses on creating stellar mobile and web solutions that in turn help businesses scale to success.
ArcTouch
ArcTouch is a leading provider of mobile application development platforms, and they have a massive presence in New York City. They have worked with some of the biggest names in the business, and their platform is incredibly versatile. Whether you want to build a simple app or launch a complex platform, ArcTouch has the expertise to help you get there.
Fueled
Fueled is a decade-old mobile app development agency in New York with subsequent work locations in Los Angeles and London. They hold specialized expertise in mobile application development, blockchain app development and UI/UX design services. Fueled extended its offering to accommodate Fueled Ventures, Fueled Collective, Growth & marketing. Fueled is not limited to offering just app development services, they are also into promotion services, With Elevated, P&G and Kapture being their esteemed clients, Fueled envisions delivering digital products to diverse industries across the globe.
What is a mobile app development project?
A mobile app development project is a collaboration between a developer and software company to create an app for the iPhone or Android. The app can be used to manage personal information, schedule events, find local businesses, and more.
The process of creating a mobile app begins with identifying the needs of the customer and designing a user interface that is easy to understand and use. Next, the development team creates an application programming interface (API) to access the data and functionality of the business. The API may be implemented in Java, Objective C, C++, or Python. Once the API is created, it must be integrated with the existing web platform or application in order to create a seamless user experience.
The final step of a mobile app development project is testing and debugging. The developer will use various software tools to verify that all functions work as expected and that there are no errors. If there are any problems, they will be corrected before release.
Working with a mobile app development agency has several advantages. These include: rapid turnaround times; experienced developers who know how to design user interfaces; comprehensive technical support; and streamlined communication between the developer and customer.
Also Read: Mobile App Development Companies in San Jose
Why hire the best New York App Development Company?
There are many reasons to choose the best mobile application development company for your project.
First, a great company will have the resources and experience to get your app up and running quickly and efficiently. They'll also be able to provide you with the support you need along the way, so you can focus on developing your product.
Second, a top app development company will have a deep understanding of the mobile market. This knowledge can help them create an app that stands out from the rest, and attracts users who will appreciate it.
Finally, a great company will have a team of skilled professionals who are passionate about their work. They'll be able to provide you with helpful advice and guidance, as well as deliver on promises they make. All of this makes for an efficient and successful experience overall.
Major Perks of Hiring Mobile App Development Services:
1. Customer loyalty :
Company owners may give online coupons, discounts, and deals, which helps to improve client sales while also creating a sense of brand loyalty.
2. Brand value :
Mobile applications have a significant influence on brand recognition, making them an excellent tool for firms looking to create their own niche and establish a distinct identity.
3. Brand Visibility :
Mobile applications assist businesses by increasing customer awareness of a particular brand, allowing firms to flourish and scale to new heights.
4. Customer Base :
Mobile applications help businesses build a devoted consumer base that grows over time, which in turn helps mushroom enterprises.
5. Customer Reach :
Mobile applications are the finest shortcut for businesses to reach out to their customers with the latest updates, marketing messages, promotional rewards and more. A mobile app is meticulously configured to cater to all the needs of a business, thereby helping it expand and scale.
Conclusion
As the world becomes increasingly digital, it is important for businesses to have a mobile app. However, not all developers are created equal, and it can be difficult to find the best one for your needs. To help you make an informed decision, I've put together a list of top mobile app development companies NYC. Hopefully, this will give you some insight into which company is right for you and enable you to start building your dream mobile app today!
Also Read:
Mobile Application Developers Chicago

Best Custom App Development Company in the USA

How to Make Your iPad App Development Project a Breeze