Home is the place where we feel the safest. But what if you are away and someone tries to get into your haven of comfort? Even the imagination of burglary in a living space can send chills down the spine. Modern urbanization is loaded with innovative options that allow people to secure their homes using a suite of hardware and software tools.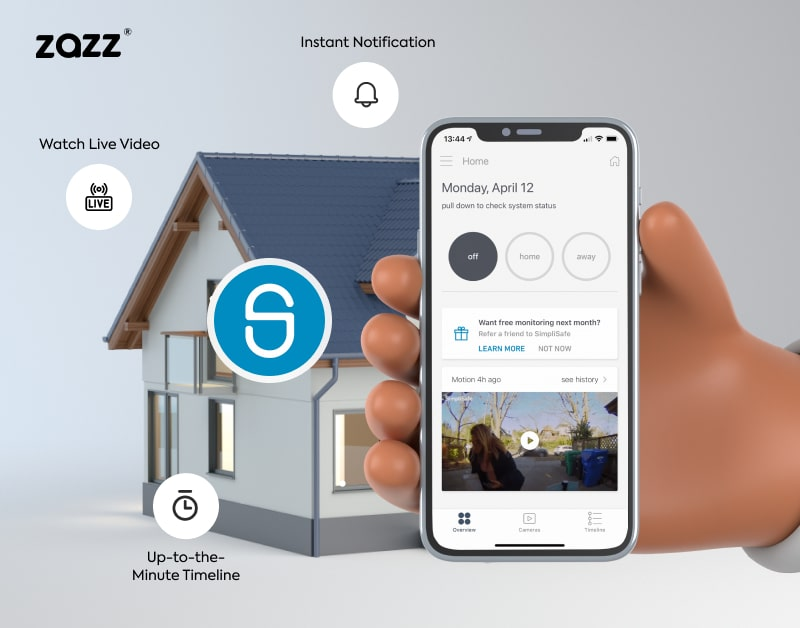 SimpliSafe is one such name in the realm of home security systems in America. Founded in 2006, this name now serves as the assurance for millions of residents in the USA for a full-fledged residential security setup. The app has 10M+ downloads on the App Store & 4.8/5 ratings.
Throughout this post, we will explore the core functionalities of SimpliSafe and its effect on the household security dynamics of the nation. Moreover, our focus will also reflect on the top features of a home security application. Read on…
Home Security in America – Things You Should Know
Among the crowdiest places in the United States, there are only 30% of houses equipped with a proper home security system. Despite a substantial crime rate and burglary cases, this lack of interest in home security installation is baffling. With the majority of people in the cities leaving their homes for work, residential security is now a bigger issue.
It also reflects on the IoT app development market that deals in smart home security & custom equipment systems. That gap of 70% of audiences will now look at the need for an app along with a piece of proper equipment that creates alert at the minimal sign of unidentified threat to the house.
In general, home security in America is taking over a turn and now there is a renewed interest among businesses to bring more progressive security platforms into the market. It also shows why investing in a home security mobile apps or software is going to raise the bar for businesses that deal in residential service offerings.
How does the SimpliSafe App Work
SimpliSafe system comprises a base unit and a keypad with its connection to Wifi. It lets you keep track of every activity in your house from anywhere in the world. Apart from it, you can also arm and disarm the system whenever you need and record live video of the place using the SimpliSafe camera. Let's look through its working model:
1. Indoor Camera Setup
The installation and equipment setup by SimpliSafe is known to be the easiest and most efficient home security system in the US. The company suggests that all the cameras of the setup should be fixed in the areas from where a potential intruder may arrive. It can also include the areas near the doors and windows.
2. Video verification
Users of SimpliSafe are required to sign up for a premium plan to enable the monitoring center. When the center confirms any unusual activity through the indoor camera, it can alert the police. Even if there is a firing incident or a potential damage case, the system can also alert the fire service.
3. Video Doorbell Pro
Apart from SimpliSafe cameras that can act as a standalone device when needed, it also comes with a video doorbell pro. This equipment encompasses a built-in microphone, heat sensor, and an HD camera device. The entire setup can easily be integrated & controlled with its Android and iOS applications.
Also Read: Android App Development Company
4. Smart Lock
A smart lock helps users ensure that only authenticated people can open the door from the outside. With the help of a black PIN pad and SimpliSafe app, users get to lock and unlock their homes while sitting miles away. The integration of this smart home security system with a thermostat lets you avoid the hazard of fire accidents inside the house.
Features of An Efficient Home Security Application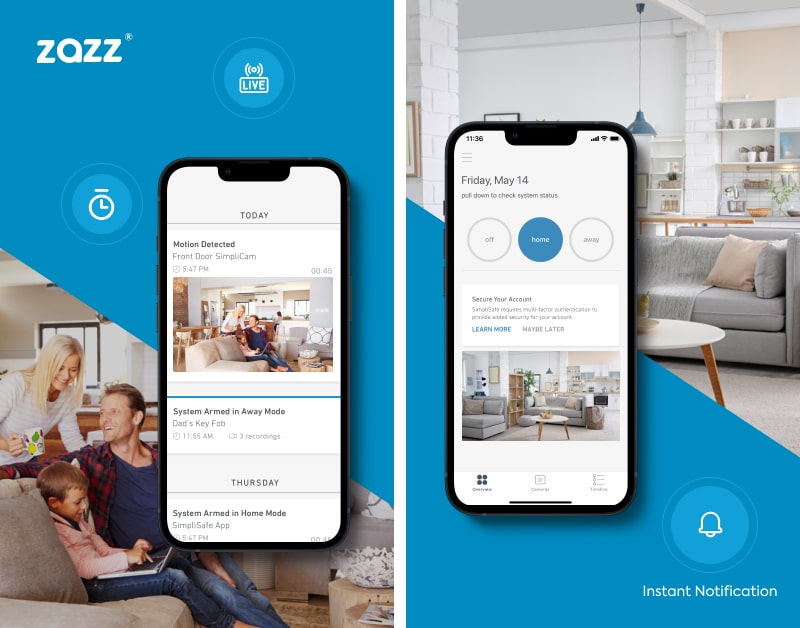 A home security system not only protects your house in your absence but also keeps you and your loved ones safe inside the house. Besides, the investment in these systems is always a lucrative decision because the companies now offer maintenance services at a minimal cost. In this section, we will explore some essential features that constitute an efficient security system platform:
1. Instant Alerts
Even if there is an unidentified knock on the door, a security app will instantly notify the owner of the house. In fact, these alerts are not only associated with the homeowner, but also the police and other required service at that moment. Several residential safety portals quickly send notifications to the nearest fire station or police station based on the alert.
2. Security Videos on Phones
Setting up a camera isn't always enough for ensuring the complete security of a house. You must also see if you can vividly monitor your house on your phone through the clips delivered by the installed cameras. Well, a home security app built by an expert agency can take care of this safety feature for you.
3. Control Automation
Control is the biggest and the most prominent feature of a home security system. But it also needs to have an automated arrangement that lets you distribute access to your house to your family members when you are away. A well-customized app not only lets you control the security of your place but also automates that control hassle-free.
Finding the Best App Development Company for Home Security Systems
If we look at the burglary incidents of the last few years in the United States, it shows that the cases of failed home security have led to an average loss of 4 billion dollars also bringing the average loss to $2400. Authorities have reported that more than 70% of these cases were of residential burglary. This complete scenario shows how significant it is to invest in the right security equipment.
Clearly, the market for home security hardware and the app is wide open for brands that can offer a revolutionary check with innovation.
If you have an idea for IoT applications or an integrated home safety platform, then you can consult our team at Zazz to begin what might occur as a success in the digital realm.
As a leading mobile app, web portal, and custom software development company in the USA, we have all the powerful resources for your business. As an expert app development service provider for global enterprises, not only do we acquire the finest IT talent in the industry, but we also take pride in the methodologies that give us an advantage over our competitors.
Moreover, a diverse history of projects and a 100% success rate are some other aspects why you can trust our services for home security systems and custom app development services.
To discuss your unique app idea while assuring the safety of your intellectual property, you can connect with us today!