Retail is certainly one of the most evolving industries in the world. Despite changing user behaviors over the years, the ecommerce sector has managed to sustain a billion-dollar global market. However, 2023 is going to be a more progressive year for this domain, given the inclusion of AR technology.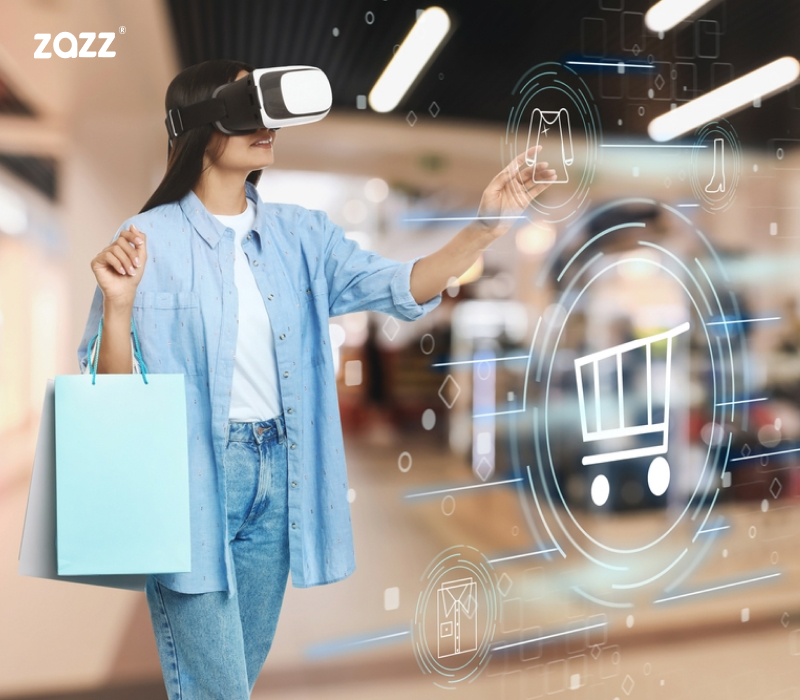 Augmented reality, in simple words, is the robust bridge between "what it is" and "what it could be". While many thriving industries are embracing the idea of digital adaptation using cutting-edge technologies; retail and online shopping isn't left behind. 
Augmented reality and virtual reality technologies have brought a revolutionary turn to gaming and many other sectors. World-renowned retail brands like IKEA and ASOS have already started using augmented reality to revamp the online shopping experience for a global user base. This year, we will see more ecommerce businesses peeking into the benefits of AR app development services.
But, how will it exactly make a difference for ecommerce brands across the world? This post will walk you through the present scenario of AR applications and their popularity. You will also learn about the benefits of AR app development for retail businesses that can tremendously drive more sales.
A Statistical View of AR-Powered Online Shopping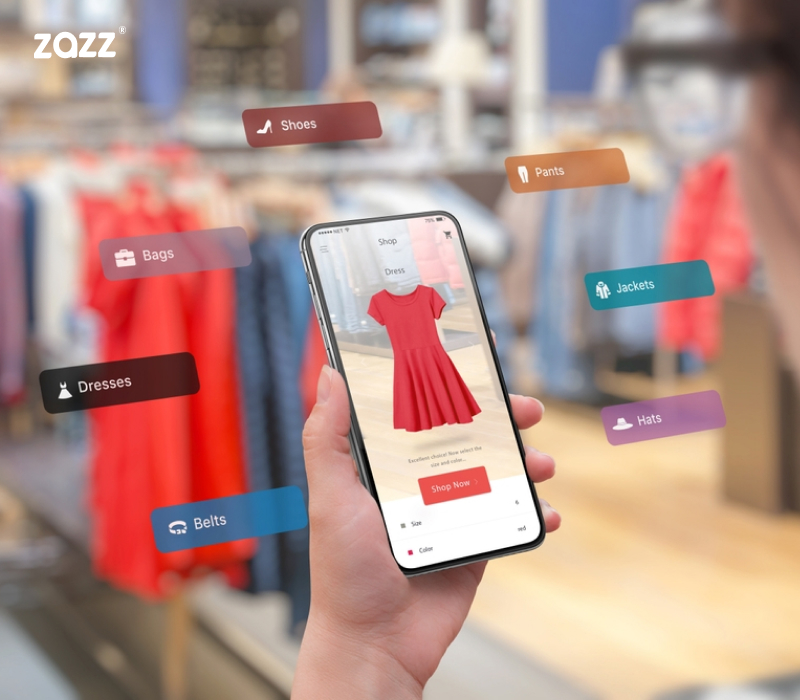 Let's begin with some statistics that showcase the prowess of Augmented Reality along with a need to build apps that align with the interests of millennial buyers.
1. 20% of consumers abandon the shopping cart for the fear of not getting what they are expecting.
2. 40% of buyers instantly place an order after previewing the product in AR.
3.. 32% of worldwide shoppers already use AR technology while buying online.
4. According to Forbes, leading retail brands have seen up to a 200% boost in sales with AR implementation.
5. 75% of social media users will be shopping online from AR-based retail brands by 2025.
Benefits of AR Technology for Retail Mobile Apps
1. Immense Convenience for Buyers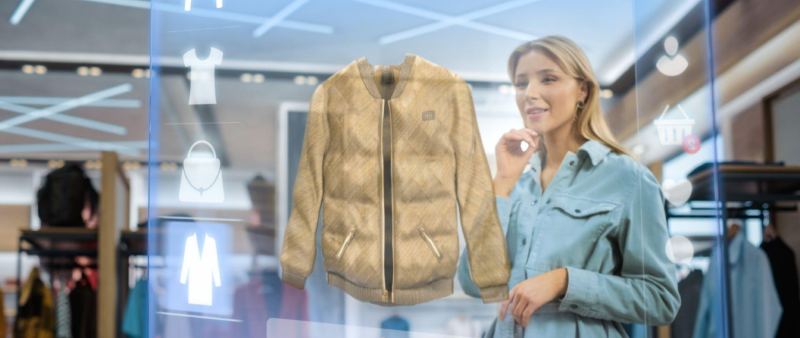 When it comes to buying from an online store, more than 40% of customers still feel that the delivered product is will not be up to their expectations. There have been thousands of cases where they have had to return the product due to a problem with the size or a mistaken color.
IKEA, TOMS, and many other retail brands now allow buyers to try their products using AR technology. Whether you are spending on a piece of furniture or browsing high-end makeup products online, you have the option to try it out first. Above all, this is a huge convenience for online shoppers.
2. Time-Efficient Inventory Setup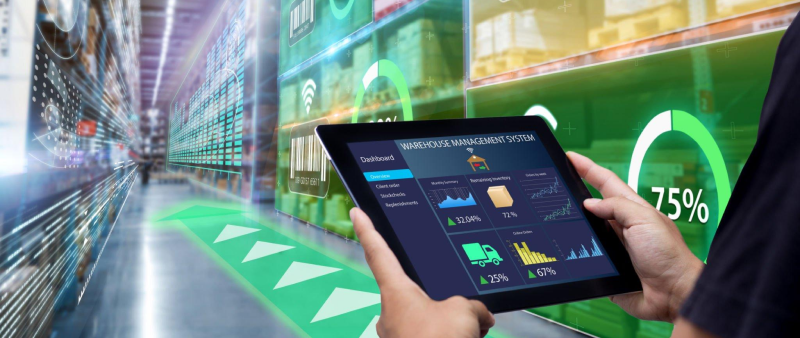 Online retail brands often put a lot of effort into managing their inventory and delivery system while taking care of the user engagement part. With the help of custom AR app development services, retail businesses can effectively locate products and process the delivery of products faster.
Online shopping apps can be built with an AR-based inventory management interface that allows your internal team to track orders, monitor order placements, and optimize loading and unloading processes hassle-free.
3. Virtual Fitting Spaces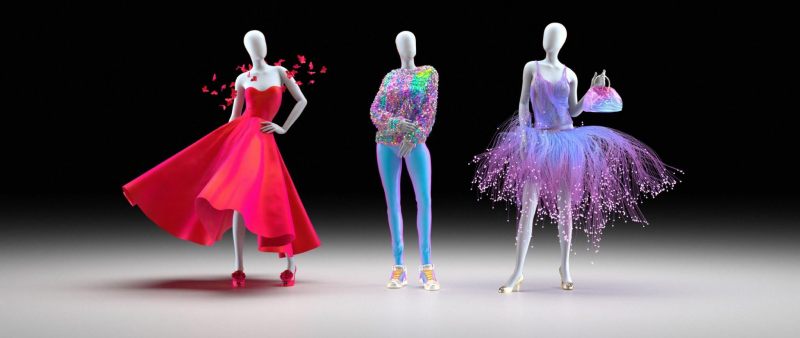 What sets an actual retail store apart from online shopping websites and applications? It is the fitting room! Augmented reality has surpassed this challenge of online shopping as well. Now, renowned online retailers let their buyers try their favorite products using AR technology.
Buyers can choose an avatar and pick a virtual fitting space to try things that they would want to buy. This form of preview gives them the assurance of a quality purchase. This is one of the most prominent benefits of AR app development services for retail brands.
4. Product Experience Preview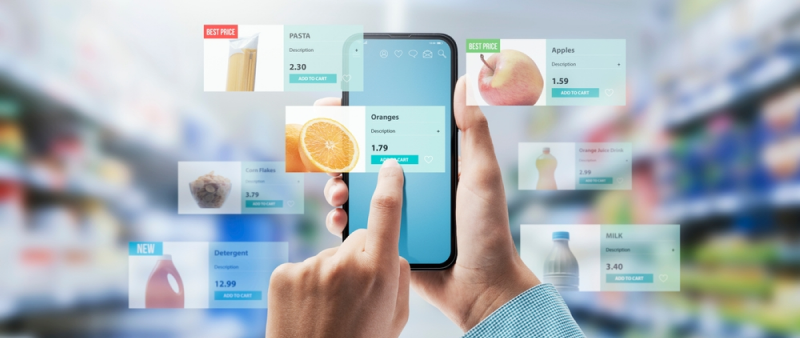 As discussed earlier, 20% of your target audience hesitates to buy your products online as they don't find the idea of online shopping reliable. To bridge this difference between real and online interaction, you can empower your retail business with the feature of a product experience preview.
This specific feature of an ecommerce store will motivate your target consumers to make a faster decision on their purchase. It also widens the passage for unwavering customer engagement and brand loyalty.
5. Route Planning for Delivery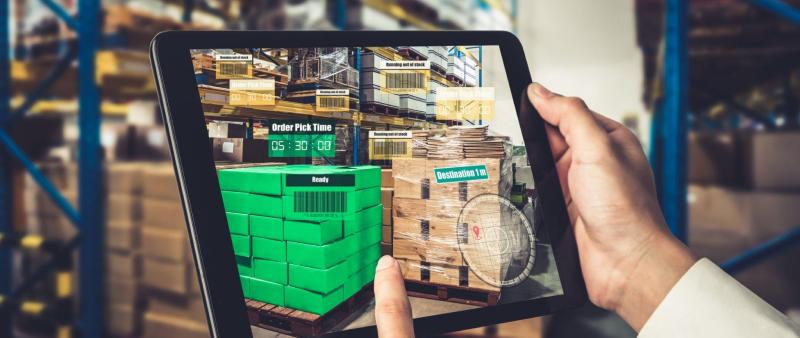 To achieve a competitive edge in a highly volatile global market, you need to keep a close watch on the entire buyer journey. It also includes delivery planning. This is what retail brands with a vision to engage a technology-driven user base do. With the help of a trustworthy AR app development service provider, you can also pursue the same path.
AR-powered shopping apps let you optimize the route of delivery. This way, a booming ecommerce business can efficiently plan multiple deliveries at a time while streamlining a quicker delivery process.
6. Interactive Product Information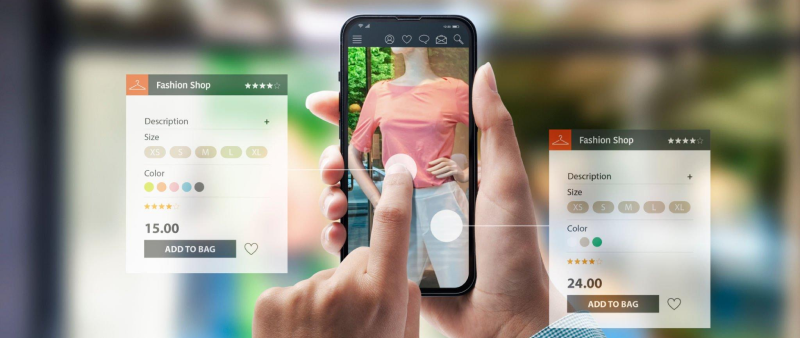 It's not just about the experience during the shopping process. Augmented reality is vast enough to benefit your retail brand with a post-shopping interactive experience. This is another significant influence of AR app development services for an ecommerce brand.
You can consider interactive AR features to engage your customers after the product has been delivered safely to their doorsteps. That's correct! Many retail businesses now add AR-enabled QR codes so the audience can explore the latest offers, the making of the products, and so much more.
7. Advanced Notification System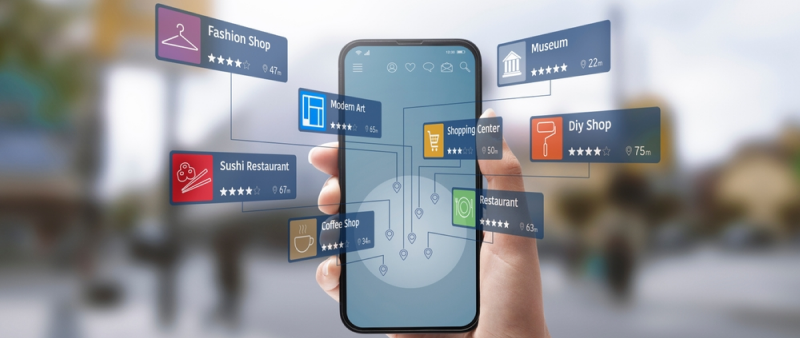 It is time to think beyond push notifications with augmented reality that takes us to an advanced level of buyer retention. While this technology enables your consumers to look for sizeable products and try them before buying, it also lets you present the latest offers and discounts in a highly interactive way.
You can create a whole new virtual shopping mall experience with the implementation of AR technology. Subtle gamification of the store will also encourage target buyers to browse more products and try them on so can buy them in the future. These possibilities are limitless with a functional AR-based architecture.
Why Trust Zazz to Increase Your Sales with AR App Development?
Augmented reality or AR app development services can efficiently reshape the structure of growth for your ecommerce business. It is the ultimate way to reach buyers and set a mark for a quality shopping experience. This is not a mere technology for engaging with the target buyers and increasing revenue. AR, in today's world, is far more derivative and convenient.
From solving the major concerns of online shopping for customers to streamlining the process of store management for brands, AR app development has an exemplary edge. It is a promising strategy to connect with buyers through an interactive online store where they have the freedom to try on something before spending money on it. AR technology has gone mainstream and it may be your call to invest in AR applications.
Now comes the part where you need to look for a mobile app development company with expertise in either retail or AR app development solutions. That's when Zazz comes into the picture as an experienced IT team for digital store transformation. We are one of those result-driven app design agencies in the USA that hinge on delivering excellence while making your brand existence relevant to the audience with the latest technology.
To learn more about our VR and AR app development services, contact us today!