Apps are an integral part of our everyday lives. They have become a life-saver. Grabbing on to this opportunity, organizations are investing in app development. However, creating a game-changer app is the real deal. That's when apps developed with React Native app builder stand out.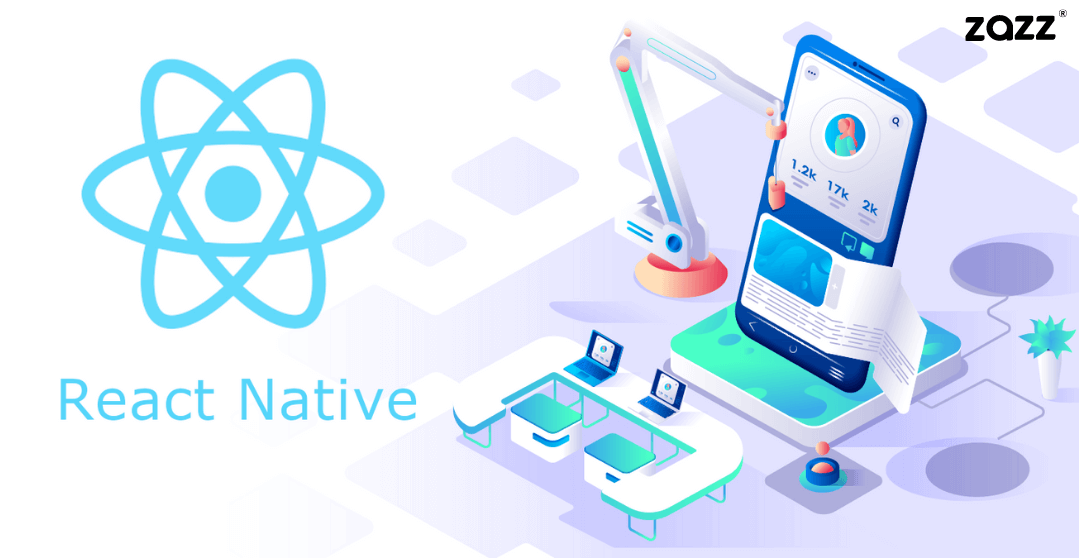 In this high-geared and ever-evolving 21st century, every user wants speedy access to resources. Thus organizations are highly bent on apps to provide their users with a seamless app experience. If you create React Native apps, you can offer your users the kind of satisfaction they desire.
This blog will give you an overall idea and knowledge on how your business can overcome challenges and pace up with the modern-day and ever-changing business demands by taking full advantage of the benefits offered by the React Native app builder.
What Is React Native App Builder? How It Can Benefit Your Business?
React Native is an open-source JavaScript-based framework launched by Facebook back in 2015. It helps to build apps for cross-platforms, namely iOS and Android. Thus, React Native app builder is the top seed for developers to build exceptional natively rendered apps following a singular codebase for several platforms.
When you build an app by channelizing the strength of this cutting-edge framework, you are just not developing a mobile, web, or HTML5 application, but a unique app that cannot be differentiated from a Kotlin or Swift-based app as it makes use of the primary UI building blocks akin to native Android and iOS applications.
In simple terms, developing an app with this power-packed framework makes the app development process quicker and affordable. It is the reason why businesses worldwide are reaching out to companies providing React Native app development services.
There are many reasons why developers worldwide prefer to create React Native apps and why this framework boomed in the sphere of app development. Some of them are stated below:
Its singular coding structure helps build a single app that runs on different platforms, namely iOS and Android, thus saving time and cost.
React Native's usage of the already acclaimed old-school JavaScript library has helped them gain immense popularity.
With this leading-edge framework, the front-end developers can build some of the most high-end and robust applications that scale.
It provides a smooth, attractive and responsive user interface while accelerating the development process.
Well, the reason behind its roaring success is endless. But as a business, you must be concerned about how this open-source framework can be advantageous for you. So let's look at some of the benefits your company can reap if you develop apps using the React Native app builder.
Quicker and Affordable
Hiring two different teams for launching your apps on Android and iOS platforms separately is time consuming and expensive. But you cannot just drop users from a specific platform. Thanks to React Native, you can target users from various platforms without wasting time and money.
One of the benefits of using React Native app builder to create apps is that it enables quicker app development due to its code reusability function. Instead of jotting down discrete codes for Android or iOS, it gives developers the power to reuse the code for several operating systems.
Also, if you hire developers from a renowned React Native app development company, you can curb the overall cost of your app development. In addition, since the React Native app builder is open-sourced, you won't have to pay for the license. 
It also puts forward effortless migration and numerous third-party plugins. Its best-in-class code reusable functionality helps to reduce the overall expense of your business application.
Native Look and Feel
Another benefit that you get if you create React Native apps is its classy native potentialities. Unfortunately, getting a seamless UX using the traditional Native framework for building apps is costly. Whereas, React Native fuses superbly with the native apps and offers an exceptional UX on both platforms.
Whether you are an Android user or an iOS user, the React Native app builder will give a native look and feel to your apps. Your users will forget what lagging is. This is one true artistry of React Native. You don't need to panic and stress over enormous application usages.
Singular Coding Structure
Apps developed with React Native app builder are easy to build compared to other frameworks due to its code reusability feature. As a result, developers can use a single coding structure for all platforms, thus saving time on writing codes for identical elements on separate platforms.
Developers are free to pen down codes in an equivalent programming language and tie up with React Native. It is highly beneficial if you want to add extra functionalities that the React Native libraries do not hold up. With the singular coding structure, developers can save time and invest in app up-gradation for improved user experience.
Web App to Mobile App
The React Native app builder enables the effortless conversion of a web application into a mobile app. Since the interface is modular and innate, it permits the developers to view how the web app might feel and look like a mobile application. Furthermore, since web applications are built following the Progressive Web App (PWA) framework, they can be easily transformed into mobile apps with the React Native app development framework.
Developers can lay hold of the source of the web application, transform it into programming logic, set up a test case to inspect and look over if the web application can be rapidly rendered into a mobile application or not. This magnificent functionality comes with the React Native framework, which will make your business applications highly efficient.
Cross-Platform Application Development
If you are thinking of launching your business app for either Android or iOS platforms, why not go for React Native's cross-platform compatibility feature and get your app launched on both platforms and drive profits? This is one of the many gifts provided by the React Native app builder framework. Its cross-platform framework offers you all the cutting-edge tools for building an application for both platforms.
The coding structure of React Native is highly adaptable with all the platforms. And while you plan to fix on a single platform, React Native helps target users of every platform in the given period. Developing apps with the React Native app builder keeps your time-related worries at bay.
High-Quality and Top-Notch Development
React Native is the top choice for app development since hiring dedicated React Native app developers is quite easy. In recent times, React Native is a highly favorable framework that developers study and shine at. By harnessing the strength of React Native app builder framework, developers can design and build top-notch apps with rich UI/UX designs to give users an unparalleled experience.
Besides that, it's easier to hire React Native developers and knowledgeable engineers at an affordable cost since the framework is quite easy to learn and be proficient at. As the developers can build robust and secure apps with React Native app builder, they are in total demand, but still, you can easily hire the finest ones without facing any difficulty.
Third-Party Integrations
Highly talked about for its third-party infusion, the React Native framework puts forward outstanding plugins that attach a layer of advantage to your business mobile application. Its high-yield framework and tailor-made modules make operations smooth and plain-sailing as it eradicates the requirement of WebView, making the app speedy, impeccable, and feature-rich in no time. React Native empowers the developers to build robust and dynamic cross-platform apps effortlessly.
When building a complex business application, the cutting-edge React Native app builder tools help curb the time to pen down intricate and elaborate coding blocks. The React Native-based app developers utilize these plugins and include high-end features in Android or iOS platforms in a flash.
Wrapping Up
If you look at popular apps like Facebook, Bloomberg, Skype, and Pinterest, they are built on the React Native app builder. Credit goes to its top-notch quality and flawless user experience. It is highly acclaimed and has achieved immense admiration over the years. React Native is invincible in its sphere.
Momentum matters when you are into business. A smooth and efficient app can keep you a level ahead of your competitors. React Native app builder is the most sought-after and convenient option at hand. So, if you are planning to build user-friendly and robust apps with the power of React Native framework, you need to secure the services of a renowned React Native app development agency.
Zazz is a reputable Mobile app development company with years of experience delivering feature-rich cross-platform applications to keep businesses a step forward in the race. So whether you choose us for React Native eCommerce app development or for building high-end On-Demand apps, we are your best bet. Contact Zazz to work with the best app developers.