Augmented Reality has become one of the pillars of contemporary society. One of the most exciting things about technology is that it involves and develops better applications every year, one of them supporting people with motor disabilities. The fascination with Augmented Reality is real and will be growing exponentially in the following years to support these sectors.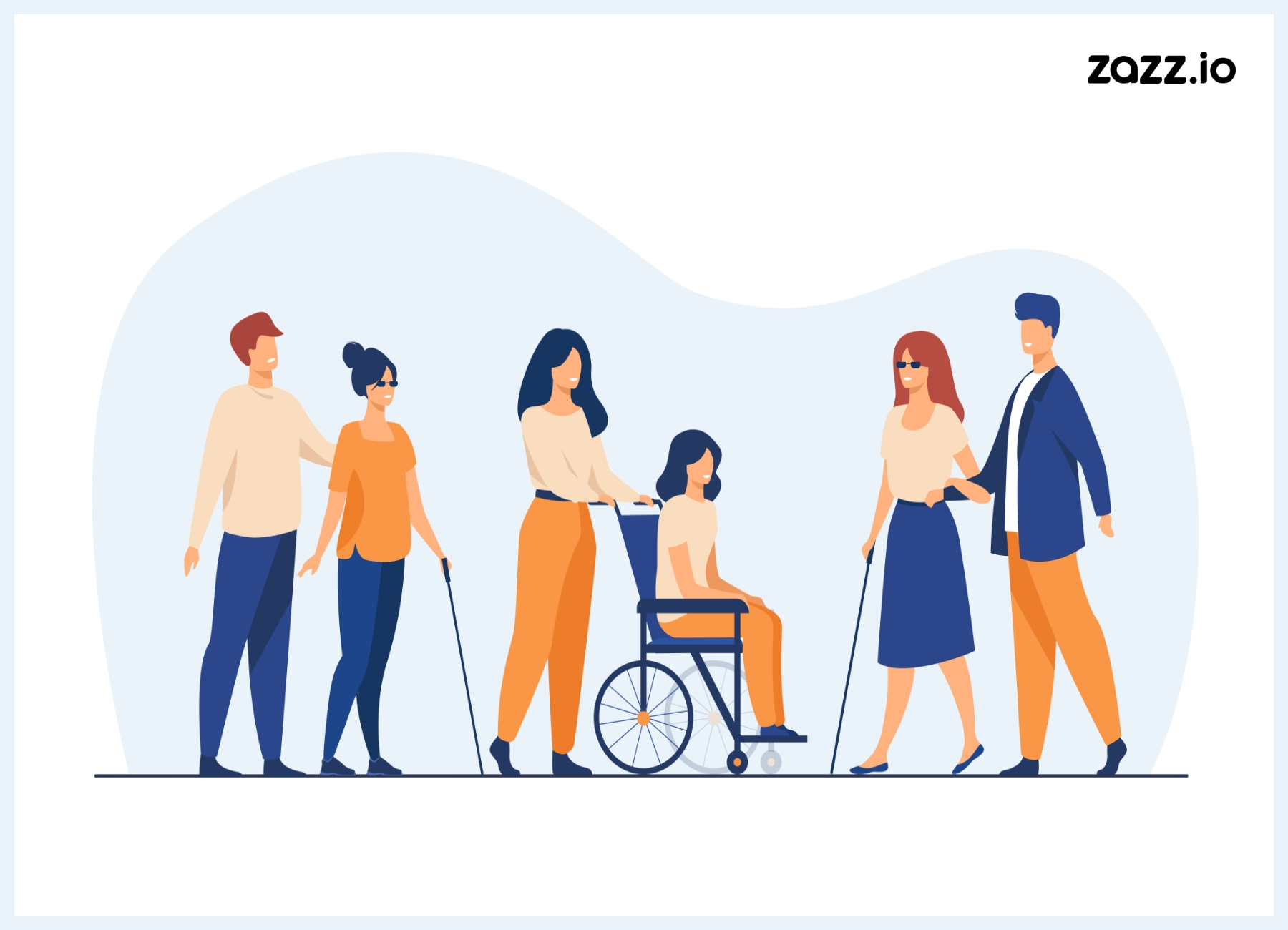 As you know, Augmented Reality is a combination of two environments; the real and the digital. This is created through computer-generated layers what is perceived as digital information in graphics, audio, and video over what is real, thus creating the interaction of users with the mix of environments. Users can interact simultaneously between the reality and the artificial environment that is created without them separating. Augmented Reality is used mostly by smartphones and applications.
Cell phones and their cameras identify markers that are mainly black and white images, although they can also be common images. The Augmented Reality software on the phone analyzes the dialer, creates a virtual image, overlaps the phone's screen and creates a union with the camera's position. Applications use the camera to interpret marker distances and angles. In addition to having RA on phones and computers, there are places where the screens use Augmented Reality.
How does AR help people with disabilities to have a better quality of life?
Today Augmented Reality is venturing into different industries, including education, retail, and tourism. Recent Augmented Reality reports predict that the market will grow significantly to reach around $ 90 trillion by 2020. This statistic shows where the AR industry is heading. There are many ways in which Augmented Reality is improving the lifestyle. Although limited, the role of Augmented Reality in improving the quality of life for people with disabilities is real.
People on Wheelchair
Augmented Reality helps people regain their integrity and independence lost by disability. For example, people who use wheelchairs, with their movements tied to the chair, find it possible to go to a retail store. It is just an example, people with disabilities are not counted in retail purchases. If this technology is openly adapted, not only will it be easier to shop for them, they will enjoy more because they are part of daily activity.
By utilizing Augmented Reality (AR) technologies, individuals with disabilities can now easily make purchases without having to physically interact with products. With the help of a phone or tablet, AR-enabled applications can provide product information & allow users to add items to a virtual cart. This technology saves time & assists when selecting items from high shelves or crowded aisles. Once the purchase is made, an employee collects the items & the payment process is completed. AR technology empowers users with disabilities & provides a convenient shopping experience.
For those who cannot move their hands, Augmented Reality lenses can be of great help. These lenses will allow you to look at products without having to lift them with your hands. As soon as the gaze is fixed on the object through the Augmented Reality lenses, detailed item information will be displayed for purchase. People can learn to develop security skills with Augmented Reality.
Augmented reality platforms are made up of internet-based technological tools that allow you to create custom applications for the user to visualize part of the real world through a device with added graphic information. The new system could help make sophisticated robots more useful for people who have no experience in the operation of complex robotic systems.
Augmented reality has been considered as a tool of great ingenuity in the support of people with Asperger syndrome, due to the success of applications such as Pokémon Go that has placed this type of technology in the focus of attention of people around the world.
This technology is a great opportunity to bring great benefits to medicine and its branches, to study the human body and seek the improvement of conditions like this.
An innovative project is presented by the Universia and U-tad Foundation, who have worked together, creating a research chair in accessible technologies, the project was named CicerOn, which is the first of this association. The people with Asperger syndrome can interact with virtual characters, unfolding in a personalized environment, the software is specifically called Ciceron VR Speech Coach, which will be able to communicate with others or public speaking thus seeks to improve skills social and communicative in them, since it is a factor that is usually difficult for them.
Games for Special Children
Esmuik, a leading gaming company, has designed an innovative game called Juggler that uses augmented reality to provide recreational & educational activities to individuals with developmental disabilities or learning challenges. Through a variety of engaging characters & stimulating features, Juggler promotes cognitive development and helps individuals reach their full potential. This game represents a significant breakthrough in the world of education & empowerment.
The game has a very simple operation so that children can handle it themselves without the need for the teacher to be constantly by their side, although it could also be used with adults who, for example, suffer from Alzheimer's disease. Besides, there are different levels of learning with various contents within the application.
A startup based in Pakistan is also transforming the lives of special children by developing games for them. Their work is so incredible that they were invited at Stanford and was presented with the award.
Zazz and AR
Zazz is a pioneering Augmented Reality App Development Company, comprising expert developers with an unrivaled skillset in integrating AR technology into a range of lucrative applications and gaming experiences. As a socially conscious company, Zazz supports healthcare initiatives as well as other worthy causes, epitomizing the perfect balance between cutting-edge tech & responsible business practices. For streamlined, bespoke AR solutions, partner with Zazz's acclaimed developer team.
The future of Augmented Reality
The future of this technology is bright, there is no doubt about that. For now, technology continues in its first steps and has covered different industries. We can imagine thousands of promising opportunities where technology can dabble and make more offers to the world in the future. We look forward to more and more tests with Augmented Reality. The fundamental idea is to find new ways to apply RA in social and industrial fields. Educating the developers of Augmented Reality and the common people will make the industry grow on a large scale. Augmented Reality can be integrated from workplaces, homes, hospitals, schools, shopping centers and almost all public or private places.