Mobile Digital Transformation is revolutionizing the operation of companies. Incorporating a company APP allows for dynamic customer engagement. And today everyone carries a smartphone in their pocket at all hours. The main functionality of these smartphones (apart from phone calls) is to run a large number of applications that serve almost every imaginable purpose. Zazz stands out as a top-tier mobile app development company in Italy, with its  reputation for delivering splendid digital solutions.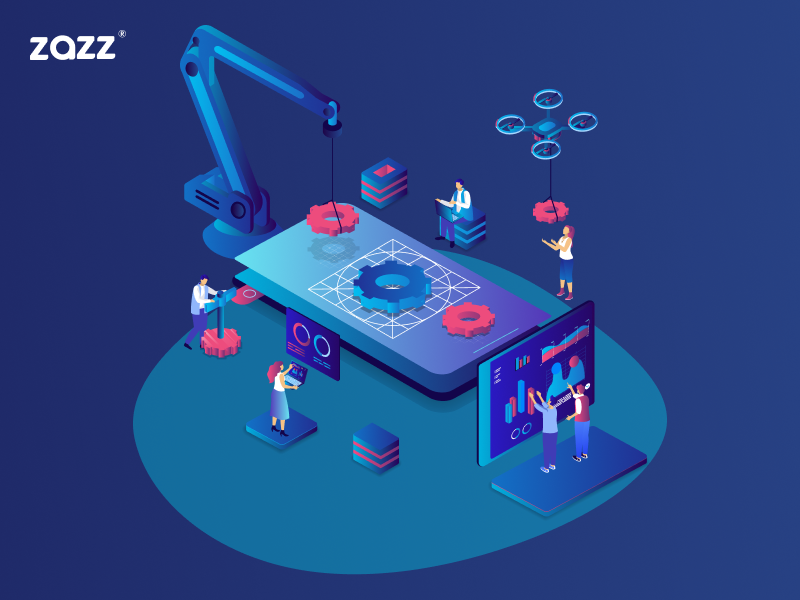 Recently, companies worldwide are shifting their marketing operations to the online domain while curtailing their physical campaigns such as leafleting, print ads, or billboards. This transformative move marks a distinct shift towards mobile-centric strategies, enabled by the ubiquity of smartphones and the internet. The scalability, flexibility & low barriers-to-entry of mobile marketing make it an ideal platform for businesses to engage with their audiences more effectively.This is what we call Mobile Digital Transformation.
There are still companies that think that your business does not need a mobile APP to sell products. Customers are loyal to the brand, to the company. However, the latest surveys reveal that this is not the case. Customers increasingly prefer to interact directly and quickly through their smartphone. The most agile and effective way is in a native mobile application. All in all, the need to hire app developers is becoming a necessity in this rising digital tech era.
An APP gives more value to customers
The business has to do with reciprocity. Businesses provide products while customers offer their attention & interest, forming a mutual relationship that involves trust. This two-way process promotes sales opportunities & requires active customer involvement.
Only then can you promote more sales. In addition, it is very important to offer the customer a shopping experience. This gives them a unique value that they can't find anywhere else. Having that mindset is the key to success in a business like Amazon. User Experience Ease in purchasing processes. Accessibility (always available from mobile)
In this sense, applications open to business a range of options to foster and care for customer loyalty and loyalty. For example with loyalty programs:
By engaging with your company and product more frequently, customers accumulate points, which they can use to purchase great products.
Starbucks uses its APP for your benefit by offering rewards exclusively to app subscribers, which motivates customers to buy coffee. Furthermore, they offer the option for users to pay directly from the app & speed up the entire transaction process.
Build a stronger brand
There's no denying it: mobile business apps are the wave of the future & for any brand or company that wants to make a splash in today's market, an app is an absolute must-have. That's because these apps offer a number of benefits that traditional methods of communication simply can't match . At the top of that list is the ability to establish & maintain a strong, positive relationship between your brand & your customers. To get the best out of your brand, partner with a top Android & iOS app development company & take your business to the next level. 
Why is this so important? Well, it's simple. When your customers trust you – when they feel confident that your brand is one they can rely on to meet their needs – they're far more likely to take action in response to your messages, whether that means making a purchase, signing up for a service, or recommending your brand to others in their network. Of course, having a mobile app makes it quite easier than ever to build & reinforce this trust by reaching out to your customers on a regular basis, providing them with value-added content and special deals, & generally make them feel like they're part of a community of like-minded individuals who share their interests & needs.
Of course, even the most well-crafted mobile app won't be effective if it's used in the wrong way. If you bombard your users with spam notifications or fail to provide them with content that's truly relevant & engaging, you're likely to see your user engagement plummet – and before long, your app will end up being uninstalled and forgotten. That's why it's crucial to approach your app strategy with care & intentionality & take the time to understand what your users really want & need from your app, and crafting messages & experiences that foster a sense of loyalty and trust.
The Engagement: Connect better with Customers
Customer service is a department that has evolved radically to become the cornerstone of the success of large companies. We return to the Amazon example. Who has not managed to solve a problem with your SAT? Therefore, it is no longer just about face-to-face communication between vendors and customers. This is the first step in customer loyalty.
Since 2.6 billion people now have mobile devices at their fingertips at all times, the real change of game in customer service is now the company APP. And it is that precisely thanks to that presence through the smartphone the same face will always be presented to the client.
We talk about an interface designed specifically to offer the best service experience. Solve doubts, serve potential customers and convince them of the purchase with a great service. This is how consumer loyalty is achieved today and this is how you will differentiate yourself from the competition. This is only possible if you have a mobile business application.
Put into practice, this means that if a person wants to access information at odd hours, get to know your business, the products or services you offer etc., you will only have to download the company's mobile application and access. And if you want to hire a service or buy a product you can do it at any time and without the need to be waiting for business hours.
As I mentioned before, accessibility will allow you to sell up to 20% more. Being able to access and buy or hire at any time expands the margin of sales opportunities. This is also customer service. Apps are the best answer to increase the degree of customer satisfaction in all areas. So, get ready to dive into the world of apps with experts on your side. Choose a top Android app development company & let their experts help you flourish in the world of app development.
Enhance the benefits
The more satisfied your customers are, the more sales you will generate. In fact, 70 percent of shopping experiences are influenced by the way customers feel they are being treated.
The Mobile Digital Transformation is the revolutionized approach to business in the digital era. It is increasingly necessary to have a mobile application for your business to enter fully into this transformation. Research indicates that having satisfied consumers increases demand and sales, and a mobile application is the key to achieving this satisfaction.
Having a mobile application for business does more than make the user experience and contact with customers better. The company APP allows interactions that a website does not achieve and is even more effective than an email marketing strategy. In recent times, data shows that more than 41% of campaign sales came from mobile devices, which doubled the marker from the previous year. With the trend still on the rise, users prefer the smartphone over the computer. This preference is due to accessibility as they always have their smartphone on top of them and can consult it from anywhere.
The digital era brought a conversion of companies into the digital world, ending an era of traditional ways of conducting businesses a few years ago. However, companies that want to remain productive must keep up with the digital transformation and understand the significant role that having a mobile application plays in driving sales. It's a game-changer and has the potential to revolutionize a business and achieve a more customer-satisfying experience. Therefore, embrace Mobile Digital Transformation by creating a mobile app for your business and reap the benefits that come with it.