In a world where travelers seek unique and personalized experiences, vacation rental platforms like Airbnb are leading the way. According to sources, the U.S. will have 56.4 million vacation rental bookings by 2023. If you want to build a successful app like Airbnb, we'll help you decode it.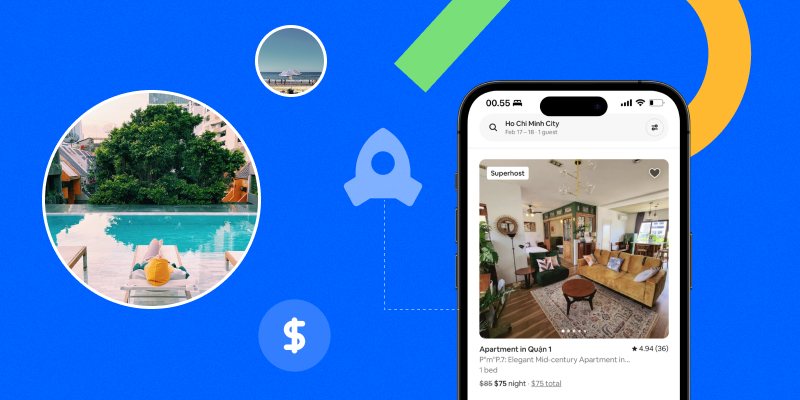 roach, understanding your target audience, and staying current with industry trends. From understanding Airbnb's winning formula and choosing the right technology stack, we'll cover all the critical aspects of developing a top-notch app in this competitive landscape.
How Exactly Does the Airbnb Vacation Rental App Work?
The Airbnb vacation rental app provides a platform for both guests and hosts to rent out a property for short-term stays. The app delivers the experience of finding and booking an ideal accommodation in just a few taps.
The Airbnb Guest Experience
The Airbnb Guest Experience encompasses a range of interconnected features and functions designed by a Travel app development company to offer enhanced comfort.
1. Search for Properties Based on Location and Filters
The Airbnb vacation rental app allows guests to search for properties in their desired location using various filters such as price range, number of bedrooms, amenities, and more. This feature allows guests to customize their search according to their preferences and budget.
2. Compare Prices of Different Properties
With the price comparison feature on the Airbnb app, guests can compare prices of various properties that match their search criteria. This feature offered by a mobile app development company provides a transparent and objective comparison of properties, allowing guests to make an informed decision.
3. Save Favorite Properties for Future Reference
The favorite list feature on the Airbnb app allows guests to save their preferred properties for future reference. This feature saves guests the time and effort to search for the same properties again. Plus, it helps guests keep track of their desired properties, making it easier to revisit them when planning their next travel.
4. Book Properties and Make Online Payments
The Airbnb app's booking feature ensures guests can easily book their preferred properties and make online payments using a secure payment gateway. This feature guarantees guests a safe and seamless booking experience, saving them the hassle of having to make bookings through alternative methods.
5. Communicate With Hosts Through the App
The communication feature on the Airbnb app enables guests to send messages to their hosts before, during, and after their stay. This feature, being a part of travel-based mobile app development services fosters communication between guests and hosts, allowing them to clarify any doubts or requirements about the property or the travel experience.
6. Manage Travel Details in One Place
The Airbnb app's trip details feature summarizes the entire trip itinerary in one place, making it easier for guests to access all essential travel information such as check-in/out times, booking details, and more. This feature simplifies the guest's travel experience, eliminating the confusion and stress of managing multiple travel documents.
7. Explore Local Experiences
Airbnb's experiences feature allows guests to explore and book unique activities led by local experts. This feature provides guests with authentic and immersive travel experiences, allowing them to explore local cultures and traditions.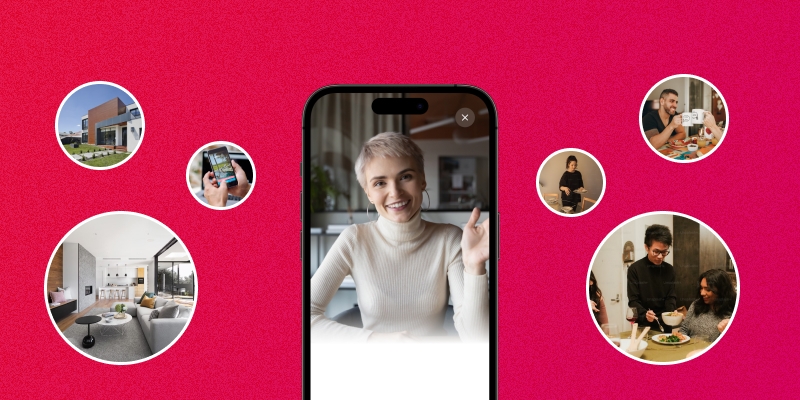 The Airbnb Host Experience
The Airbnb vacation rental app empowers hosts with various tools to manage their properties with the help of custom iOS and Android app development. Here's a detailed look at some of the key features that Airbnb offers to the hosts:
1. Adding Property
Hosts can create their property listings by adding details such as accommodation type, location, number of guests, amenities, house rules, and pricing. They can also upload high-quality images of their property to attract potential guests.
2. Updating Property Listing
Hosts can easily update their property listings at any time. They can change the availability, update the pricing information, add new amenities, or modify the property description to make it more appealing to guests.
3. Booking and Transaction History
The app helps hosts in keeping track of their bookings and transactions with ease. Hosts can view all their previous and upcoming bookings, payment history, and earnings from each booking.
4. Communication Requests
The Airbnb app allows hosts to communicate with guests easily. Hosts can accept or decline booking requests, respond to guest inquiries, and answer their questions in real time.
5. Ratings and Reviews
The app also provides an in-app rating and review system, which allows guests to rate and leave feedback about their experience at the host's property. This helps future guests make informed decisions and helps hosts improve their services.
6. Set up a Calendar
Hosts can use the app to manage their calendars to block dates and multiple bookings. It prevents double bookings and scheduling conflicts in both iOS app development and Android interface customization.
Features of the Airbnb Vacation Rental App
Airbnb is a leading player in the vacation rental market. According to recent data, the number of users in this segment is expected to reach a whopping 57.0M by 2023, with a user penetration rate of 11.4%.
Let's look at some of the most noteworthy features of the Airbnb vacation rental app.
1. Streamlined Sign-up Process for Easy Account Creation
Airbnb has a user-friendly sign-up process that allows users to create an account in just a few minutes. The process is straightforward and requires users to provide basic personal information, such as their name, email address, and phone number. Once registered, users can browse the app and search for properties that fit their travel needs.
2. User-Friendly Property Search Interface
The Airbnb app has an intuitive interface that users can easily navigate. They can filter their search results to include specific amenities, locations, and property types, ensuring they find the perfect place to stay for their vacation. From cozy apartments to luxury villas, the app showcases an impressive collection of vacation rentals worldwide.
3. Real-time Push Notifications to Keep You Updated on Your Bookings
One of the most useful features of the Airbnb app is its real-time push notifications. Users are instantly notified when hosts respond to their inquiries, approve their bookings, or when they receive a message from the host. This feature ensures that users stay informed about important updates related to their bookings.
4. In-App Chat Feature for Smooth Communication between Guests and Hosts
Airbnb's in-app chat feature makes communication between guests and hosts incredibly easy. Once a booking is confirmed, both parties can use the app's messaging feature, from asking questions about the property to arranging check-in times. This ensures smooth communication and coordination between guests and hosts.
5. Clear and Concise Cancellation Policies to Ensure Ease of Use
Airbnb has clear and concise cancellation policies that make it easy for users to cancel a booking if needed. In this way, users feel confident when booking, knowing they can easily cancel if their plans change. The app provides a range of options for cancellation policies, allowing hosts to choose policies that work for them while ensuring guests have a comfortable booking experience.
6. Complete Booking History Management and Tracking
Another useful feature of the Airbnb app is its booking history management and tracking. Users can easily view their complete booking history, including past and upcoming trips. The app provides all the details related to each booking, making it easy for users to manage their travel plans.
7. Convenient Payment Management for Secure and Reliable Transactions
The Airbnb app has a convenient payment management feature for secure and reliable transactions. Users can easily make payments using their preferred payment method, and rest assured that their personal and payment information is safe and secure. The app also provides users with receipts and tracking information, making it easy to keep track of all transactions related to their bookings.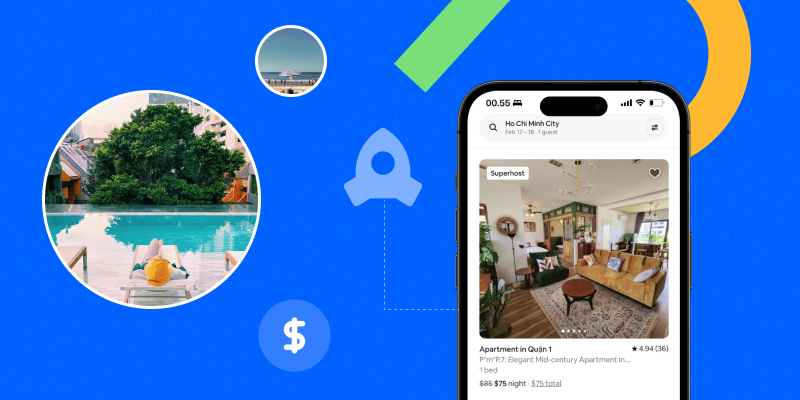 The Cost of Creating an Airbnb-like Vacation Rental App
Creating a vacation rental app like Airbnb requires significant time, money, and resources. The costs associated with developing such an app can vary greatly depending on various factors. To begin with, it's important to understand that the more complex your app, the higher the cost will likely be.
While it's true that a basic vacation rental app can cost between $50,000 to $100,000 to develop, more complex apps can easily cost $200,000 or more. Development costs are not uncommon to reach six or even seven figures, particularly if the app requires advanced functionality or customization.
How to Build an App like Airbnb with Zazz?
If you're looking to build an app similar to Airbnb, you must follow a systematic approach to creating a successful vacation rental app. Zazz specializes in app development and can assist you in following these essential steps from start to finish.
1. Conducting Market Research for Trends
Market research is a crucial step in identifying your target audience and understanding what features they are looking for in a vacation rental app. Zazz can help you analyze the current market trends, demand, and competition to identify your app's unique selling points and features.
2. Creating a Detailed App Plan
Once you've defined your target audience, the next step is to create a detailed app plan that outlines your app's main features, design, and functionality. The developers at Zazz can help you with this by ensuring that your app plan includes the following:
Property listings and search
Booking and payment options
Property management tools
Review and rating systems
Multilingual support
Integration with other travel-related services
3. Choosing a Tech Stack
Choosing the right tech stack is also essential for top app developers when building a vacation rental app, as it determines your app's scalability & performance. Zazz has expertise working with MERN stack, MEAN stack, Laravel + VueJS, or Ruby on Rails. Our team of expert developers can handle the development of server-side functionality, such as authentication, data storage, and payment processing.
4. Designing the UI and Developing the Backend
The user interface is another crucial aspect of a vacation rental app. It should be visually appealing and user-friendly, which makes it easy for users to navigate the app and perform tasks. We will ensure your app is thoroughly tested and refined to make necessary changes or improvements before launching it in the app stores.
As the saying goes, "The world is a book, and those who do not travel read only a page." So why limit yourself to just one page when a vacation rental app can open up a whole world of possibilities? Contact us today, and let's build something amazing together!