Organizations face numerous challenges that demand bespoke services tailored to specific needs. To this end, Managed IT Services have emerged as a compelling alternative to outsourcing & offer unparalleled flexibility in activities & time management. Moreover, this service delivery format not only saves costs but also enables companies to effectively address their diverse IT requirements. It is crucial to start by exploring the top 10 Managed IT Services in the USA, as this will provide an informed perspective on the latest trends and best practices in the industry. With Managed IT Services, organizations can achieve their goals efficiently & stay ahead of the curve.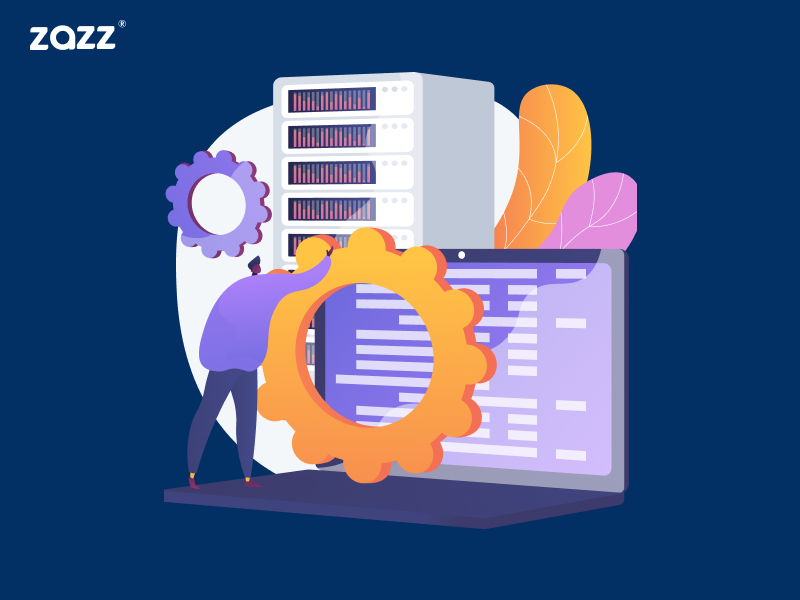 Zazz
With years of experience & a track record of innovative software design & development, Zazz stands out as a leading name in the American digital agency sphere. Their team prides itself on staying ahead of the curve, constantly choosing to adopt & invest in the latest & greatest technologies, processes & talent.
This approach is exemplified in our bottom-up software development methodology. they put the user at the center of our universe, considering each individual's journey, footprint & engagement metrics to create unparalleled digital experiences. At Zazz, they proactively strive for excellence in every aspect of our work, from start to finish.

List of Services:
Product Strategy
Prototyping & Concept Development
Product Design
iOS Application Development
Flutter App Development
React Native App Development
Web Development
Blockchain Development
Machine Learning
Moreover, they offer the ultimate solutions for any type of business, whether it's a fledgling startup looking to analyze an MVP through A/B testing, an SME seeking to streamline their processes, or a large enterprise in need of digital transformation. Their extensive resources & expertise make sure their project's end-to-end needs are met with unparalleled precision. With a proven track record and client portfolio that ranges from VC-backed startups to fortune 500 companies, they invite you to check their website for detailed case studies, or meet with one of the consultants to explore the latest tech trends.

AppStudio
As a leading software design & development company situated in the bustling city of Toronto, AppStudio is at the forefront of disruptive technology. Their expertise spans the development of Mobile & Web Applications, & their creative team works hand in hand with clients to build captivating digital experiences. With a knack for innovation, AppStudio caters to startups & enterprises alike & offer a vast array of resources at the best price points to meet all mobile-related requirements. With them, you're guaranteed a first-class digital experience.
List of Services:
Product Strategy
Prototyping & Concept Development
Product Design
Android App Development
Flutter App Development
Healthcare App Development
React Native App Development
Web Application Development
Blockchain Development
Machine Learning
TechMD
TechMD has emerged as a leading IT solutions provider, acclaimed for its state-of-the-art cloud solutions, cybersecurity services & infrastructure management. The firm also renders strategic consulting & resolving complex technological challenges. The team's expertise in developing cloud solutions is unparalleled & are committed to enhancing potency, scalability & security, for better business growth. TechMD unleashes future-proof technological prowess to empower SMEs.
Bluewolf
As an IBM Company, Bluewolf is a leading global Salesforce consulting agency that is driven by innovation & committed to delivering exceptional customer and employee experiences worldwide. Their advanced Augmented Intelligence (AI) helps businesses of all sizes in various industries to create more personalized customer moments & gain a competitive advantage. With their expertise, companies can achieve a greater return on investment & drive long-term growth.
ServerCentral Turing Group
SCTG is a leading provider of managed cloud solutions, disaster recovery & data center services. They are headquartered in Chicago, IL, & provide different specialized services to help businesses of all sizes. With a commitment to delivering exceptional reliability, security & scalability, SCTG has become a trusted partner for organizations looking to optimize their IT infrastructure & processes for maximum efficiency & success.
Switchfast Technologies
As one of the most sought-after IT Managed Services Providers in the Greater Chicagoland and Midwest area, Switchfast Technologies takes pride in delivering cost-effective, long-term solutions that are made to individual business challenges and objectives. Their emphasis on IT roadmapping, planning & strategy guarantees that investments in Information Technology yield the maximum return on investment for stakeholders. Clients clearly recognize the value that Switchfast brings to the table as a true IT partner invested in their future success.
IT Svit
IT Svit, hailing from Kharkiv in Ukraine, is an esteemed provider of IT consulting & Managed Services. With a niche focus on DevOps solutions, their dedicated teams take on all-encompassing projects for businesses of varying scales. Their devotion to cutting-edge technology & advanced methodologies sets them apart as industry leaders in delivering top-tier IT solutions.
Carden I.T Services
At Carden I.T Services, their core expertise lies in delivering premium IT support, maintenance, & consultancy services to businesses across the UK and Europe. They cater to every budget with their IT solutions, & their mission is to provide a friendly, transparent & responsive service. With a team of highly proficient IT professionals, they understand the nitty-gritty of IT management & strive to relieve businesses of any technological headaches. Their ultimate goal is to enable their clients to focus on their core business activities & achieve optimum results with minimal distractions.
ScaleFocus
As a leading European IT solutions delivery center, ScaleFocus is dedicated to providing outstanding technical services to our global customer base. Their focus is on advanced engineering services & consultancy in the domains of Digital, Data & Cloud, all backed by our unwavering commitment to R&D and innovation. Through their team care & customer success obsession, they foster collaborative partnerships built on open communication, respect, trust & drive for tangible business outcomes. All in all, they always strive for excellence and are dedicated to delivering unparalleled results for our clients.
BairesDev
As the premier technology solutions provider in Latin America, BairesDev prides on maintaining the industry's largest applicant pool. With over 240,000 software engineers vying for a chance to work with us each year, their stringent hiring process ensures that they only select the cream of the crop – the top 1% of IT talent. With this approach, they are able to create rock-solid teams of 100% bilingual veteran developers, ready & able to meet any technological challenge thrown their way. Join them & experience the difference that top-tier IT talent makes.
Integrating "Managed IT Services" into a business is not simply a cost-saving measure. It can revolutionize the way operations are conducted, enhancing efficacy, robustness & solidarity. As technology progresses, enterprises are consistently streamlining their processes to meet ever-decreasing deadlines, ultimately contributing to the rise of global economies. In this landscape, the adoption of IT in the supply chain is no longer a choice, but a requirement. It is imperative for businesses to incorporate IT into their operations to maintain a competitive presence in the market.
Prevent or regret?
As we explore the realm of managed services, a plethora of options are available for firms desiring to streamline their operations. Traditional services, including content distribution, data storage, disaster recovery, network monitoring & supply chain security, can all be expertly managed. Meanwhile, emerging trends such as virtualization, cloud computing & mobility offer the potential for a more efficient and agile supply chain, capable of managing larger volumes of orders, inventories, suppliers & customers. These advanced services enable greater precision in a shorter timeframe & empower businesses to positively impact their bottom line.
Therefore, when requiring managed services, it is considered critical that a devOps services company that provides them have the necessary and sufficient infrastructure, coverage, software, and support to provide customers with the highest quality service. With this, the business strategy will be a success, since having the necessary tools, cutting-edge technology, and an appropriate methodology, there will be very few points of distraction for the directors in the planning of the company.
The companies that provide these services use network intelligence and predictable problem management to monitor and correlate events; In short, mission-critical solutions across all segments of a managed infrastructure, which orchestrate both corrective and preventive actions against potential IT incidents.
If technology is implemented without proper planning, organizations are put at risk. If these processes are not concluded or they remain in the middle, the company's security would be at risk of hacking, phishing, etc. These are some of the aspects to consider, since making wrong and often expensive decisions would result in an inefficient business process.
Benefits of the Outsourcing
At present, all companies including a react native app development agency are asked to maximize resources and, considering that 91% of IT budgets are required just to maintain the status quo, companies have to find ways to redirect that expense in innovation, with projects and managed service options to reduce costs, energy use, risks, as well as achieve optimum quality. Managed IT Services help organizations integrate technological trends in different business processes; Supply chain processes are no exception. Some other benefits are:
Create agile, flexible and modern IT systems to comply with new policies and regulations.
Develop advanced security measures for detecting, preventing or simply healing security threats.They also help maintain the trust of customers, partners and business allies.
Take advantage of new technologies to remain competitive and increase customer satisfaction demands. Create friendly products and services with customers and suppliers.
These types of services can sometimes come with issues that require quick troubleshooting. Therefore, the company that provides managed services is required to have mission-critical solutions to solve the most demanding business challenges, especially for specific sectors of the industry, such as in the supply chain.
A website development company in USA with deep knowledge of security systems, integration, outsourcing, infrastructure, and data center technology, and using the latest technology, guarantees both physical and computer security.
Specialized and updated equipment
Monitoring is not enough to prevent the invasion of a system, it is also essential to have the knowledge and know-how to recognize a potential threat. Beyond monitoring and rapid response to a threat, Managed IT Services companies need to identify specific elements of customer security assets, as they deal with different types of tools. Hence, it is essential to configure them continuously to minimize the chances of being attacked.
Flexible contracts
The MITS can be hired monthly, making the containment of the client's networks or promptly in the case of an invasion or to execute some correction. It is also common for an employee of the provider to be transferred to the company to help the IT team that is included in a specific project or to accelerate some security function that was being controlled remotely.
Economy of resources
With flexible contracts it is possible to carry out greater control of the expenditure of resources since there is no need to hire specialized labour to guarantee the security of the network, also generating savings in terms of salaries and an increase in benefits for workers.
Summary
Article Name
Top 10 Managed IT Services USA
Description
Organizations have their own needs that require personalized services adapted to specific topics. Today, an alternative is managed services (Managed IT Services), because, beyond outsourcing, this concept allows companies to have more flexibility in activities and time; therefore, in addition to the cost that this service delivery format has, it allows companies to cover the various IT needs effectively.
Author
Zazz
Publisher Name
Zazz
Publisher Logo