NFT: Meaning and Definition
In contrast to non-fungible assets tokens, which are distinct digital assets whose ownership can be monitored on NFT blockchain developments like Ethereum, fungible assets or fungibility refers to an item or an asset that has the potential to trade or get exchanged with a comparable type of asset or thing.
Non-Fungible Tokens, also known as NFTs, are digital assets, a kind of digital certificate for ownership of commodities, or an asset that symbolizes a wide range of tangible and intangible products, including artworks, virtual properties, postcards, films, and so on. Hoping you have understood what is NFT.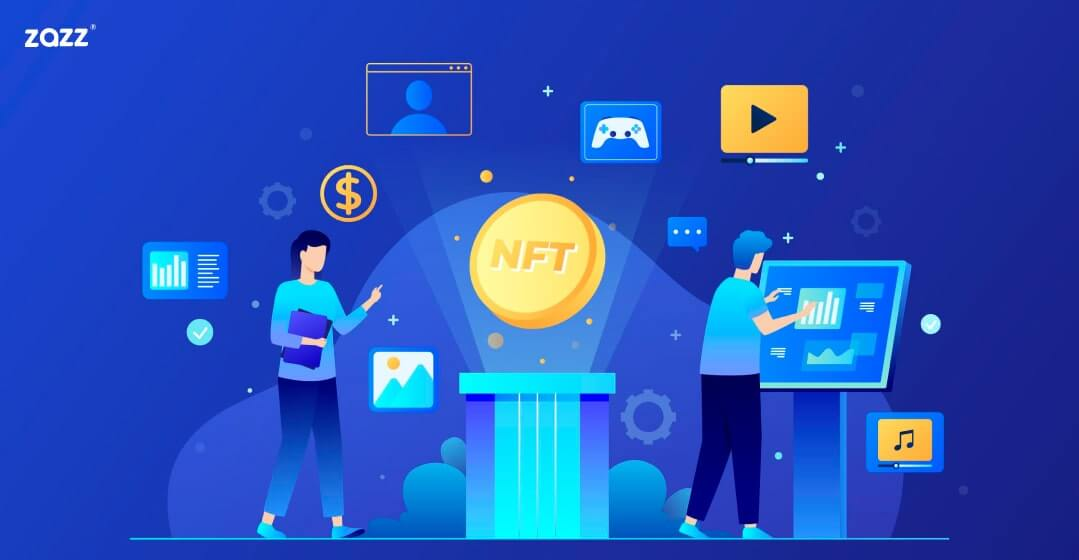 Popular Examples of NFT
A) Blockchain Heroes: It is a unique trading card collection that draws attention to the shared traits of individuals in the blockchain and cryptocurrency industries.
B) Decentraland: In this game, users' virtual worlds can be purchased by gamers. The owner of the pertinent virtual space is enabled to mint easy money from their respective space by effortlessly adding shops, advertisements, and much more.
C) Prospectors.io: It is a blockchain-based game where participants receive their owned assets in the form of a blockchain and are rewarded with NFT based on their gameplay.
D) Gods Unchained: This digital collectible card game, often known as an online collectible card game, has cards in the form of freely tradeable NFTs.
E) Crypto Kitties: This well-known NFT game features cat breeding and collection. Each of these digital cats' unique "cattributes" propelled NFTs into the public eye.
Also Read: Cryptocurrency: Who Is a Satoshi Nakamoto ?
Benefits of Non-Fungible Tokens
1. Rights of Ownership
Non-fungible token advantages can be used by a good IoT app development company to handle unusual issues in both the virtual and physical worlds. This has been used for games and collectibles in the digital world (to prove someone owns a specific Crypto Kitty or object), but it might also be used for rare items in the real world, like houses, cars, works of art, or even people.
Additionally, it might be used to grant restricted access, such as access to Airbnb during specified times or for airline tickets.
2. The Customization Method
Benefits of Unlike other tokens that cannot be, non-fungible tokens are secure. Some of the functions of non-fungible tokens may be performed by smart contracts and fungible tokens. The information is all held by the token itself in the non-fungible token market, though.
The token may also have additional information assigned to it, such as its name and owner, as well as information about its past and related information, such as a picture of the house the token represents, a list of the vehicle's previous owners, or the number of character skins available in a game with a similar model type.
Also Read: The Ultimate Guide to NFT Marketplace Development
3. Safe Trading
In general, the value of non-fungible tokens may be seen in the fact that it might be difficult or even prohibited at times to transfer ownership of real or digital things because of the risk of fraud. It would be considerably simpler and more efficient to exchange anything addressed by the token, thanks to the security of blockchain technology and the distinctiveness of non-fungible tokens. As a result, it might actually make it possible to transfer ownership of products between platforms or even make them interoperable with other services like games or NFT marketplaces. If you are wondering what is an NFT stock, then get in touch with our experts.
Associated Risks With NFT
1. Valuations
If you're wondering how to purchase NFT, Then you should be aware that buying an NFT is a dangerous option given that its value is expected to rise, just like buying any collection. NFTs are a developing industry. Thus there is no assurance that there will be the same level of demand for digital assets as there is for Blockchain asset tokenization trading cards or purchasing a real asset.
You risk paying a hefty sum for an NFT that loses value over time or is impossible to sell if there is no market for it. You could even create your own NFT, but there is no guarantee that anyone will buy it, so you risk wasting your time and money.
2. Storage
Blockchain technology is used to record sales in NFT, proving ownership. Through marketplaces and platforms like Open Sea or Rarible, real NFTs are created and kept.
There is no guarantee that you would have the ability to access the work if these sites were to go down for any reason. This renders it less secure than real works of art that hang on walls, gaming tickets, or collectible playing cards. If you are planning to understand how to create an NFT, then seek our professional help.
3. Regulations
NFTs are not regulated; hence a great deal of confidence is needed. If you don't think the NFT you're buying is a genuine original work of art that hasn't been copied from somewhere else, you might run into copyright problems.
Additionally, there may be platform crackdowns and restrictions on how much collectors can contribute if administrators and authorities get concerned about this booming industry. This can result in a decline in the market value of NFT tokens.
4. Hot Potato Effect
There may be a "hot potato" effect with NFT games. In other words, players purchase an asset with the intention of selling it for a profit, but a market crash could result in a significant loss.
For instance, what is minting NFT? Let's say you have a gaming sword that you'd like to sell for more money than you originally paid. The point is, as long as there is a buyer, you will make a profit; however, if there is no buyer for the non-fungible asset or if the market crashes, you will lose money.
5. NFTs' future
What is the most expensive NFT? Despite the dangers, the market for NFTs is expected to reach a record-breaking $100 million by the end of July 2020. Even 40% of new crypto users, according to experts in the field, may start off with NFTs. So, the expensive most keeps changing.
It is clear that the NFT field is positioned to experience exponential growth in the days to come, given that the decentralized finance sector has surpassed a $4 billion valuation.
Bottom Line
It's still in the early stages of development, as you would have guessed. As a result, in the upcoming years, you can expect to see a tonne of innovative platforms built on NFTs by the leading software development company.
The use cases for non-fungible tokens are evolving from Crypto Kitties and gaming to digital identity, painting, and other applications. This indicates that there hasn't been much experimentation on the market yet. This would present a sea of potential for a new-age entrepreneur to emerge and dominate the blockchain development services market. At Zazz, we are prepared to assist. Send us an idea for a project based on NFT.