A digital ecosystem is a socio-technical system inspired by natural ecosystems. Its operation is based on the properties of self-organization, scalability, and sustainability to achieve greater traffic on the company's website, greater interaction, and loyalty of users, and generate more leads.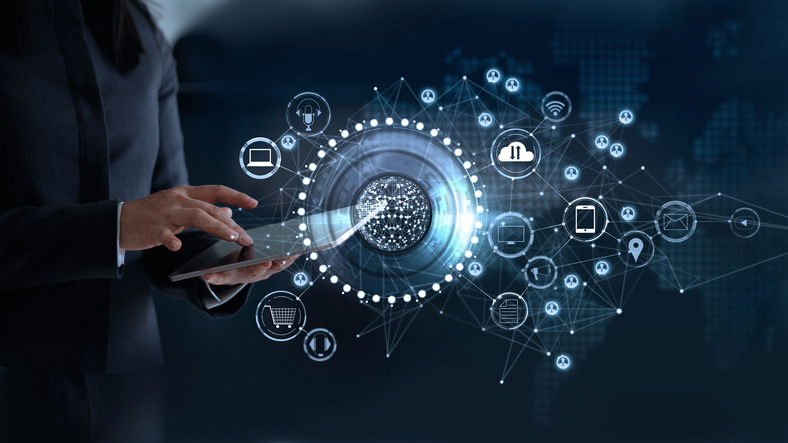 The objective of forming a network like this is for the company to have a concrete vision of how all its digital channels are related and how much impact they generate among themselves.
In the end, they all collaborate with the expansion of the brand presence in the minds of consumers and the generation of business opportunities.
The competitors and the factors external to the company in the digital environment are also part of this group of organized connections.
But what does a digital ecosystem imply, and how can you build one for your company? Here we explain it to you!
What is the Digital Ecosystem?
In the world of marketing, the digital ecosystem is the most appropriate process to position an idea, start an advertising campaign or promote a product.
During this process, which in turn serves to gain visibility in the Internet world and attract potential customers, it is also possible to discover, analyze and understand four fundamental points in the commercial or business sector:
The company
The competitors
The sector to which it is directed
The customer or consumer public.
If we know and understand these four fundamental pillars, then we can focus on content creation, optimizing them for search engines, and doing objective and effective marketing.
What is a digital ecosystem for?
A digital ecosystem offers different advantages over its application:
It improves the time that must be invested to market a product, generating at the same time a greater value of the product or the brand
It helps to position the company more effectively against the competition
Marketing and advertising campaigns become more efficient.
Elements of a digital ecosystem
To create a digital ecosystem it is necessary to have specific elements aimed at achieving the same objective.
Web Page
Most digital ecosystems are fundamentally based on the website of a brand or company, so it is necessary to be very careful in web design.
It is important to have a good content structure, unified criteria and maintaining the harmony necessary to get the attention of the consumer.
As for the content, you must define what type of information you want your customers and leads to find on your website and how you will get their attention.
Brand
The design of the brand, how the company is defined and how the consumer is known, is a fundamental part of the elements that make up a digital ecosystem.
Through the brand, we can carry the message of what we want to sell to the rest of the channels that make up this chain.
In this sense, many brands have found that to create a successful digital ecosystem, it is convenient to create alliances with partners that allow the sustainable growth of the company.
Goals
In any project, it is necessary to have clear and well-defined objectives. When it comes to the design of digital marketing activities, you generally bet on very specific objectives such as, for example, gaining greater presence and visibility, defining a reference image for the brand, building customer loyalty or increasing sales.
Digital media and other devices
Another important element to be able to create a digital ecosystem is the digital channels in which the brand or company will have a presence.
In addition to the website, blogs, emails, social networks, and applications. The devices through which users access must also be taken into account.
SEO and SEM
One of the main bases that support a digital marketing strategy is search engine optimization. A well-managed SEO structure, the use of keywords, Meta descriptions and content with a solid semantic structure and valuable information, will help us gain greater reach.
Another important point is to have SEM strategies. Although it is a tool aimed at a more specific audience and the payment for each click, if attractive ads are created, it is possible to reach the top places in Internet search engines.
Web Analytics
Measuring the management of your brand or company is a basic principle to understand the different scenarios that may arise.
In a digital marketing strategy, the metric is necessary to be able to make decisions and make necessary corrections to continue growing.
Depending on the type of ecosystem you develop for your brand, service, or company, you should always keep in mind some key questions, such as: Is your digital ecosystem growing? What is it failing? What should you strengthen or change to improve?
How to Create a Digital Ecosystem?
To create a digital ecosystem it is necessary to follow a series of steps that include creating a plan, making decisions, creating objectives and involving all the parties that make the development of a marketing campaign possible. Let's see what they are:
Choose the type of ecosystem
Define which groups will participate in the process, according to the different types of ecosystems that can be developed. For example:
companies, including suppliers and distributors;
leaders, the creators of a company;
products or services;
customer segments
Organize the work environment
To face the changes, it is necessary to have a work environment in which the entire work team is aligned and focused on achieving results. It is essential to develop a digital strategy with a common thread.
Part of building the ideal environment also depends on the investment made by the company in new technologies that allow you to enter the digital world of constant evolution.
Implement customer orientation
Cultivating good customer relationships is also an important step in creating a digital ecosystem. In these times when the market is so competitive and changing, it is convenient to focus on the interests of the client.
Know how to listen, propose solutions to your concerns and meet your needs to build loyalty to the brand.
Promotes agility in management
The success of a business or a brand also depends on its ability to respond quickly to changes or challenges that arise.
To create and maintain a digital ecosystem, it is necessary to strengthen the capabilities of the company and its employees to adapt to different market demands, which in turn are aligned to the needs and tastes of customers or consumers.
What advantages does it have?
Although it seems a very complex task, the benefits of a balanced digital ecosystem are many. Although each organization can benefit in very different ways, we can generalize the benefits for any brand.
Generate your brand image on the Internet and your voice
Position the company's image on the Internet
Optimize customer contact channels
Increase sales
Improve Online Reputation
Generate valuable content for users
This is all!
The digital age is constantly evolving and is an unstoppable process. Business models continue to lean in front of the digital world and represent one of the best ways to sell and achieve effective branding, is through advertising through technological means.
As we have already mentioned, the basis on which a digital ecosystem is based on the strategy to achieve a common objective. Basically, it is to fully exploit all the communication options that the internet gives you to achieve your goal.
For this, this objective must be clearly defined. Originally the concept of the digital ecosystem was born to enhance web pages, which were the center of all systems. So the most basic objective, but not least, is the generation of visits to a web page. But we can also work on other business and reputational objectives: for example, you can put your entire digital ecosystem to work to generate sales or gain loyalty from your users. You can also focus your goal to improve your online reputation or work on the association of your brand with certain values.
Of course, we talk about an objective but the true potential of an integrated and fully functioning digital ecosystem is to achieve several objectives. Thus, for example, we can link the marketing of products, with the improvement of the corporate brand image and the brand of products, the development of an efficient customer service and the generation of active communities of users who share our content ( and that this has an impact on sales starting the cycle again).
We live within the digital ecosystem, in fact, we share information on digital platforms that allow us to achieve objectives even if the purpose is not commercial.
Summary
Article Name
Discover What a Digital Ecosystem Is and How to Build One for Your Company
Description
A digital ecosystem is a socio-technical system inspired by natural ecosystems. Its operation is based on the properties of self-organization, scalability, and sustainability to achieve greater traffic on the company's website, greater interaction, and loyalty of users and generate more leads.
Author
Zazz
Publisher Name
Zazz
Publisher Logo