Introduction
A form of remote patient treatment is referred to as telemedicine or telehealth. A patient can get a diagnosis from top health professionals using these platforms without visiting the facility. A telemedicine web app or a doctor-on-demand app can make it easier for medical staff to treat patients remotely. Medical facilities and operational expenditures have decreased thanks to telehealth. The introduction of telehealth apps has allowed all medical practitioners to benefit from these developments.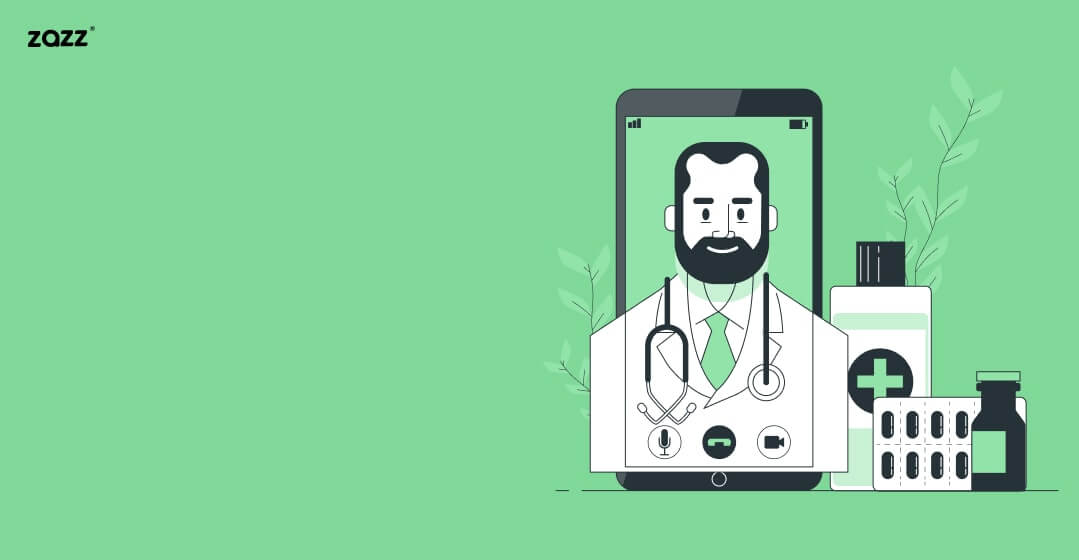 The development of telemedicine apps is the focus of the efforts of healthcare professionals. Clinics, doctors, and patients are all interested in telemedicine apps built by leading healthcare app development company. According to MarketWatch, the worldwide telehealth market will be worth $16.7 billion by 2025.
The Advantages offered by On-Demand Healthcare Apps
1. Accessibility
You've certainly experienced conditions like an ear infection or UTI that just require five minutes of treatment but require a doctor's diagnosis and prescription. With the aid of doctor on-demand software, patients can access medical attention more quickly.
2. Faster Diagnosis
You'll be able to have a live conversation with a doctor in a little while and also book an online appointment doctor. You can start treatment right away, which is important in many circumstances.
3. Less Paperwork
You always have access to your medical records thanks to the On-demand app development services. Your family, doctors, and other professionals will have much easier access to your information.
4. Comfort and adaptability
By working from home, dr. On-demand apps can reduce the pressure and stress they experience in traditional medicine.
5. Increase ROI by treating more patients
Doctors may treat more patients, boosting the ROI while experiencing less stress, thanks to the decrease in administrative work and the ability to see patients.
6. Greater level of comfort
Healthcare is still hardly accessible for many people living in rural areas. With custom healthcare apps, users can connect with the best healthcare experts hassle-free. A patient can get the greatest medical care from any location by using a telehealth app because of the friendly UI UX design services.
Why Are Mobile Medical Apps Important?
If you want to build your own telemedicine software, you need to be aware of a few characteristics and specifications.
1. Control over user profiles
User profiles with details like name, address, availability, experience, education, and medical history should be able to be created and maintained by patients and app developers working on healthcare applications.
Also Read: Know Types, Trends and Technology of Healthcare Apps
2. Easily Navigable Dashboards
When you log in to the software, you see a component called a dashboard. Telemedicine software built by your mobile application development company must be easy to use for both patients and medical professionals.
3. Easily Accessible Data
Access to information must be simple for all parties in medical software. This information can contain a person's medical background, contact information, treatment notes, and appointment history.
4. Privacy and Security
Healthcare practitioners need to be able to track and produce treatment notes in an encrypted, secure database to maintain patient-doctoral confidentiality, which should be given high priority.
5. Scheduling Appointments
It must be simple for users to schedule meetings, browse their profiles, and select from a variety of meeting options, such as video, chat, and telephone.
6. Interaction style
Using a top-notch Telehealth mobile app, patients and doctors can communicate in a variety of ways. High-definition video chat, recording sessions, and the capacity to accommodate numerous participants are a few factors that should be taken into account.
7. Integration of payments
For easy treatment, patients should have access to a variety of payment options. Credit/debit cards, PayPal, and Stripe, are a few of the most widely used payment systems.
8. In their telemedicine app, doctors should have access to the following features:
b) Medical Profiles
Patient information, such as prescriptions, test results, etc.
-Manage Schedules
-Message in-app
What is the Price of developing a Telemedicine App?
Setting up a budget for advertising and distributing the software, as well as evaluating the cost of the telemedicine platform, are both necessary. The cost of developing a telemedicine app varies on the strategy used, the features required, the platform, the functionality, the vendor used, and the app's concept. There is no one proper method to achieve this.
Among the variables affecting the Price of developing an app are the following:
The Price of designing your telemedicine app will depend on the platform, tools, and technology stack you choose. The Price will vary depending on the features and complexity of your app. If you want to create a complete app, you will require a significant budget. We offer both MVPs and finished applications. This will be equipped with the fundamental characteristics and a functional design.
Bottom Line
Clearly, today's successful mobile applications depend on on-demand services. If you have a solid market research strategy, a well-planned execution plan, and a committed group of engineers working with you, you can grow your healthcare brand. You can also connect with Zazz for healthcare web apps and mobile app development services that also involve on-time delivery. Contact our healthcare app development team today!
Check Out: Things You've Never Heard About Medical VR in Healthcare