What is Software?
Software is known as the set of digital programs, procedures, rules, documentation, and associated data. Devices such as cell phones, computers, or cameras could not be used without having software designed for their operation.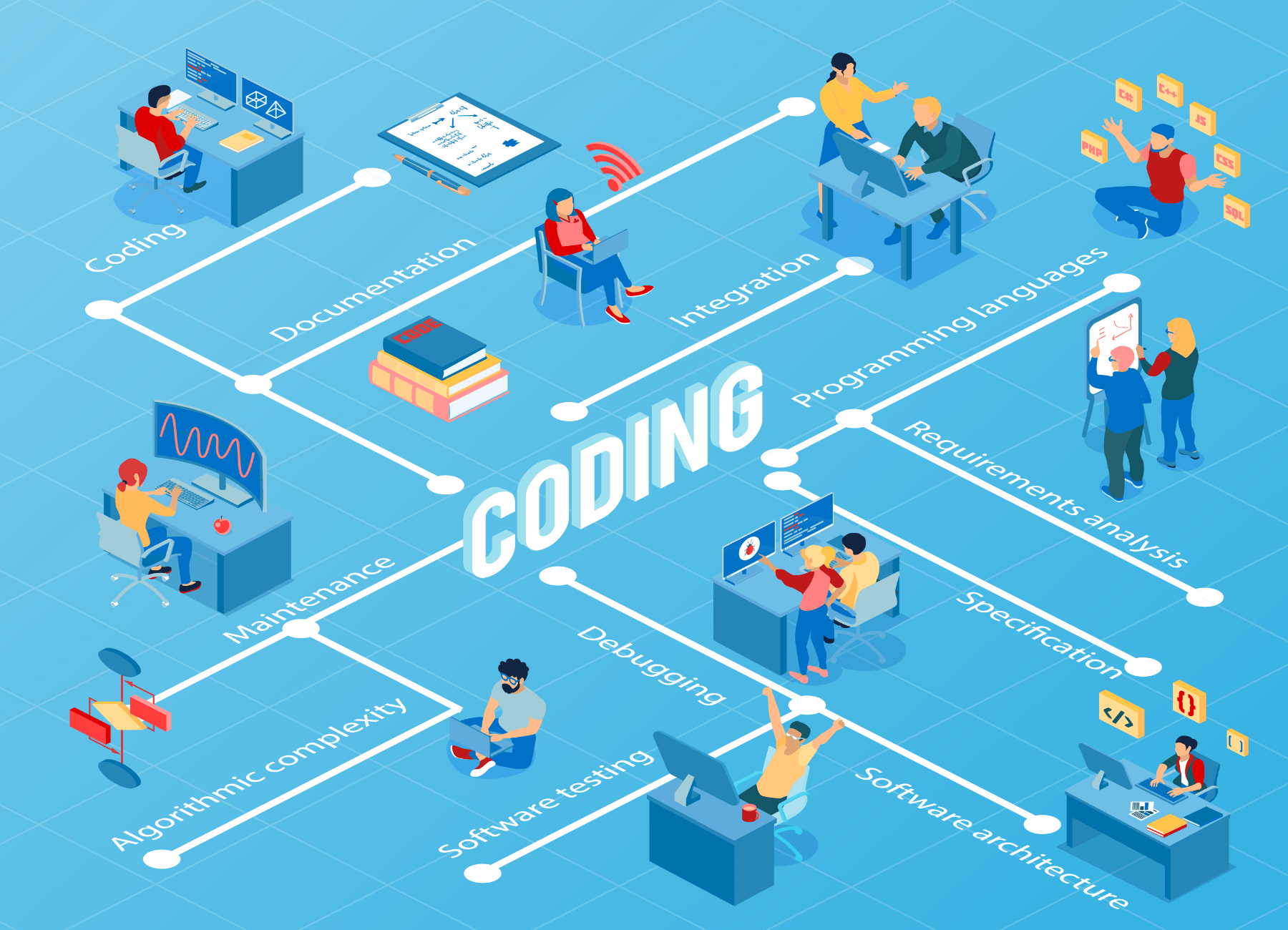 Companies need different types of software to carry out their day to day work. With the help of right software, businesses can be transformed. These digital products are used to elevate management, simplify processes, create databases, and much more.
Process of Software Development
Phase 1: Planning and Defining Objectives
The first phase of the software development is based on enabling the necessary mechanisms. This allows any user to continuously contribute to their ideas. These proposals transformed into requirements or objectives, these being prioritized and included in future iterations in the form of stories of a user. Ask questions like:
What needs are to be fulfilled with this software?
Do you have the tools and resources?
What is the budget?
Phase 2: Requirements and feasibility analysis
Study customer requirements and any restrictions that may apply. Customers often think that they know what software needs to do. However, the best software Development Company can pick up incomplete, confusing, and conflicting requirements. Enquire about:
Who will be using the software?
What are the security risks that need to be resolved?
Do we need to integrate APIs and other modern techs?
Is it cloud-based or local storage will be used?
In this stage, developers design a feasibility report with the help of charts, diagrams, and models.
Phase 3: Software Design
The next step is to design the software product with the help of all the information collected on requirements and analysis. The inputs (contributions) of the users in the previous phase will be the base contributions of the current phase.
"Design is the core part of software development. If neglected or done wrongly, it can cause the whole process to fail." Eoin Woods
Phase 4: Coding
In the software development process, this is one of the key stages. This phase can also be called the 'programming phase'. The implementation of the software design starts with the most convenient programming language.
Phase 5: Tests
It is estimated that 50% of all software development stages should be evaluated. Bugs can ruin software both critically and to the point of being removed. Software testing is done while coding and is usually done by developers and other expert testers at various levels. This includes evaluation of modules, the program, internal evaluation, and finally evaluation with the final consumer. Finding mistakes and remedying them in time is the key to getting reliable software.
Phase 6: Integration
The Software may need to be integrated with libraries, databases, or with one or more other programs. This phase of software development focuses on the integration of the software with entities from the outside world.
Phase 7: Implementation
Here the software is installed on client machines. The Software is evaluated for its adaptability and portability, in terms of issues related to integration. They are resolved during implementation. Agencies like software development company name zazz adopt modern tools to deploy error-free implementation.
Phase 8: Operation
Once a software version is functional, it is essential to keep track of it:
Monitoring of application and server performance.
To do this, it is necessary to automatically perform the reading of parameters that allow the alarm to be given in case of failure.
Track problems, incidents, and changes.
Fluid communication between different people is essential to be able to identify and solve encountered problems.
Phase 9: Maintenance
Software is such products that need to be fully maintained so that they function properly. Some companies deploy in-house maintenance staff, however, it can be hectic and expensive. The modern approach is to outsource the support & maintenance services. You will be amazed to know that Zazz, a leading software development company provides 24/7 maintenance services.
Zazz Delivering High-Quality Software Products
At Zazz, we have embraced unique software development as a way of life. We never compromise over quality and use agile methodology to deliver competitive products. We study the organization and our focus remains with the key requirements. We have developed marvelous communication skills that help Zazz produce the exact results that the client wants. Contact us for further information and a roadmap!