The application of cloud computing in the healthcare sector has risen exponentially during the unprecedented pandemic. Cloud computing was the ultimate knight in shining armor for the entire healthcare sector that would've otherwise been in shambles sans the cloud technologies. Also, it's not only the doctors and the nurses but almost all the medical institutions that have reaped the benefits of the wonderful cloud computing solutions.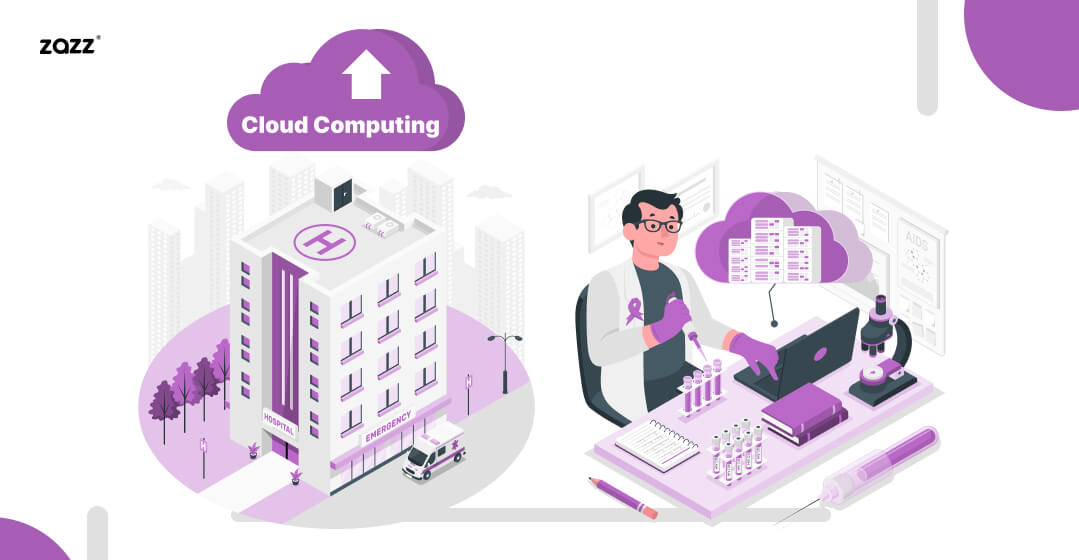 Some of the major benefits of the increased use of cloud technologies in the healthcare sector include augmented privacy, lesser expenses and better patient care via remote operation and collaboration.
Furthermore, the implementation of cloud computing in healthcare brought forth new ways to ameliorate the functionality of eclectic IT systems.
Also as per some recent reports, cloud computing is expected to disrupt the market and reach a whopping $71,730.64 million by around 2027 with a CAGR of about 14.12 per cent between 2022 and 2027. Thus there's no denying that the healthcare sector too is bound to get subsumed in the wondrous cloud technologies.
Cloud computing is undoubtedly the golden key to achieving success and enhancing your operations in the healthcare sector, but in case you're a novice and find this mammoth term baffling, then fret not as mentioned below is a succinct overview of cloud solutions.
So make sure to give this detailed blog a read as it would definitely assist you shape the future of your healthcare business.
What is Cloud Computing in Healthcare?
Cloud computing in the healthcare sector is all about the application of remote servers via the internet. It assists in storing, handling and processing the eclectic gamut of medical information. Cloud technologies in healthcare are convenient for healthcare professionals and medical institutions wherein they can make use of online services for storing an enormous amount of data securely. IT experts usually maintain such servers.
Also, medical companies too have embraced cloud-based solutions for storing and securing all their patient records. Furthermore, the healthcare organizations that were initially reluctant to shift their current data centers to the cloud have also now adopted different types of cloud computing.
5 Top Benefits of Implementing Cloud Computing in Healthcare
Mentioned below are some of the major benefits that you can avail in case you successfully implement cloud computing in healthcare –
1. A cost-effective solution for storing healthcare data
Healthcare organizations produce enormous amounts of data on a yearly basis. These include the uncountable lab tests, insurance policies, customer claims, EMR's and the medical prescriptions of patients. Cloud solutions help handle all this mammoth data in the most efficient manner. If cloud computing provides greater data storage then the cloud-based analytical tools can make use of more data that can be transformed into meaningful information.
2. Enhancement in Telemedicine
The implementation of cloud technologies in the healthcare sector has augmented the growth of telemedicine. Telehealth systems along with the cloud-based apps help in sharing the eclectic healthcare data, offering health insurance to patients during their treatment, in prevention and recovery and also for enhancing the availability of different services.
Furthermore, there are several apps that provide a lot of beneficial features such as the virtual analysis of a particular medicine consumption or for taking a doctor's appointment via video conferencing. To be precise, cloud solutions are the ultimate secret to exceptionally great and enhanced medical care by way of telemedicine.
Herein we would like to suggest that you too should try adapting to cloud computing in your healthcare business, and fret not because we could assist you with that. We are a healthcare app development company and our developers at Zazz built the most innovative and immersive cloud-based apps that would not only help enhance your operations but would let you focus on your core functions whilst streamlining all your otherwise grueling manual work, and this would thus help augment your client outreach. 
3. Better Patient Experience
Doctors can solicit better patient involvement by offering real-time access to their lab test reports, medical prescriptions and doctor's notes by integrating cloud solutions into healthcare operations. This helps patients keep a tab on their health and well being, and the patients are better acquainted with complete knowledge. Also, cloud computing even helps prevent patients from undertaking unnecessary tests or extra prescriptions.
4. Improved Collaboration
The application of different types of cloud computing in healthcare offers an enhanced collaboration. Due to the EMR that is a part of cloud computing, patients no longer need to carry their individual medical records while they are making a visit to their doctor. Doctors can make use of cloud technologies to easily share all the mammoth patient data and for checking their earlier consultation with other healthcare professionals. This in turn helps save time for both the doctors and the patients and it helps offer a detailed and accurate diagnosis and treatment.
5. Trouble-Free Interoperability
Interoperability is all about making detailed data integrations through the healthcare system irrespective of the original source of data storage. Cloud computing helps enable interoperability in the healthcare sector and this thus makes the entire patient information accessible for easy distribution and for soliciting insights in order to facilitate healthcare delivery. 
Cloud computing in healthcare thus allows medical practitioners to access the complete medical data of patients that is collected from various sources and is further used for distribution amongst the primary stakeholders.
• Different Types of Cloud Computing in Healthcare –
The varied types of cloud computing in healthcare can be classified into two distinct categories from the deployment and distribution viewpoints, which are succinctly elucidated below.
1. Distribution Model –
• SaaS (Software as a Service)
Herein the providers offer all the IT infrastructure and the clients deploy apps and OS.
• IaaS (Infrastructure as a Service)
Herein the providers offer an OS and IT infrastructure whereas the clients deploy apps.
• PaaS (Platform as a Service)
Herein the providers offer apps, an OS, IT infrastructure and the other elements that are embedded within an easy-to-use platform.
2. Deployment Model –
• Community
A particular group with almost the same goals and preferences can make use of this technology.
• Private
One distinct client can use this cloud technology.
• Hybrid
This technology efficiently integrates multiple clouds with different access options.
• Public
All the common individuals can avail this technology.
We understand that some of the aforementioned information might seem mind-boggling to you and you may get baffled with all this but the crux of the matter is that cloud computing is now an essential must-have for the healthcare sector and in case you are running your healthcare business, then you definitely need to consider integrating cloud technologies. We at Zazz can help you do so. We offer the most impeccable app development services and our cloud-based apps can help skyrocket your business within no time. Contact us to know more and we would be glad to assist you.