The healthcare mobility solutions market is one of the fastest emerging industries globally, accounting for the growth of approximately 19.5% in the last five years. With the growing popularity of mHealth applications, the healthcare industry is leveraging the medium to benefit both physicians and patients. Everyone embraces digital healthcare technologies to improve processes, research, and productivity, from the big pharmaceutical giants to today's small medical clinics.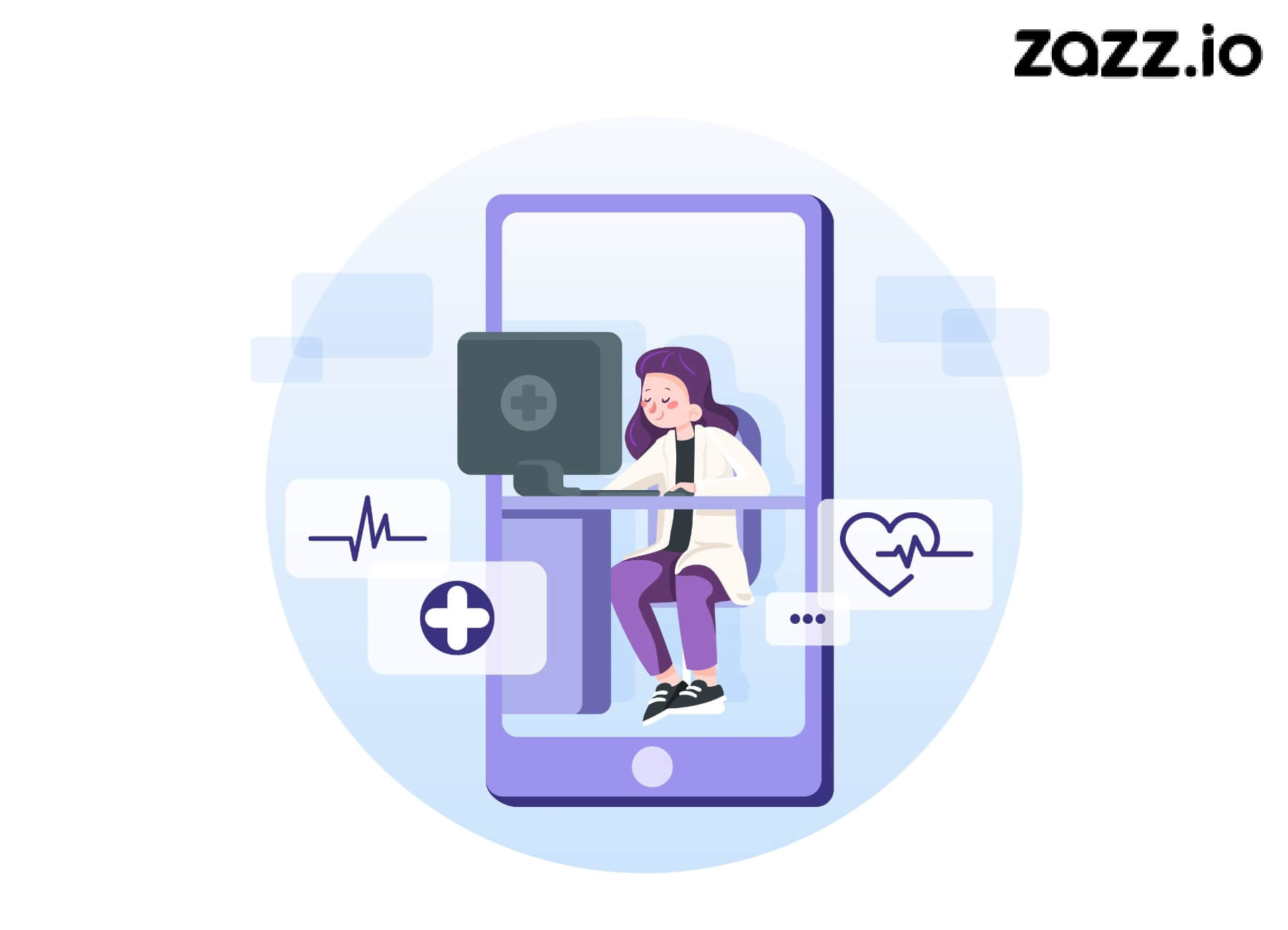 The medical sector is perhaps the most worthwhile to help businesses as far as mobile application innovation, notwithstanding valuable use cases for health and wellness diagnosis, recovery, and treatment. The healthcare business is now at its peak due to the innovations and growing popularity of mHealthcare applications.
This article shares a curated list of the top 10 healthcare app developers in the US who have extensive knowledge and years of experience creating healthcare mobility solutions. In addition, these companies offer expert consulting services and are also proficient in creating the best healthcare software and applications.
List of Top 10 Healthcare Mobile Application Developers in the USA
Here is the list of the top 10 healthcare application development companies that are known for providing excellent medical and healthcare services globally:
Zazz
Zazz specializes in developing robust mobile healthcare solutions that attract audience attention. With a strong team of developers, they develop robust and highly efficient mobile applications intended to meet the specific requirements of healthcare organizations and medical uses. They are known as a healthcare app development agency, and the team of well-versed healthcare mobile application developers has a wealth of experience and considerable expertise in the medical field and offers highly efficient mobile healthcare solutions that comply with the necessary regulations of the FDA, HIPAA, HL7, EPCS.
AppStudio
AppStudio is a recognized name that offers customized healthcare application solutions for healthcare professionals, patients, health-conscious end-users and intermediaries such as pharmacists, hospital administration, etc. However, the company has been tapping into medical uses and delivering robust and highly scalable fitness app development solutions.
App Incubator
App Incubator offers healthcare IT solutions and services to several pharmaceutical companies and hospital clients striving to provide the best care for their clients and patients. With years of experience in multiple technologies and diverse industries, App Incubator has enabled its clients with multiple advancements in the medical and healthcare fields. Connect with the company to learn about their projects, including custom Android app development, iPhone app development, web development, etc.
Appnovation
Appnovation is one of the most trusted healthcare app development agencies. From creating the UI / UX design to building the entire back-end system, Appnovation has the expertise in building the perfect healthcare mobility solution for your business.
Peerbits
Peerbits is another leading healthcare and medical application development company whose goal is to improve efficiency and improve the quality of care with the ultimate goal of innovating for the future. By offering end-to-end application development, peerbits connect medical providers with patient records, caregivers with people in need, and patients with doctors for better care.
ZCO
The ZCO team has created brilliant custom applications, healthcare CRM systems, telemedicine application solutions and many other technology systems to make it easier for healthcare agencies and all other stakeholders to optimize operations, save cost, increase safety and work efficiency.
Mindsea
Mindsea aims to improve efficiency and promote quality of care with a fundamental focus on innovation for the future. They offer end-to-end healthcare application development; Help drive transformational initiatives that connect medical providers to patient records, caregivers to colleagues, and patients to physicians for better care.
SavvyApps
SavvyApps is a healthcare application development company that has made a name for itself in the global marketplace by delivering the best possible outcome to customers worldwide. The SavvyApps team has provided high-end medical application development services for everyone from startups to well-established international organizations.
Blue Label Labs
Blue Label Labs is a healthcare application development company that adds value to its clients' businesses by offering highly innovative and efficient cloud-based enterprise mobile application development services. Over the years, Blue Label Labs has partnered with several startup startups and Fortune 500 companies.
Fueled
Fueled understands the need to offer secure mobile solutions for healthcare providers, including hospitals, payers, and physicians. Its applications support and comply with the regulations of the Health Insurance Portability and Accountability Act. It would help if you connected with them to develop an ROI-driven healthcare application.
Final Words
Finding a healthcare development partner in USA is dubious. There are thousands of healthcare application development companies worldwide, of which we have created a list of the top ones. Each organization listed above has long years of experience and furnished them with the most recent technological trends. If you are still in search of a trusted partner, then contact us. Our healthcare app developers will assist you as soon as possible. 
Also Read: