Do you remember the number of consumers your brand served from 2020 to 2021? Can you describe the exact number of users using your products or services currently? This is something that you seldom keep at your fingertips unless you're a business analyst or in a similar profile where they keep track of everything.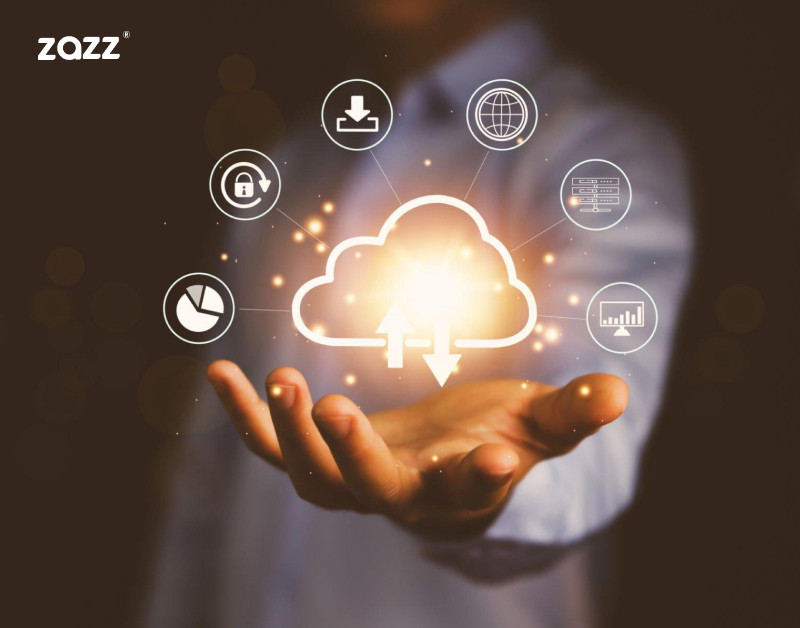 From e-commerce to logistics and manufacturing, every sector has this common need to manage operations data to make it conveniently accessible for the authorized entity. Data storage and planned access come out as the biggest demand and also a challenge for businesses across the world. Accessing a vast amount of information and distributing it to all authenticated users becomes possible with the help of cloud computing services.
According to International Data Services, 69% of enterprises around the globe use this technology. Moreover, 94% of these users agree that cloud technology has helped them reduce costs and improve business operations effectively. However, more than 30% of businesses haven't given a shot to this innovation just yet.
In this post, we will learn a little more about cloud computing technology and its origin. In addition, we will also focus on the benefits of cloud computing services for businesses from different sectors.
Cloud Computing from the 2000s to Now – A Quick Overview
If we take a peripheral view of the cloud computing trend in history, it goes to the 1960s when it started with the concept of time sharing. The 1990s started with a boom when the IT realm introduced virtual private network services.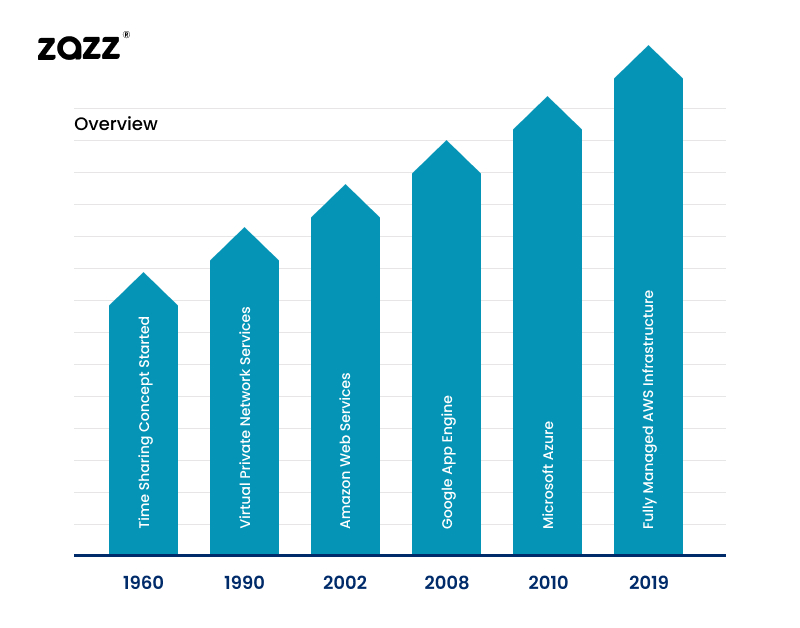 The cloud metaphor itself was coined by David Hoffman, a communications employee at General Magic. A significant boost in cloud technology occurred in 2002 When Amazon brought its web services to create efficient applications without worry about the server load.
The year 2008 witnessed another spike in cloud computing when Google released App Engine. It was the first PaaS (Platform as a Service) that offered a complete infrastructure for application deployment using PHP and Node.js.
In 2010, Microsoft brought its own PaaS Microsoft Azure followed by IBM SmartCloud. In 2019, Amazon announced fully managed services for AWS infrastructures, APIs, AR, VR, co-location space, and much more for a seamless hybrid cloud computing experience.

Also Read:- Top 10 Cloud Computing Service Providers
Benefits of Cloud Computing Services for Businesses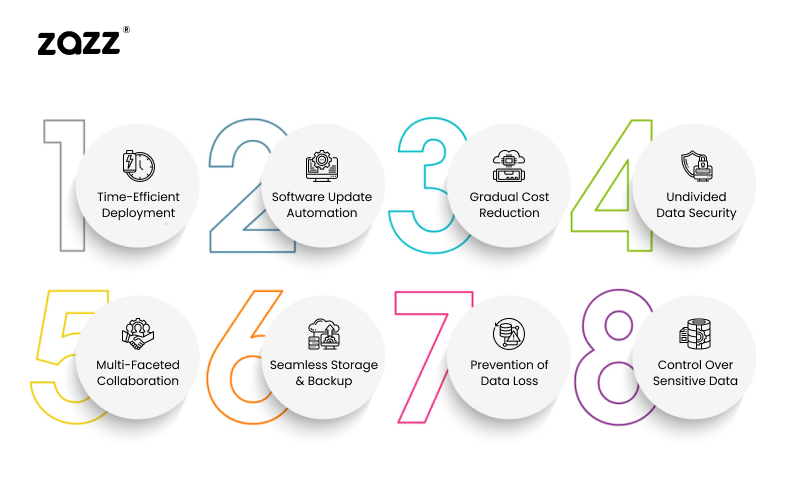 1. Time-Efficient Deployment
While we are discussing some of the biggest advantages of cloud computing services, we can begin with the effect of this technology on application integration and deployment. The market dynamics are moving so rapidly that the deployment of software and apps using agile practices has now gained prominence over other methods. 
Cloud computing solutions have also made the testing and ideation of new techniques in software integration far more streamlined for professionals across the globe. Mobile app developer and software engineers don't rely on hardware limitations anymore. In short, the deployment becomes more productive and error-free, given easy means of quality assurance.
2. Software Update Automation
Aside from software and application deployment, timely updates are also involved in the seamless growth roadmap of thriving enterprises. IT service providers & B2B businesses with established reputations ensure to provide these updates after a defined span. But, it can be difficult sometimes to come up with software updates after a full-fledged testing process.
Custom cloud computing solutions allow IT professionals to build and test their products in a cloud environment. This way, the outcomes appear on the surface faster and more efficiently. The best part is, it is easier to connect a cloud environment with logging and DevOps tools to detect potential issues in the initial stages.
3. Gradual Cost Reduction
Simply put, enterprise efficiency and cost reduction are the ultimate goals of enhanced IT infrastructure. Reduced capital expenses and optimized operations are some benefits of cloud computing services that can lead your company to a stronger risk management structure and higher profit rates. With these solutions, you get to save your expenses on equipment, facilities, employment, security, and so much more.
The list of operational costs will never end. But you can always consult an experienced agency for cloud computing services in the USA. A simple implementation of a strategic IT system will save you time and money on data center operations and downtime.
4. Undivided Data Security
Data security is among the biggest concerns for enterprises globally in this day and age. From retail brands to B2B organizations, businesses want to protect their data related to their consumers and operations.
The direct impact of data breaches and cyber theft on the ROI and overall reputation of an enterprise has marked the importance of an integrated system with robust security. Cloud storage systems not only protect the platforms but also facilitate access control for optimal authentication.
5. Multi-Faceted Collaboration
When it comes to creating a common point of communication for multiple teams, cloud technology is an option that you can count upon for seamlessness. Some of the world's most popular IT organizations allow their QAs, engineers, and security architects to get on board with various teams and collaborate hassle-free.
6. Seamless Storage & Backup
When we talk about the benefits of cloud computing services, we can't leave behind the quotient of scalability and backup measures. Do you know that cloud storage lets teams store crucial data on different server types? Based on the data type and requirements, enterprises can choose whatever structure for storage and backup suits their needs. The data can be stored without any capacity limitations.
7. Prevention of Data Loss
Besides data security, the loss of data is another major concern that companies dread. To avoid any potential cases of data loss due to system damage and other issues, cloud computing services are customized to provide an impervious environment. This way, you can expect the recovery of data faster and without missing any imperative element.
8. Control Over Sensitive Data
Control over sensitive data or access control is an aspect that should not be overlooked. As one of the benefits of cloud computing services for your business, you get to protect every bit of data and distribute it to the concerned entity in an automated manner. This technology lets you decide who gets to access an important file and up to what extent.

Also Read:- The Essential Cloud Computing in the Healthcare Domain
Should You Consider Cloud Computing for Your Business?
There are different types of IT innovations that are changing the way businesses perform in their respective markets. Cloud computing services can also be added to this myriad, but only with a far better impact on your business expenses. Custom cloud solutions for enterprises are always designed after carefully evaluating the periodic requirements of a company using future-centric strategies.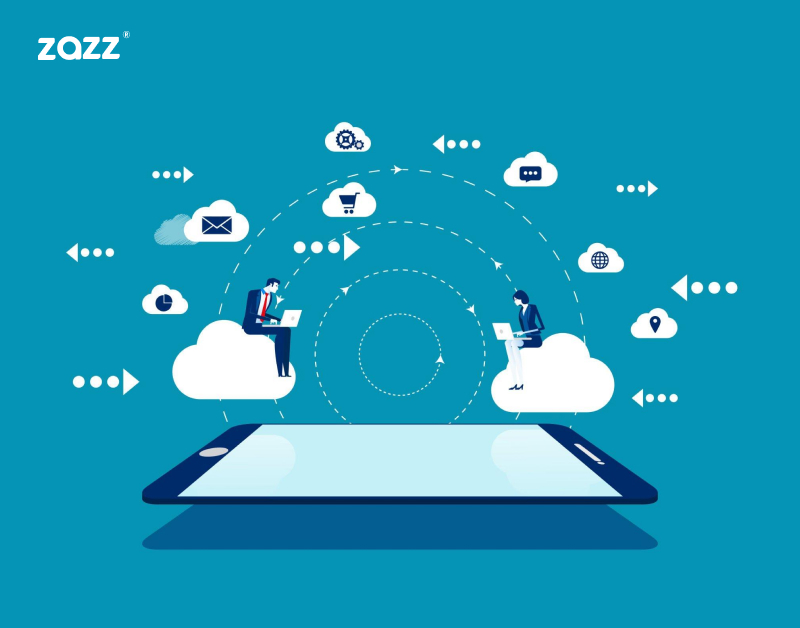 While cloud-based solutions may seem like just another expense on the sheet, it holds greater importance for your brand. As mentioned earlier, these services are known for a higher success rate with more than 94% of businesses claiming to have leveraged this technology for risk management, secure data distribution, & cost-cutting. As long as you have the right cloud computing service provider, you're safe to go!
If you have cloud computing requirements and you are looking for an app development company, then Zazz is a platform for custom solutions you can trust. As a leading-edge name in software and application development agency, we have come a long way in fully managed solutions for our clients. From devops consulting to infrastructure automation and cloud strategy development, we assist you at every step of your technology needs.
To get a descriptive cost estimate for cloud computing services, contact us today!