Virtual Reality and Augmented Reality technologies are finding niches both in the workplace and in consumer applications. Commercial support for AR / VR is well placed, with prominent tech names like Microsoft, Amazon, Apple, Facebook, and Google making substantial commitments.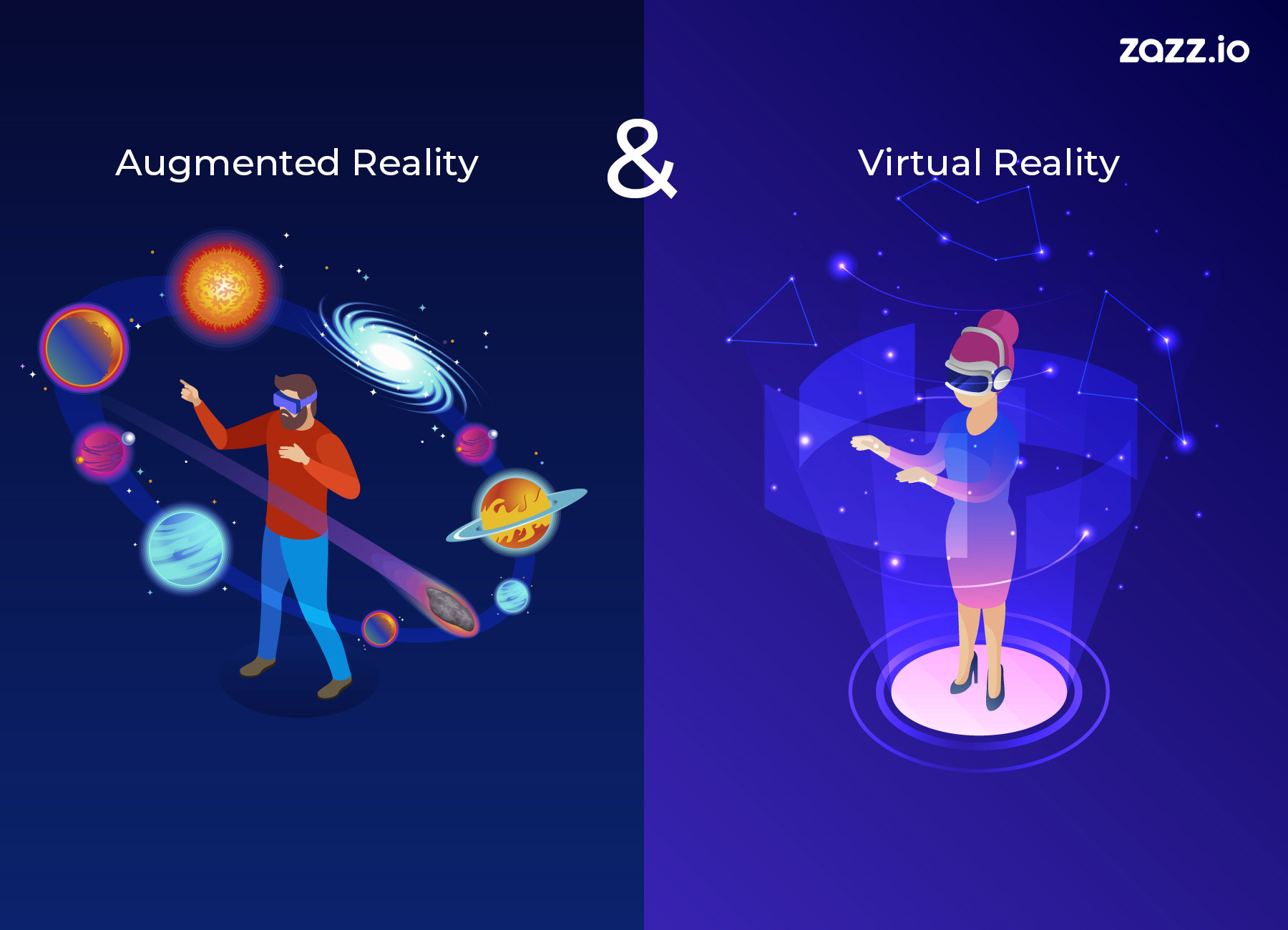 A large part of the latest developments in the field of Augmented Reality applications has been seen at a variety of technological events that promote brand engagement. The development of AR / VR is becoming increasingly simpler and cheaper, energizing VR and AR devices.
Difference Between Augmented Reality & Virtual Reality:
Augmented Reality: Augmented Reality features technical infrastructure in the physical world. Instead of providing a completely immersive virtual environment, Augmented Reality apps enhance the real world with pictures, text, and other virtual information through devices such as heads-up displays, smartphones, tablets, smart lenses, and Augmented Reality development company.
Virtual Reality: Virtual Reality is a very well-known interactive technology. Using a head-mounted display (HMD) or a headset, you can enter a computer-generated world of images and sounds in which you can manipulate objects and walk around using haptic controls when connected to a console or PC.
Ar/Vr Influencing The Leading Businesses Around The World:
VR and AR will undoubtedly be more and more forward-thinking businesses looking for innovative and effective ways to develop and make their goods and services more competitive.
Getting customers involved with multi-sensory engagement
Sharing relevant & useful information through intellectual engagement
Building emotional connections between brands & buyers for post-purchase leads
Changing the way people shopping & enjoying new experiences
Explaining concepts for commitments & perfect strategy making
Helping in evolving latest technologies incorporating better Return on Investment
Leading Augmented Reality & Virtual Reality Apps In 2020:
Augmented Reality Apps:
Houzz
IKEA place
Pokemon GO
YouCam Makeup
GIPHY World
Google Lens
Augment
ROAR
Amikasa
SnapChat
Wanna Kicks
Virtual Reality Apps:
Google Cardboard
VRSE
Discovery VR
Google Arts & Culture
Minos Starfighter
Romans from Mars 360
Virtual Speech
Orbulus
Seene
Jaunt VR
InCell VR
Leading trends in Augmented Reality & Virtual Reality in 2020:
Coordinating Artificial intelligence with Augmented Reality devices & Virtual Reality tools
Using & implementing Augmented Reality & Virtual Reality in teaching & training
VR imparted headsets will include in an offer to enhance the virtual experience
Usage of AR / VR innovation & technology is changing the shopping experience.
Automated & Self-ruling vehicles transforming futuristic technology words into action
Discovering the new technology & its way into indoor control systems
Foreseen AR / VR powered shopping established point of cutting-edge technologies
Topnotch Ar / Vr Companies Providing Innovative Business Solutions In The US:
Zazz is the foremost mobile app development agency in the US market. They deliver feature-rich and business-specific applications that are meticulously built and created advanced Augmented Reality use, Virtual Reality, and Mixed Reality technologies. Zazz guarantees that you have an illusion and a creative experience.
Appstudio is a leading name for mobile applications, games, ui/ux design services and enterprise software development, a leader in the design, customization, and incorporation of complex business solutions. Our team is continually improving and mastering the growth of the industry.
Hyperlink Infosystem leverages years of experience in the latest developments and shows its solutions to be unbeatable. As one of the leading AR application development firms, Hyperlink Infosystem uses the latest techniques to speed up project execution when creating VR and AR applications.
Fuled is a leading AR VR tech company that lets startups and businesses use the potential power of augmented and virtual reality to captivate and multiply their ROI. They allow businesses to provide a virtual environment similar to that of the real world for their target market and to achieve better outcomes in a minimum of time, amount of effort.
Bluelabellabs creates immersive branding experiences for physical spaces and experiences. They are pioneers in the area of Virtual Reality, Augmented Reality news, solutions at an affordable price in less time.
AppsChopper leverages AR and VR technology to build next-generation software solutions. They use ARToolkit to show innovative content or to offer a special app experience. And ensure that the software is compatible with common VR gadgets.
7. Zco corporation:
Zco Company was formed with the sole purpose of developing custom software solutions. Although our origins lie in desktop and backend applications, we are primarily a mobile app development business. We provide mobile app development services, specialising in both native and hybrid applications, for a wide variety of AR / VR platform solutions.
Appverticles is a development partner that delivers digital products from initial designs to custom 3D solutions that exploit state-of-the-art technology to help our customers become trend-setting digital businesses.
Savvyapps is a project management company based on mobile and web solutions and also on quality assurance. Applications for a wide range of areas, including sports, healthcare, education, media, fintech, and logistics, have also given strong expertise in these areas.
Hokuapps is a mobile application development company that designs and develops powerful mobile apps for AR / VR development. it is trustworthy by supporting small and medium-sized companies and selecting startups to turn their mobile dreams into a glorious ROI.
Final Words:
When a company expands, it is possible that similar AR and VR systems may use it to operate smoothly at implementation. Over the next year, both VR and AR will become too advanced, and that's only one reason why it's the perfect time to invest in Virtual Reality and Augmented Reality.
We are Zazz, a leading AR and VR app development company in the USA. Our team has experience in the development of AR / VR and is known for implementing the idea of agile, user-centric and measurable product development in the industry.
Connect & lets discuss with our team for promoting your main business goals and make you stand out from the competition.