Jenna enters her house after a long day at work. She needs to get started on the dinner, but she also wants to freshen up first. She commands her smart kitchen to defrost the chicken while she enjoys a shower while Alexa plays her favorite songs. And the evening goes on!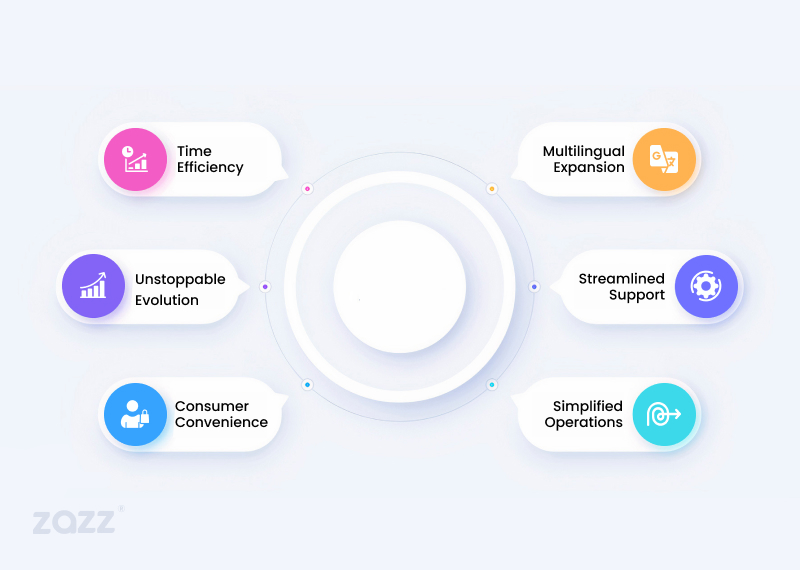 This scenario from an American household exemplifies how far we have come with voice recognition technology. People have been using and exploring Siri and its features since the inception of iOS. This technology took a leap with Alexa from Amazon and Google Assistant from Google. In hindsight, people from around the world began to use the voice command feature in their daily lives.
At present, more than 27% of smartphone users benefit from the voice search method to find something online. That's a whole lot of audience for businesses that struggle to reach an expanded group of consumers.
Through this explanatory post, we will discover a few benefits of the voice recognition feature for mobile apps. Moreover, we will also peek into the current influence of voice search on the market through the latest numbers. Read on to see how voice recognition works when it is added to an application:
An Overview of Voice Search & Its Impact on the Market
If we look at the user preference for voice recognition & voice-based search globally, we can see that 27% of smartphone consumers are inclined to this technology. In the United States, 55% of voice feature users are teenagers who choose it over typing. In addition to this, more than 58% of consumers in the USA have used voice search at least once.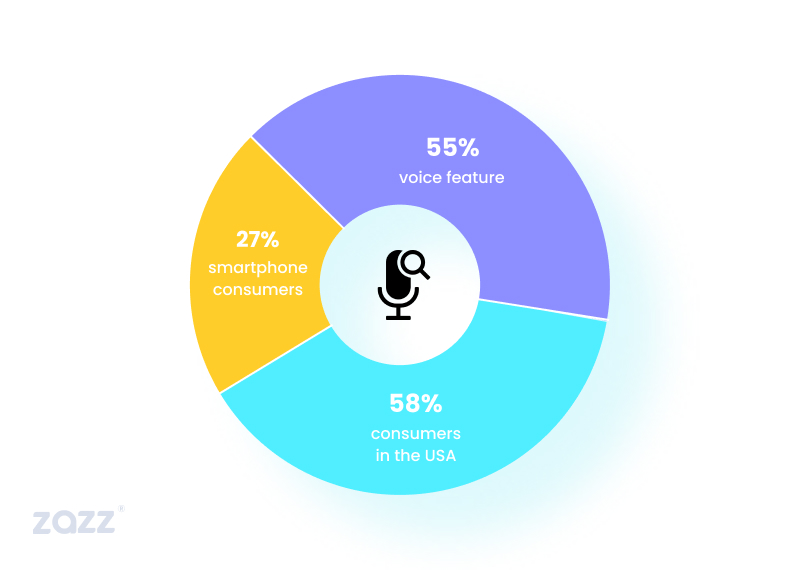 What seems to be a performance optimization feature for a mobile app can be far more efficient for a digital product. And now this technology has evolved into a billion-dollar sector. The voice search technology market has flourished into a $10 billion industry and it may touch the threshold of $30 billion or higher in the next 3 years.
So what does it mean for your business? If your business application connects directly to the target audience, then voice recognition can drastically enhance its user-friendliness. Simply put, there are multiple benefits of the voice recognition feature for mobile apps and optimized usability is just one of them.
In the following section, you will get to know more about the advantages of voice search or voice recognition implementation on your business application. This post also elucidates the need of hiring an expert mobile app development company in the USA for strategic feature addition.
Benefits of Voice Recognition Feature for Mobile Apps
Before we begin the vast list of benefits of the voice recognition feature for mobile apps, you must know that voice search feature implementation is critical. Only an experienced IT team can help businesses with the strategic inclusion of voice search in existing apps.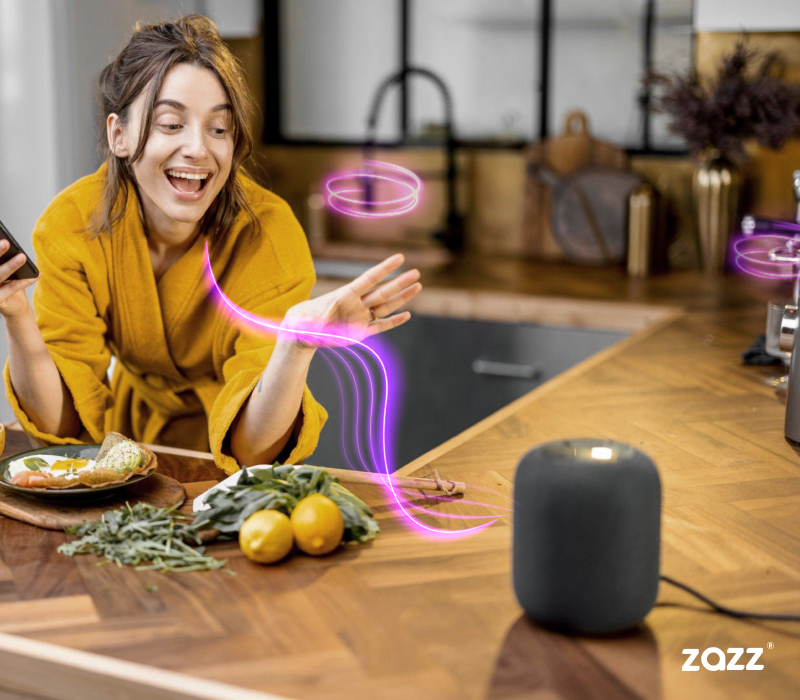 1. Time Efficiency
A rapid increase in popularity among global users is proof of how influential the feature of voice recognition can be. Above all, speech identification comes with a gift of time in the era of hustle. Smartphone users don't always want to type long texts when seeking the answer to a particular query. Besides, putting a query verbally offers a personalized touch to the search.
In perspective, typing takes more time and attention as compared to giving simple voice commands. Time efficiency is a quotient you might consider. Other than this, technology experts are working on it to improve and make it more convenient for the world. So you know that the probability of errors in the outcomes will diminish.
2. Multilingual Expansion
Even with global potential, your application may not be able to reach the entire world at once. There are hundreds of languages and thousands of dialects that you can't add to a portal without splurging generously on language customization. Think about the hourly fee of IT experts who may spend months on your mobile app to make it multilingual.
Voice search or recognition is a revolutionary take on application customization for users across the world. As one of the many benefits of the voice recognition feature for mobile apps, you can make your business app comprehensive for millions of target users around the globe. This is an immersive innovation for e-learning apps that provide skill-oriented courses on a larger scale.
3. Unstoppable Evolution
As discussed in the earlier sections, AI is a sector that keeps evolving and improving. For brands that want to leverage the cutting-edge tech stack for higher ROI, it is nonetheless an advantage. Since voice search is powered by machine learning, deep learning, and AI, there is no stopping for improvements. With time and resources, the evolution of voice search or recognition will become more promising and lucrative for mobile apps.
4. Consumer Convenience
When we take the top view of any business in the realm, consumer convenience appears at the core of brand recognition. While some features derive the profitability of a mobile app directly, features like voice search provide a substantial edge for convenience to the target consumer.
First of all, they don't need to type a search on your mobile application which is a huge advantage. Besides, it gives a personalized feel to an overall experience with your brand.
5. Streamlined Support
When it comes to listing the benefits of voice search for mobile apps, you can't connect it only to the consumer side. There is also a facet to voice recognition that appeals to the internal teams of a business. Instead of assigning the job of consumer support to a team, you can automate the task with the help of voice-based AIs.
6. Simplified Operations
Think of it this way! You have an automated platform that arranges a meeting with a specific team while typing an email for you. The same system is providing a list of the people who will be joining the team. And, you get to do it all at once by giving the right command to your smartphone or laptop.
Since voice is the only input for voice recognition technology, a lot of operations in your team can be simplified. A voice-based platform can automate and align multiple tasks in a manageable loop.
How Does A Voice Search System Work?
In layman's terms, a system that works on the voice command is known as a voice search system. In a more categorical way, it can be described as a system or software that can understand the input of a voice and convert it into text. That text is then used to provide the output requested by the user.
A voice recognition system can also be defined as automated speech recognition (ASR) system that can identify a request from the speech. It is not a regular feature or a mobile app's API. It is an AI-based algorithm that understands multiple languages, phrases, and much more.
A voice recognition platform is trained to recognize different accents, languages, regional dialects, and the flow of the voice. A custom voice recognition system can be integrated into an application directly. In some cases, businesses seek technical guidance to build a custom voice search platform.
Generally, voice search systems run with the power of artificial intelligence and machine learning. The AI part of the software understands the voice input and then the machine learning part utilizes this input to simplify the request. Some voice search systems can be tailored to comprehend particular keywords and provide an outcome based on them.
Should You Consider Voice Search for Your Business App?
Whether you own an ecommerce app or a banking portal, voice recognition is the power to change the way consumers perceive a brand. From enterprise software to e-learning applications, a digital product in every possible form can leverage the integration of ASR or an automatic speech recognition system. The gist of this technology is to make the life of users simpler with a consumer-centric platform that saves time.
However, the implementation of the voice recognition feature on mobile apps will drive benefits only if it is accomplished by a professional IT team. If you are on the lookout for such an agency that carries this level of pragmatic approach, then Zazz is the app design and integration team you can trust! Based in Seattle, our on-demand app development company caters to every technological challenge our clients in the USA come across.
As a promising team of software and mobile app developers, we have served our clients from San Jose, New York, San Francisco, and other parts of the United States. Apart from application and software ideation, we can also upgrade the performance of existing apps with smart feature integration. Our expertise in AI and machine learning allows our team to conceptualize a flawless integration plan followed by a testing process.
To get the cost estimate for the voice recognition feature, contact us today!