Zazz is a full-stack iPhone application development company based in the USA. Zazz envisions to empower businesses by aiding them reimagine all obscure possibilities that our deft developers magically manifest into reality by creating future-ready and feature-rich, robust iOS apps that become an instant hit amongst all end-users. Our magnificent team of the most experienced and talented developers have so far built hundreds of stellar iOS apps that boast of an intuitive design, thereby rendering a fine user experience. At Zazz, we build the most creative solutions and we are the catalyst to the ultimate transformation of your business.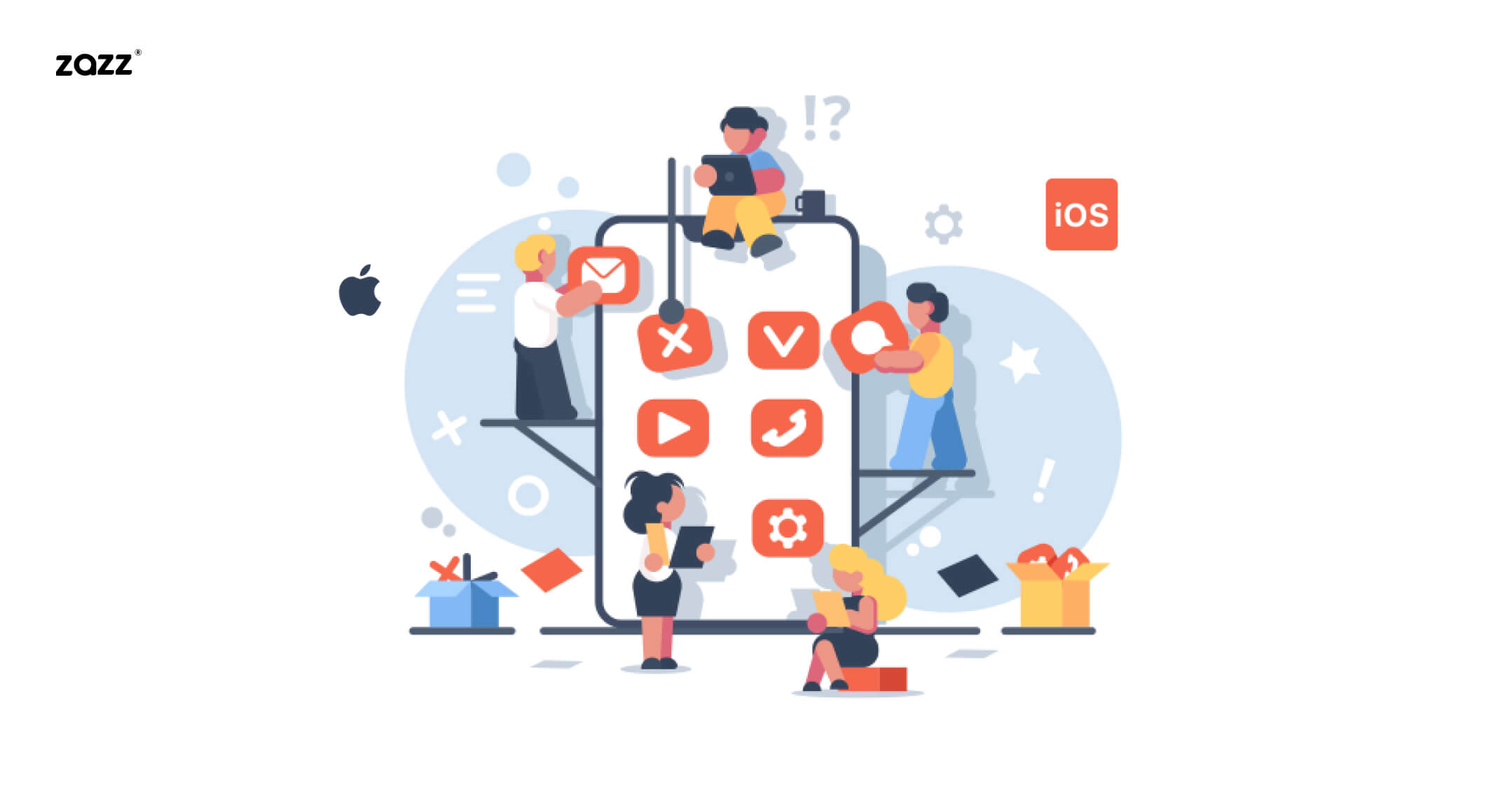 When you hire iOS app developers from Zazz, then rest assured, we will assist you at each juncture until you witness the most unparalleled, skyrocketing success for your business. Zazz has so far assisted myriads of businesses and we stand tall as an eminent app development agency wherein our deft developers can even create an iOS app without coding. Also as a renowned iOS app created, we take great pride in adopting, iterating and investing only in the most latest technologies, efficient processes and wondrous talent. We create the most stupendous iOS apps that instantly inject growth into a business. Mentioned hereinunder are some of the major benefits that you can solicit, should you wish to avail our iOS app design and development services
10 Reasons Why You Should Hire iOS Application Developers From Zazz
1. Tailor-Made Solutions
As a renowned iOS app development agency, we offer the finest iOS app development services to businesses on the basis of their distinct needs. Our designers and developers primarily understand your specific work requirements, and we then design solutions that help accelerate your ROI and thereby generate revenue by ameliorating your brand image and augmenting your overall business outreach.
2. Complete Customer Satisfaction
At Zazz, our customers are like a treasure trove for us, and we stand tall in the market just because of our customers. We therefore pull out all stops and always endeavour to provide 100% customer satisfaction with complete transparency and end-to-end solutions to our customers, thereby ensuring that our clients get tailor made solutions of exactly what they need.
3. Agile Methodology
We follow an agile application development process, thereby adding value to our client's work operations. Our adroit developers leave no stone unturned and deploy the smartest strategies whilst creating stunning iOS apps, thus leaving no room for error.
Also Read: The 3 Prominent Languages For iOS Application Development
4. Guaranteed Success
When you avail our iOS application development services, then rest assured, the sky is the new limit for your business that is bound to witness unfathomable success with guaranteed results. Our avant-garde and out of the box, result-driven approach coupled with our unparalleled prowess and innovative thinking ensures myriads of downloads of iOS apps, and this is sure to exceed your expectations.
5. Magnificent User Experience
When we talk of Apple, then a stellar performance, top-notch customer support accompanied with easy-to-use and frictionless apps is what we primarily think of, and we at Zazz work round the corner to attain this. We therefore build iOS apps that furnish the most amazing user experience. Our developers deploy all the latest technologies and frameworks to offer the finest iOS app development solutions.
6. Best Quality iOS Apps
With Zazz as your ultimate technology partner, you don't have to be concerned about your iOS app quality. Our designers and developers put in their heart and soul and go the extra mile to create the most stellar and best in class iOS applications. Furthermore we have assisted inmerable businesses operating across various industry verticals, thereby creating the most robust iOS apps that are unquestionably the epitome of excellence, irrespective of the complexities involved.
7. Speedy Deployment of iOS Apps
Speedy deployment of an iOS application plays the most cardinal role, and this per se is one factor that you can't overlook at any cost. However, Zazz as your iOS app creator ensures the quickest delivery of your iOS app. Our incredibly talented and dexterous developers pull out all stops to furnish a speedy deployment of your end iOS app, and this thus helps solicit valuable responses and feedback from the customers. Our developers at Zazz thus hold the most puissant scepter that can instantly make your business augment and scale to success.
8. Seamless Testing
We ensure to put all our iOS apps through rigorous testing and quality assurance processes at all levels during the product development cycle. This in turn helps us create end-to-end stellar solutions, and we thereby assist businesses to a tee with our sublime end product.
9. Advanced Security Measures
As your ultimate app developer for ios, we build iOS apps that are assiduously designed to cater to your distinct work requirements, albeit we also ensure advanced security and we comply with all the security protocols and development practices as top-grade security is of utmost concern to us and we never compromise with it. We are renowned for our advanced security measures that we undertake when we build iOS apps. We therefore guarantee complete protection against all kinds of third-party threats and data breaches.
10. Cost-Effective iOS App Development Solutions
Whether you own a start-up that is still in the embryonic stage or if you run a full fledged business, money is always a key concern, especially when it comes to iOS app development, which is usually a costly affair. However we at Zazz have overcome that barrier as we offer the very best, albeit without burning a hole in our clients pockets. Our developers offer end-to-end iOS app development solutions with complete bang for your buck.
And well that is it from our side. We feel that our work alone speaks for itself, and we wouldn't like to unnecessarily blow our own trumpet. We however stand tall as an eminent mobile app developers, owing to our stupendous work that we have delivered so far, and so should you wish to get your very own iOS app, then please do get in touch for a free one on one consultation. Our expert designers and developers would be glad to assist you.
Also Read: