We are living in the twenty-first century , the world of science and technology. This is a virtual aeon and businesses nowadays are on their toes and are leaving no stone unturned to mark their presence in the eclectic virtual world. Almost all the business organizations know the indispensable importance of mobile apps as an app alone is the puissant scepter via which a business operation can skyrocket to immense heights by enhancing an organization's revenue and consumer outreach.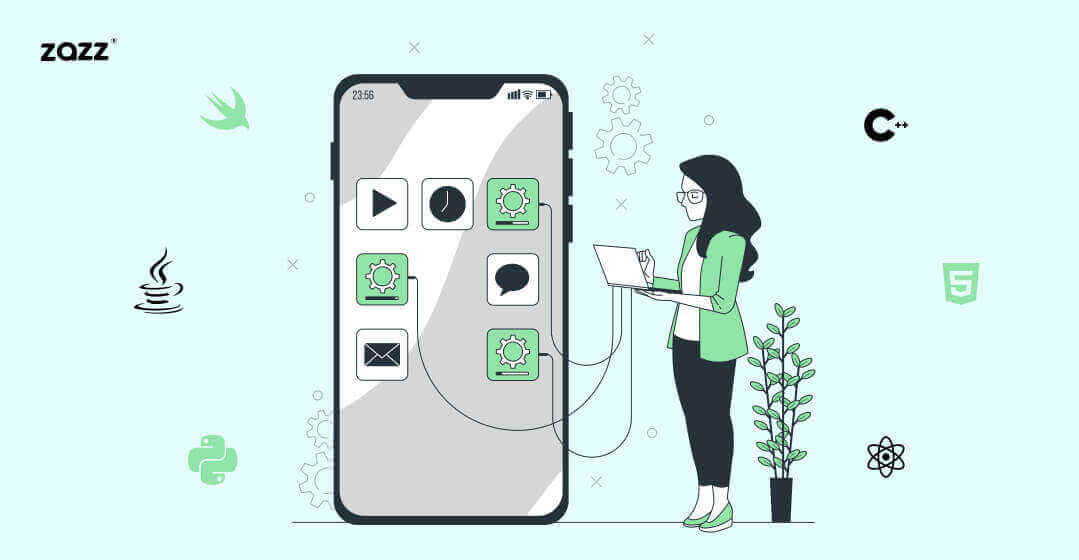 Companies, therefore, employ various resources for getting their mobile app developed or many a time, they even use the services of a third-party organization for soliciting mobile app development solutions. 
However, it is crucial to note that the very initial step herein is to decide the best programming language for app development. Herein, there are two major options viz. the Android or the iOS application programming language, albeit since we stand tall as a renowned iOS app development company, one secret tip that we would like to offer herein is that in case you wish to balloon your business outreach, then the iOS language is your golden key to success.
We say so with confidence because Apple alone holds a substantial market share of about 57.22% in the United States, 51.4% in the United Kingdom and 52.28% in North America. And so, taking into consideration all these excellent albeit useful factors, we can easily infer and decide that the native iOS app language is one of the finest choices to make an iOS app.
Herein, you might find all this a little baffling, especially if you are a newbie who is desirous of having his own business mobile app. However, you need not to worry as our iPhone app developer company is here to your rescue. We hold unparalleled prowess in creating the most stunning iOS apps, and our deft developers know all the miniscule ins and outs of the varied iOS languages. While we would be privileged to design a stellar and a feature-rich app for you, but in case you are keen on making your very own iOS app, well then this blog would definitely help you through and through. 
It is appurtenant to note that the most fundamental sine qua non for designing a magnificent app is the programming language used for app development. This per se is really mind-boggling as it puts even the expert developers in a great fix, let alone the newbies. We however endeavor to make your work easy and so mentioned hereunder is an exhaustive guide that would assist you make the right choice and zero in on the best iOS app language. So make sure to give this blog a read, and well don't forget to thank us later.
Prominent iOS Application Programming Language
1. Swift
Even if you are a novice to the humongous world of iOS language, you must have, in all likelihood, heard about Swift.
Swift is one of the most popular and renowned iOS scripting languages. It was primarily released in 2014, albeit in a short period of hardly few years, Swift has successfully carved a niche for itself and it stands tall as one of the most eminent iOS app languages. Furthermore it is pertinent to note that as per a recent ranking survey that was conducted by the Tiobe Index for Swift in 2020, Swift was positioned at the 11th rank as the most eminent native iOS app language and this iOS language garnered triple the number of votes that it did in the year preceding. Swift is fundamentally a generic native iOS app language that is specifically used to develop high quality, robust iOS apps. It is meticulously designed to work in close conjunction with other prominent frameworks such as the Cocoa and Cocoa Touch. 
One of the cardinal advantages of using Swift as a native iOS app language is its stellar scalability, interoperability, specifically with Objective-C, open-source and it's super fast development speed. Swift also furnishes end-to-end data security whilst development and it boasts of an Automatic Memory Arc, also known as the ARC. However one drawback that we would like to mention herein for this iOS app language is its limited close-knit coterie of user base.
Swift, as an iOS language, is however an ideal choice if you are keen on having a quick app development process and if you wish to scale your app at a lightning speed. Developers can use Swift to make iOS apps and it is a robust iOS language that is specifically used for iPhone apps, iPad, Mac, Apple Watch and Apple TV.
2. HTML5
As a popular iOS app development language, app developers use HTML5 in conjunction with JavaScript and CSS. Herein you would be amazed to know that according to the W3techs, HTML5 is currently used by a whopping 88.5% of almost all the websites. 
We would however like to highlight that even though HTML5 is not an ideal choice for developing native apps, hybrid apps on the contrary furnish an excellent browser control and use the combination of HTML5 along with CSS for developing pages.
Some of the major advantages of using HTML5 is it's multi-platform support, cost-effectiveness and consistency across varied different browsers along with offline browsing. Furthermore HTML5 also enables a sublime page ranking. Per contra, there are also a handful of disadvantages of using HTML5, some of them being that this iOS app language works only in the hybrid mode for app development, it has limited functionality and it may even cause snags with design responsiveness.
HTML5 is however a preferred iOS language in case you do not wish to invest in a lot of time, money and other resources for developing an iOS app, and if you have an easy-breezy app design that can also be accessed in the offline mode, but if high-quality, feature-rich and functional iPhone apps is what you are desirous of, then HTML5 might not be the right iOS language in this scenario.
3. Objective-C
Objective-C is deemed as the erstwhile predecessor of Swift. This iOS app language was primarily developed as an extension to the C programming language that too boasted of somewhat similar features. It's embryonic genesis was originally in 1984, and post about three decades of venturing into the market, it is now perceived as a generic use iOS app language that is compatible with both iOS and the Mac OS. Objective-C is one of the oldest iOS languages and it was used to make magnificent iOS apps even before Swift ventured into the market. However, having that said, there's no denying the fact that Objective-C is somewhat outdated now as several other iOS app languages have now stepped into the mammoth iOS app development landscape. Also its unavailability as an open-source language makes it a Herculean task for developers to learn. Furthermore there are few other snags viz the security issues, lack of updates and it's bleak functionality, but truth be told, Objective-C is still regarded as one of the finest, most mature and stable iOS app languages. You may consider Objective-C as an ideal iOS app language only if you are keen on developing and updating apps for the erstwhile iOS versions which are not co Swift.
It is appurtenant to note that Objective-C can be a bit of a rough turf and it is quite baffling for developers as it's not easy to create an iOS app using Objective-C. This is unquestionably one of the hardest iOS app languages, but our deft iOS app developers can help you out in this regard, and rest assured, we'll help you create the most resplendent, responsive and robust iOS app using Objective-C. So if you wish to solicit our assistance, then please get in touch with us because our team of adroit developers hold years of mastery over Objective-C, and this arduous language is rather a cakewalk for us.
Conclusion –
We are an iOS application development company and with decades of experience in this eclectic domain, we would personally suggest Swift over any other iOS language. We say so because Swift helps developers create the best in class iOS applications that are enjoyed by the end-users. Businesses usually opt for Swift, owing to its stellar intuitiveness in creating dynamic and frictionless native iOS apps. It is also pertinent to mention that Swift was specifically developed to expunge its predecessor, viz Objective-C in terms of its speed and efficiency. Swift is undoubtedly a secure iOS language to rely upon, albeit it's only drawback is that Swift currently holds a scarce talent pool as compared to the older iOS languages, but this per se isn't that big of a snag and with several years of our rich expertise in this realm, we can guarantee that Swift is one of the finest iOS app languages.
However in case you still have other doubts that might be bogging you, and should you wish to solicit our individual consultation, then please don't hesitate to get in touch with us. Our expert developers would be glad to assist you in a one on one individual consultation, and we would help you develop the most splendid iOS app that would in turn augment your business to unparalleled heights.
Also Read:–