In the digital world, UI/UX design is a much-talked-about concept, often misunderstood by many. Contrary to popular belief, it's not just about creating visually appealing applications. In fact, UI/UX design stands for User Interface & User Experience, respectively & focuses on designing digital products with a user-first approach. While UI & UX share common features, there is a fundamental difference between the two disciplines.
UI design concentrates on the look & feel of the application, including buttons, icons, typography & the overall layout. On the other hand, UX design emphasizes the user's interaction with the product & aims to provide an enjoyable experience. Before delving into the nuances of each discipline, understanding the basics is crucial to designing great digital products. Hence, this blog will help you gain comprehensive knowledge of UI/UX design, an essential aspect of the digital world.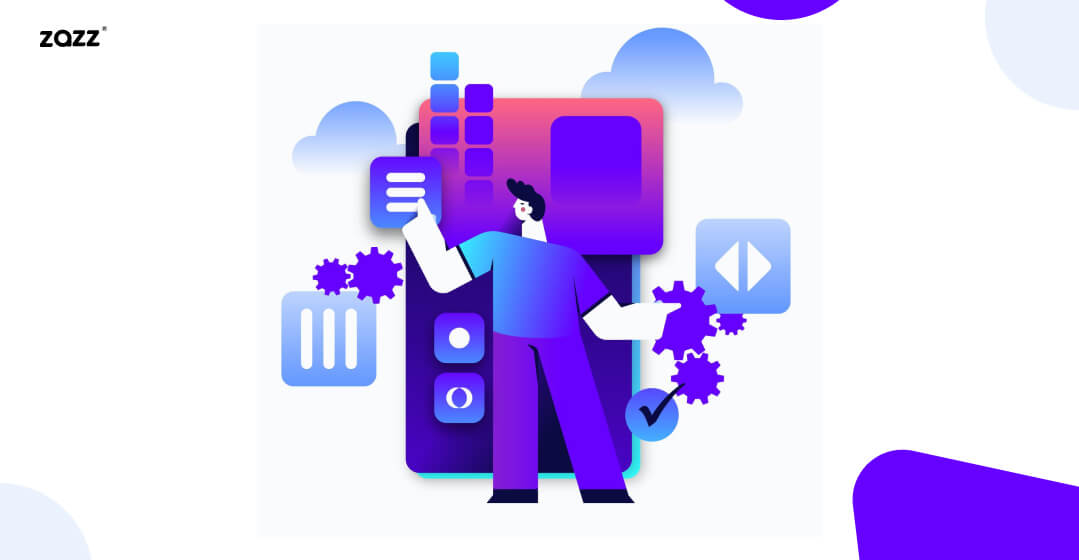 UI Design – Concept, Features and Workflow
UI design is an essential aspect of app development that offers a user-friendly experience. According to Iconfinder's CFO Martin LeBlac, a good UI design shouldn't require explanation, as it encompasses the app's graphical elements such as buttons, animations, and transitions, as well as the screen layout & micro-interactions. Moreover, UI design encompasses various formats that enhance user engagement, such as typography, color schemes & visual hierarchy. Achieving a quality UI design requires a rigorous workflow that entails ideation, iteration, prototyping, testing & optimization. Furthermore, UI design comprises more formats like:
Graphical User Interface (GUI): This type of interface deals with displaying the type of interaction users can experience with the visuals and the system's digital control panel. The best example of GUI is a computer desktop.  
Voice-controlled Interface (VUI): VUI is involved in handling the interaction between the user and system by leveraging the voice feature. The commonly popular examples of UI interaction design are the smart assistants of Samsung devices and iPhones – Bixby and Siri.
Gesture-based interface: This UI prototype is mostly used in the most sought-after technology Virtual Reality and related gesture-based design scenarios involving the engagement of end users within the 3D spaces.
Consider the following characteristics to have a better understanding of the UI design:
-Architect the design in such a way that the users can conveniently focus on completing their tasks in a hassle-free manner.
-The design should be enticing, fun and offer a seamless experience.
Establishing UI design that enhances company/organization brand value by facilitating communication.
UX Design – Concept, Features and Workflow
UX design (User Experience design) involves analyzing and designing for the users' interaction with the system. It also deals with logical navigation and ensuring an intuitive and smooth experience for the users. The design is not just assessing the aesthetic preferences and opinions thoughtfully driven by data analysis, research, and test results.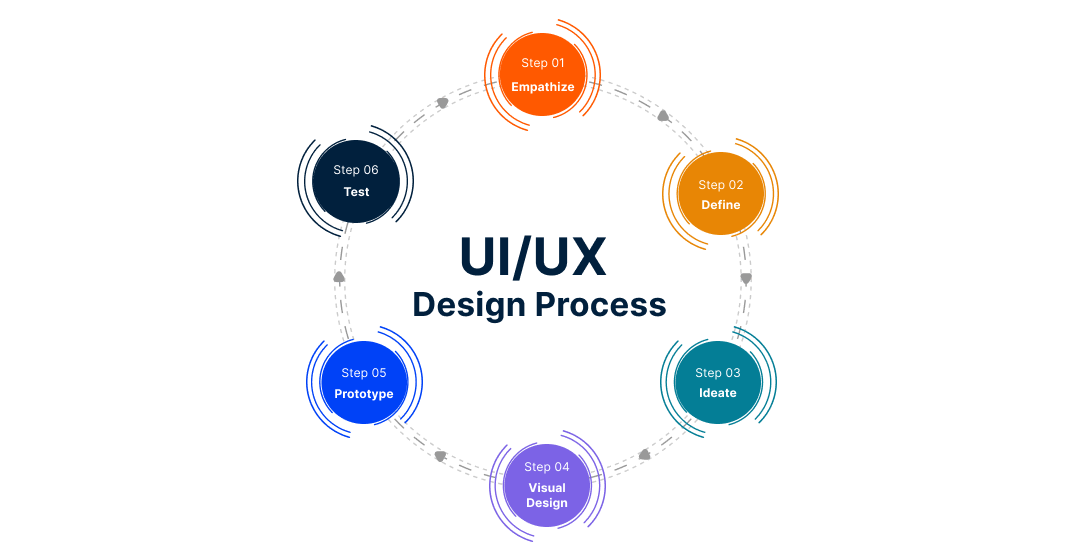 Following are the vital stages involved in the UX design process:
Interaction Design: This segment takes care of the part where users can complete their tasks effortlessly by employing the system's interactive components like animations, page transitions, buttons, and so on.
User Research: User Research deals with conducting in-depth research, assembling feedback and ideas from customers, analyzing end-user needs, and leveraging the said parameters to make design decisions.
Information Architecture: The process of organizing the content and information in an intuitive way to aid users in achieving their objectives is called information architecture. A proficient UX UI designer perceives the divergent relationships between data sets & presents them in an understandable manner to facilitate user navigation. Effective information architecture is crucial in providing an intuitive user experience & increased engagement on websites & applications. Choose a UI UX Design Company that understands the importance of information architecture in providing a user-friendly digital experience.
An ideal UX design should conduct the following practices:
-Ensuring that the product is easily logical, employable and self-explanatory.
-Designing the product in such a way that it solves every problem of the user.
-Making the product accessible and useful for a wide range of people.
-Architecting the product's design in such a way that it imparts a positive experience to the end user while enabling them to complete their tasks in a hassle-free manner.
Also Read: Top Intuitive UI/UX Design Tools for Contemporary Designers in 2023
UI Vs UX Design
It's important to remember that although UX and UI design are often used interchangeably, both concepts provide different inputs and have varying approaches for reaching the same outcome.
Core focus area: The chief focus of UI designers is to manage the quality and visuals of the digital product while employing high-end models as prototypes. Whereas, the role of UX designers is more inclined towards logical thinking and taking care of the functionality and purpose of the app. In addition, UI designers are engrossed in the technicalities of the app's design while UX designers deal with project management and detailed analysis of the application.
Use of Color: The design prototypes in UI design are weaved in all colors whereas the UX design mostly encompasses black, gray and white.
Employing tools: UI designers employ tools like Flinto, Sketch, InVision and Principle for collaborative image designing. UX designers leverage the power of Mockplus – a robust wireframe-based prototyping tool.
Artistic element: The artistic angle plays a major role in UI designing as it is related to what the end user gets to see, hear and feel. Thus, the aesthetics should be on point. In the case of UX design, it works on deeply assessing the needs of the user by analyzing their behavior and patterns.
| | | |
| --- | --- | --- |
| | UI | UX |
| Focus | ✓ | – |
| Visual Design | ✓ | – |
| Layout Design | – | ✓ |
| Wireframe & Prototype | – | ✓ |
| User Research | ✓ | ✓ |
| Creative Mindset | ✓ | ✓ |
| Team Experience | ✓ | ✓ |
| Developers' assistance | ✓ | ✓ |
| Tools | HTML5, JS, CSS3 | Adobe, Figma, Sketch, etc. |
(A summarised form of UI vs UX design)
Wrapping Up
UI and UX design are two crucial elements that ultimately work towards one common goal: serving the needs of end-users. As a quality mobile app development company, Zazz is committed to creating innovative & efficient design solutions that align with the vision and goals of businesses. Our team comprises a group of highly skilled UI & UX designers who specialize in developing secure & creative user interface & user experience solutions for both web and mobile applications.
Our UI/UX design solutions cater to startups, small businesses, and large firms, providing dynamic interfaces that enhance user experience & boost customer engagement rates. As a client, you can rest assured that our UI/UX app design services offer top-notch results & deliver an attractive application.
Our designers follow a well-structured UX process, enabling them to craft easy-to-use, high-quality applications featuring impressive user interfaces & user experiences. When you choose Zazz as your UI/UX app design partner, we ensure to take into account your specific business needs, user behavior & inclinations to provide optimal design solutions that solve your pain points.
Our collective experience in the mobile app development industry makes us uniquely equipped to design top solutions that cause a paradigm shift in how your users interact with your brand. Connect with our team today to discover more about our app design services & how they can deliver value to your business.
Also Read:

Understanding the Value of UI Design for Mobile Apps

Challenges of UX Design for IoT and Tips to Beat Them

Top 10 Common UX Design Mistakes To Avoid When Developing an App
Frequently Asked Questions
Q.1 What is the key difference between UI and UX design?
UI design deals with architecting the app's graphical layout including buttons, animations, screen layout, micro-interactions, transitions and much more. On the other hand, UX design encompasses analyzing and designing for the users' interaction with the system while ensuring an intuitive and smooth experience for the users.
Q.2 What tools do you use in designing an app's user interface?
At Zazz, our experienced team of creative designers are adept at leveraging state-of-the-art tools like Adobe, Sketch, Figma, InVision and many more.
Q.3 Will you delegate a separate UI UX team for my project?
Zazz is a vast team of 250+ professionals including engineers, app architects, technical managers, QA specialists, senior designers and many more. As soon as you give us the confirmation to partner with us, we will immediately delegate a separate team for your project.