As the mandate lockdown to stop the spread of COVID-19 limited social interaction, the importance of banking apps came to the surface. The pandemic led to a significant shift in customer behaviour. People who preferred visiting their banks for completing online transactions switched to mobile banking apps for the same. Although online banking and mobile banking aren't new for the customers, the pandemic accelerated the growth of this digital transformation that was taking place at a slower pace.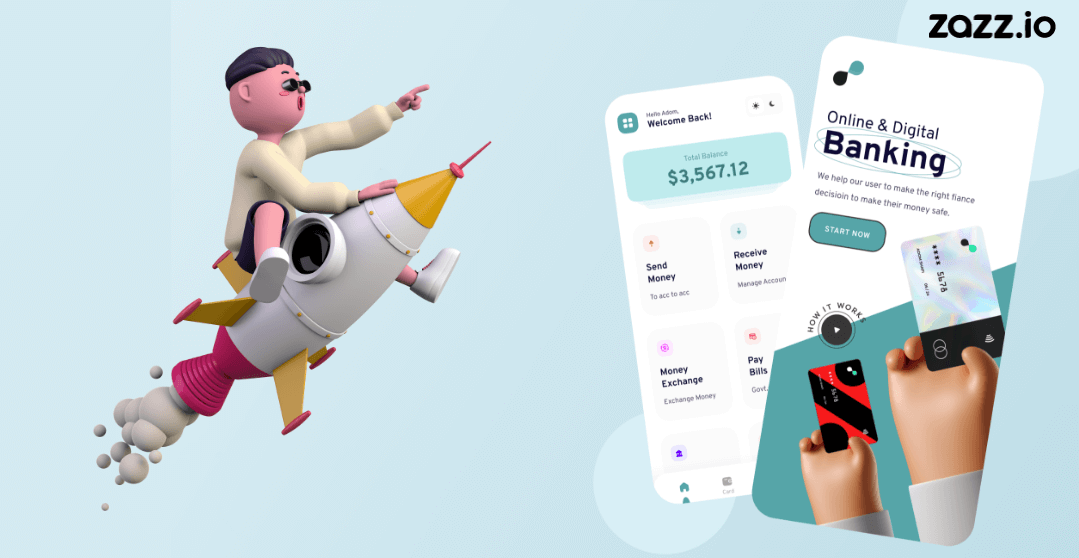 According to the Digital Banking Platform Market – Growth, Trends, COVID-19 Impact, and Forecasts (2021 – 2026) report, the digital banking platform is predicted to rise at a CAGR of 11.2 per cent. This report indicates that banking customers are shifting from traditional banking methods to digital alternatives. And, this change is expected to be permanent in the banking industry.
Let's discuss in detail how banking apps became the future of the banking industry amid COVID-19.
Top 6 Reasons That Sped Up the Growth of Banking Apps During the Pandemic
The rise of digital banking and the increase in demand of banking apps accelerated during the pandemic. From customer experience to convenience, there are many reasons for this shift. Let's take a look at what led to this sudden growth.
1) Customer Experience
With digital banking solutions, customers get a more personalized and convenient experience, even for complicated transactions. They can undertake their banking operations wherever and whenever they want and are getting satisfying responses for their queries and issues from chatbots immediately without visiting in-person to the banks. The banking apps assist users in managing their finances, saving money and getting financial advice from the comfort of their homes. Useful features like bank account management, QR code payments and bill payments with reminders also help in offering tailor-made solutions. As a leading UI/UX app development company, when we build banking apps, we make sure that the interface is user-friendly and easy to navigate so that customers get a personalized experience.
2) Mobile-First Approach
Nowadays, customers prefer a mobile-first approach in every sector. And, financial institutions or businesses who choose a mobile-first strategy can increase their customer reach. After all, 85 per cent of the adults in the USA own a smartphone.
The availability of banking services and products at the mobile apps played a crucial role in the growth of mobile banking apps. Customers got the benefit of handling their bank accounts with a handheld device. Also, mobile banking development allowed better usability and users got the key functionalities of the application on their mobile. Creating a digital banking strategy with a mobile-first approach helped banks provide a richer experience to their customers, especially during the pandemic. It also assisted banks in adapting to the changing scenario while offering customers more options than they ever imagined.
3) Convenient Features
Many mobile banking apps are packed with convenient features that make it easy for customers to manage their bank accounts. This was made possible with the help of reputable companies who have made a mark for themselves in the financial app development world. They build apps that offer exceptional services by integrating cutting-edge technology, like artificial intelligence and blockchain. From big purchase calculators and virtual assistants to saving tools and transaction histories, the latest banking apps offer impressive features that enable customers to accomplish a lot without stepping out of their homes. 
4) Security
Security is the topmost priority in the banking industry. When customers trust financial institutions and banks for their money, they expect the security of their funds in return. As a result, banks take extra security precautions to keep frauds, spyware, and malware at bay with online banking solutions.
Multi-factor authentication and biometric authentication are some of the mobile banking app features that mitigate risks. Many financial institutions also emphasize implementing an additional layer of security when developing a mobile banking application to integrate software that automatically scans certain risks. They include spotting a login from an unknown device and real-time text and email alerts for transactions.
5) Safety
The transition towards digital banking became inevitable during the pandemic. Since the COVID-19 outbreak confined the world indoors, it directly impacted how people purchased, communicated, and did everything that was a part of their day-to-day lives.
Being a leading mobile app development company, we witnessed the rise in demand for mobile apps in every industry, and the banking sector was no exception. That's why the use of mobile banking apps surged as they became a necessity to make purchases, transfer funds and make investments. These applications offer the opportunity to access funds and make transactions remotely. Since people stayed indoors to prevent coronavirus spread, banking apps became a safe and secure way of sending and receiving money while maintaining social distance and following stay-at-home orders.
6) Real-Time Access
One of the most important features of a mobile banking application is that it allows customers to control their finances with real-time access. Unlike traditional banking methods and in-person banking, mobile banking apps don't have restrictions on the time of transactions. So whether you want to move money from one account to another, activate a new credit card or need access to your account balance, you can perform any banking task 24/7. The applications are easy to navigate, and push notifications alerts for low balances or overdrafts come in handy for customers to get real-time insights about their bank accounts.
Conclusion
The impact of COVID-19 on the banking industry is positive. The pandemic led to the rise in popularity and downloads of mobile banking apps. It turned out to be an opportunity for financial institutions to embrace digital transformation and retain their customers' trust. Banks and financial institutions that had already invested in banking application development reaped benefits during the pandemic and served their customers with exceptional solutions, irrespective of restrictions of staying indoors. Those who haven't embraced the power of technology to meet their customers' financial demands and expectations are lagging and can end up losing their customers. But it's never too late. Contact Zazz for mobile banking app development, and rest assured that you will get a robust and high-performance banking application.