As of today, 4.1 billion Internet users are using the Internet on earth. We relate our daily life to all these statistics. And recently, there is a scandal about PWA Vs Hybrid Vs Native. So in this article, we will show an advanced enhancement for using hybrid apps, native progressive web apps, and later.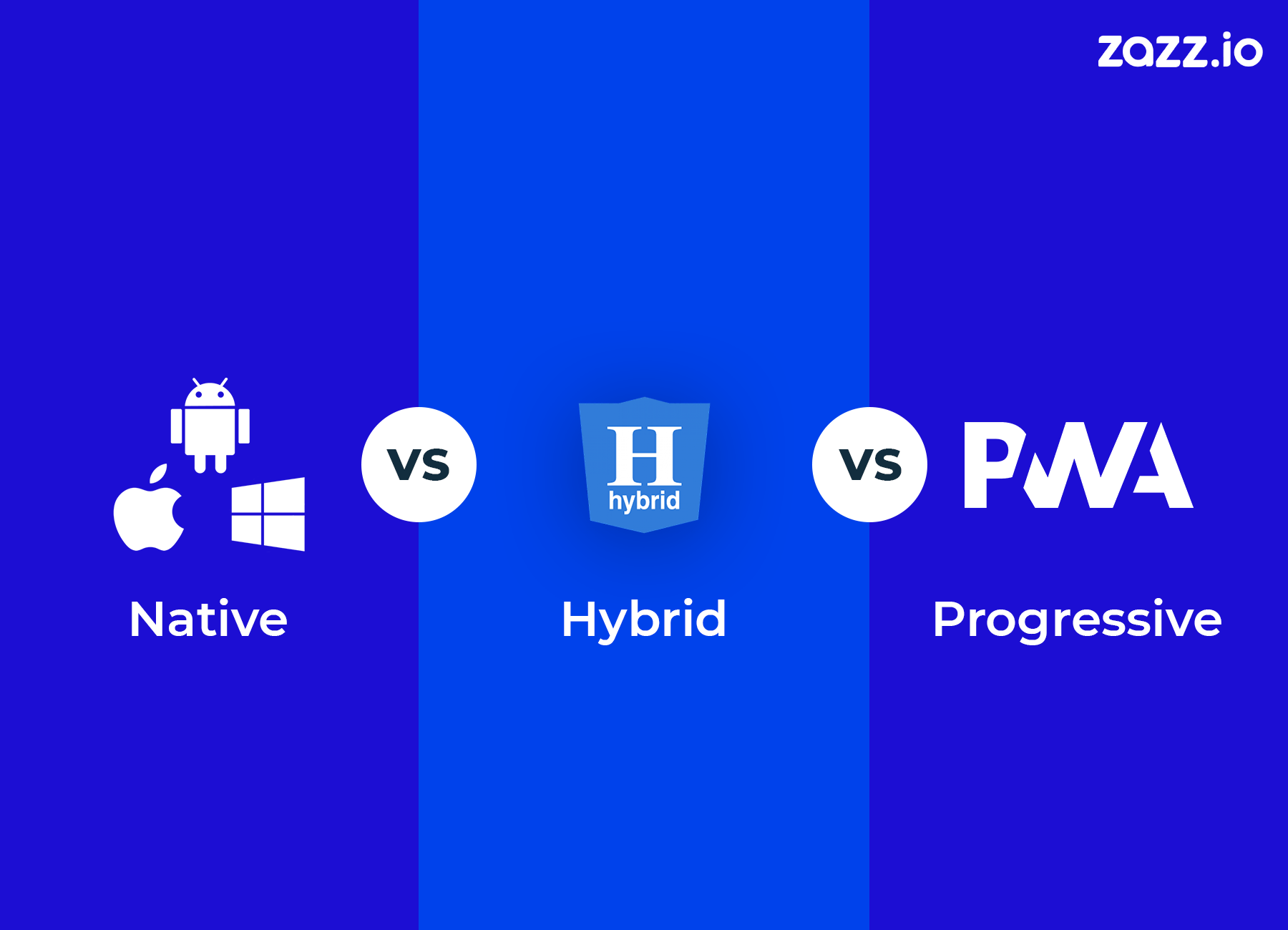 Also, it is a multi-stage tool that is progressively useful than other platforms to create a useful application. Here, we compare all platforms and find the most suitable platform for the next mobile app.
Hybrid Application
Hybrid applications are a confluence between native technology and the web. According to the competent app development agency, it supports multiple platforms. Moreover, hybrid apps installs through the device's app stores. Integrated with platform-specific plugins, this offers native-like experiences.
Hybrid Application Benefits
1. Cordova, which is an HTML5 / JavaScript container, runs in its interface known as a web view. Provides access to device hardware and functions easily.
2. One code base for all mobile platforms, thus reducing design costs, development time and also maintenance costs.
3. It possesses responsive web design features and is, therefore, easily compatible with different operating systems.
4. Built-in functions of progressive web applications, which means that they are usable offline.
Native Application
Although not very attractive, it offers high performance, application stability and simplicity. This is what makes an application successful. More often, native apps are so important in promoting a smooth user experience that they are so relevant with complex graphics-based apps, such as games or video streaming apps. This is the first step in creating a native application for both operating systems.
Native Applications Benefits
1. High responsiveness and touch performance.
2. Adequate optimization of device resources.
3. Better retention of native look and feel.
4. Ideal for gaming applications.
5. There are no plugin requirements to add features like GPS, cameras, and microphones.
6. Works smoothly even in the absence of internet connectivity or low connectivity.
Progressive Web Application
Progressive web applications are essentially web applications that use advanced web. However, PWA is a browsing technology to simulate the experience that a native app would display. They are accessed simply from a browser, usually through the Add to Start Screen functionality within the OS.
While they do not have the same access to specific device functions, some of their functions may be limited when the device does not have an internet connection. Also, they are more profitable to build and maintain. So, check out the Zazz clutch review to know more about the best PWA development company.
Benefits of Choosing PWA for Business Applications
1. One site used on all platforms. This means a codebase that greatly reduces the cost of development and maintenance.
2. It is accessed through the browser of your choice so that users get an experience with which they are familiar.
3. All users use the same version that you control when updates roll out.
4. Updates roll out without delay in the app store approval process.
5. Only "Search Engine Optimization" SEO services are required, not App Store optimization.
Native VS Hybrid VS Progressive – Comparison Overview
| | | | |
| --- | --- | --- | --- |
| Characteristics | Native | Hybrid | Progressive |
| Code Reusability | Write twice | Immense | Immense |
| Popularity | Great | Moderate | Moderate |
| Device support | Intensive | Moderate | Limited |
| Native Device specifications | Immense | Low | Very low |
| Performance | High | Moderate | Moderate |
| Distribution | App Stores | App Stores | URLs |
React Vs Hybrid Vs PWA
Native, Hybrid, or Progressive – Which is Best For You
Native apps are for those organizations that want to get into mobile businesses. If your business goal expects customers to sign up week to week or month to month and as an increase to your site, put resources into progressive web application development. Also, if your website works significantly in uneven and less intuitive sessions, PWAs would be perfect for you in the end.
Furthermore, if your application's intended stakeholder created survey areas that have a working system association, executed with PWA, also, in technology, the application is used for various industrial applications to grow with a native application that is much cheaper and more profitable. If you opt for a company that relies on the user experience through intense user interaction, hire native app developers.
Final Words
As technology is improving, popular progressive apps provide a new mobile web experience with the native app. Also, these apps help the market with overpriced, poor connectivity. Whereas, on the other hand, small businesses cannot afford a fully native app. Instead, create a separate platform that delivers small to large business opportunities without spending a lot on development.
However, it comes with a completely new channel with push notifications that is available for both Android and iOS. You need to consider costs, time to market when choosing a platform before developing a native application. If you're ready to build your mobile app, let's discuss your requirements with our team.