We live in an advanced world; An existence where computerized change is certainly not a decision, yet a need. Think! If machine learning sounds like the beginning of a bleak dystopian future, think of The Terminator mixed with The Matrix, then robotic process automation must be the phase where machines rise to rule humanity with ruthless efficiency.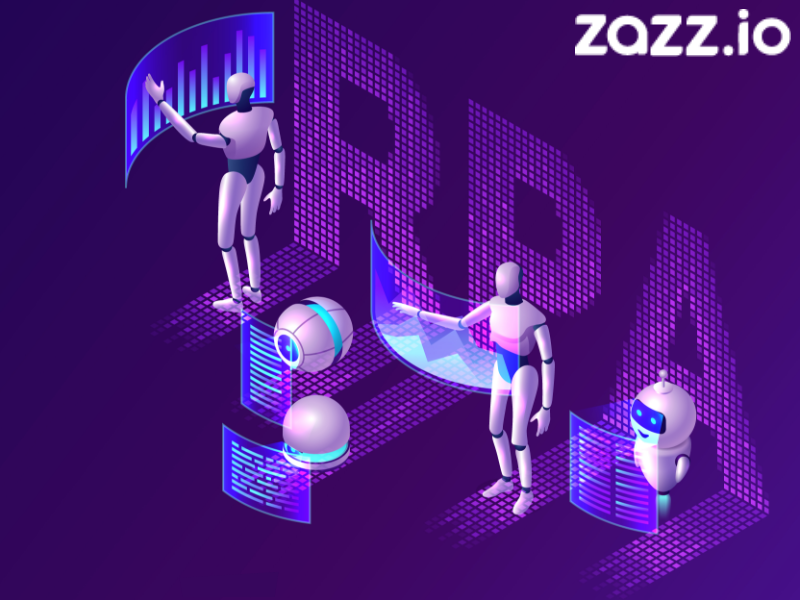 Fortunately, robotic process automation (RPA) involves nothing of the sort, except for the efficiency part. There are not even robots involved in this automation software. Let's proceed to know all about RPA for DevOps in depth.
Here's a data test-point:
Source: Google Trends
Due to the increasing competition between robotic process automation development companies and growing interest in digital transformation, increasing your company's productivity becomes more important than ever. This is where RPA comes into the equation, and industry data validates the importance of RPA. The global robotic process automation market size is already valued at $ 1.40 billion in 2019 and is expected to reach $ 11 billion by 2027, expanding at a CAGR of 34% from 2020 to 2027.
RPA technology is a game-changer for businesses. RPA bots can eliminate/minimize the need for human labor on rule-based tasks and achieve high levels of ROI. On a typical workday, employees spend 10% to 25% of their time on repetitive computing tasks that reduce worker productivity. However, a typical rules-based process can be automated by 70% -80% through robotic process automation (RPA) software so that employees can shift their focus to higher value-added tasks.
This is the most comprehensive article on robotic process automation for DevOps, and it would be nice to provide quick answers before delving into the details:
Applications of Robotic Process Automation
| | |
| --- | --- |
| Industry | Usage |
| Healthcare | Patient registrationBilling |
| Retail | Material invoicesSales calculation |
| Insurance | Claims processing and settlementPremium information |
| HR | New employee incorporation procedures.Payroll processHiring shortlisted candidates |
| Travel & Logistics | Ticket reservationpassenger detailsAccounting |
| Banking & Finance Industry | Card activationClaims for fraudDiscovery |
Let's Talk About Myths of RPA
1. Encryption is required to use RPA software
That is not true. To use robotic process automation tools, you need to understand how the software works on the front end and how it can be used for automation.
2. RPA is helpful just in industries that depend intensely on software
RPA can be used to generate automated invoices, phone service, invoices, etc., which are used by all industries regardless of their exposure to software.
3. Only large companies can afford to implement RPA
Small and medium-sized organizations can implement RPA to automate their business. However, the initial cost will be high but can be recovered in 4-5 years.
4. RPA software does not require human supervision
This is an illusion because humans are needed to program the RPA bot, feed them with automation tasks, and manage them.
Is RPA a Credible Alternative to DevOps?
But should DevOps be concerned? According to the DevOps development company, RPA doesn't eliminate most DevOps, and IT services teams. There is a wide range of tasks they are busy with, from on-site patching and service development. RPA can only do a small part of this.
So we won't ever see direct rivalry among RPA and DevOps, which is a greater cultural methodology for IT advancement and activities. However, because non-IT departments can introduce RPA, many challenges have arisen for DevOps and IT.
Why DevOps and IT Need to Get More Involved in RPA Initiatives
The disconnect between business and IT must stop. As Zazz's analysis points out, while RPA is attractive to business-focused people, it requires people with strong technical knowledge to be truly successful.
DevOps can help implement RPA correctly, and it can ensure that RPA implementations are closely aligned and integrated with a company's strategic goals. Without a clear path, companies can fall into the trap of automating for the sake of automating without regard to practical and technical goals.
Top RPA App Development Companies
Here, to help you find the best RPA development companies, we will disclose the top 3 renowned and market-leading companies. Have a quick look:
Zazz has long been a leader in the development of OCR tools to optimize administrative applications. The organization has as of late extended to help stretch out its automation capacities to more use cases.
AppStudio provides an enterprise digital workforce platform geared towards buy-to-pay, quote-to-cash, human resources, claims to process, and other administrative processes.
AppIncubator is focused on helping organizations in regulated industries automate processes by offering desktop-aligned robots that are centrally defined and managed.
Summary
There are two general approaches to getting started with RPA:
Approach # 1
Here, the first approach to implementing robotic process automation consists of 4 steps:
1. Start small
2. Compare vendors with your business requirements.
3. Try various RPA software and tools
4. Establish systems to measure robotic process automation performance based on your business goals.
Approach # 2
You can steer clear during the pilot phase if you are unfamiliar with the complexities of implementing robotic process automation. Instead, contact us to outsource RPA development firm and let our RPA experts do what they do best while you and your organization reap the benefits of automation. Working with our experienced RPA developers, we suggest and deliver the best RPA solutions that meet your set budget.
Also Read:

Top Best DevOps Companies in The USA

Prominently Trusted RPA Software Companies in the USA

Top Robotic Process Automation Companies in USA

How RPA Can Give Your Business a Competitive Edge?

Top 6 RPA Trends & Future Predictions to Look Out in 2021 & Beyond