We now live in a virtual world, and Covid especially has changed the world dynamics, confining us all within the four walls of our house. Finding love too is an arduous task now as the old-school way of meeting and greeting new people doesn't work anymore, and per contra, we have online dating apps that do the work and a major chunk of our youth population now scout for their paramours on these top dating apps. Individuals get myriads of suitable partners, out of which they can zero in on the perfect one and then once they approve of each other with a virtual meeting of the minds, then they step ahead and decide to meet in person.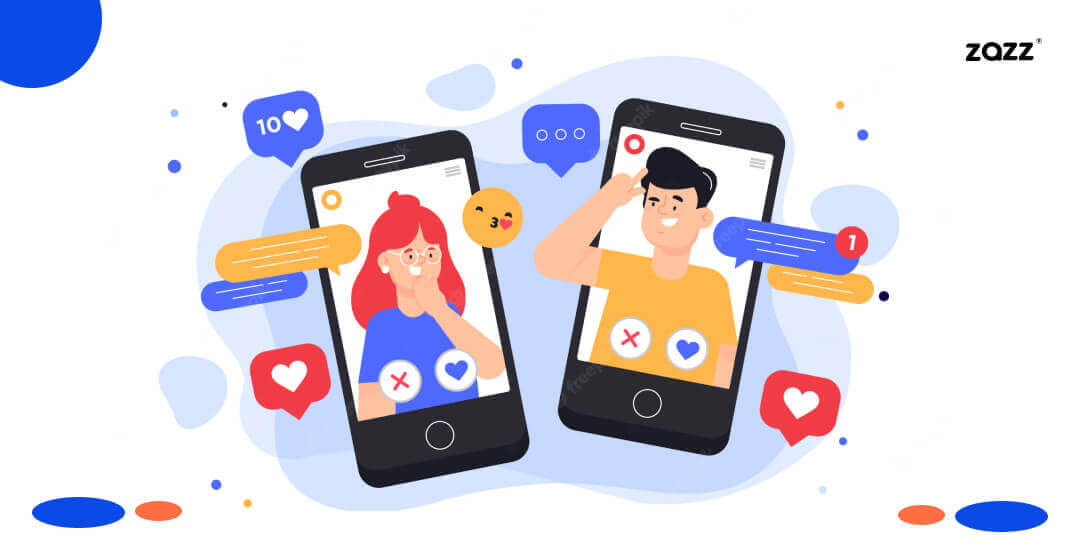 Such dating apps have thus made finding love a lot easier, and well love thus exists, even in the virtual sphere, thanks to these popular dating apps. Individuals, especially the reserved ones can make use of such dating apps and they can make the first move without any hesitation. However, now that there are myriads of such apps floating in the market, it is definitely not feasible to use each of these. So one question that might be bothering you is what is the best dating app? Well this might be quite baffling for you, but to make your work easy, mentioned hereunder are the best dating apps for relationships, and well these are also the best dating apps in the USA.
1. Match Dating
Match Dating is one of the best dating apps in Canada. The app has over 100k + downloads and this number is constantly growing on the Google Play Store. One of the most distinct features of this dating app is that it enables users to discover potential matches on a daily basis, irrespective of whether you use a free version or a paid subscription. The users can filter their search results and thereafter look out for their kind of person. Match Dating is considered as the most sought after destination for the Canadian folks who are scouting for a serious and a long-term relationship. Users herein can also put additional security on their profile and can monitor who views and likes their profile. Furthermore users can delete unsolicited search results and comments on their photos.
2. Clover
Clover is one of the top dating apps in USA. It is available on both iOS and Android platforms. Clover claims that it is a robust amalgamation of Tinder, OkCupid, Bumble, Match and other similar dating apps.
Clover features a unique chat room that is known as the "Mixers" and it reminisces the users of the antediluvian 90's chat room. This old-fashioned vibe in turn gives a magnificent user experience. Also Clover doesn't differentiate between individuals and it is one of the best dating apps for not only the straight folks but also for the members of the LGBTQIA+ communities. The users can implement search filters to scout for their perfect match. It is particularly important to integrate such search filters whilst creating a dating app so that it helps your users find their perfect match. We say so because we are an app developer company, and with years of prowess in this domain, we know the ins and outs of making a supremely successful app, especially dating apps. Clover, however, also has a fun "20 questions" quiz and for some, it might be their ideal hook up app as it sets up quick dates with on-demand dating. 
3. Bumble
Bumble undoubtedly stands tall as the best dating app in the USA. Bumble cannot be considered as a mere dating app as it has a lot more in store and it helps make social connections that might potentially change into love matches. It is a networking app, so to say, unlike the common dating apps. Bumble has till date over 30 million users and the number is constantly growing as individuals across the globe scout for valuable connections and relations, and Bumble helps serve the purpose. Bumble is one of the best free dating apps 2022 and it is particularly used in Canada and USA. Bumble also offers a unique video chat feature that allows users to primarily see each other via a virtual medium prior to taking their relationship ahead and meeting in person. Bumble is an umbrella app that allows users to not just find their love match but to also make friends and connect socially with great folks on a single platform.
4. Zoosk
Zoosk works along the same lines of Tinder and this is also one of the best dating apps. Zoosk's Behavioral Matchmaking system has made it possible to get the finest matches, and this app is especially the best dating app for men. This dating app boasts of compatibility matching system algorithm factors that are in changing preferences and in accordance with the search habits of the users. Zoosk goes a step ahead and verifies each user by their photo verification along with a 7 second selfie video verification. This helps Zoosk to ensure that it has a genuine pool of users, and this comes in addition to the regular phone number and social media account verification. Zoosk also offers a third party verification for military service purposes and it is therefore considered as one of the best online dating apps. We are custom app developers and we particularly liked the distinct features that Zoosk boasts of, and it can surely give a good competition to some of the best dating apps.
5. Tinder
When we talk of dating apps, then we ought to not miss Tinder. Tinder stands tall as one of the most eminent dating apps, and it's popularity is of such magnitude that users address other dating apps as "Tinder-like apps", even if those apps were prior to Tinder as Tinder has truly revolutionized the online dating domain and has completely conquered the space. Also it's not just about the mercenary business, but all thanks to Tinder as it has made over 30 billion successful matches till date and has an incredibly impressive number of about 26 million matches on a daily basis. Tinder is especially known for its Swipe Right and Left feature, that several of its competitors have constantly tried to copy, but no one has so far reached the stature of this supremely unparalleled popular dating app. Also should you wish to create your own dating app, then you need to mandatorily be ahead of Tinder and our  custom Android app development company can help you do so. We have the best pool of Android and iOS mobile application developers and should you wish to create a dating app, then we are undoubtedly your best bet. Also fret not as we won't create a "Tinder-like" app for you, but rather our app would help you bring a storm in the online dating landscape.
6.Lavalife
Lavalife is the island of the local singles residing in the USA and especially those based out of Canada. This dating app has more than 50,000 installs on the Google Playstore. One of the most distinct features of this app is the "in common" which helps inform the users about the exact trait that actually made them click on a potential match and thereby make it stand in the dating category.
Lavalife is one of the most popular iPhone dating apps and it enables users to browse profiles in the list as well as the grid view so as to ameliorate the end user experience. Also just like the several other common dating apps, Lavalife too allows users to put in several filters in order to solicit the best match for themselves. The users can go a step ahead and can also check for the zodiac signs, ideal dates and other relevant information about their potential matches on the dating app itself. The users can thereby just click and like on a profile, in case they find it intriguing.
7. OkCupid
As the name suggests, OkCupid is a wonderful dating app that truly works like a cupid and when the cupid strikes its arrows, it helps users find great connections on this best dating app. It helps the users check out their potential matches beyond their profile pictures. OkCupid is one of the most popular dating apps in the USA, Canada and other countries such as Australia and India. The users can scout for partners for casual dating and even for walking down the aisle, and there's truly a wonderful pool of users on this dating app. This dating app boasts of a distinct messaging system that enables users to connect and have deep conversations with each other. The users primarily need to answer a specific set of questions so that the matchmaker app can set up individuals with similar interests.
8. Hoop Dating App
Hoop is one of the top dating apps that works in sync with Snapchat profiles to enable users to scout for new connections via Snapchat. Users have the liberty to choose which pictures they want on their profiles. Users can thereafter run through the profiles of other individuals and accordingly accept or reject their requests.
This dating app was released all over the world by Snapchat in June 2019, and this dating app is especially for the Gen Z as it has already crossed more than 500k downloads alone on the Google Play Store and stands at a wonderful position of 7 in the eclectic market of Social Networking apps present on the Apple app store.
A distinct aspect about this dating app is that it respects and maintains complete privacy of individuals who use the app. The dating app doesn't disclose the Snapchat usernames of the user until and unless both the users mutually accept each other's requests. However in case any one of the user declines the friend request then the sender of the request doesn't gets intimated about the same, and this thereby ensures complete safety and privacy of the users. These wonderful and sui generis features therefore make Hoop one of the best dating apps.
And well this is it from our side. We are iOS app designers and we know that mentioned above are some of the finest dating apps with the best in class features. However, should you wish to get your very own dating app, then we are here to your aid, and rest assured we shall make your dating app stand apart from the crowd. Contact us today for a free consultation, and just in case you are scouting for your ideal match, then do check out some of these dating apps. You never know you might just find your perfect match!
Also Read:
Android Mobile Application Development Company
Flutter App Development Agency
Mobile App Development Companies New York