In today's fast-paced world, food delivery applications have become a necessity for people who are constantly on the go. A food delivery application makes it convenient for the users to order food from the comfort of their homes or offices & makes it an essential part of modern-day life. With the advent of technology & the rise in demand for food delivery services, it has become more important than ever to develop an efficient & user-friendly food delivery application.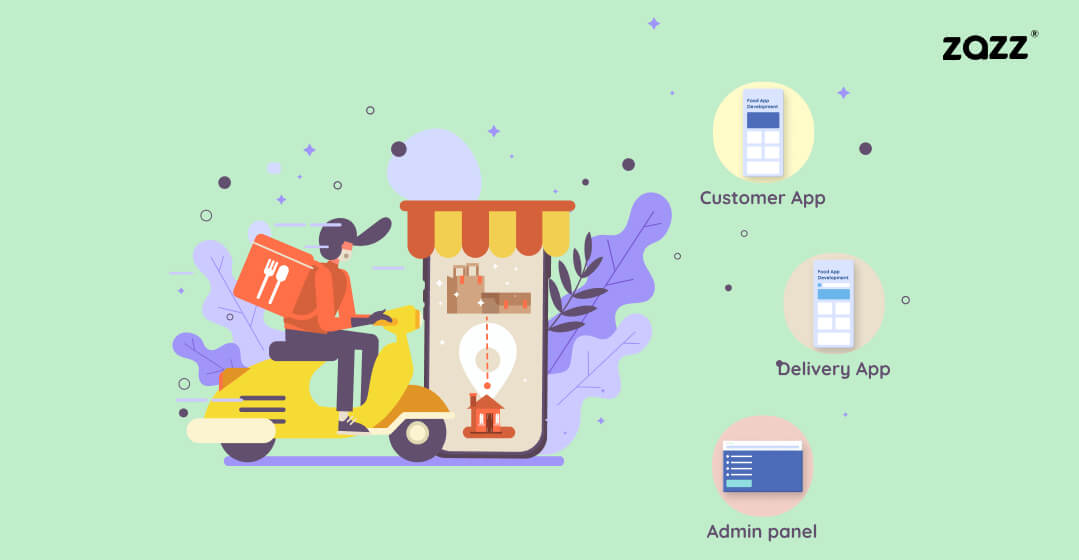 If you're considering venturing into the food delivery business, you must know that developing a food delivery application is not an easy task. It requires a lot of time, effort & resources to build a successful food delivery application. From ideation to execution, there are many stages involved in the development process. That's why we've put together a complete guide to help you navigate through the complexities of developing a food delivery application.
Today, we'll take you through the process of developing a food delivery application from scratch. Our step-by-step guide will help you understand the various elements of developing a food delivery application. Whether you're a startup or an established business looking to expand your services, we will provide you with all the essential information you need to develop a successful food delivery application.
So, buckle up & get ready to take an in-depth look at the ins and outs of developing a food delivery application & discover how you can create a profitable business that meets the needs of your customers.
10 Must-Have Features in On-Demand Food Delivery Apps
For businesses struggling with the development of an on-demand food delivery app, there are crucial features that you must integrate into your mobile app to get success. If you're hoping to build the perfect mobile app for food delivery, consider the ten essential components outlined below. These features will enhance user experiences & simplify the ordering process, & will lead to increased customer satisfaction & profitability.
1. A Comprehensive Description of the Restaurants and Meals Offered
It is extremely important to offer the right information to your customers regarding the different restaurants and dishes offered.
2. Order Placement
The order placement process must be quick and simple. Also, it would be great if your app would have an additional option for the customer to provide specific food instructions as different people have different tastes and thus your mobile app for food delivery must offer a bit of customization in order to stand apart.
3. Custom Search Tool
This is a vital component for on-demand food delivery apps. You must offer a list of search categories with different options to your users to ensure a great user experience.
4. Geolocation
This is another wonderful feature that is extremely helpful for both customers and delivery staff. Geolocation helps customers locate nearby restaurants and it also makes the logistic system clearer for carriers.
5. Multiple Payment Options
Customers might have varied payment preferences and thus an ideal on-demand food delivery app must offer an array of payment options.
6. Built-in tracker
A built-in tracker is a pivotal feature to integrate into your mobile app for food delivery as it enables customers to control the food delivery process.
7. SMS and Push Notifications
Notifications are another cardinal feature of any successful on-demand food delivery app. It is really important to notify your customers about the status of their food order to apprise them about any discounts and to also remind them to order their dinner, in case they're busy.
8. Feedback
Your customers should be able to give their reviews about a restaurant or food dish that they ordered. This not only helps the public at large, but it also assists you to ameliorate your business.
9. Reward Programs
Your mobile app for food delivery must offer incentives such as loyalty systems, coupons and discounts to customers as it helps bring more customers to your business.
10. Analytics/ Order History
Your app users should be able to access their previous order history. Also if you keep a reorder option, then that is undoubtedly the cherry on the cake. Furthermore, the order history is extremely crucial for restaurants to keep a track of their analytics.
Herein, we would like to mention that ours is an eminent Android and iPhone app development company, and we offer the finest end-to-end mobile app solutions that help businesses soar to great heights. We hold mastery over crafting absolutely stunning on-demand food delivery apps. Our adroit developers know how food delivery apps work, and we thus leave no stone unturned to create sheer magic with our unparalleled solutions.
However now the next pressing concern that you might have is food delivery app development cost. Voila! We have also addressed that for you.
What is an Estimated Food Delivery App Development Cost?
Well, an estimated food delivery app development cost is not something rigid as it depends on a lot of factors that we need to examine, and these are briefly elucidated for you below.
1. App Complexity
This is one of the primary factors that define the costs of making an on-demand food delivery app. The more complex the app, the more would be the costs involved in development. If you integrate technologies such as AR, ML, and AI, then your mobile app for food delivery is sure going to skyrocket, but this also means that you'll have to spend a bit more on these robust technologies. Also besides technology, the other complicated features, functionalities, and app processing adds up to the complexity and costs of your on-demand food delivery app.
2. Number Of Features
The pricing of your on-demand food delivery app is directly proportional to the number of features that you incorporate into it. As a general rule, complex features necessitate a larger investment, whereas simpler features require less investment. These features can be anything from user authentication & payment integration to order tracking & push notifications, among others. An on-demand app development company can guide businesses to optimize the app features with the costs in mind. All in all, app features play a significant role in determining the app's success and user experience.
3. App Development Platform
You can launch your app in three different ways viz iOS, Android, and cross-platform. Herein it is important to note that the cost of developing an iOS app is much less compared to an Android app development since the latter caters to more devices. Cross-platform apps are however compatible with both iOS and Android platforms, albeit the cost varies according to the development platform that you opt for your on-demand food delivery app. You should thus carefully go through all the platform information for understanding how food delivery apps work prior to investing your money in the project. 
4. Technology Used
If you are considering how to build an app for food delivery, technology will play a crucial role.
Since many new technologies have cropped up and are floating in the market, it is thus extremely crucial for you to make the right call for your on-demand food delivery app. However, it is pertinent to mention that the better the technology that you opt for, the more would be the investment required and so greater would be the food delivery app development cost.
5. App Development Region
You need to narrow down on a particular area wherein you would like to operate. This area component plays a crucial role when deciding on the food delivery app development cost as it would greatly differ depending on your area of work operations.
6. App Development Professionals
You need to get expert app developers on board in case you wish to create an impressionable mobile app for food delivery. This is one of the most critical factors that you need to be careful with as an expert developer can help augment your business with a magnificent app. However such experts also demand a lot for their services, and this might even burn a hole in your pocket.
Zazz can nevertheless assist you, and our professional, albeit cost-effective services have helped myriads of other businesses. We provide the finest on-demand app development services that are tailor-made according to your distinct needs, keeping your end-user in mind.
Also, our adroit developers know exactly how to build a food delivery app and we would be glad to assist you.
Summary –
Now that you know the nitty-gritty details of how to build a food delivery app, you need to meticulously consider all the cardinal elements of developing a robust on-demand food delivery app, as it is surely not a cakewalk and your end-user requires a frictionless navigation experience. We would highly recommend you get in touch with some professional app developers for this purpose. We too will be at your disposal and would be happy to discuss your project. For more information, get in touch with us.