The Clubhouse app has gained global popularity, and you must be aware of it unless you live under a rock. This famous invite-only, audio-based chat application has gone viral, thanks to its novelty, innovative approach, lack of competition, and popularity among the most iconic personalities, like Mark Zuckerberg, Oprah Winfrey, Chris Rock and Elon Musk. Earlier, only the iOS version of the app was launched. However, looking at the increased demand, the Clubhouse app for Android was launched, thus contributing to its skyrocketed downloads. This one-of-a-kind app has seen meteoric growth with 10 million weekly users and more than 300,000 rooms are created on Clubhouse every day. That's huge!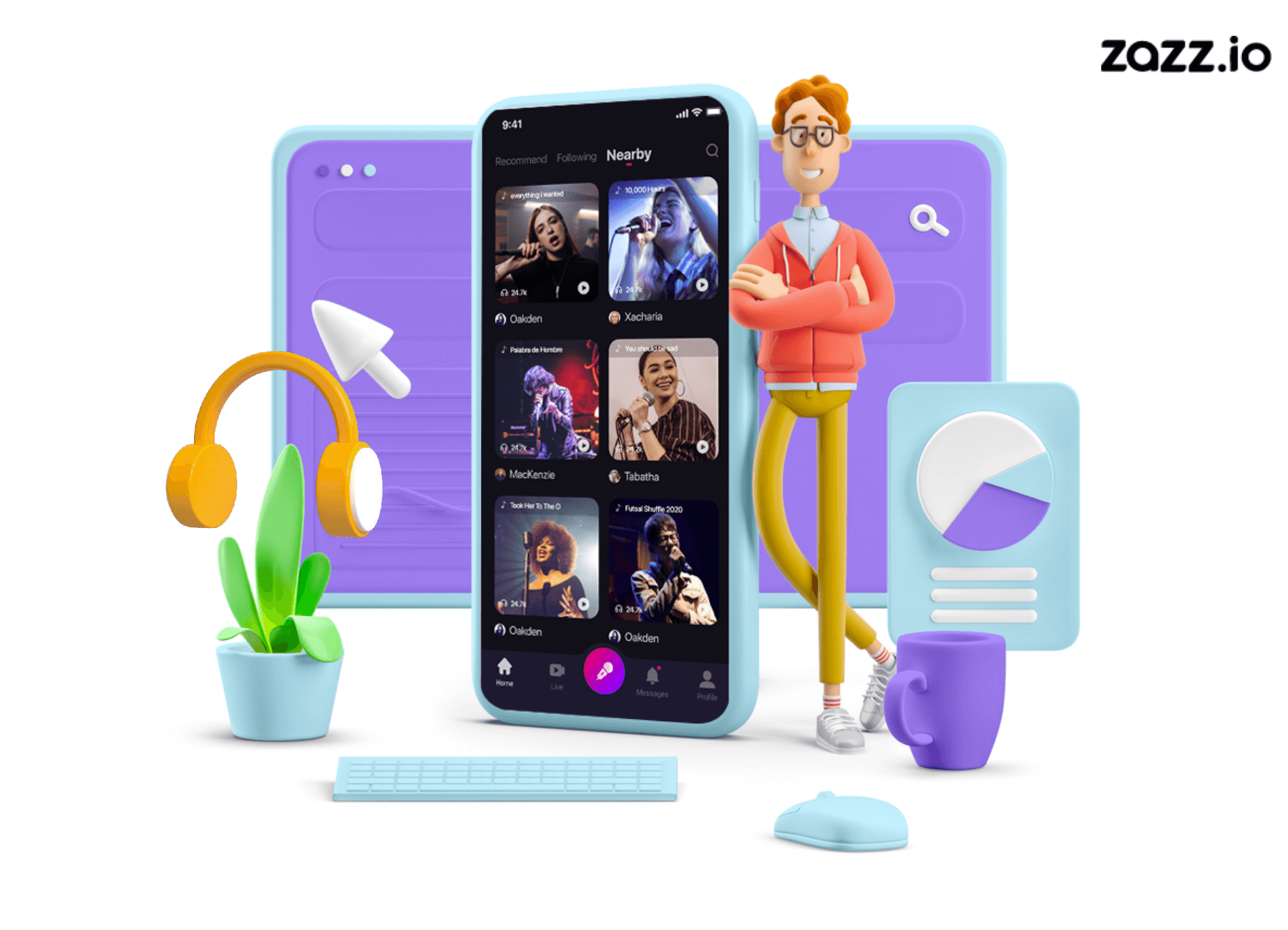 The Clubhouse application has become a market sensation and is expected to grow in the coming years. This audio-based app is the perfect example of outside-the-box thinking and a testament that there are ample opportunities for businesses in the crowded social media application world. All you need to do is build a unique and user-friendly app and launch it at the right time. 
If you're an entrepreneur looking forward to building an application similar to Clubhouse, you must know a few essential things, like the features, market potential, and cost to build a Clubhouse-like app. Overwhelming, isn't it? Don't worry! We will help you.
Clubhouse-Like App Development: A Useful Guide for Businesses
If you're wondering what the Clubhouse app is and why everyone is talking about it, you're lagging because this new social media platform has taken the world by storm. It has brought a breath of fresh air to the social media world and given a new opportunity to businesses looking forward to building a new social media app. In this blog post, we have covered every important point related to app development to help businesses find answers to the question of how to get a Clubhouse-like app.
What Is Clubhouse App?
The clubhouse is an invitation-only, audio-based social media application for Android and iOS devices. Developed and launched by Silicon Valley entrepreneur Paul Davison and ex-Google employee Rohan Seth in April 2020, this voice-only application lets users engage in a casual, drop-in audio conversation through rooms. Each room has a capacity of 5000 people. Since it is an invite-only app, the user base can be managed and refined to meet the changing needs of the users.
How does the Clubhouse Application work?
The Clubhouse app is a live-streaming audio-chat app with millions of users and millions more on the waitlist. It had more than nine million monthly downloads in February 2021. Unlike other social media applications – Facebook, Instagram, and Twitter, users don't need to generate images, text, or videos to stay relevant. And, the Clubhouse app creators don't target a particular age group. Instead, users of all age groups can engage with this audio chatting and podcasting platform and converse on nearly any topic.  
Major Attractions of the Application
Despite being just a one-year-old app, there are many reasons why this audio-based application has become so popular. The major highlights of this app are-
It is unique, and you cannot download it on your mobile phone. You need to get an invitation from an existing user instead. This helps in the authentication of the user and verification of their identity, thus preventing fake users from joining.
It doesn't target a specific niche. Users can talk about anything and everything, from mental health to technology. Each niche has a room, and you can be a part of a room based on your preferences.
It is an audio-based app, similar to a Podcast. But the difference is that Podcasts are not interactive, but the Clubhouse is. The users can interact with each other via the audio medium.
The users can choose as many rooms as they like as there's no limitation on the number of conversations you join.
How Building a Clubhouse-Like App Can Be Lucrative for Businesses?
As a leading app development company, we understand the ins and outs of the app development world and recognize the market potential of an app to help our clients take advantage of the opportunity. Clubhouse is a unique app, and businesses can capitalize on the popularity of an audio-based app by developing a Clubhouse-like app. Here's how a similar social media app can benefit businesses.
Expand Your Network
With a Clubhouse-style app, you can expand your network and build an audience of people that can be potential customers. You can create audio-based content related to your industry and attract an audience interested in the same. Once you become a popular and reliable content creator, they can collaborate with you.
Create a Meeting Space for a Huge Audience
Unlike Zoom and Google Meet that allows 100 and 1000 users in a meeting, respectively, the Clubhouse application can accommodate 5000 users in a room. With a Clubhouse-like application, businesses can hold meetings and seminars for a vast audience and broadcast their ideas on a broader scale.
Plenty of Room for Experimentation
Since the Clubhouse app is still new, there's plenty of room for improvement and experimentation. Contrary to the social media giants, like Facebook and YouTube, that are filled with advertisements, Clubhouse is still ad-free and wide open for experimentation. There's a lot that can be done with Clubhouse. Developing a similar app can help be a good platform for marketers to stress-test their marketing campaigns and take feedback from people or customers who are interested in a specific niche. 
Must-have Features of Clubhouse-Like Apps
To build an application that competes with Clubhouse or leverages the popularity of audio-based social media platforms, you must include some essential features or else the app will fail to stand out.
User Profile
The first feature should be onboarding, where the users enter the app, similar to that of the Clubhouse application. Unique username, profile photo, interest selection, and notification settings should be part of this feature. The profile creation process should be easy and simplified.
Invitation Feature
An invite-only feature worked for the Clubhouse app creators, but it can go wrong. On the one hand, it allows the creators to maintain exclusivity and control the user base and content published. But, on the other hand, it can limit the user base and your reach.
Interests
There should be a list of interests divided into various categories so that the users can choose the one that they like and become a part of the room that has people with shared interests. Thus, it offers a better experience to users and boosts retention.
Quality Audio Streaming
Since the Clubhouse app is audio-based, you should focus on offering a high-quality audio-streaming experience to your users. It should also have moderation features and privacy options so that the audience can interact with requests.
Rooms
Rooms are the centre of communication in an app similar to Clubhouse. In these rooms, users can add members, start a conversation, suggest topics, and find people with the same interests.
What Is the Cost to Build a Clubhouse-Like App?
To determine the estimated cost of building a Clubhouse-like app, you need to consider a few factors that play a crucial role.
a) Features and Functionalities
The Clubhouse-like app development cost depends on the type of features you want to incorporate in the app. The more features you add, the higher will be the cost. In addition, third-party service integrations, backend infrastructure, and in-app purchases all add to the cost.
b) Platform and Devices
The platform and device for which you are building the app directly affect its development cost. For example, building a cross-platform app will cost more than building a single platform app. That said, the cost of developing an Android app is slightly higher than an iOS app. And, developing an app compatible with older devices requires more effort and more money.
c) UI/UX Design
The UI/UX design of an app plays a vital role in determining the cost of development. The number of screens, logos, icons, wireframes, illustrations, graphics, special elements and more contribute to the cost. If you want to follow the Clubhouse app design, it is advisable to get in touch with UI/UX designers for more details. 
d) Location and Structure of Your Development Team
The cost of building a Clubhouse-like app also depends on the location of your social media app development company and the structure of the development team. If you go for a reputable firm, they will have a dedicated team of professionals for every project, thus ensuring precision. But the cost might be higher than hiring a startup or an independent developer who might have only one team to perform every task. Also, the number of people working on the project is crucial for the project cost. For example, if you're building a Clubhouse-style app, you need a big team of developers, designers, testers, and programmers to ensure the app meets the expectations. And, a significant workforce increases the total cost. 
Conclusion
Developing an application similar to the Clubhouse app is a smart idea to capitalize on the buzz created by this unconventional social media platform. However, since it is an invitation-only application, a vast community doesn't know how to get the Clubhouse app or is waiting to join a similar app. So, it is the perfect time to give them an alternative by investing in Clubhouse-style app development. All you need to do is contact a reliable app development company specializing in developing social media apps. And, your search ends at Zazz. Get in touch with us for end-to-end solutions.