In the past few years, cloud computing has obtained immense popularity and acclaim in the IT and the industrial sector. Now, with more significant reasons, businesses of all shapes and sizes acknowledge that cloud computing is here to stay and would love to fuse it with their operations. Hence, they are reaching out to companies providing cloud computing services.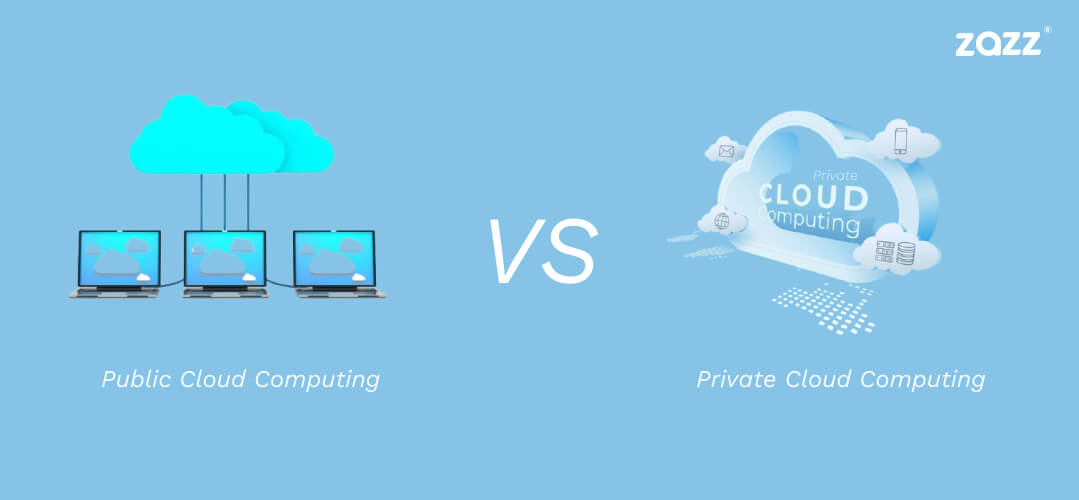 As cloud computing takes center stage, the dispute between private and public clouds pops up. Therefore, an organization aiming to shift to the cloud should meticulously be aware of the Private Cloud and Public Cloud because they come with benefits and shortcomings.
Before choosing the suitable and accurate cloud for your organization, you need to get valuable insights into the contrasting qualities of Private cloud and Public cloud, together with the nuts and bolts of Cloud computing.
What Is Cloud Computing?
Straightforwardly, the Cloud is an assemblage of servers hosting software and data, which are available to use over the Internet. The servers are stationed in data hubs globally. With the help of Cloud computing, organizations can get rid of tasks like server management and maintenance.
The evolution of cloud computing has changed the whole dimension for businesses about opportunities and usefulness. Businesses that are entirely reliant on IT to fulfil their goals have embraced and appreciated the worth of cloud computing because of its opportunities, scalability, on-the-spot solutions, and virtualized storage functionalities.
So now that you have understood the fundamentals of Cloud computing, let's move forward and talk about the two vital cloud models, namely Private Cloud and Public Cloud.
What Is a Private Cloud?
A private cloud is also termed the traditional cloud model. In a private cloud framework, you have full authority over the hardware. This indicates that your business builds a networking base, and right from there, it helps run your business apps, servers and various other software vital for your business.
With the private cloud, organizations have full liberty to personalize hardware, storage and networking components. It is highly preferred by organizations that deal with confidential data. It is trusted because of its flexible and scalable nature.
What Is a Public Cloud?
As the name suggests, resources are shared among numerous occupants in the Public cloud model. The basic concept of the Public cloud is:
You won't be able to gain control over your hardware;
Your organization won't be able to own the absolute rights to operate the hardware.
In the public cloud framework, cloud computing services are accessible to anybody on the Internet via third-party dealers. This model allows organizations and developers to acquire heavy-duty computing strength, storage, and architecture at a low cost.
Also Read: The Essential Cloud Computing in the Healthcare Domain
Which Cloud Computing Model Is the Best for You?
Well, for organizations planning to shift to cloud computing, there are several vital points to consider. This will clear your confusion regarding the public and private cloud and which one you should go to boost your business.
As far as security and privacy are concerned, the Private cloud stands as the clear winner. The name itself states that. Furthermore, a private cloud can be firmly sealed. For instance, your cloud isn't available to any external internet connection but a private intranet connection.
Large-scale businesses with various headquarters or remote employees can utilize VPNs (Virtual Private Network) and further security measures to acquire the private cloud. The chances of data violation are needle-like.
In the case of the public cloud, you have minimal security and privacy. The maintenance of your security is in your own hands. Suppose your IT team isn't efficient to keep your security updated and in order; it might be dangerous to your business due to data breach threats.
Well, this is a matter of concern, though. Startups and small-scale businesses that have limited budgetary restrictions and cannot hire top-level information security experts often choose the public cloud model instead to run their business. Full-grown large-scale businesses blindly choose the private cloud model to launch cloud computing applications for much-secured business processes.
When ideally conducted and directed, public cloud is equivalent to private cloud in terms of security and privacy. It's necessary to consult a leading cloud app development company to resolve your issues.
Cost plays an important part and is the focal point of concern for organizations worldwide. Private cloud is on the expensive side, as it uses cutting-edge hardware, greater bandwidth, ample cooling, drive backup, and licensing for a complete firm. The requirement of experts to keep track of and update daily to meet the growing demands of your business incur further costs.
Public cloud, on the other hand, is affordable if compared to Private cloud. For instance, with the modular system of Microsoft Azure, you can bag services of your preference and pay the amount based on that. Therefore, it's highly beneficial for numerous organizations to thoroughly calculate the functionalities and features they want to incorporate and sketch out an amount for their project.
The public cloud is the winner regarding cost-effectiveness, as it can cut down the cost by a considerable margin.
If you talk about the reliant nature, the Public cloud is highly reliant. Cloud service providers such as Microsoft Azure and Amazon AWS have numerous databases. They have substantial custom-built internet trunks, power reinforcements, and loads of employees to keep everything streaming swiftly. As a result, service hindrances and obtrusion are practically nil.
In contrast, the Private cloud is not that reliant in comparison. For example, if your hard drive ceases to function or the motherboard breaks down, you must alter the apparatus with the most negligible downtime.
Hence, if you want your Private cloud to be heavily and extra reliant, you have to invest quite many bucks. These escalate the overall cost of your project, which is why Public clouds are preferred mainly by organizations that rely entirely on cloud storage.
Scalability is one of the vital concerns for businesses that are flourishing with time. Private clouds, regarding this, acts as a stumbling block. To scale your applications, you need private cloud signals to purchase software licenses, hardware, and IT professionals to nurture it. Rather than the business, the cost gets more significant to meet the business requirements.
If you look at the Public cloud platform, the pricing is already scaled. With the help of Microsoft Azure, if you wish to add a new service, a couple of clicks or a quick and convo with an account representative will do. Services are charged based on your usage, hence scaling is preprogrammed.
With the public cloud framework, the leading cause of complexity is removed, i.e. the hardware. Public cloud gifts are primarily servers, and you have the complete liberty to use them the way you want, deriving from the operating system. Unfortunately, managing these is quite complex because every application detail is yours to shape and structure.
The complexity in the Private cloud is generally grand when you're building and organizing everything. As soon it's completed and flowing, the complexity level crashes and dives to the maintenance zone. A well-running front-end private cloud structure looks the same as a Public cloud structure to the end-users. Nevertheless, you have to keep your IT professionals active and available all the time to label issues, be it for fixing bugs or for hardware problems.
Hence, Public Cloud is less complex if compared to the Private cloud. So if you're looking for a cloud computing solution that is easy to manage, public cloud is the right choice.
Public clouds stand out in the area of maintenance. A devoted team of Microsoft or Amazon is constantly updating and maintaining to better their cloud systems. This, in turn, saves quite a few bucks as it doesn't demand any additional amount to maintain your hardware.
On the contrary, maintenance is in your own hands in the Private cloud. If your IT unit fails to keep your software updated, your business can be in trouble. If you don't possess the resources required to dodge downtime, the maintenance windows take out the real-time data of a cloud system. It is thus clear from the very fact that the Public cloud offers you peace of mind.
Public Cloud vs Private Cloud: What Is Your Best Shot?
Well, relax! Let's clear the confusion. Hopefully, this will shed light on the suitability of implementing either a Private cloud model or a Public cloud model for your business.
Private Cloud is the best shot for:
Large-scale industries and government firms;
Businesses dealing with confidential and essential data;
Companies that need well-built security infrastructure;
Organizations that can spend more to get best-in-class performance and accessible technologies.
Public Cloud is the best shot if you want:
Calculable computing wants, mainly communication services for a certain number of end-users;
Cloud computing apps and solutions to execute IT and business dealings;
Added resource demands to address diversified top demands.
To build a cloud computing application with strict budget limitations. Recommended for startups and small-scale industries.
The Key Takeaway
The IT industry is evolving at a rapid speed, so is cloud technology. The Private cloud vs Public cloud contest should not reside in the cloud computing arena since it has zero importance. Both the models come with a set of positives and negatives and work distinctively in different situations.
Well, it's better to consult a leading SaaS development company that will provide you with all the necessary and nitty-gritty details regarding Private and Public cloud based on your business requirements.
Zazz is the most eminent SaaS development agency specializing in cloud computing services for businesses of all shapes and sizes. Our SaaS developers have helped numerous organizations around the world by providing customized cloud solutions. Hire SaaS developers from Zazz to gain a competitive edge in the market.
Also Read: Everything You Need to Know About Salesforce Marketing Cloud