A revolutionary combination of performance and efficiency is the brand-new M1 processor available in Apple's latest MacBook Pro i7, MacBook Air, and Mac mini. Launches of the Lightning-fast software, quick video transcodes, and the capacity hours of battery life.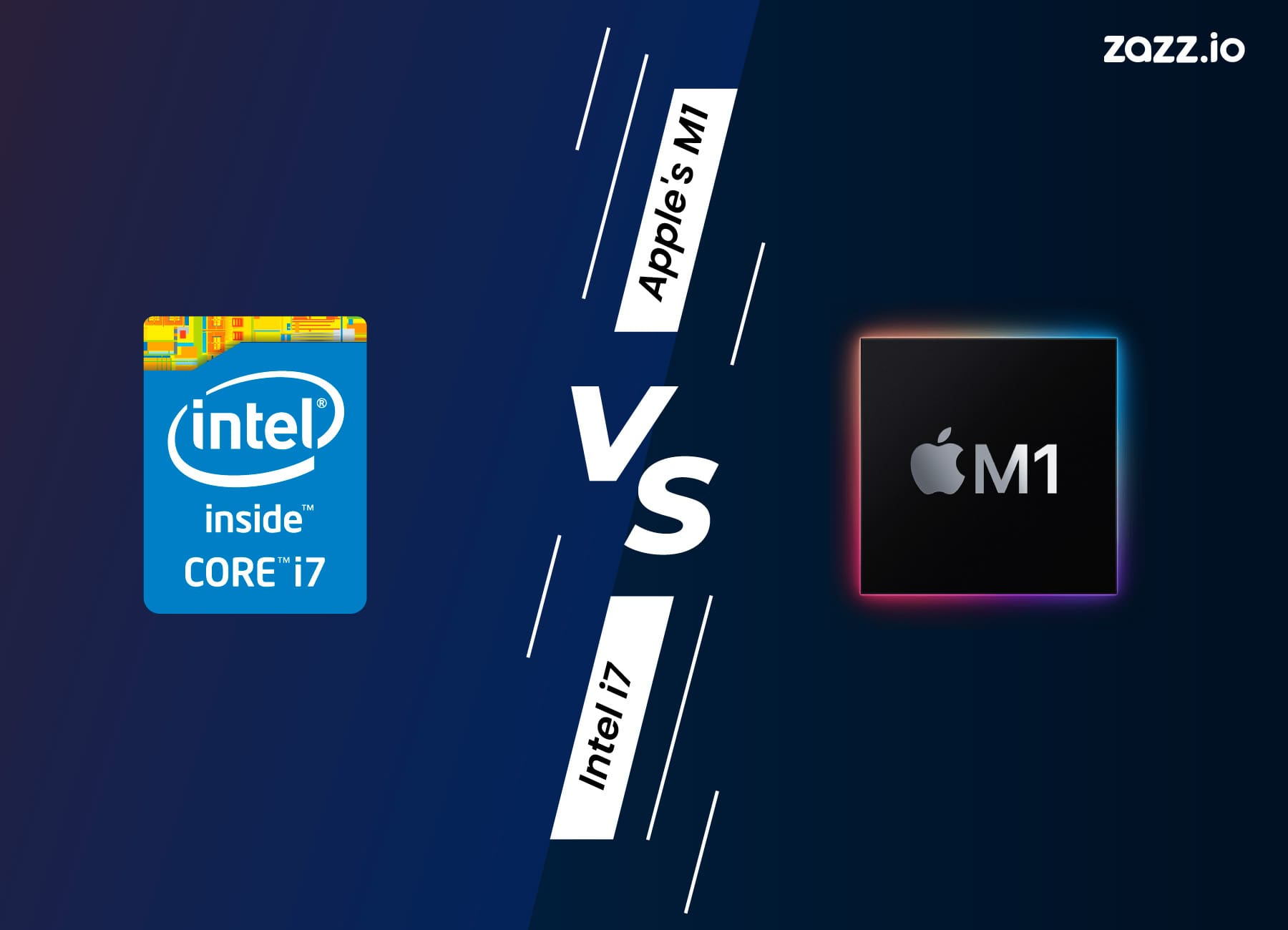 Apple says the latest M1 chip is indeed faster and more power-efficient than the Intel Core i7 processor used in the prior generation MacBook Pro. It also says almost double battery life without adding any more weight. It sounds fantastic, and the latest MacBook is sure to be a fabulous computer.
Apple M1 Chip Cheat Sheet:
Found in: MacBook Air, MacBook Pro, Mac Mini
Architecture: Arm-based
CPU Core: 8-core CPU
Nm Process: 5nm
Graphics: Integrated 8-core GPU with 2.6 teraflops of throughput
Memory: 8GB or 16GB of LPDDR4X-4266 MHz SDRAM
Apple M1 Chip Vs Intel i7:
In this contrast, the Apple M1 chip compares to the Intel Core i7-10875H. The Intel i7 is a clear winner in frequency, single Turbo core, and all Turbo cores.
While the Apple M1 comes with a 1.80 GHz frequency, at 2.30 GHz, the i7 tops. M1 also lacks the single-core Turbo power that plays a significant role in the chip and the entire system's performance, notching in at just 3.10 GHz, compared to the mighty 5.1 GHz of i7. Besides this, with 3.10 GHz, the All Cores Turbo power of M1 comes a bit close to i7's 3.21 GHz.
The GPU's frequency and efficiency is where the M1 chip highlights, prompting it to be not only a well-packaged power housing chip but also an effective one at the same time. Intel i7's GPU frequency looks inferior with its 0.35 GHz capacity to M1's 1.80 GHz. Compared to Apple M1's 3.10 GHz, the turbo power of the i7 GPU also falls short with just 1.20 GHz. Even the process used to build the chip is dramatically distinct.
Even in the newest Apple iPhones, the M1 chip focus on the 5NM technology used. The i7 is based on 14NM technology, on the other hand. However, expert ios app developers of Zazz stated that it is too soon to assume a chip's real-time output based on on-paper configurations.
You Should Know About Apple M1 Lineup
The M1 13-inch MacBook Pro has a wide range of competitors in the set of Mac benchmarks our experts use, one of which may be considered a very wide one. On a simpler scale is a pair of 2018 Mac mini, equipped with 3.2GHz 6-core Core i7 and 3.6GHz quad-core Core i3, as well as 8GB of memory on both.
| | | | | | | | |
| --- | --- | --- | --- | --- | --- | --- | --- |
| S.No | 13-inch MacBook Pro(M1) | Mac mini(Core i3, 2018) | Mac mini(Core i7, 2018) | 15-inch MacBook Pro(Core i7, 2018) | 15-inch MacBook Pro(Core i9, 2018) | 16-inch MacBook Pro(Core i9, 2019) | Mac Pro(2019) |
| Processor | Apple M1 | Core i3 | Core i7 | Intel Core i7 | Core i9 | Core i9 | Xeon W-3223 |
| Cores | 8 | 4 | 6 | 6 | 6 | 8 | 8 |
| MacOS Edition | 11.0.1 | 11.0 Beta | 11.0.1 | 10.15.7 | 11.0.1 | 10.15.7 | 11.0.1 |
| Memory | 16GB | 8GB | 8GB | 32GB | 32GB | 32GB | 382GB |
| Graphic | Apple M1 8-core | Intel UHD Graphics 630 | Intel UHD Graphics 630 | Intel UHD Graphics 630 | Intel UHD Graphics 630 | Intel HD Graphics 630 | AMD Radeon Pro 580X 8GB |
Apple M1 Vs Intel i7 Features
Source: Appleinsider
Apple M1 vs Intel i7 : Checkout Video to understand everything in detail..
Apple M1 vs Intel i7: CPU Benchmark
In both single and multi-core testing, the Apple M1 managed to perform significantly better than the Intel i7. However, the recorded results show a 19% increase in Single-core performance and 56% in Multi-core performance.
| | | |
| --- | --- | --- |
| Geekbench 5 | Single Core | Multi-Core |
| Apple M1 | 1687 (+19%) | 7433 (+56%) |
| Intel i7 | 1421 | 4768 |
Apple M1 Vs Intel i7 Core
What Is So New In M1 Chip?
The M1 chip refers to as "Apple silicon." This is an in-house custom microprocessor that Apple has developed. The ARM instruction set use for the vast majority of mobile phones and tablets.
In comparison to the Intel x86 instruction set, which is what is used by most desktop and laptop computers in the world. These chips also design to operate macOS applications based on Apple's iOS and ARM as effectively as possible. This ground-up, in-house concept promises excellent quality.
Also Read: Apple iOS 14.5 Released
M1 Chip Is Beating The Range Of Intel i7 & i9:
The leaked results of Apple's latest laptop show the M1 in a MacBook Pro 13 scoring 1498 points for the single-core test in Cinebench R23, according to an article by Techradar. In contrast, the Core i7-1165G7 scored 1382 points. In the multi-core test, the M1 is marginally ahead as well.
When it comes to the M1, efficiency is just a part of the picture. For years now, Apple machines such as Macbooks have struggled with high power consumption and hot CPU temperatures. Intel has struggled to produce more power-efficient chips that are cooler. This results in the throttling of efficiency.
Both of these problems are resolved by the M1. With less power, ARM processors are built to do more work, which means longer battery life and less heat. The M1 is so good that no fans were put on the M1 Macbook Air by Apple at all.
It's Time To Shop For An M1 Computer?
If you can jump in and order an M1 Mac to substitute your current unit is the big question. We would assume that the answer is usually "no" right now in the case of the Mac Mini. The M1 Mac Mini cannot upgrade, has a slower network link, and is less appealing as an overall product than the old model.
Things get more complicated with the M1 Macbooks. The laptops M1 Macbook Air and M1 Macbook Pro 13 are both mechanically almost identical to the ones based on Intel. As well as iOS apps and (obviously) M1-native programs, they will run all of the same software as the Intel versions. Their battery life has dramatically improved, and their native code performance is significantly better than the same Intel-version software running on Intel Macbook models.
Closing Note:
Zazz clearly states, Apple Silicon is the prospect of the Mac. The only other caveat is that better technology implementations may soon replace these first-generation M1 Macs. So in the meantime, if you're not due for an update, your new Macs will be just fine.
Are you still looking for more understanding? Get in touch with our potential team of iOS developers. We are Zazz, the leading iOS mobile app development company in the USA, offering winning app strategies, beautiful app designs, robust development of applications, and stand-out marketing for launch.
Also Read:
Mobile Application Developers New York
Software Development Services in USA
User Alert: WhatsApp Users May Lose The Access to Their Account
Flutter Mobile Application Development Company
Android Mobile Application Development Company