Finally, the wait is over: iPhone 12 is now available. However, it has come a month later since its initial launch. However, this iPhone device offers a unique set of features that make it Apple's most reliable smartphone to date.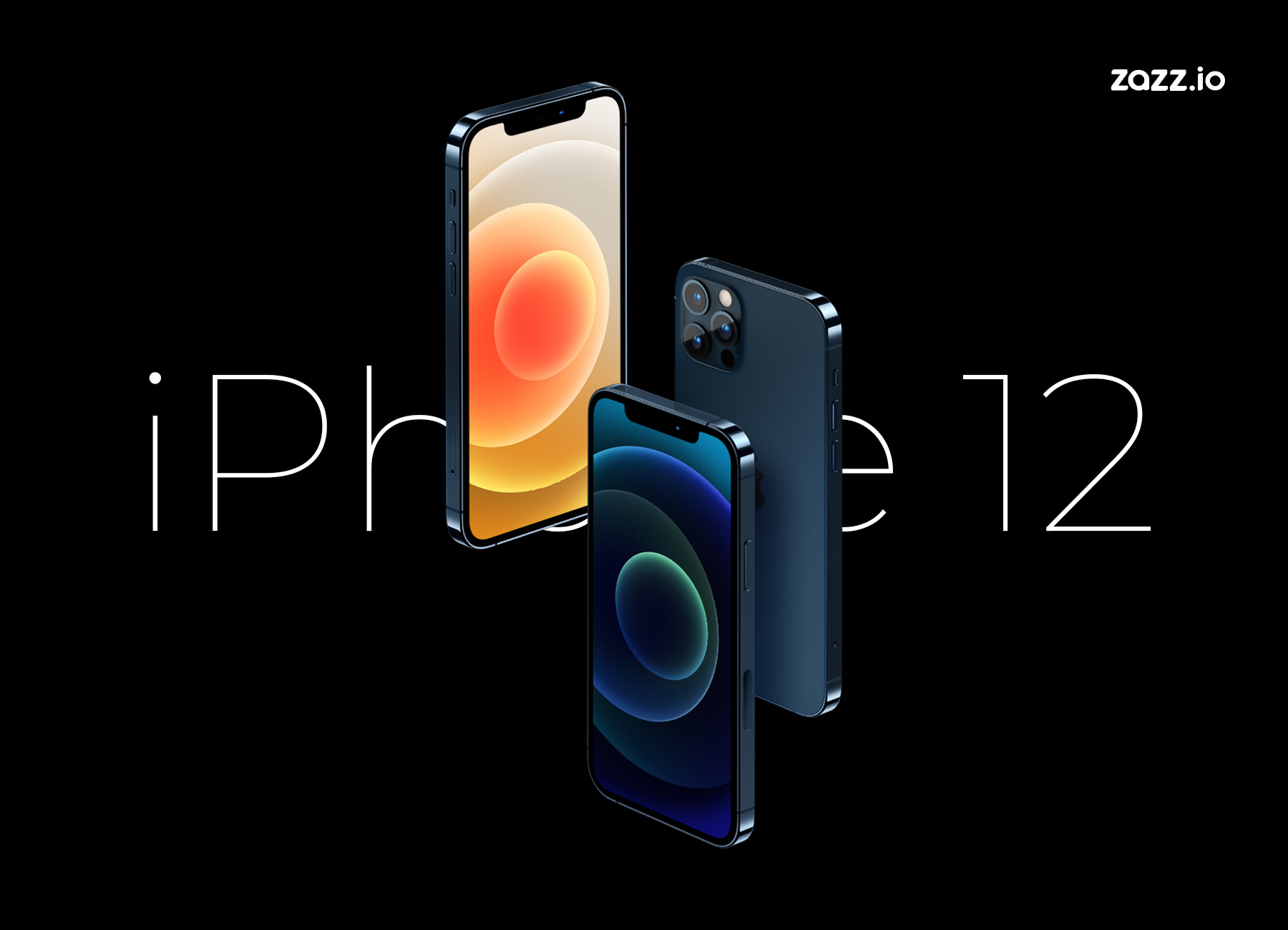 It happened for the first time in history. Apple has a family of four-team phones. Also, it is the first to be equipped with 5G technology. The new era of the iPhone has arrived, and it is an "extraordinary moment for us," said Apple CEO Tim Cook, describing the arrival of a new mobile phone from Apple which is accompanied by support from the community.
So, in this article, we will cover all the aspects related to iPhone 12, such as price, features, model and date. Let's have a look:
Prices & Availability of iPhone 12
Customers in the US and more than 30 countries and territories will be able to order iPhone 12 starting Friday, October 16, and it will be available in stores on Friday, October 23. As per the professional mobile app development agency, the iPhone 12 mini will be available for pre-order the following month. However, on Friday, November 6, and will be available in stores on Friday the 13th.
Now we will look at four models, and the iPhone 12 prices are as follows:
| | |
| --- | --- |
| iPhone 12 Models | iPhone 12 Price |
| iPhone 12 mini | $ 699 |
| iPhone 12 | $ 799 |
| iPhone 12 Pro | $ 999 |
| iPhone 12 Pro Max | $ 1,099 |
What Models Will There be for The iPhone 12?
Upto four models are being talked about in 2020, leaving the Pro in half as before and adding the Max model to the base model. The main features that set them apart at first glance are their size and screen, which, according to some iOS app development agency, it will range from 5.4 inches to 6.7 inches. Moreover, the following names and characteristics were discussed, according to a recent iPhone leak news:
| | |
| --- | --- |
| iPhone 12 Models | iPhone 12 New Features |
| iPhone 12 mini | 5.4-inch (aluminum) Super Retina XDR display |
| iPhone 12 | 6.1-inch Super Retina XDR (aluminum) display |
| iPhone 12 Pro | 6.1-inch (steel) Super Retina XDR display |
| iPhone 12 Pro Max | 6.7-inch (steel) Super Retina XDR display |
Moreover, last year the iPhone 11 Pro and Pro Max released a dark green colour and the iPhone 11 followed after the iPhone XR in a slightly bolder colour. And what's to expect for this iPhone 12 is that there is a model in navy blue.
Also, the back having the glass we have seen in the 2019 iPhones, matte and more resistant to fingerprints. Recent leaks indicate that the colour will look like this:
| | |
| --- | --- |
| iPhone 12 Models | iPhone 12 Colours |
| iPhone 12 mini | Black, White, Red, Blue and Green |
| iPhone 12 | Black, White, Red, Blue and Green |
| iPhone 12 Pro | Gold, Silver, Graphite, and Blue Colors |
| iPhone 12 Pro Max | Gold, Silver, Graphite, and Blue |
Quick Glimpse on iPhone 12
The new iPhone 12, the standard model in the new family of iPhone devices, comes with a fresher look. Even though it is small in size, this doesn't mean that the benefits are lower, otherwise. It's made with ceramic nanocrystals – using a technique called Ceramic Shield. Also, it is more resistant than the hard glass of previous iPhone models.
It was able to withstand accidental impacts and falls four times longer. The edges are made of aerospace aluminium and are available in five colours: red, white, green, blue and black.
The display is a 6.1-inch Super Retina XDR OLED, the best product Apple has produced to date, more resistant to scratches, thanks to the dual ion exchange on the glass. It has 1,200 nits to make HDR content shine and 2,000,000: 1 contrast. The resolution has been much better, and the targets are less distracting to the human eye, which rests more when reading emails or any document on this new phone.
The New iPhone 12 Enhanced Features
Its dual-camera system, that is, combines "only" two rear, 12-megapixel lenses – the same ones that the front camera also sees – with both a wide-angle and an ultra-wide-angle. They come with an enhanced night mode that lets you take quality photos in total darkness. It also incorporates HDR 3 technology, which intelligently enhances the appearance of the elements of each image.
It comes in three storage capacities: 64GB, 128GB, and 256GB and is dual SIM (eSIM) compatible. The battery is high-speed charging and charges up to 50% in just 30 minutes. According to Zazz, a competent app development company, it's worth noting that it doesn't include a wall plug or headphones.
The New iPhone 12 Mini – Apple's New Line of 5G Phones
Apple has also introduced a device very similar to the iPhone 12, only in a scaled-down version. Its technical characteristics in terms of the processor, materials of manufacture, storage capacity, battery, camera system, etc., are precisely the same.
The main difference between one and the other lies in their size. The iPhone 12 Mini's screen is 5.4 inches, not the 6.1 that its older siblings have.
New iPhone 12 Pro – Features Revealed
The new iPhone 12 Pro specially designs for the more demanding user, who wants to have the latest technology in his pocket. Also, it comes in silver, gold, graphite and pacific blue. It has an exquisite feel to the body made of matte textured glass, and it has Ceramic Shield in front.
The iPhone 12 Pro has a triple camera system, 12 megapixels, with a wide-angle, ultra-wide-angle and telephoto lens. It incorporates advanced technology for taking portraits in the new night mode. Moreover, it upgraded from the iPhone 12 family and has a digital zoom of up to 10x. Also, the front camera is 12 megapixels.
The processor you are looking at is the new A14 Bionic, as are the rest of the original lineup presented by Apple. As for the operating system, iOS 14, the latest version of the mobile software developed by Apple, is also launched. Of course, it associates 5G connectivity.
iPhone 12 Pro Max – Leading The iPhone Family Like Never Before
And for those who want to have the best technology to enjoy a bigger screen size, Apple has created a flagship version of the iPhone 12 Pro, Max. The features are quite similar, although the iPhone 12 Pro Max screen measures 6.7 inches and has a higher resolution.
It includes a few other enhancements, such as 12x digital zoom instead of 10, like the iPhone 12 Pro has, or optical image stabilization in a wide-angle shift. But except for a few details in the camera system, the equipment is the same, only with a bigger size.
Not Only iPhone 12, There Will More Latest News
Some leading app development companies pointed out that Apple will sell the HomePod Mini for $ 99. However, Apple will announce the latest magnetic case for the iPhone with MagSafe. Also, it releases two Apple official wireless chargers called the MagSafe Duo Charger and MagSafe Charger.
Moreover, using the brand name is the same as the magnetic charging cable they had on their computer—old MacBook laptop. If you still have questions regarding this topic, then let's discuss with us. We are waiting for your trouble.