New technologies have gone from being seen as a barrier to the inclusion of people with disabilities, to be tools to improve their quality of life of visually impaired people and their participation in society.
These advances, for example, make life easier for many people who are unable to see, visually impaired, or with accessibility problems. Being able to read things that are only in visual impression, was a task that could have required a person without vision to seek the help of another person.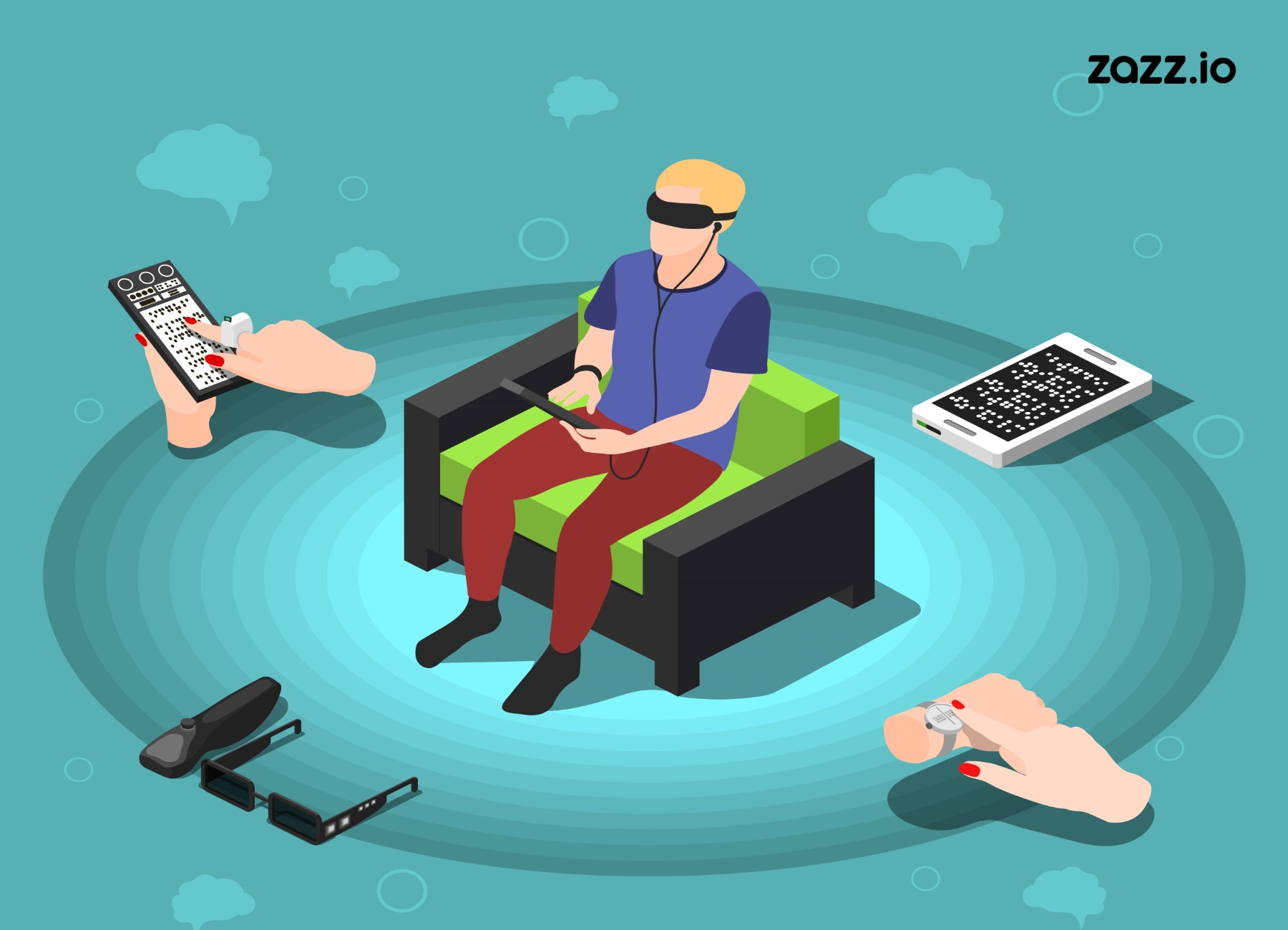 With the help of third-party mobile applications and the technology integrated into the mobile device itself, we can make the smartphone also a useful tool for this group of blind people, helping them noticeably in their day today. Apps are offering people new ways to read things and actually do anything in new ways: we learn to read with our ears and to write with our voices.
Lazzus, An App For The Blind
Tested and endorsed by the ONCE, Lazzus is an app developed by an Austrian company with the aim of becoming a personal assistant that helps the autonomy and mobility of blind people. Available for iOS and Android, the application creates an auditory field of vision and provides relevant information about theory (if there is a pedestrian crossing, a crossing of streets, stairs or specific establishments) to favor the movement of people with visual disabilities. The app has a flashlight mode, which indicates what is in the direction indicated by the mobile, the 360º mode recognizes what is in a radius near the device in all directions and the transport mode is automatically activated when traveling by bus or car. Lazzus provides accurate information and allows searches within a radius of 100 meters. He has received the Google Start-Ups award for mobile innovation 2015.
Glasses Off, Train Your Eyes
Our view changes after 40 years. Presbyopia and tired eyesight are the first of the changes to be faced. Prepare your eyes to face the demands of day today and the changes that age brings associated. How? According to the developer of Glasses off, doing 12 minutes a day a series of exercises (similar to Brain Training games) helps to improve the way in which the brain processes the images we perceive of the environment, improving our attention capacity and recognition of figures. Glasses Off, available for iOS and Android, includes the first evaluation of the view and a free trial version of 1 week.
Blue Light, How To Avoid Its Negative Effects
Excessive exposure to harmful blue light emitted by digital screens and mobile phones can lead to sleep and anxiety disorders. To alleviate the negative effects of overexposure of a hyper-connected life, there are visual health tips such as resting your eyesight, maintaining an adequate distance between screens and eyes, and a correct corporal attitude. But we also have the help of lenses with special filters for blue light and apps designed for digital life like Twilight. It is an application that automatically adjusts the brightness of the screen of smartphones and tablets to improve the quality of sleep and protect the eyes from excessive exposure to blue light. Depending on the time and location of the device, the application automatically reduces the brightness and light of the screen to safeguard the sleep quality of the device owner. Available for Android, there are many similar options for iOS, including Flux, which is responsible for graduating light from the computer screen, reducing the amount of blue light that radiates.
Low Vision Simulator
The Association of Affected by Retinitis Pigmentosa of Guipúzcoa Begisare has developed an application to put on the skin of people with low vision. The app is a simulator that recreates different symptoms and difficulties that people with low vision have to face on a day-to-day basis: loss of peripheral vision, loss of central vision, patchy vision, night blindness, photophobia, and loss of contrast sensitivity. In Spain, approximately 70,000 people suffer from blindness and one million people have low vision. The app I have Low Vision VR is an initiative that aims to generate knowledge, understanding, and understanding through experience and know-how people with low vision see. It is a useful tool both for the different professionals related to low vision (ophthalmologists, opticians-optometrists, visual rehabilitators, psychologists, educators), as well as for the affected people themselves and the groups that represent them.
You Mobile, Your Glasses
Supervision for Cardboard is an app developed in Alicante to facilitate the vision of people with visual problems. It is designed for all those who present from a small visual difficulty, such as presbyopia or tired eyesight, to those suffering from a much more severe pathology, such as macular degeneration. In its simplest way, the app is an electronic magnifier (magnifying glass) to enlarge the view of the object or text and facilitate reading. Tested by the Retina Affected Association of the Region of Murcia (Retimur) and in collaboration with the ONCE, the Supervision application for Cardboard offers an advanced mode for people with visual impairment based on Google Cardboard that allows you to attach it as virtual reality glasses. The system in bifocal mode detects when the user looks in front or face down which allows, for example, a student with visual impairment to attend the blackboard while taking notes.
Google Talkback
An accessibility service that helps people with vision problems. It is an audio guide system, with spoken comments of each menu and vibration to navigate Android. It is usually pre-installed on most Android devices and can be activated from the Accessibility menu. Google Talkback varies with devices.
BeMyEyes
A complete app that we already talked about where non-blind people can also collaborate. The blind person points with his camera the object he wants to know and the rest of the users will describe it to him. A connection that will bring us closer to a world that perhaps many of us are not used to.
Color Detector
Identifying colors can be trivial for those who can see them but not for blind people. With a color detector, we can use the application to focus on a color and it will tell us. Very useful for designers, engineers, or artists and available in Portuguese, English, and Spanish.
Google Accessibility Test
Google has launched an application designed to let developers know if their application is adequate in terms of accessibility. An app that Android creators would do well to take into account. Simple to use and very important so that in general the ecosystem of Android applications improves.
Also Read: Where To Find App Developers?
Map4all
Mapp4all aims to be a kind of Wikipedia for accessibility. An application where we will find information about those points with mobility problems, hearing problems, traffic lights without sound, or areas without access for wheelchairs.
App & Town and Eye-D
App & Town is a standard transport application except that it adds a function that many others should add: a focused guide for the blind.
On the other hand, we have Eye-D, an application that will detect our position and help us navigate the sites. It will explain what we have close to us, where we are or we will receive help and assistance. It is a company app that continues in development and continuous update.
Linguo
It is one of the most original applications of this collection. It started as an application for blind people to read web pages and ended up becoming a kind of radio. An inclusive application that allows you to generate a playlist, download all kinds of articles in voice and explore news.
identify
This application, developed by a student in Toronto, allows blind people to obtain voice descriptions of objects by simply focusing them with the camera of the mobile phone. For this, it uses Google Vision, CloudSight, and Google Translate, although it is only available for iPhone and English.
Day to Day
Created by the Orange Foundation, this application is designed especially for people with autism or communication problems. Among other functions, it allows keeping track of daily tasks in an easy and intuitive way, thanks to the visual elements and offering different personalization options.
Also Read: How much does a chatbot cost?
Accessibility Plus
It has a geo-location system that allows the user to locate interest points enabled for people with reduced mobility. It also allows adding new points, which will be reviewed by the FAMMA (Federation of Associations of people with physical disabilities) and, if approved, will be included in the application.
Disabled Park
It allows people with disabilities to locate car parks reserved for them on the map. In addition, it is possible to add parking spaces and denounce those cars that are improperly using areas reserved for disabled people. The application is only available for Android, but it is possible to add direct access to the web on the iPhone.
Brailliac: Braille Tutor
It is an application that facilitates the learning of the tactile reading and writing system for the blind, that is, Braille. It has a guided practice mode and also an automatic translation mode from and to Braille which helps the users to learn little by little.
Lets Discuss Your Project Idea with Zazz Apps Development Experts.
Also Read: