Mobile app development has become one of the most promising and profitable industries in the last few decades. Many mobile application development companies help almost all types of industries to handle different problems and daily chores. There are many apps available on Google's Play Store or Apple's App Store that meet the many other customer demands. Hundreds of developers upload and update their apps regularly to meet the market requirements.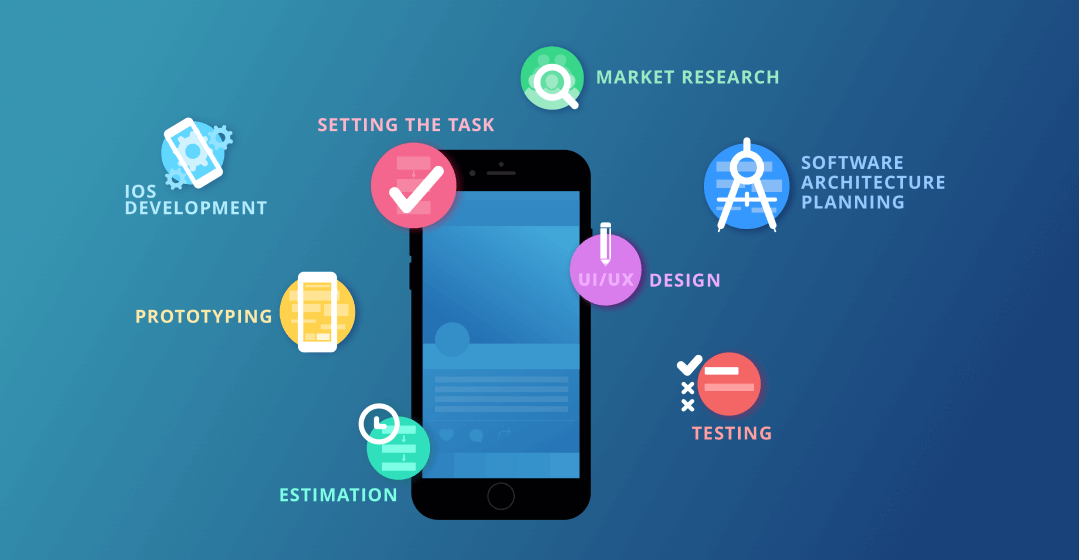 There are about 1.5 million applications available on the App Store. Several reasons make people love iOS so much. Firstly, it is simple, and secondly, the App Store submission process needs huge attention so users can get high-quality mobile products. Finally, Apple started focusing on user privacy and considers it as a top concern for the company.
As a result, app developers and designers have to work hard while developing iOS apps. They focus on delivering a quality product that is a cut above in one way or another.
Step-by-step Guide for iOS Application Development Process
The iOS app development process is nothing superior to a simple mobile application development process. Just like Android app developers, all the iOS app development company begins with planning for the application. Then designers focus on designing the app followed by its development and testing before releasing it. Once the app is ready to use in the market, developers focus on subsequent continuous maintenance of it until it exists.
Generally, the iOS development process is quite tricky as the developers have to take care of several development rules set up by Apple. The company focuses on delivering a user-friendly and secure user experience. Therefore, iOS app developers implement all the required elements and best practices to have a successful final product as per user expectations.
1: Strategy, Research & Analysis
Any mobile app development team needs to prepare a proper strategy for evolving your idea into a successful app. You must develop an innovative and compelling vision to enhance your overall enterprise mobility strategy. In this phase, developers have to analyze the app users with its goals and objectives deeply.
All the essential details related to your apps, like its look, features, and functions, clearly explain your business app developers. Developers work hard to grab your target audiences' attention by providing exceptional features to their app.
2: Go through Apple's Guidelines
Before designing the iOS app, developers must promote their app on Apple App Store to make it available for target users. Users can then download the app, post their feedback and reviews, and give a high star rating. But before promoting your app, it is essential to keep yourself updated as per Apple's App Store guidelines.
These policies make developers aware of all safety standards by providing legal and business formalities regarding the iOS app development process. It prevents developers from spending extra time on app modifications so that the iOS store can accept your app right from the beginning.
3: Prioritize the App Design
The app designing process is essential, primarily to deliver a flawless business app for the iOS platform. You can easily access all the information related to Dos and Don'ts tips for iOS app design on the Apple official website. 
Developers ensure that the iOS app they are developing is as per proper optimization to offer easy navigation and control to users. To target your app users significantly, developers use an intuitive User Interface and engaging User Experience to generate outstanding design prototypes.
4: Prepare Wireframes & Prototypes
Mobile app designers can begin the iOS app designing process with sketches on paper. Wireframes are the digital form of sketches that any iOS app development company can use to prepare conceptual layouts as per the app's functional requirements. It is a cost-effective and straightforward approach to create wireframes for designing app layouts.
Prototypes simulate the user experience and the app's workflows, but prototype development is quite a time-consuming process. It also offers early-stage testing of your app's design and functionality to identify modifications as per the app's functionality.
Also Read: The Most Sought-After Destination To Hire iOS Application Developers
5: App Testing
It is essential to test the application before submitting it to the Apple App Store. The app testing team must ensure that the mobile app is free of bugs and can render super-fast performance. The iOS app development team must go thoroughly to the app after completing the app development process.
6: Post Maintenance of the App
Once you are done with the app development and submission process on the iOS store, updating the app regularly is very important. Developers must update the app regularly, even after releasing it on the iOS store for download. Make sure that the development team can support regular maintenance as per iOS updates.
Routine maintenance helps in minimizing several issues that users might face while using your app. It also makes users enjoy the wonderful experience of your business app.
Final Words
All the leading iOS app development companies like Zazz follow the same steps as given above to deliver quality applications as per user requirements. The company believes that building iOS applications with the latest tools and programming languages helps developers create high-quality products. 
Still, sometimes the process may vary with the particular demand or requirement of users. In such a case, developers have to find the most effective solution to ease the app development process.
Also Read: