Every sector is changing as a result of on-demand apps. These applications offer a wide range of on-demand services, including groceries, meal delivery, personal health, laundry, and auto rentals.
To produce strong and inventive on-demand applications, businesses work with on-demand app development companies. The moment is ideal for making an investment in on-demand app development and growing your company.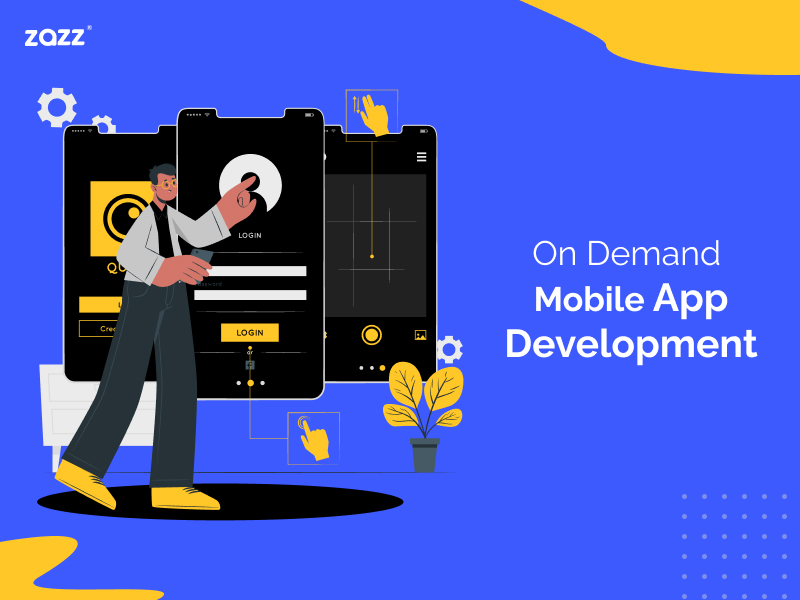 The Best 10 On-Demand App Development Companies in the USA are mentioned below after extensive research on my part.
Zazz
Zazz is the leading on-demand app development company. It creates distinctive and durable apps that accelerate the growth of your business. It provides services to Fortune 500 firms, SMBs, and startups. The company was established in 2011, and since then, 500+ apps have been developed for a variety of markets, including healthcare, eCommerce, education technology, travel, and others.
It provides a wide range of app development services, including blockchain development, website design & development, data intelligence, DevOps automation, and eCommerce development. ECAO, Settlyt, BASF, Ideal Protein, MindSet, Jeddah Season, and others are among Zazz's well-known clientele.
AppStudio
A mobile app development company called AppStudio has locations in Toronto and New York. For all mobile platforms, they plan, design, develop, and sell apps. To promote business growth, they provide On-Demand app development services. 
This is one of the finest front-end development company, and it has created hundreds of ground-breaking apps for business owners, startups, and SMEs since 2011. Hotel reservations, food ordering and delivery, e-learning apps, car trade portals, school management apps, and other services are all provided by AppStudio. Motorola, Coca-Cola, ShotKam, Huawei, Buffalo Wings, Balance Benders, and others are some of their clientele.
Techahead
Another on-demand mobile app development company, Techahead was established in 2011. With the aid of a technological design team, consumers may get useful mobile applications that help them with their demands. It features a group of talented designers that are dedicated to helping organizations achieve their goals. They create On-demand applications for many operating systems. Fortune 1000 corporations are among the company's most well-known clientele.
Tekrevol
A digital product consultancy called Tekrevol collaborates with businesses to help them use cutting-edge technology to accomplish their objectives. They have been developing mobile apps for more than ten years. Whether for iOS, Android, or the web, Tekrevol creates applications. Important international corporations are among the company's notable clients. 
Techugo
A digital transformation consulting company called Techugo was founded in 2007. The business has helped several Fortune 500 organizations efficiently implement digital transformation. It is a specialized mobile engineering and software development company that creates top-notch applications for various platforms and gadgets. To meet market expectations, they provide end-to-end app solutions, integration services, and maintenance support. Numerous prestigious brands are among the company's well-known clients.
Also Read: How much does it cost to create an Ekar-like car-rental app in 2023
Dev.Pro
It is a software development partner that enables forward-thinking technology firms to accelerate time-to-market and enhance their growth aspirations. Result-driven. Quality-obsessed. To accommodate any skill set, complexity, or scale, Dev.Pro designs teams that provide a personalized software development experience. Dev.Pro offers a wide spectrum of technical knowledge, including Software Development, Cloud, DevOps, UI/UX Design, System Integration, Reporting/Analytics, and Manual/Automation Testing. it has a carefully chosen group of more than 900 highly trained individuals.
Dev.Pro is a multinational firm with operations in more than 50 nations on five continents. Dev. software Pro's engineers have more than a decade of experience providing technology solutions to Fortune 500 companies and startups alike. They have amassed priceless knowledge in key industries, including blockchain, education, restaurant technology, SaaS, retail, and healthcare.
Right Point
It is a technology-based independent customer experience agency. We create on-demand delivery apps that provide meaningful digital experiences that are fueled by information, strategy, design, and technology in order to help consumers thrive at the speed of innovation. Rightpoint now offers a strong foundation in creating and delivering mobile apps with smart, technical solutions that increase how businesses satisfy consumer expectations in today's mobile-first market. This is thanks to the recent incorporation of Raizlabs.
Rightpoint has 450 workers spread across 10 locations, services more than 250 Fortune 1,000 organizations, and has been designated one of Crain's 50 Fastest Growing Companies in Chicago for four years running.
WillowTree
Because they are unique, many of the top businesses have worked with WillowTree and attest to it. A creative firm like WillowTree is aware of how important it is for businesses to use digital goods. Many people have complimented WillowTree for their assistance and professional app development services. Web app development, mobile marketing, product designing, prototyping, and branding are among the services that WillowTree provides to its clients.
ArcTouch
To link its clients to the rest of the world, ArcTouch develops conversational technologies that work on both Facebook Messenger and Amazon Alexa. ArcTouch supports businesses that use blockchain, IoT, and AI-driven solutions. ArcTouch has collaborated with clients of the highest caliber since 2007. With the assistance of a staff that contributes its professional opinions on the newest digital goods they make, the firm has built high-tech applications and websites.
Konstant Information Services
This leading web and mobile app development firm is based in India and the USA. With the use of technologies like the Internet of Things, Cloud Computing, wearables, and AR/VR on all sorts of platforms, they provide Web and Mobile Application development services for various SMEs and major enterprises with top-notch front-end coding. By offering their clients best-in-class services, they turn these into a valued commodity for them. Businesses may utilize their full potential in this way. They have a fantastic staff of more than 180 employees who are experts in all the areas that their clients most frequently need. Volkswagen, Nestle, Nasscom, Delmonte, and other prominent clients are just a few.
Final Reflections
The greatest method to expand your business is always to develop an on-demand app. To create fantastic on-demand apps with intuitive features, a great user experience, and the necessary support, you need the best mobile app development services, like those offered by Zazz. We believe the best companies for web developers described above will help you develop an on-demand app in accordance with your budget and company needs.
Also Read: Perks and costs of Developing a Doctor On-Demand Style Healthcare App