The immense popularity of e-shopping or online shopping is rising at a faster rate. It is bringing mammoth revenue to enterprises and illustrating tremendous capabilities. Still, it is tough for enterprises to prognosticate eCommerce website costs, and this is the reason we've decided to jot this informative blog as a conclusive guide for you.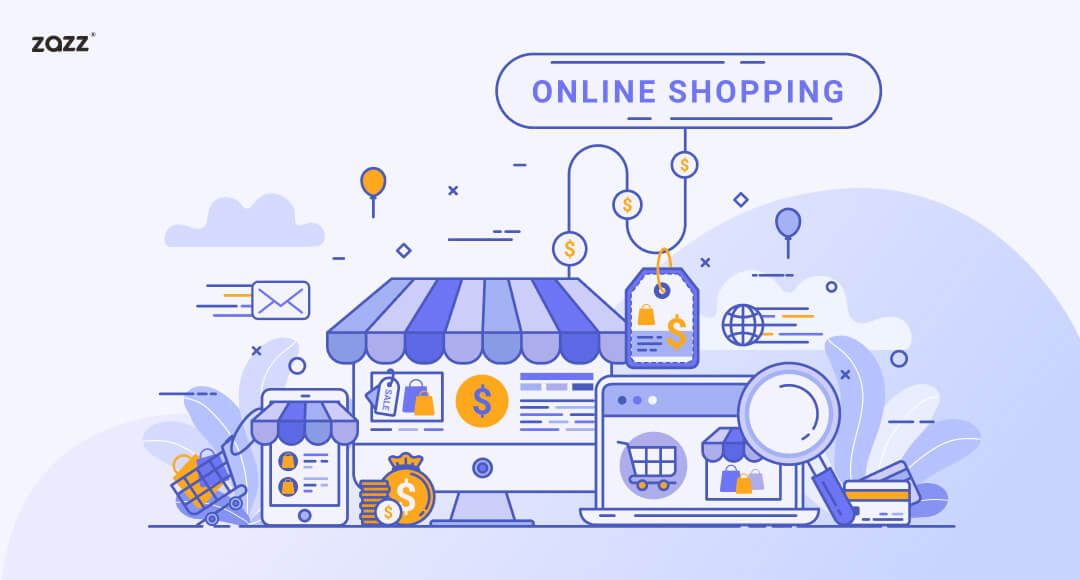 An online store launch is a multiphase process; each small decision, action, and step require added investments. Apart from this, the intricacies of the website or app you build make a difference. So, to make things easier and simpler for you, we've rounded a list that describes each factor that influences your eCommerce website cost.
Stages That Influence Your eCommerce Website Development Cost
Being the most reputable name for eCommerce website development, we must make things simpler for you. The eCommerce website cost estimations we're going to provide you with will give a basic idea. Until and unless you share your business goals with the expert team, no one can tell you the exact rate since the cost depends on your website idea.
We've split the overall eCommerce website development process into four parts where you can get everything you need to know about eCommerce website cost. Let's dive in.
Stage 1: The first stage that becomes an influencing factor in the eCommerce website development cost before the development process begins is market research, analyzing competitors, studying similar apps in the market, etc.
Stage 2: Here, you'll learn about the factors determining your eCommerce web design cost, development and testing charges, etc.
Stage 3: Advertising activities and eCommerce website marketing take place in this particular stage.
Stage 4: Product maintenance and support.
Let's take a closer look at each of the stages in an elaborated format.
eCommerce Website Development Cost at the Initial Stages
The domain name is where your eCommerce website cost depends first. It's the platform that marks your brand's online presence, and for that, you need to purchase an apt name to permit your end-users to access your website. Domain name registrars such as GoDaddy or BlueHost are the most recommended ones out of many. The cost starts at $8/year.
Hosting keeps your website awake. If it's down, users won't be able to access your website. Its cost depends on your website's load and complexity. Besides this, the sort of web hosting you opt for can have an influence too. Here are a few hosting options.
The cheapest option available is Shared hosting. It might come with no-fuss maintenance, but there are certain limitations and security-related issues;
VPS hosting (Virtual private server) is also a shared hosting that has a lot of advantages, including scalability and high affordability, as well as personalization features and IT-level security;
Cloud hosting is another hosting option that runs on many servers and provides outstanding reliability and numerous useful features.
As a leading web development agency, we advise you to go for big names when it comes to hosting to avoid issues in the future. This is another important factor determining your cost to build an eCommerce website, and hosting is priced between a hundred to a few thousand dollars per year.
The tools needed for website design and development have certain rates too. For instance, SaaS solutions for robust online store development costs between $2o-30. Simultaneously, the powerful Magento Enterprise package costs around $5,000 but comes with exceptional customization features and a best-in-class configuration system.
While we are stating these as "initial costs," consider that these charges are repeatable since you have to keep on paying for your hostage usage and domain name as long as you run your eCommerce website.
This section will give you the idea and answer your question, 'What is the cost of building an eCommerce website?'. Here we'll give you all the necessary details that influence your eCommerce website cost based on design, development, quality assurance, maintenance, and additional features.
eCommerce Website Design Services
A visually impressive and interactive website design plays an important role in gaining customers' attention. The future success of your business depends on this, and you need to consult a renowned web and app development company for this.
Basically, the development process starts with deep research, prototype and wireframe creation, and choosing a robust UI/UX design. The more unusual and complex the design is, the more visual effects and animation you want to incorporate, the more it'll influence your eCommerce website design cost.
Generally, the eCommerce website design costs somewhat around $2000-8000 approximately.
How much will an intuitive and robust eCommerce website cost? To make your website highly efficient and future-proof, you need to take utmost care of the front-end and back-end construction.
Front-End
A reputable front-end development company knows that a visually impressive user interface is the key to creating a robust eCommerce website to gain users' attention. This process begins when the website design is ready. The interface complexity and the tech stacks used while development influences your eCommerce website cost.
The cost will be around 3,000-10,000 USD roughly.
Back-End
The back-end is the server-side or your website's heart. It is unseen to your end-users and is highly expensive since it requires more effort and time to create. The quality of your website or web app is dependent on your website's server-side. The overall performance of your system rests on the back-end, and it's better not to compromise with eCommerce website cost, especially on this particular component.
Testing Specifics
To make sure you build an immaculate and seamless product, you need to rigorously and exhaustively test the quality of your product, and we recommend you invest in quality control and quality assurance services. These processes are crucial, and you should definitely need to consider them when calculating the cost to build an eCommerce website.
It'll cost you around 2,000-5,000 USD approximately.
Website Maintenance
Like a construction crew maintains and repairs roads, the same goes for your website for a peak-level performance. Without maintenance, your eCommerce website can crash and experience issues like graphical errors on your product photos, checkout bugs, and sometimes unresponsive pages.
No matter what the problem occurs, it's better to have someone to keep your site well maintained and running seamlessly every day. It might raise your entire eCommerce website cost, but the long-term benefits that come with it are hard to neglect.
Additional Features and Functionalities That Determine Your eCommerce Website Cost
As mentioned earlier, the more advanced features and functionality you want to incorporate into your website, the greater the investment will be. It'll add extra to your eCommerce website development cost. A basic company page or landing page won't be so costly, but when it comes to developing a dynamic eCommerce website, the rate will be a bit higher owing to an additional number of useful and complex features.
You need to implement specific website components on your website without any choice, like user profiles, filters, listings, reviews, shopping cart, analytics, checkout, etc. Generally, these features require a nominal eCommerce website cost, but numerous other advanced functionalities hike the development cost.
Incorporating payment gateways is an important element of the app's functionality. Although it isn't easy to link your eCommerce website to third-party APIs of Braintree or Stripe, there are a host of services available that can offer you greatly. Integration of payment gateways might hike up your total eCommerce website development cost, but you should implement payment gateway comparison research on your list.
If you plan to link your eCommerce store with social media, several other websites, CMS's or Google Drive, your online store development cost will slightly rise, and you need to plan your budget based on that.
Chatbots are the talk of the town today since they are in huge demand. Bots might raise your eCommerce website cost slightly, but believe us, you can solve your user's problems efficiently with them. Bots can provide multiple opportunities to business owners by:
Skyrocketing your customer service;
Entertaining and engaging your customers;
Gathering data to help you track your user's preferences;
Solving your user's problem instantly at any time;
Contributing to lead generation processes.
Helping you by curbing expenses on recruiting specialized customer service executives.
As a premier eCommerce mobile app development company, we know that users love the mobile experience and employ half of the day browsing products regularly. It's worth investing in a cross-browser multi-platform eCommerce app for maximizing your ROI.
Developing a robust mobile app is your golden ticket to success since it efficiently wins users' attention. It might increase your overall eCommerce website cost, but the long-term benefits are hard to resist.
Augmented Reality (AR) is said to be one of the hottest trends in the eCommerce domain. It has the power to revolutionize your enterprise since it engages and entertains users and potential users.
For example, AR will help your users try out particular apparel virtually, and it can push a user to the decision of buying, ensuring higher profits. This might increase your calculated eCommerce website development cost, but trust us, it's worth the investment.
Wrap-Up Thoughts
As said before, there's no exact way to determine your particular eCommerce website cost since every business is different. Nevertheless, when you think about your business, the goals and the objectives, you can easily calculate a basic ballpark range.
If you want to learn more and get the exact eCommerce website development cost, you can reach out to our team of website developers.
Zazz is the most trusted website development company with years of experience providing end-to-end eCommerce web and app development solutions. If you are planning to build a robust eCommerce website or a mobile app for your business, and are worried about the eCommerce website cost, contact us to learn more.