The COVID-19 pandemic was a game-changer for everyone, and the health and fitness industry is no exception. Gyms and fitness studios were forced to close down during the lockdown, thus leading to the rise of fitness applications. According to a report by Grand View Research, the daily active users on fitness apps increased by 11% in Europe, 8% in the Americas, and 24% in the Asia Pacific during the lockdown.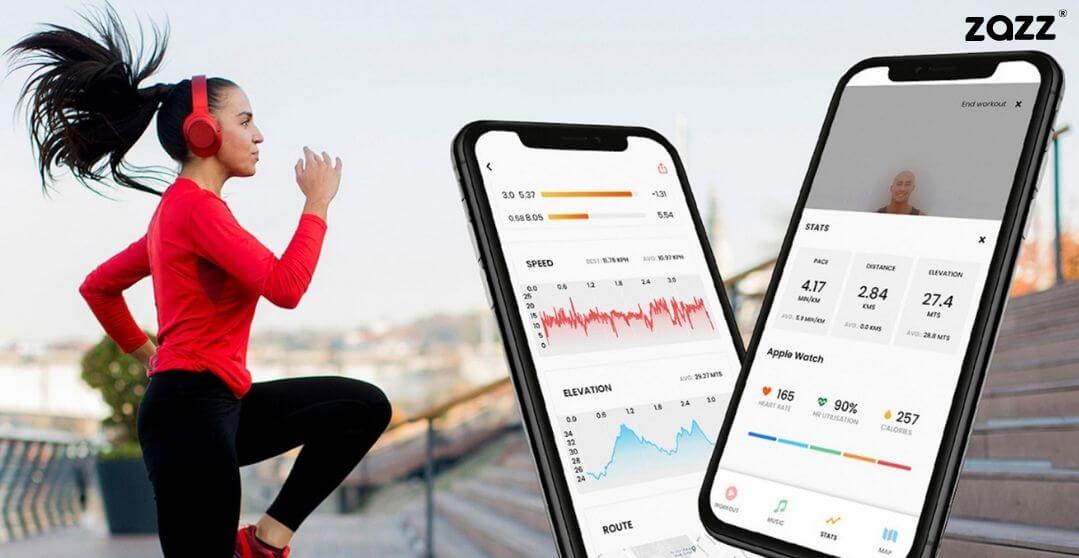 Fitness apps saw a huge surge in downloads during the pandemic. Employees started working from home, virtual meetings became the new norm, and people suddenly found themselves homebound while the gyms were forced. It encouraged people to look for alternatives.
Home fitness apps fulfilled these demands as they provided online fitness and workout programs. This significant jump in installs and user base indicates a shift in customer behaviour and habits. As a result, businesses should also change their strategy to stay in the game.
To help businesses transform their business strategies, we have come up with an overview of the rise of fitness applications and what the future holds.
How Fitness Apps Became the New Favorite of the Health Conscious People
Gyms and fitness studios were the all-time go-to place for health-conscious people. But the COVID-19 pandemic changed everything. It forced gyms and fitness studios to close and people to stay at home, thus creating a gap between the customers and the service providers. Fitness applications bridged this gap and became the new favourite of the health-conscious customer base.
The Fact Sheet
According to a report by MoEngage and Apptopia, the health and fitness app download surged by 46% around the world between the first and second quarter of 2020.
The revenue generated from health and fitness apps by both Google Play Store and Apple App Store was 827 million USD in 2020, against 592 million USD in 2019.
The health and fitness apps were downloaded 593 million times during the first quarter of 2020, according to Statista.
Top Grossing Fitness Apps in 2020
The key players basking in the success and popularity of fitness apps among people stuck at home during the COVID-19 pandemic were-
Strava
Strava is one of the best fitness apps designed for running and cycling. With more than 13.8 million USD in user spending by August 2020, this fitness application's revenue was mostly from the USA.
Packed with several useful features, this fitness application has 10,000,000+ installs from Google Play Store alone. The users can record their running and track distance traveled, map their route, and set up challenges while competing with others. Equipped with GPS location tracking, this fitness app became a huge hit among users, thanks to its sophisticated tracking system that is a fitness buddy for people who love to take their bike out and go cycling to stay in great shape.
MyFitnessPal
MyFitnessPal ranks second in the list of highest-grossing fitness apps in 2020 by generating a whopping gross revenue of 7.4 million USD as of August 2020. It is an excellent app for counting calories burnt and consumed and selecting a suitable diet plan. Users can find nutrition facts about more than 2000000 food items and get help in losing and maintaining their weight.
This fitness application has a huge food database that comes in handy for health-conscious people. As a leading wearable app development agency, we understand what can make or break a fitness app. And, what we analyzed is that MyFitnessPal offers a combination of everything that a person needs to maintain a healthy lifestyle, like setting goals, learning from experts, tracking progress, and logging their activities. 
Calm
When it comes to fitness apps, the market is dominated by not only applications that promote physical health but also mental health. For example, Calm is one of the best fitness apps for sleep and meditation and has more than 10,000,000 from Google Play Store and a 5-star rating on Apple App Store. It helps users in lowering stress levels and anxiety and encouraging healthy sleeping habits.
Since depression, anxiety, and stress were common problems during the lockdown, fitness apps like Calm were solace for people struggling with mental health issues. In addition, this fitness app's design is soothing to the eyes, thus adding to its usefulness.
What Is the Future of Fitness Applications?
While the popularity and user base of fitness apps are still rising, many expect to witness a decline soon. Since gyms and fitness studios were closed during the lockdown, people had no other choice but to switch to digital alternatives. Hence, the rise in demand for health and fitness applications. And, as the lockdown will be lifted, people will have access to services like before, which can impact home fitness solutions. That's why many experts are questioning whether fitness apps are here to stay or not.
On the other hand, businesses and fitness app development companies take a positive approach and transform their services to match the changing market scenario. For example, live streaming sessions, offers, and subscription services are the new highlights to attract users and keep them engaged with the fitness applications even after the lockdown is lifted. 
Also, many users are willing to stay at home and prefer virtual workout sessions instead of going to gyms post-pandemic. According to a survey, 59% of Americans don't want to renew their gym membership after the pandemic ends. The reason is that fitness applications offer more affordable and convenient ways of exercising and living a healthier lifestyle. So, it won't be an exaggeration to say that the future of fitness applications is bright post-pandemic.
The Final Word
The digital fitness boom bridged the gap between customers and fitness solutions and broke down physical barriers. The ease, convenience, variety, and safety they brought to the table helped them earn a huge user base and capitalize on the COVID-19 situation. Looking at the shift in customer behaviour and habits, fitness apps will make a long-lasting impact on their users.
If you're a business offering home fitness solutions, this is the right time to develop a fitness app and make the most of this digital transformation. Get in touch with our fitness app development company and get a robust app that scales. 
Also Read:

Dig in to Know COVID-19 Impacting eCommerce Industry

Security Privacy Increasing The Stress Of Big Businesses Due To Covid-19

How Mobile Banking Apps Became the Future of the Banking Industry Amid COVID-19

Where To Find App Developers During The COVID-19 Lockdown?

A Significant Shift In Industries With Tech After The Covid-19 Outbreak