COVID-19 led to the acceleration of digital transformation in every industry, including the education sector. Traditional classrooms and school visits became a thing of the past, and educational apps took over. Although many students took some online classes before the pandemic, the social distancing norms sped up the incorporation of computers and applications into teaching methods and lessons. These new approaches have expanded the educational horizon, bridged the gap between teachers and learners and lessened the burden of holding and carrying books and notes to schools and colleges.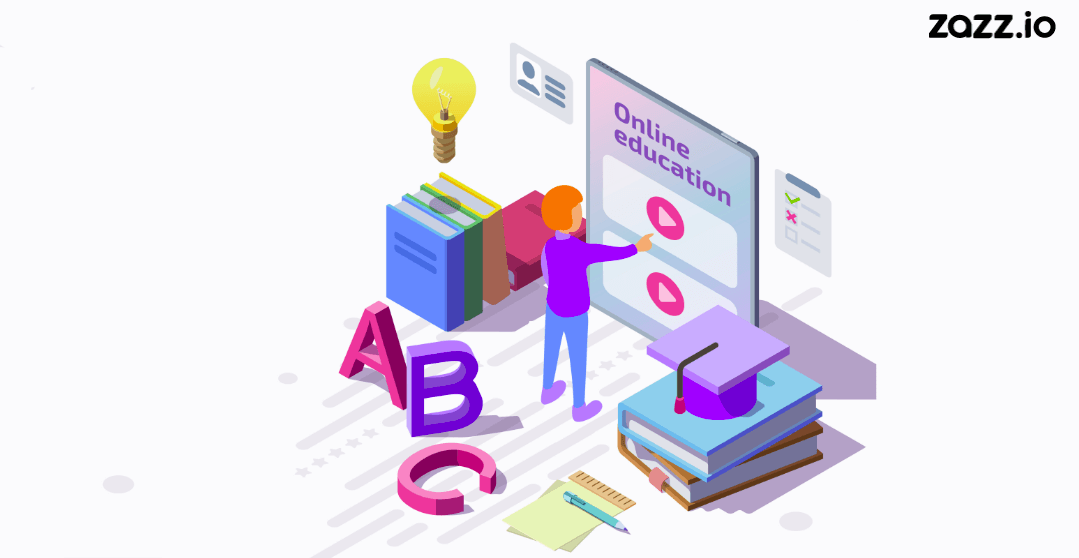 With the growing popularity of educational apps for kids, teachers, and college students, businesses and investors have realized how lucrative this niche is. As a result, many entrepreneurs and organizations are ready to invest in e-learning app development. If you want to create an app for educational purposes, this blog post can come in handy. We have created a comprehensive guide to the types, features, and costs of educational app development to help you make an informed and cost-effective decision. 
Developing an Education Software: A Comprehensive Guide for Entrepreneurs
The education industry underwent a drastic change during the global pandemic and embraced remote learning format with the help of educational apps. These apps made learning more engaging and interactive and opened new doors of profitable opportunities for businesses. Since educational apps for kids are one of the most sought-after segments these days, you too can make the most of it by developing an e-learning app. But make sure you have all the important details regarding its types, features you want and the cost of development. Don't worry! We'll help you. 
Major Types of Educational Applications
When discussing educational apps for teachers and students, there are a few classifications for these applications based on which features, cost and time of development vary.
Online Course Learning Apps
These apps collaborate courses of various universities to help students educate themselves without leaving their homes. The students can pick courses based on their interest and work needs, pay the fees and utilize the online platform for learning anytime, anywhere.
Language Learning Apps
Learning a foreign language through an app is an effective way of learning at your own pace. A language learning app enables students to easily enhance their vocabulary in their spare time.
Performance Tracking Apps
These educational mobile apps for teachers help track their students' progress and achievements and monitor their academic growth.
Gamification Apps
Gamification apps are a fun and exciting way of studying tough subjects, like mathematics and science. As a leading education app development company, we have witnessed an increased demand for these apps because they transform course materials into cool games.  
Exam Preparation Apps
From practice tests to quizzes, exam preparation apps are designed with many features for students to plan and prepare for competitive exams.
Learning Material Storage Apps
These educational mobile apps for teachers and educators store learning materials on the cloud and share them with their students. Some apps also have features that allow making notes and working with Google docs. 
Key Features of Educational Apps
Before you approach a mobile app development company to build a scalable and useful educational app, you should be aware of the most common features that every e-learning app should have. These features should be regardless of whether you're creating educational apps for kids or educators. 
Secure Login/Signup with mobile number or email address
User profiles to get all relevant information readily available
Filter searches to find relevant courses and finished exercises
Audio and video streaming for live classes
Push notifications to stimulate user experience and re-engage users
Multi-language option to expand your reach
Progress tracking and achievement features
Student/Teacher dashboard with a graphical portrayal of progress and activities
Offline mode for students to download course modules in the case of poor internet connectivity
Cross-platform support and cloud incorporation to access apps from anywhere and on any device
Cost of Developing Educational Apps
When building education software, the cost of development plays a crucial role. Entrepreneurs and investors should consider many factors when assessing the expenses of an educational app. Here are some of the factors that you should take into consideration.
1) Platform
The platform you choose for educational app development is important for deciding the overall cost because each platform has its own development complexities. Since developing an Android app is more time-consuming, the cost can also rise compared to iOS apps. The best bet is to go for both Android and iOS and develop a cross-platform app to cater to the needs of the students or learners who have both smartphones and iPhones.  
2) Features
Apps with more features and functionalities are more expensive to build than the ones with fewer features. Therefore, you should carefully decide the primary and secondary functions of the app to determine the most important features you want and eliminate the unnecessary ones that increase the cost.
3) Backend Infrastructure
Backend is the most important part of an application. It plays a crucial role in performing many activities, data storage, data sharing, data analytics, and storing and updating content to be displayed on the app. If you plan to design a complicated frontend, the backend needs to be robust; hence the cost will increase. To choose a suitable backend infrastructure, you need to determine a few things, like whether your app will be mobile-only or universal and how much database your app needs.
4) UI and UX Design
Apart from the app's backend, you need to consider its user interface and user experience. After all, the app will be designed and developed for the end-users, and if they're not satisfied, your educational app will be a failure. If you hire experienced education app developers and designers, the cost might be higher, but the result will be impressive. And, if you take the risk of hiring an inexperienced team, it can lead to costly mistakes and jeopardize your project.
5) Animations and Visuals
Are you planning to include interactive videos and animations in your educational app? If so, it could significantly increase the cost of development. But, undoubtedly, these features will make your app more attractive and engaging, better convey the app's purpose and can also skyrocket the downloads, especially if you're making educational apps for kids. Therefore, it is advisable to look for cost-effective ways to include animations if you have a tight budget.
Conclusion
Education software development is a great way of penetrating the e-learning market. Building an educational app helps bridge the gap between the educator and the learner and gives a lucrative opportunity to startups and small businesses in reaping many benefits. Hopefully, this blog post will help you choose the best course of action to develop an app for educational purposes. You can contact our team to get an estimate for your project. Our education app developers will never disappoint you. 
Also Read:

Incredible Apps to Make WFH Productive During Global Pandemic

10 Top-Rated Application Development Companies in Atlanta

Top Mobile App Development Companies in New York